There's so much I've grown to like about SHARK Helmet's Spartan helmet, having appreciated its numerous qualities on each and every one of my journeys. Some people consider a helmet as just a legal necessity. But when you ride a bike for a living as I do, it can make the difference between having a good or bad day.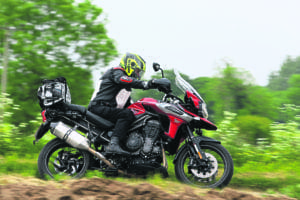 The Spartan's comfort is one of its most notable virtues, important when you've got much time and distance to ride. Two recent 300-mile trips, and another dawn to dark marathon 500-miler underlined this particular quality. Fitting well and snugly, but with no pressure points anywhere, means my head always feels happy being encased in the Spartan. Better still, as it's so light and aerodynamic, at times I barely know I'm wearing it. It really is that unobtrusive.
Of course the plushness of the lining helps with the ease of it all. When something is against your skin all day it has to be agreeable. Made from bamboo anti-bacterial / hypoallergenic material, with the added bonus of being machine washable, means the face/liner marriage can remain clean and healthy. You can't beat that sort of freshness.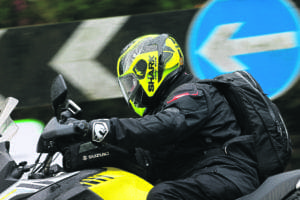 I've fitted the Pinlock anti-mist lens insert which ensures much clearer vision, especially when the weather's bad. And thanks to the closed fit of the anti-scratch visor itself, whenever I've ridden in the rain it keeps out the cold wet stuff to maintain the civility. The five position ratchet system securely maintains the amount I've ever wanted to keep it open in drier conditions.
Just as much of a bonus is the Spartan's superb venting system. I've been lucky to have been testing in some great weather several times this year, and when I've opened the brow vents for a bit of cooling, the effect has been staggering. I might have been riding for just over forty years now, but I haven't known any helmet offer the same amount of refreshing ventilation as this one does. The efficiency of the helmet's air channels make it feel like you've just opened a window in your stuffy house or car to let in a lovely cooling breeze. It can feel hugely welcome. The retractable chin curtain, helping to keep draughts at bay when it's not as warm, is another useful feature. A helmet that can cope with everything from typically British wet and chilly days, to the near stifling temperatures we've been having occasionally this year underlines its versatility and has to be considered a real asset. It's a real all year round helmet.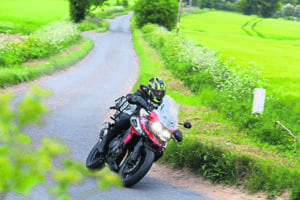 In the bright sunlight of those more summer-like days, the internal drop down visor also deserves plenty of praise. On really long rides, the light levels can change quite a lot. Knowing you can cope with them all by just moving the slider on top of the helmet couldn't be much more convenient, not to mention much safer. The reality is you can set off in, or ride into the dark, go through tunnels, bad weather et al, and always cope instantly. It certainly beats having to carry spare visors. Being stepless means you can adjust the visor position accurately, and just like the main visor, the sun visor is easy to remove for a more thorough cleaning. If you wear glasses the drop down visor easily clears them, and thanks to the 'Easy Fit' system the arms of your spectacles aren't forced painfully against the sides of your head. This sort of attention to detail is very thoughtful and most welcome. Believe me, when you're on longer test days, 'little' features like this become much more relevant.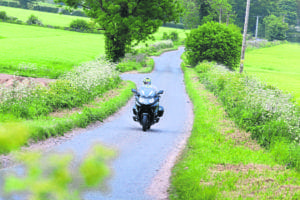 The Spartan has a great, well-built look and comes in several choices of colours and designs. I chose a bright fluorescent option to help me feel extra safe thanks to its impressive high visibility. On the subject of safety, the double D-ring strap fastener gives full security with its end secured by a popper to prevent flapping. Vision is good thanks to the wide aperture.
I have to admit to being a bit snobby about cheaper helmets thanks to being privy to be offered the very best available. Initially I thought the mid-priced Spartan might be a little second rate. With its overall quality, thoughtful design and multiple features and virtues, I've come to realise my wariness is totally unfounded. Its five year warranty says much about it too.
There's a saying 'you get what you pay for', but in the case of the Spartan I'd say you get a lot more than that. I really like it, and very much enjoy wearing it.
SHARK SKWAL 2
Stay even safer with the Skwal 2 and its integral LED lighting. Rechargeable battery powered LEDs make you stand out, significantly improving safety. This feature is more than just a novelty, with the front and rear mounted illumination attracting attention when set to either flashing or constant. The aggressively styled, well finished thermoplastic helmet is both comfortable and convenient to wear. Coming in a wide range of sizes and colourful designs, the Skwal 2 boasts many features including drop down sun visor, washable lining, and chinstrap securing ratchet arrangement. It comes fitted with a Pinlock anti-mist insert, is Sharktooth® compatible and comfortable for those wearing glasses thanks to its Easy Fit system.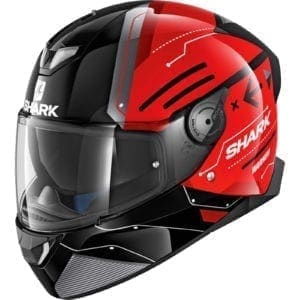 SHARK EVO ONE 2
The ability of the EVO ONE 2 to be converted from a full face to an open face jet style helmet offers real versatility. As the chin bar can be hinged around to the rear of the helmet, both safety and aerodynamics are boosted.
The EVO ONE 2 is an evolution of the successful original. Its vented thermo plastic shell comes in two sizes giving a range of sizes from XS to XL. Secured using the highly convenient ratchet strap, the SHARK also features a removable machine-washable lining, a stepless drop down sun visor, and anti-scratch visor. An anti-mist Pinlock visor is also included.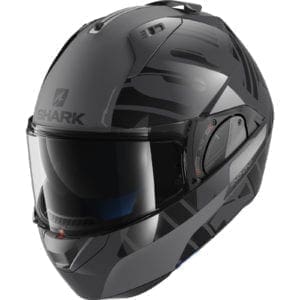 SHARK S-DRAK
Turn heads as well as protecting your own with the super stylish SHARK Helmets S-Drak. Available in a choice of striking colourways with premium finishes, the S-Drak is the first choice of the streetbiking set. There's much more to it than show of course, with the 1000g carbon fibre helmet offering approved levels of protection. It comes in two shell sizes to offer the best fit from its six different sizes (XS to XXL). Both the internal drop down visor and facemask are easily removable without tools. The S-Drak is Sharktooth® compatible, features the Easy Fit system to allow comfortable spectacle wearing, and its lining can be machine washed.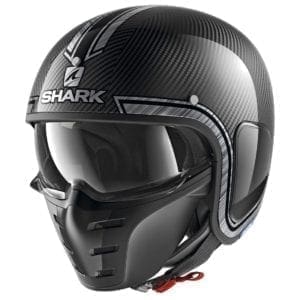 SHARK – HISTORY & BACKGROUND
SHARK Helmets has been producing helmets for over 25 years. Formed by former professional racers, SHARK Helmets' passion for racing is still evident in its product design, which ensures only the highest level of performance and safety. The company's ethos is to push the technical boundaries and innovate so each and every motorcyclist can enjoy the sheer pleasure and freedom of riding in complete safety.
To locate your nearest SHARK Helmets dealer, visit www.nevis.uk.com
PROTECTING THE BEST
SHARK Helmets is a brand trusted and worn by those whose living involves risk; a recommendation impossible to top. Champions at the very highest level of two-wheeled motorsport choose to protect themselves in SHARK Helmets' most advanced products. MotoGP superstars Jorge Lorenzo and Johann Zarco choose SHARK Helmets, as do Sam Lowes in Moto2 and Tom Sykes in World Superbikes. Constantly being tested, and sometimes crash tested by such riders, helps SHARK Helmets to continually improve and develop helmet design and protection.
WORDS: Chris Mossy

Latest posts by Ross Mowbray
(see all)
Does this get you revved up? Tell us why...
---
---
Subscribe to MoreBikes Newspaper
Get MoreBikes delivered through your letterbox every month. 12 issues for £15. Click here for more information.
---
Get MoreBikes.co.uk Updates
Enter your e-mail address below and you will receive biking news straight into your inbox...



You can unsubscribe at any time.
---