There's so much I've grown to like about SHARK Helmet's Spartan helmet, having appreciated its numerous qualities on each and every one of my journeys. Some people consider a helmet as just a legal necessity. But when you ride a bike for a living as I do, it can make the difference between having a good or bad day.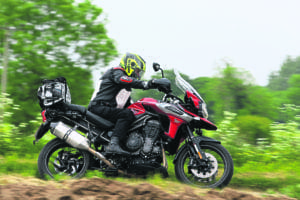 The Spartan's comfort is one of its most notable virtues, important when you've got much time and distance to ride. Two recent 300-mile trips, and another dawn to dark marathon 500-miler underlined this particular quality. Fitting well and snugly, but with no pressure points anywhere, means my head always feels happy being encased in the Spartan. Better still, as it's so light and aerodynamic, at times I barely know I'm wearing it. It really is that unobtrusive.
Of course the plushness of the lining helps with the ease of it all. When something is against your skin all day it has to be agreeable. Made from bamboo anti-bacterial / hypoallergenic material, with the added bonus of being machine washable, means the face/liner marriage can remain clean and healthy. You can't beat that sort of freshness.