2015 Ducati Scrambler review | From £7030 OTR | 75bhp@8250rpm | 50lb-ft @5750rpm | 803cc air-cooled, Desmodromic 90° V-twin
Tested by: John Milbank
Forget Ducati; the Scrambler is its own brand. The Scrambler is tee-shirts, jackets, open-face helmets, watches, goggles… it's being hip, it's self expression, it's style. The fact that it's also a motorcycle built by the company synonymous with powerful 90° V-twin engines, gorgeous design and unique cylinder heads seems less important in the presentation given to the world's press in Palm Springs, California.
The Scrambler is the biggest marketing exercise in motorcycling we've seen. 'The Scrambler is cool', we're told by people who work for the company that also made Carl Fogarty's race-winning machines. For some bikers, this hard sell could seem too much, but it's a plan not intended for seasoned riders. It's intended to bring new people into the world of motorcycling, and for that reason the Scrambler (by Ducati), is an incredibly important bike.
The Ducati Scrambler (as you and I will call it) is also a bloody good bike. You don't have to wear Scrambler pants to own one, you just need to recognise it for what it is – a beautifully designed, relatively inexpensive, simple and fun machine.
Tell me about the engine
The engine is basically the same air-cooled unit as that's used in the 2014 Ducati Monster 796, sharing the 88x66mm bore and stroke, and the 11:1 compression ratio, though here it uses an 11° valve overlap. This refers to the degree of crank rotation that sees both the inlet and exhaust valves open at the same time – engines with high performance at the top-end of the revs can have larger overlap angles of around 40°, sometimes to the detriment of slow-speed running. By reducing the overlap, top-end power is limited, but to the benefit of low-rev performance and, potentially, efficiency.
The Scrambler's motor is 12bhp down on the Monster and 8lb-ft, though that torque now peaks 500rpm earlier than it did. It's the same wet clutch, but the hydraulic control has been replaced by a cable. Apparently this is to reduce the need for dealer servicing, though it will also be helping to keep the Scrambler's price down.
Being a Ducati, it's a Desmodromic engine: In the 1950s motors were revving faster and faster, but valve spring technology couldn't keep up, resulting in broken springs leading to cylinder head and piston destruction. Ducati's answer was the Desmo. Just like most engines, the cam moves a follower that pushes the valve down to open it, but in a Desmo head a second follower beneath the cam lifts the valve back up to close it. It's said that this also helps to reduce some friction within the system at low- and mid-revs.
The new bike uses one 50mm electronic fuel injection body, and while the gearing is identical between the Monster 796 and Scrambler, the rear sprocket has been enlarged by seven teeth to 46, again pointing to a focus on low speed and acceleration, rather than high top-end.
While there is a massive range of accessories available for the bike, there are no performance upgrades available, besides a Termignoni race end-can that eliminates the cat (and doesn't require an ECU remap). When asked, Ducati said that it believes 75bhp is right for this bike, and it doesn't want buyers to worry about performance upgrades.
The Scrambler will be available – at the same price – with a 35kW (47bhp) dealer-restricted engine to suit A2 licence holders, as well as a 25kW (33bhp) version.
What's the chassis like?
While using Ducati's iconic steel trellis frame design, the geometry of 24° rake, 112mm trail and 1445mm wheelbase is a package unique to the Scrambler. As are the tyres – Pirelli MT60s in 110/80/18 and 180/55/17. These are a bespoke compound, designed for 'short journeys, not touring', with a tread pattern that hints at off road use, whilst looking like race wets, and with a narrow slick band on the edge of the tread. What you need to know is that they work – they felt fine on the wet California roads of the launch, and when the sun did come out, the bike rolled neutrally into corners, never feeling as if it had to be wrestled over, or that it would drop suddenly. Your tyre choice may be slightly limited, but a quick check revealed that all the major manufacturers have some decent road rubber available if you want to try anything else.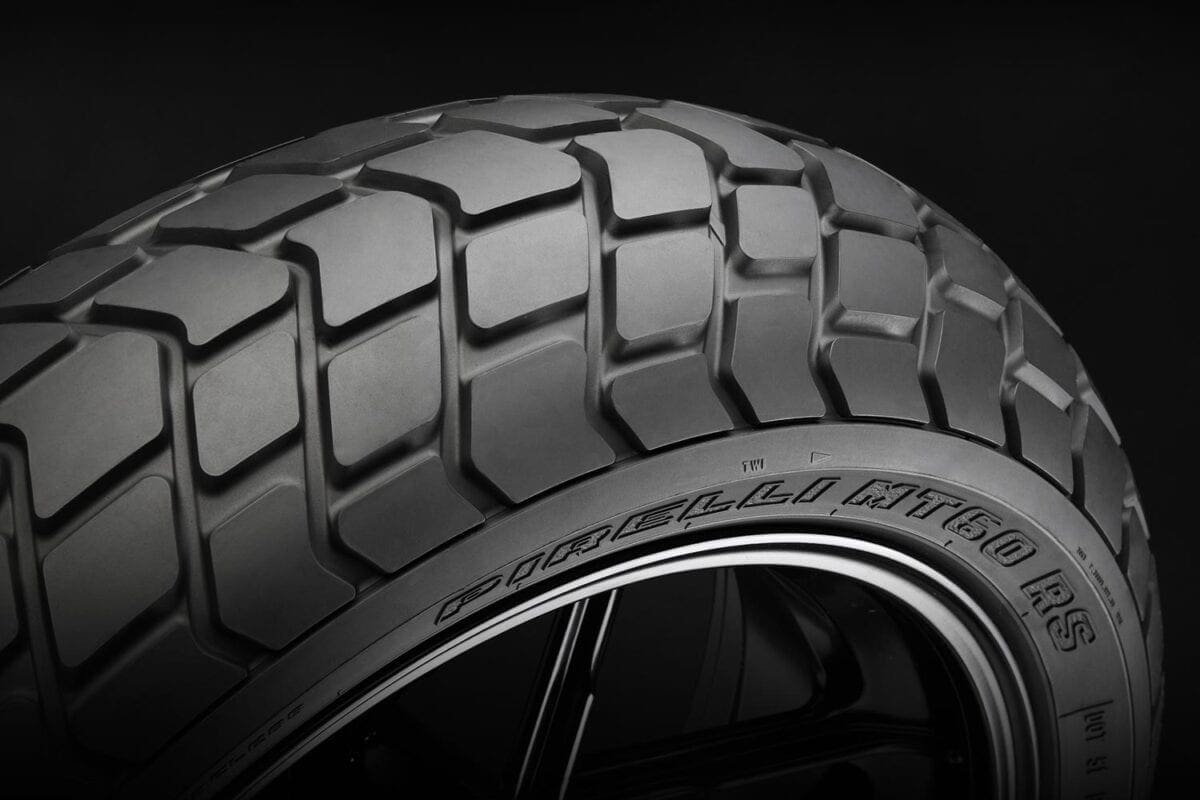 The overall kerb (wet) weight of the bike is relatively light at 186kg – 2kg less than the Monster 796. Combined with the low 790mm seat height and narrow frame and tank, it's a very easy machine to use without feeling small on the go. I'm 5'11", and didn't feel cramped amongst the wide bars, narrow form and comfortably positioned footpegs.
One minor point to be aware of was that a sharp-eyed UK journalist saw some water coming from the subframe of a bike in front of him. It turns out that the ends of the tubes are open, as well as having four unused bolt holes, allowing water in. The open ends are well concealed, so I'd spray in some ACF50, then plug them up to avoid water laying inside.
The Icon and Full Throttle come with 10-spoke alloy wheels, while the Classic and Urban Enduro have traditionally spoked wheels with chunky aluminium hubs. Forks on all the bikes are unadjustable 41mm Kayaba upside-down units, carrying a single 330mm disk with radial four-pot Brembo caliper.
At the rear is a 245mm disk with single-pot floating caliper on an alloy swingarm, suspended by a preload-adjustable Kayaba shock. ABS is standard on all the bikes.
Should I buy one?
Ducati's idea of a brand around the bike makes sense – whatever the hobby, people often love to be able to spend money on it. Think about the times you may have met your mates at a bike shop for a cuppa… If you've ever treated yourself to a key-ring with your bike's logo on, or a tee-shirt, or a baseball cap, then you're already there.
Harley-Davidson has been doing it for a long time; whether you've got a fiver in your pocket, or free-reign from the bank manager, a Harley dealer has something waiting to tempt you. It's a brand, and we shouldn't blame Ducati for building its own.
You could buy one of the three variants, or go for the Icon and customise it yourself (or of course, leave it alone). Accessory prices vary, with tank badges costing £41.64; a billet aluminium headlight trim is £127.04; the Classic, Urban Enduro and Full-Throttle seats are each £212.46 and the replacement tank panels cost a surprising £160.07 to £212.46. Of course, there's nothing stopping you making your own parts, or using vinyl wrap to modify the side-panels that come with the bike. In fact, during the launch presentation, Antonia Zandi – Scrambler Project Manager – told us that the company hopes buyers will even make up their own logos using 3D printers.
Ducati's TriOptions finance contracts mean that a red Icon could be yours for a deposit of £1758.50, and 35 monthly repayments of £95 (just over £3 a day!). After that, buy it for £3228, or switch to something else.
The Scrambler's design is hard to fault, but if you were in the mood to nit-pick, you could say that the basic rear shock doesn't look as high-end as many other Ducatis, and some small details, like the rider's footpeg brackets are in the same camp. But let's be realistic – this bike is good value for what it is, and the original Scrambler back in 1962 didn't have a top-spec Öhlins on the rear. It also didn't have a USB charging port under the seat, but the new one has – a handy, and sensible addition to a modern motorcycle.
The LCD clock shows speed, revs, time, odometer, air temperature and two trips. It's a shame not to see a gear indicator, and while a fuel economy gauge is an understandable omission from a bike that's not built for touring, knowing what gear is engaged would be a benefit to many of the newer riders that this machine will hopefully entice. Maybe it could have been more easily forgiven if the clock was a traditional analogue design with a sweeping needle.
Interestingly, while the Scrambler only revs just beyond 8000rpm, the rev counter goes all the way to 12,000. When I asked Mario Alvisi – the Scrambler Brand Director – he told me it was just designed like that, and when pushed on why the company would leave almost 4000rpm to spare, and if it was an indicator that the clocks might be used for another bike that we'll be seeing soon, he said he didn't know and couldn't say, with something of a chuckle. Could there be another engine on the way for the bike? Does Ducati ever release a platform without a range of capacities?
So what's it like to ride?
The Scrambler is built for looking cool. And it succeeds. With its low- to mid-range performance bias, compact chassis and larger rear sprocket it's a great city bike, and it's a lot of fun with your mates on a ride into the country.
I'm a big fan of Ducatis, and the Scrambler's air-cooled motor continues the company's tradition of somehow making bikes that sound great, even while meeting ever tighter emissions laws. The distinctive Ducati rumble is still there, even if it's lacking the metallic rattle of the dry clutch (not everyone liked that noise, but to me it's part of the experience).
The Scrambler feels alive, and that's a hugely important part of biking. The pounding twin doesn't buzz through the footpegs, it doesn't shake the superb mirrors, but it never lets you forget that between your legs is a piece of engineering excellence; a piece of machinery working to propel you across town.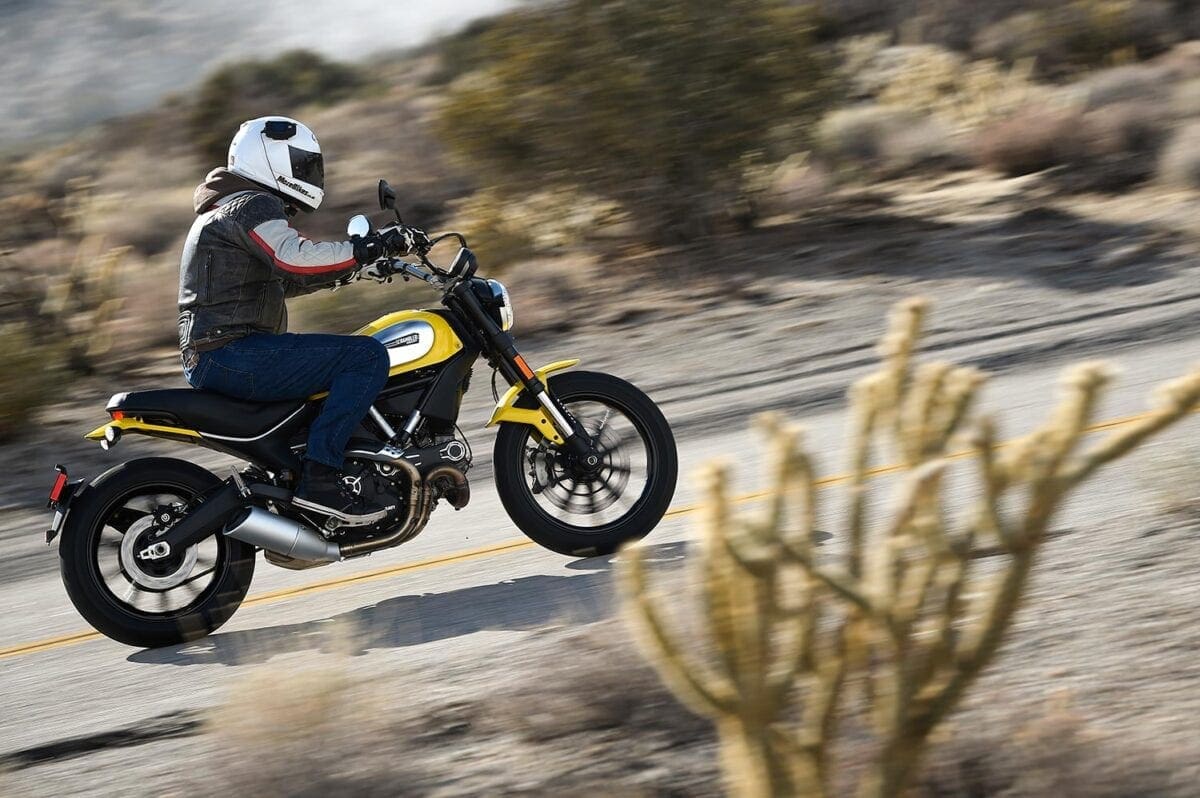 Pick a high gear and the torque will drag you through the revs smoothly, but work the gearbox and it's eager to spin round to the rev-limiter. Shortly before cutting out, red lights flash on either side of the dash to encourage you to pop up to the next cog. A couple of journalists commented on false neutrals, though I didn't find any during the ride, and never heard any serious grumblings, even from those who'd found them.
At first, the throttle can feel a little snatchy, but once you get used to the quarter-turn tube and understand that small movements can equate to a sharp kick up the backside as the bike takes off in lower gears, you find yourself calibrating your wrist fairly easily.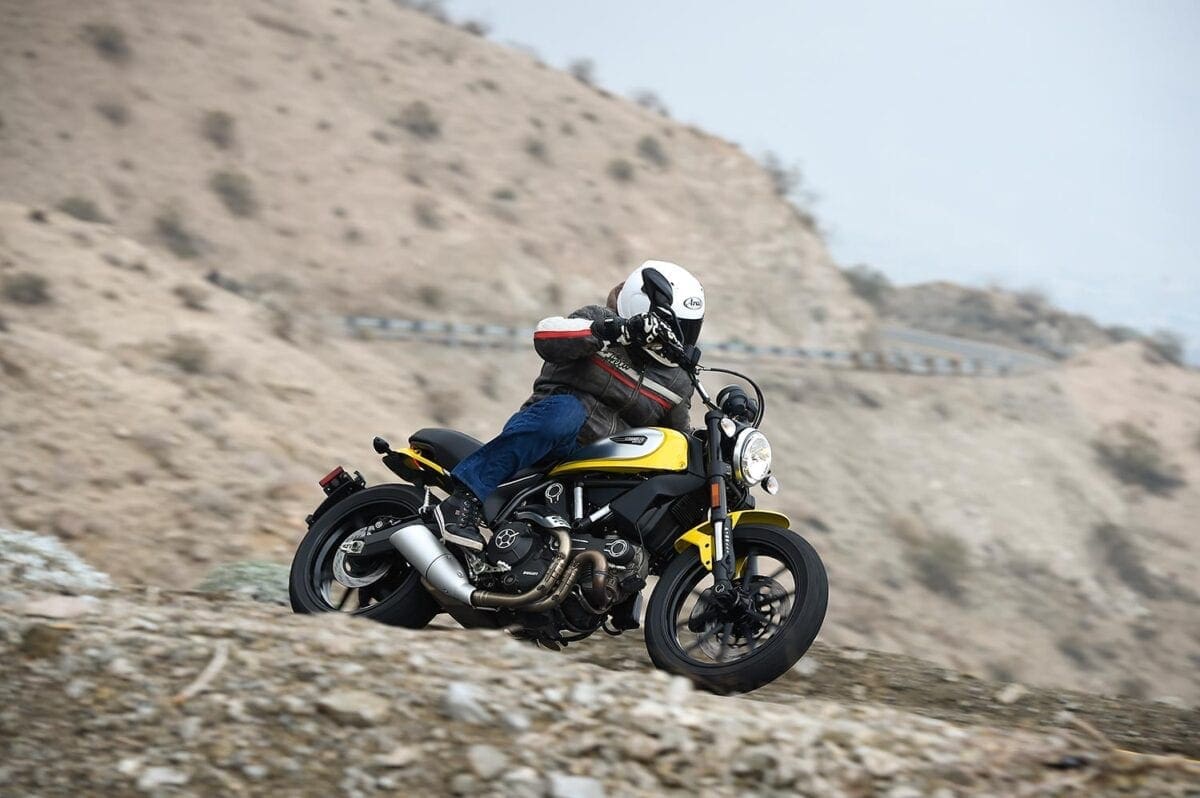 The large disc and radial caliper work well, with just the right balance of power and control. The front forks tend to dive a fair bit under hard braking, though they are something of a compromise between road and off-road performance (though this isn't a motocrosser – short trips off the beaten track are all you'd normally expect of the Scrambler). Despite being softly sprung, the front tends to feel rather harsh over poor surfaces – potholes cause a crashy feedback and some very badly rippled road on the launch made for a briefly uncomfortable ride. Most of the time though the package works well, and when we got the chance to enjoy a twisty run down a dry mountain road, the Scrambler proved how much fun it can be. Press launches are tightly run, and never more so than in the States, but like rebellious teenagers, we excitedly planned breaking away from the group and racing back up the mountain for some more laughs. Sadly, the grownups told us we couldn't, but the Scrambler had done its job – we'd been for a ride, and we'd come back grinning.
There may be a fog of marketing hyperbole surrounding the Scrambler, but Ducati's desire to create a cool brand has resulted in a machine focussed on what riding is all about for those who aren't interested in touring. Bikers who want a fun commuter, or a weekend toy. Whether you intend to embrace the brand or just enjoy a simple, characterful and fun machine, the Scrambler (by Ducati) deserves to be a big success.

Tech Spec
Price: £7030 (Icon red); £7130 (Icon yellow); £8130 (Classic, Urban Enduro, Full Throttle) OTR
Engine: 803cc air-cooled, Desmodromic 90° V-twin
Power: 75bhp (55kW) @ 8250rpm
Torque: 50lb-ft (68Nm) @ 5750rpm
Kerb weight: 186kg (Icon, Full Throttle); 192kg (Urban Enduro); 192.5kg (Classic)
Seat height: 790mm
Tank size: 13.5litres
The Icon will be available in February 2015, with the other variants following in March/April. If you want one, speak to your Ducati dealer, as pre-orders are already coming in fast.
The four models of Ducati Scrambler
Icon: Available in '62 Yellow and Ducati Red with 10-spoke allow wheels and high bars, aluminium tank panels and belt covers.
Classic: Available in Orange Sunshine with spoked aluminium wheels, brushed aluminium mudguards and a brown seat.
Urban Enduro: Available in Wild Green with spoked aluminium wheels, an off-road style brace across the handlebars, alloy sump guard, headlight grille, fork protectors and high mudguard.
Full Throttle: Available in Deep Black with 10-spoke alloy wheels, Termignoni exhaust, black side panels and low fat bars.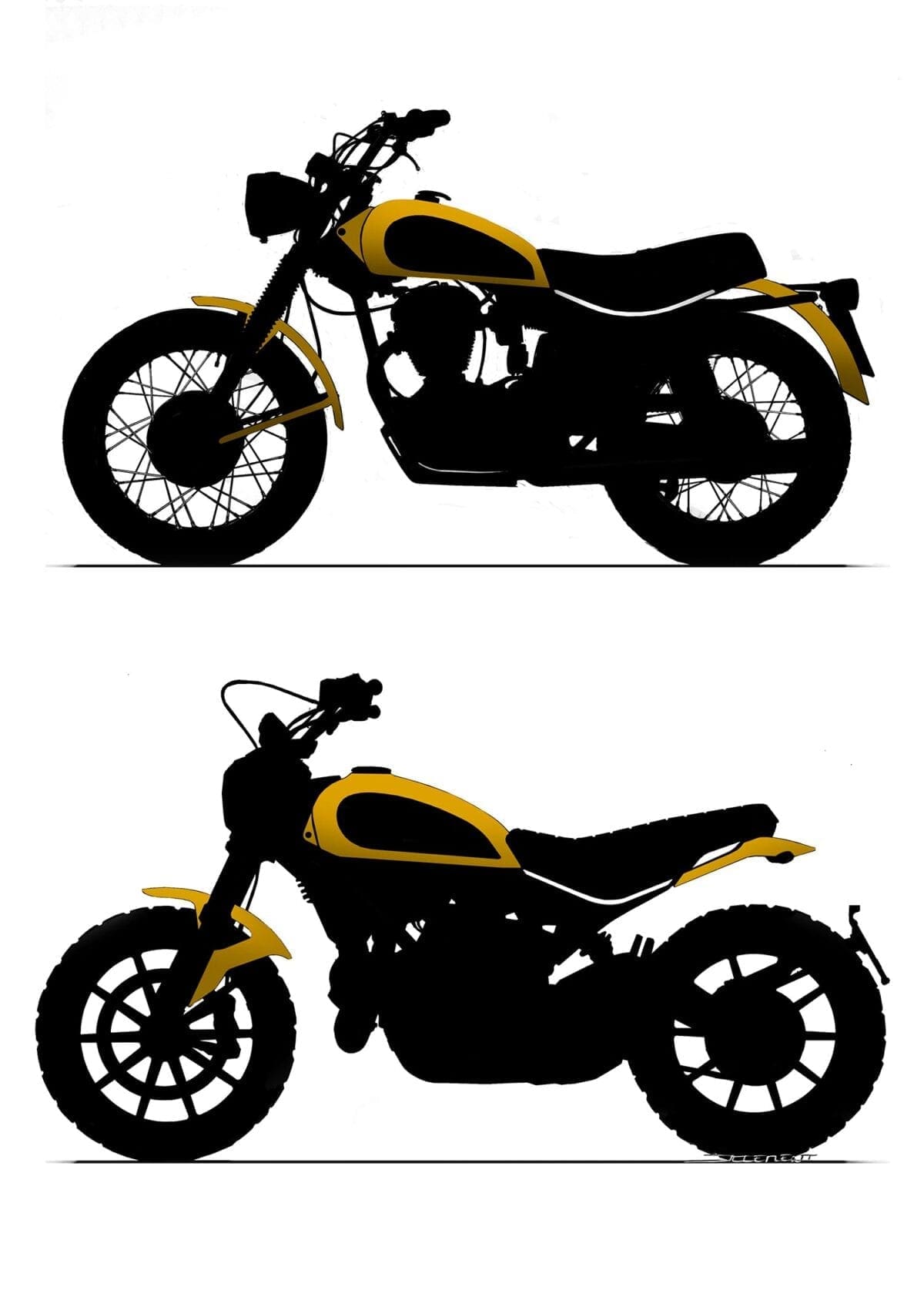 ---
Advert
---
Enjoy everything More Bikes by reading the MoreBikes monthly newspaper.
Click here
to subscribe, or
Read FREE Online
.
Sign-up to the More Bikes Newsletter
Enter your e-mail address below and get regular updates straight to your inbox… You can unsubscribe at any time.