If you're on the hunt for your first motorcycle, looking for a sturdy steed to help you cut through city traffic on a daily commute, or want a small capacity sunny Sunday scratcher, Lexmoto's LXR 125 might be just what you're looking for.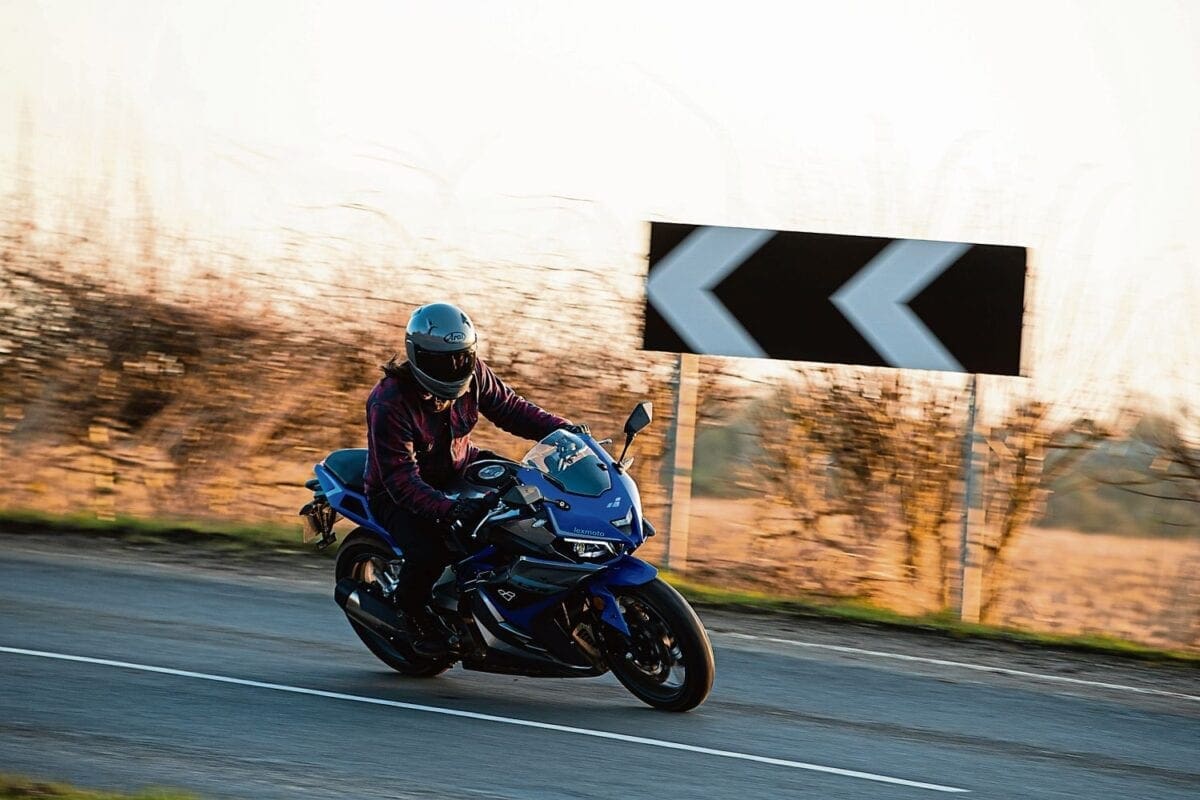 When I was 17 the motorcycle to have was Aprilia's RS 125. Other bikes were available, but if you were serious about your racing and liked going fast, the Grand Prix-derived two-stroke pocket rocket was the one you wanted. Today if you want a 125cc race replica, you're spoilt for choice. Yamaha, Honda, Kawasaki, Suzuki and Aprilia all produce learner-legal versions of their full-fat race machines, but for the short on cash sportbike nut, there's also a seemingly endless supply of machines from some of the smaller manufacturers on the market.
Article continues below…
Advert
---
Enjoy everything More Bikes by reading the monthly newspaper, Read FREE Online.
---
For those of you out there who love the sleek curves and aggressive angles of a sportbike, Lexmoto's LXR 125 should tick all the right boxes. Sitting on its side stand, you'd be forgiven for mistaking it for a much bigger bike, and despite its 'budget bike' credentials, a quick close-up inspection showed up no glaring faults or underlying issues. So far so good.
I was frequently surprised with the amount of attention the LXR received. I'd find passers-by ogling the learner-legal Lexmoto. What is it? What size is the engine? How much does it cost? Every time I revealed its 125cc capacity and its near £2000 price tag, shock was the first reaction. People just couldn't believe it – which is surely a testament to the bike's styling, build quality and size.
It handles well, too. Even on waterlogged roads, the LXR responded to my movements and easily flicked through bends without any trouble. Its big back tyre (well, big for a 125cc) offered ample traction and the front proved itself stable as I pushed the bike harder into corners.
Article continues below…
Advert
Despite the LXR's big bike looks, as soon as you get moving there's no pretending it's anything more than a 125. That's not to say its single cylinder four-stroke engine isn't a capable bit of kit, but it's probably not going to be setting the world alight any time soon. Saying that, there's plenty in the tank up to 50mph, but it's going to take a bit of time (and a lot of road) to reach the bike's claimed top speed of 68mph. Overall, I was very happy with the amount of power on offer. I've ridden my share of 125s which have struggled to get up to 50mph in the first place, but if you work it hard, and give it a handful of throttle, the LXR's more up to the job. Adding to its big bike aesthetic, the LXR gets two discs up front for stopping. Ok, so there's probably no need for both of them on a little 125, but regardless, they work to bring the bike to a halt quickly and safely with no trouble. Interestingly, the front discs work together with the rear brake as part of a combined braking system. That's because every new 125 is required to come with either CBS or ABS, and as CBS is cheaper, that's what Lexmoto's opted for. The combined brakes take a little bit of getting used to if you're stepping down from a larger machine (or are trading in an older bike with more traditional brakes), but there's little doubt they work to make the bike safer, particularly for learner riders.
The LXR's suspension sits on the stiffer end of the spectrum, helping the bike to stay in shape when you're really pushing on. Ok, so it's not the most sophisticated of set ups, but I didn't have any problems with it, aside from a couple of uncomfortable collisions with potholes.
Bikers on a budget will undoubtedly be considering getting their hands on a used sportbike, but the LXR should present a real dilemma. You can spend your money on something second-hand, or you can go for a brand new bike which comes with two years parts and labour warranty. It's a tough call, but I know where my money would be going… It's a super little 125. Its styling is stunning, and if you're a sportbike fan in the market for your first bike (and you've not got £3500-plus to spend on a machine from one of the larger manufacturers), then Lexmoto's flagship learner-legal machine is well worth a look.
Article continues below…
Advert
£2,199.99 / www.lexmoto.co.uk
---
Advert
---
Enjoy everything More Bikes by reading the MoreBikes monthly newspaper.
Click here
to subscribe, or
Read FREE Online
.
Sign-up to the More Bikes Newsletter
Enter your e-mail address below and get regular updates straight to your inbox… You can unsubscribe at any time.