I love Italy. I love Italian food, Italian drinks, Italian people, Italian cities, Italian bikes and Italian riding. Now I can add Italian scooters to the list, because Vespa's GTS 300 is bloody brilliant. Yes, I might spend most of my time riding motorcycles – but that doesn't mean I can't appreciate the simple, stylish beauty of a scooter; especially if it's one as capable as Vespa's GTS 300 Super Racing Sixties.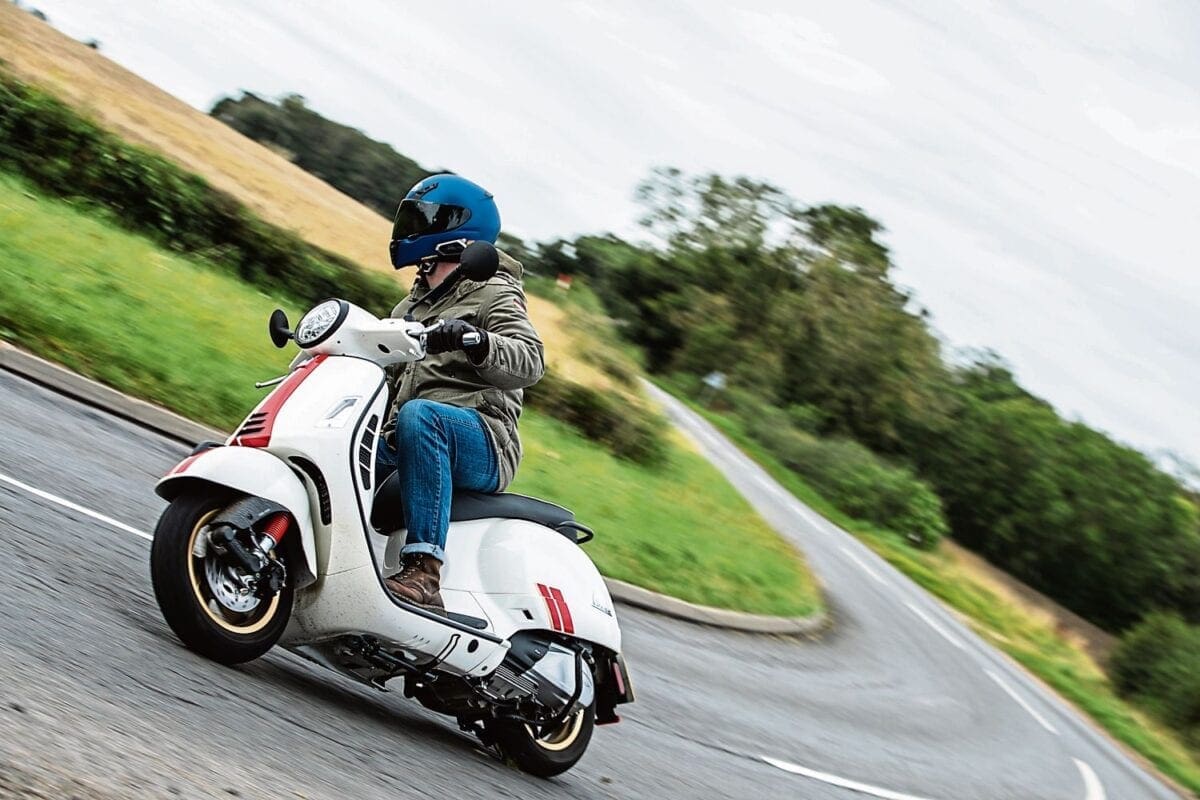 Firstly, just look at the thing. Vespa's not reinvented the wheel, or anything. In fact, it's changed very little in years and years. But then again, why should it? It works – and you don't fix what's not broken. Ok, so it's not quite the same shape as the original, sharper-edged machines of the past – but it's immediately identifiable and turns heads wherever you go. That's particularly true when you're riding the Super Racing Sixties model. I don't recall ever getting so much attention when riding through town. And it's easy to see why… that red and white paint scheme with gold rims looks fantastic. Don't you think?
Article continues below…
Advert
---
Enjoy everything More Bikes by reading the monthly newspaper, Read FREE Online.
---
Vespa's GTS has long been the top of the crop of the scooter market. It's stylish and capable in equal measure – and although the design hasn't really changed in years, the factory continues to make subtle but significant enough tweaks to ensure the latest scooter is the best yet. That's exactly what's happened with the Super Racing Sixties variant; alongside a swathe of the GTS 300 range it gets a new high performance engine (HPE), subtly reshaped leg shields and bodywork, even more underseat storage, a new headlight and LED lights all round.
You've got 23.5bhp of power and 19.2 lb-ft of torque available to play with from its 278cc single cylinder liquid-cooled, four-stroke. That might sound a little meagre – but it's not. The Vespa GTS 300 delivers its punch quickly and efficiently, allowing you to get up to A-road speeds without any trouble at all. Overtakes do take some serious planning, but with a little room for a run up, you'll have no issues cutting passed slower moving traffic. It'll hold its own on the motorway too, no worries – sitting at 70mph all day long without even a grumble. If you're in a hurry, you will be able to see in excess of 80mph on the speedo – but the Vespa doesn't exactly feel at its happiest when you've got the throttle wide open for long periods. It'll do it, but a bit of mechanical sympathy goes a long way. Around town is where it's most content though, off the line it'll get the jump on all four wheeled traffic – making jumping lines of traffic and squeezing to the front of the cue an easy decision; you'll be out of everyone's way before they even know about it.
In addition to the increases to power, torque and service intervals the Vespa GTS 300 HPE benefits from improved fuel economy too. Vespa claim that it'll return an impressive 87.6mpg (31 km/l). Not bad at all. Admittedly, I didn't quite manage to eek out that many miles from a gallon, but I was still getting in excess of 70mpg on a regular basis, in spite of my increasingly spirited riding. The tank is only 7 litres, so you'll have to fill up fairly regularly – but running this thing is never going to break the bank.
How about handling? Well, suspension comes in the form of a fork with coil spring and hydraulic control at the front and twin hydraulic shocks with preload adjustment at the rear. And it performs remarkably well, offering top notch ride quality. It's still a scooter, not an adventure bike, so barrel over some particularly rough roads and you'll definitely feel it – but at least you don't need to worry about unsettling the scooter. I tried and tried to make that happen, rattling over pot holes, access covers, drain covers, gravel, spilled diesel and plenty of waterlogged Tarmac with no problems. It ate the lot up without a second thought. The only time I came close was when I took a bit too much speed into a corner on a very, very wet day. I had to grab a gentle handful of brake to slow myself down in time to bank over and get around, but I felt the back end twitching beneath me. That was it though, no problems – just everything working quietly away underneath the surface to keep me safe and upright. The ABS that comes fitted as standard probably had a part to play in keeping me vertical. It works on both the front and rear – and while the rear was a little easier to engage when provoked with a big handful of back brake, there's plenty of feedback and very little unnatural intrusion. Speaking of stopping – braking is looked after by a set of single 220mm discs at both the front and rear, which are gripped by a set of Piaggio's own calipers. Maybe you'd expected some big name one's on a scooter of this calibre, but in reality, you don't need them. The Vespa will stop you with no trouble and there's plenty of bite when you really need it, without being snatchy and unsettling. And for nipping through small spots in town traffic and turns in the road, they are progressive enough to feather the back and decrease your radius to next to nothing.
The Vespa is a doddle to ride. You can ride it fast, you can ride it slow; it is almost effortless, thanks to its low centre of gravity, acute steering angle and short wheelbase. It's genuinely a great place to be, and I have no doubt in saying less experienced riders would have just as good a time as me.
It's comfortable too; I spent some long days in the saddle of the GTS Super Racing Sixties, covering four hundred miles in a day across a mix of chewed up back roads, faster A-roads and even a bit of motorway for good measure. The seat offers plenty of padding, protection from the elements its surprisingly comprehensive considering the lack of windscreen – and there's plenty of room to spread out too; even for my 6ft 2" frame. Carrying a pillion was a pleasant experience too – it didn't struggle with the extra weight, with plenty of punch available to continue making good, solid progress. Although I only had a passenger for a brief stint, I'd be happy with someone on the back for some seriously big miles. Maybe an Italian adventure is on the cards…?
Under the seat, you've got a decent amount of storage to play with. I managed to squeeze my weekly shop under there with no trouble and I also chucked some gear under there for a few days away. I've actually become quite accustomed to having some storage under my seat – and I think it's going to prove quite difficult to go without. It's great to be able to chuck a few essentials under there, and be prepared for any eventually. It won't take a full face lid though, which is a bit of a shame. It's not all bad; you will get a couple of open faces under there with no trouble.
After a few weeks in the company of the Vespa GTS Super Racing Sixties, I'd fallen in love. I'd have one in a heartbeat if I could find the five and bit grand to snap one up. I recognise there are probably more practical, capable and cheaper options on the market – but if you're after a super stylish, round-town scooter that's up for covering some big miles too, then a Vespa GTS is surely worth a look. You only have to look at the thing to want to sling your leg over it and set off for the Italian Riveria – that's how it makes you feel. And while it'd be in its element bombing along in the sunshine, stopping for a coffee and a gelato, it's just as happy tackling the rainy daily commute in rural Lincolnshire. It's genuinely a joy to ride; quick enough to make good progress, agile enough to nip round town and splice through congested traffic and cool enough to get looks wherever you go.
Ok, so it's not exactly the cheapest option on the market – but it's by no means bad value. We're talking just shy of five grand to get your hands on one – and that's a lot of cash for something which is by design a bit basic. Then again, Honda's SH300i and Yamaha's XMAX 300 are both more expensive; although they are also much more sophisticated. But who wants gadgets when simplicity and style feels this good? Plus, the GTS 300 holds its money very well, so you wouldn't lose a huge amount of money if you ever decide to sell. Not that you'd want to. But if you do, let me know – I could easily be tempted to snap up a set of keys for the right price.
From £4,899 / www.vespa.com
---
Advert
---
Enjoy everything More Bikes by reading the MoreBikes monthly newspaper.
Click here
to subscribe, or
Read FREE Online
.
Sign-up to the More Bikes Newsletter
Enter your e-mail address below and get regular updates straight to your inbox… You can unsubscribe at any time.