Matt came back from the Triumph Scrambler launch a few months ago with a perma-grin on his face. But will he still enjoy the bike as a long-termer?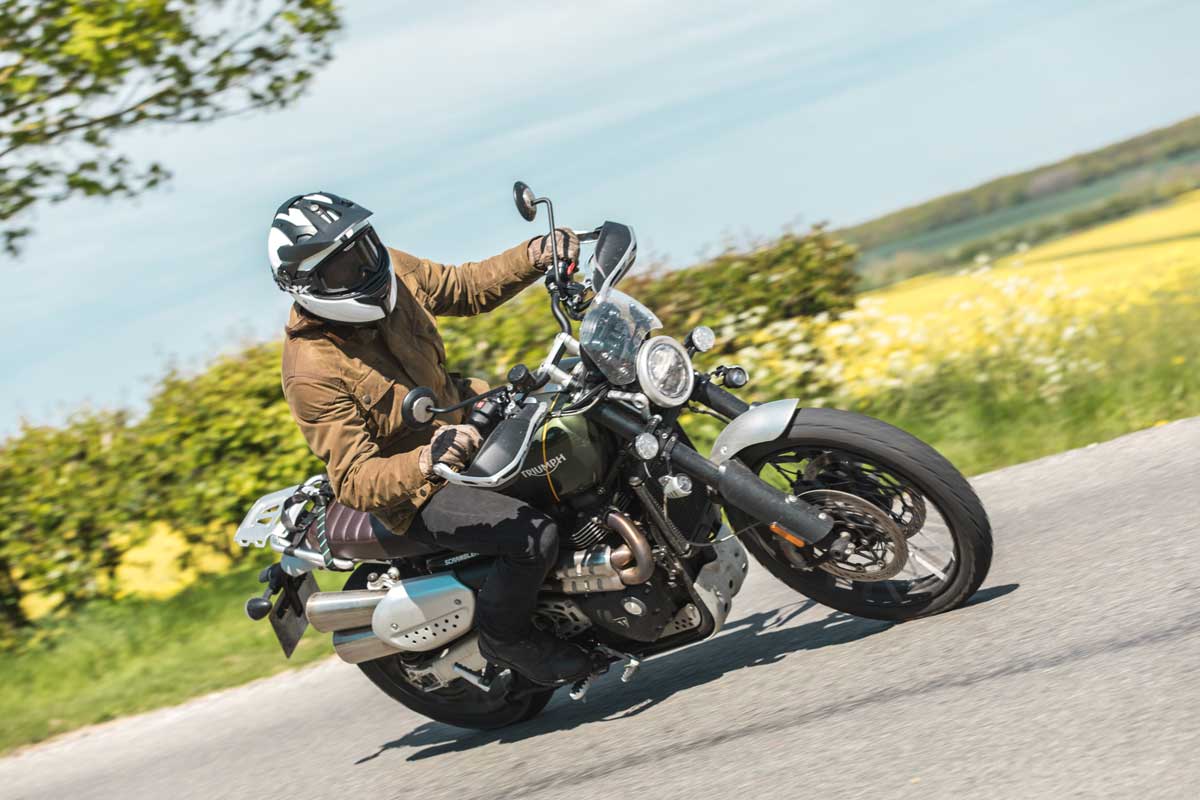 Getting used to a new bike is incredibly exciting – there's no other words. It's almost a first date; you've seen pictures, heard a few comments; but will you like each other? Will you get on? Can you live with each other?
Related articles on MoreBikes
Technically the Triumph 1200 Scrambler and I had already enjoyed our first date, as I attended the launch. We had got on really well, had lots in common and it had that natural feel to it – I at least, felt relaxed, despite us both being on best behaviour.
But – spoiler alert – launch reports of a bike are only ever to be treated as a guide. Manufacturers know how important good reviews are, so the riding routes are tailored to make the bike in question feel as good as possible and the marketeers work hard to give the journalists a positive time. It's the same in any market.
I'm used to this, naturally pessimistic and like to think I can see through the PR smoke screen. So after falling heavily for the Triumph Scrambler 1200 after attending the launch, I am looking forward to living with an XC model for a few months. Whether it flowers into a glowing relationship or ends in a messy divorce; only time will tell…
Two to choose from
To recap, there's two Scrambler 1200 models: the all-singing, all-dancing XE model, with posh, tall suspension and electronic gizmos a-plenty, and the XC you see here – lower suspension (though still the same travel as a BMW R1250GS), and a few less trinkets. The XE costs from £12,300 and the XC is £800 cheaper.
What's it like so far?
The Scrambler is my kind of bike, which is a good start. Enough power – 89bhp – but most importantly, plenty of on-demand torque. Instant, safe overtaking thrust, which is also useful off-road. It's the perfect height for me as I'm just over six foot, has a nice off-road inspired wide handlebar, arms-out riding position which gives good command of the bike and road manners are predictable and confidence-inspiring, despite the off-road tyre sizes.
Last year I had that behemoth Honda Africa Twin Adventure Sports, which I found too heavy and too tall for ad hoc green laning on my own, which ruined that illusion of 'go anywhere'. But it was a great mile-muncher; one of the best I've ridden, with a superb fairing, the comfort of a smoking lounge high back chair and similar power to the Triumph.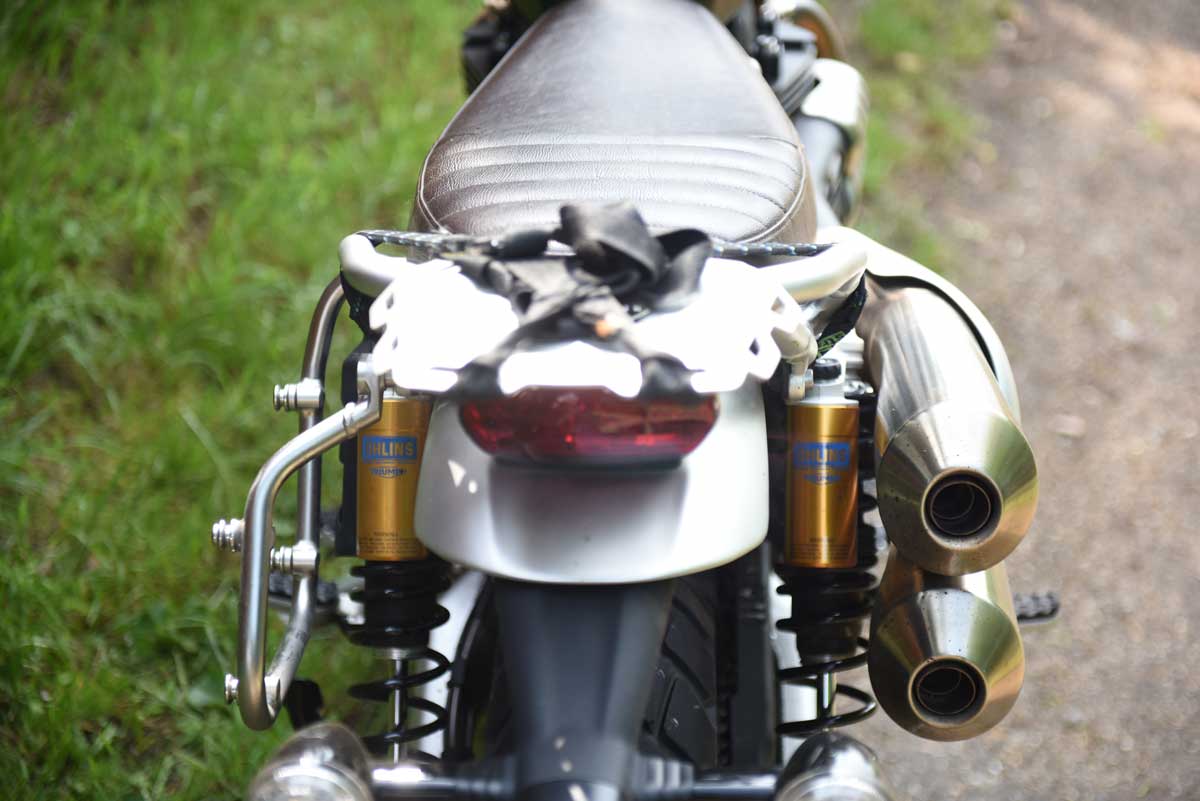 Thirst for dirt
The Triumph, by way of contrast, wills you to investigate any unsurfaced roads, even with the pseudo-trail tyres fitted. It's still a heavy bike for off-roading, weighing in at 205kg (dry), but its lower seat height compared to the Africa Twin and less bulk helps enormously.
The off-road mode, which you have to stop to engage (there are Rain, Road, Sports and Off-road modes, plus a configurable User mode), sets up the traction, throttle and ABS for loose surfaces and while it's a little nanny-state, it works well for us occasional dirt riders. Standing up feels natural, as Triumph have primarily designed this bike as an off-road focussed bike, though I remember the XE having higher bars that are even more suited to standing. So far, we've only troubled simple trails, but there are some more serious knobbly tyres on order for future muddy fun.
Mega-miles? No thanks
Back on the road, the seating position on longer, or higher cruising speed journeys feels like it needs some attention. As supplied, the preload on the rear feels too slack, giving a low rear-end feel – I want to bring that higher to help bring my body a little forward. Otherwise, without any fairing, I feel like I'm being pushed back.
And the seat, while looking good, is too hard. It's thin, so it has to be hard, but on long journeys you are glad the fuel light comes on after about 130-140 miles so you can have a little walk around. And after carrying a pillion for 200 miles, the rear portion of the seat feels even more firm than the rider's perch. Plus, those great looking exhausts push the right leg out. But, to be fair, the Scrambler doesn't list 'long-distance tourer' in its remit.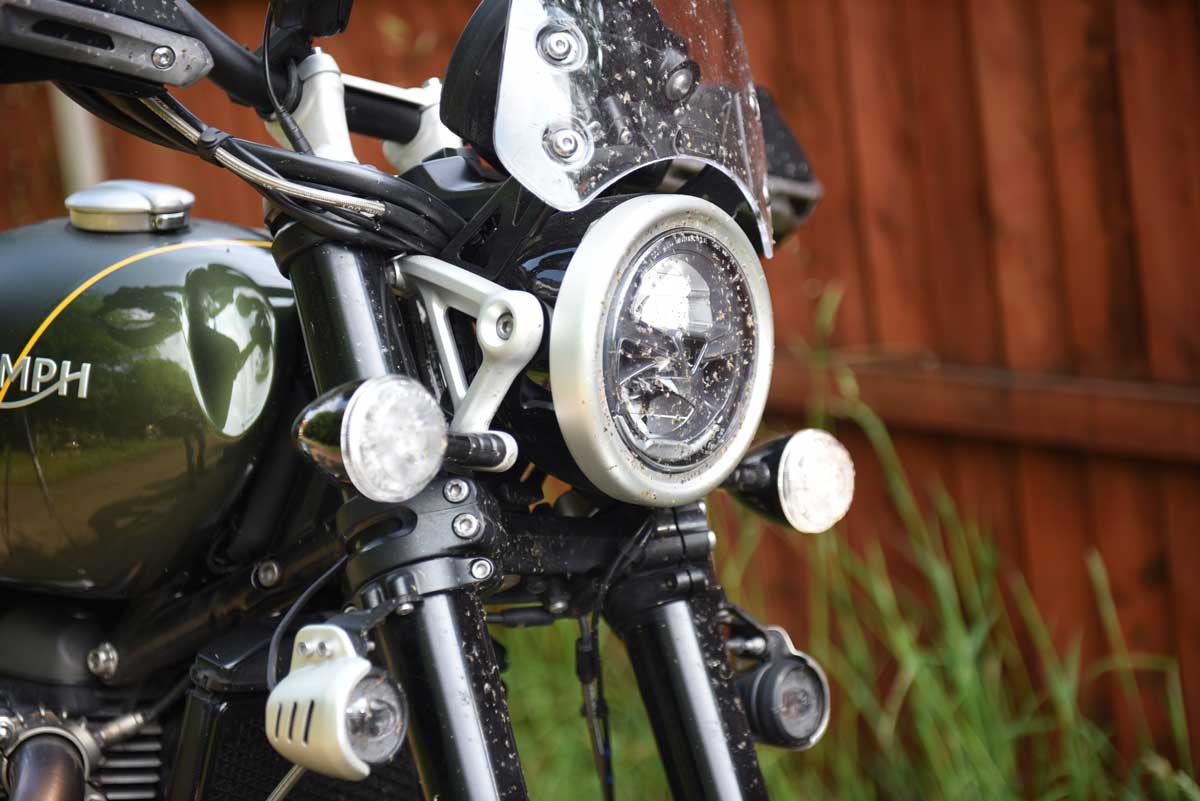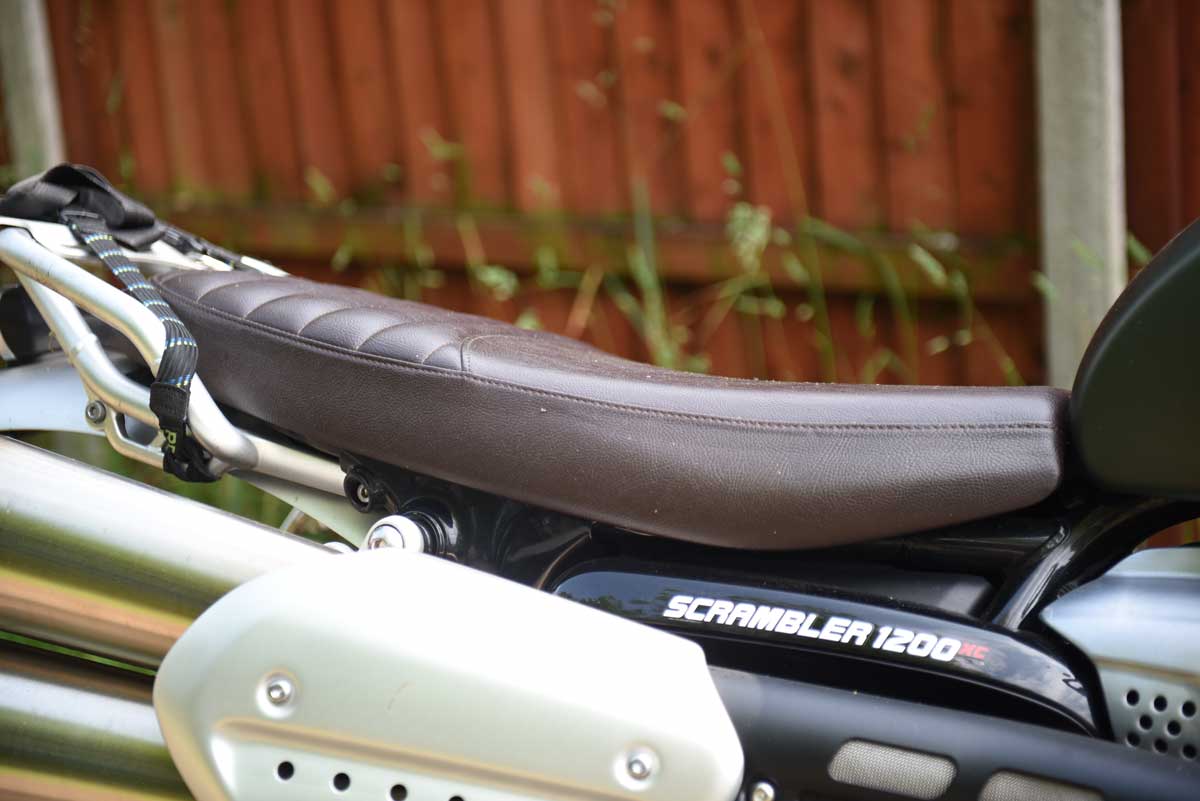 This one's a keeper
While I'm whining, the headlight was poor; I couldn't see naff-all, despite the optional £295 LED spot fitted. It looks bright, and the daytime running light is super – they won't miss me with that on! But a quick fiddle with an Allen key had it adjusted; it's just so focussed it needs to be set up just right. Though the fog lights don't seem to do much; instead, put the money towards the 'Rugged pannier', fitting kit and rear rack which are really useful and well made.
But with honeymoon period in full swing, it's mainly positive. I still jump on the Triumph at any opportunity and am loving that great Thruxton R-derived engine, sumptuous and nicely balanced suspension and more than ample brakes. The modes automatically default to Road, which is fine, the traction control is a nice comfort blanket in the wet and the Off-Road setting gives a little slip and slide when on the trails. I'm off to London next week; a perfect time to play around that live-forever London and see how the Scrambler adapts to the City environment. With a high up, commanding position and poky engine, it should be great with that urban jungle. I'll let you know more next month, but so far, I think this one's a keeper.
Triumph 1200 Scrambler XC: this month
Rider: Matt Hull
Cost new: £11,500
Engine: 1200cc liquid-cooled parallel-twin
Spec: 89bhp/110lb-ft
Dry weight: 205kg
Tank: 16 litres
Seat: 840mm
Miles this month: 1402
Miles on clock: 1934
Average mpg: ???
Current tyres: Metzeler Tourance
Modifications: Rear rack £225, Rugged pannier £210, Fitting kit £85, Fog lights £295, Touring screen £74, Power socket (on top yoke) £25 (Fitting extra)
---
Advert
---
Enjoy everything More Bikes by reading the MoreBikes monthly newspaper.
Click here
to subscribe, or
Read FREE Online
.
Sign-up to the More Bikes Newsletter
Enter your e-mail address below and get regular updates straight to your inbox… You can unsubscribe at any time.