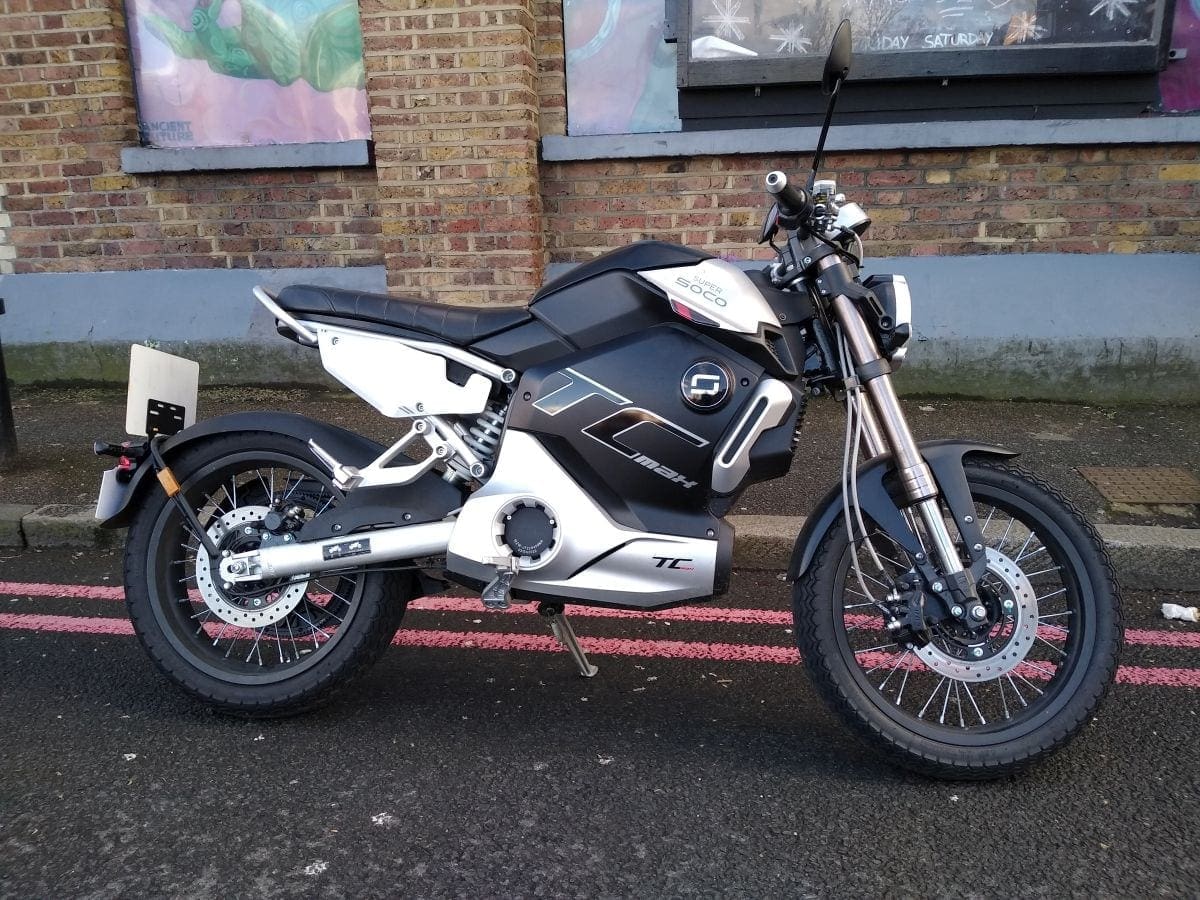 By Bob Pickett. Previously, we reviewed the Zero SR/F.  The results were impressive, but as always the up-front cost was an issue for many. What if the difference in price was minimal?  According to research by eBike vendor Urban eBikes, in 2016 the average journey was just 17 miles, suggesting the kind of commuter run a small capacity bike handles well. There is little difference in price between petrol and electric at this size.
The Super Soco TC Max is intended as an urban solution, so I stuck to the roads around Urban e-Bikes location in Hackney.
Article continues below…
Advert
---
Enjoy everything More Bikes by reading the monthly newspaper, Read FREE Online.
---
I've been riding motorbikes for the best part of 30 years and ridden a couple of automatics (NC700 and DN-01), but neither of those prepared me for an electric bike. You have to unlearn a lot of what you've learned about riding.
I really like the looks; Kind of sci-fi while retaining the essential 'bike' shape.  Pegs are central, bars dip slightly forward so you're leaning into the ride.  It's small and slender, most will feel instantly comfortable.
To start the bike, blip the fob to turn off the alarm and start the bike. Press the power button on the "tank", raise the centre stand, press a button on the right bar and it's ready to go, no warming up.
The instant power on tap takes getting used to, but it's rewarding. You whizz away from the rest of the traffic, building speed briskly.  There are three modes: 3 is full (60mph) power, 2 is town mode (30mph) and 1 is 'limp back home when you've forgotten to charge the battery'. Talking battery, the Super Soco's is removable.
Once on the road, the only sound is rubber on tarmac.  It's a bit strange to begin with, but after a while it's rather nice, but it did lead to an incident where DumDum wandered into the road as he didn't hear me coming (the horn is nice and loud).  Buzzing silently down the road, the TC Max is an enjoyable ride.  It holds the road nicely, handling really well.  You can carve broad curves or brake 'n' dip, it does both easily, holding it's line perfectly.  Suspension is on the soft side, soaking up most lumps and bumps, but the odd bigger pothole jarred.
Braking?  That was… strange.  I rolled off the throttle… and zero engine braking.  On a conventional bike (even a 125) the engine is helping. With little practice it's easy to bring the TC Max to a halt good feel from the front.  Then I applied the rear… I'll be honest, 'conventional' biking brain kicked in and I went to use the rear (left) lever like the clutch.  And the Super Soco stopped like it hit a wall!
When you turn off the bike the alarm activates, also locking both wheels.
To get the most out of the TC Max I'd like to ride one for a week on local roads I know really well. It's such a different experience that I'd like to be able to concentrate on the bike more and the ride less.
WHAT'LL IT COST?
A Super Soco TC Max costs from £4,249 (after Government subsidy). It is rated equivalent to a 125cc petrol bike, so for comparison the Kawasaki Z125 is a good match.  The Z125 costs £3,599; a £650 hike for an ebike with less power (see tech specs). Running costs eat into that: No Road Tax for the eBike, that's £44 saved. The Z's tank takes 11 litres of fuel, around £12.65 a tank, which should be good for 180 miles.  The TC Max battery costs £0.45 to recharge, good for 60 miles.  So roughly £11.30 less for the e-Bike for an equivalent distance.  17 miles a day is 4,080 a year, around 23 refills of that 11 litre tank.  Over a year that's £291 worth of petrol… or £31 of electricity.  Throw in the reduced servicing need and costs and that's the difference made up in two years.
Tech Specs:
Power:             5kW
Torque:            12.9Nm (instant) 
Max Speed:    60mph
Riding Modes: 3
Frame:             Carbon Steel with Aluminium subframe
Curb Weight:   79Kg + 22Kg battery 
Seat Height:    770mm
Gears:             Twist & Go
Brakes:            Front & Rear disc with CBS braking
Final drive:      Belt
'Charging':       7-8 hours (3-4 fast charge)
The Gogoro network, Taiwan:
The TC Max has a removable battery, though at 21Kg you'll not want to do it often.  But what if you had a bike with small, easily removable batteries that take moments to swap?  In Taiwan, Gogoro has developed an urban transport system based around this concept.  Founded in 2011, in less than a decade they have established the largest battery swapping network in the world with over 2,000 charging stations allowing more than 250,000 battery swaps a day, enough power to ride 15,000,000 Km.
A range of scooters (Gogoro's own models plus five other vehicle partners like Yamaha) are available with batteries that can be swapped on the network. After registering with the network, choose a riding plan based on bike and distance.  This can be as little as TWD 299 (around GBP 7.80) a month.
Swapping the batteries is simplicity itself; pull up at a charging station, open the seat and remove the batteries. Insert the discharged battery into a vacant slot and a charged replacement is released.  Slot the charged batteries into the scooter and you're ready to go.  You can swap and be back on the road in just SIX seconds.
The network of charging stations is spread across Taiwan. Gogoro works with local businesses to get charging stations sited at useful locations such as supermarket car parks, convenience stores and parking lots. In Taiwan's cities there are stations every 500 metres or so.
Gogoro is also involved in constant development work on their battery tech.  Their 3rd generation battery has recently been released; these allow the rider up to 170Km (around 100 miles) between swaps.   It is important to note that the consumer doesn't own the battery, it is included in their monthly subscription. This enables Gogoro to swap out old batteries with new ones, ensuring the latest tech is always available
Admittedly Gogoro operates in a country where small capacity scooters have long been an established part of the urban transport network (and population clusters are more central than the UK's decentralised populace).  But their massive growth in such a short timeline shows what can be achieved.
WANT TO FIND OUT MORE?
For more information or to book a test ride of the TC Max or a range of other eBikes and eScooters:
Urban eBikes
London Showroom: 507, 509 Cambridge Heath Rd, London E2 9BU
Rye Showroom and Warehouse: G31 Atlas Industrial Park, Harbour Road, Rye TN31 7TE
Tel: 0800 368 7303 Email: [email protected]
For more information about the Gogoro network and their range of eBikes and eScooters:
---
Advert
---
Enjoy everything More Bikes by reading the MoreBikes monthly newspaper.
Click here
to subscribe, or
Read FREE Online
.
Sign-up to the More Bikes Newsletter
Enter your e-mail address below and get regular updates straight to your inbox… You can unsubscribe at any time.