Steve finds himself falling under this Honda CB550 Four's spell… is he about to shed his tag of two-stroke lover?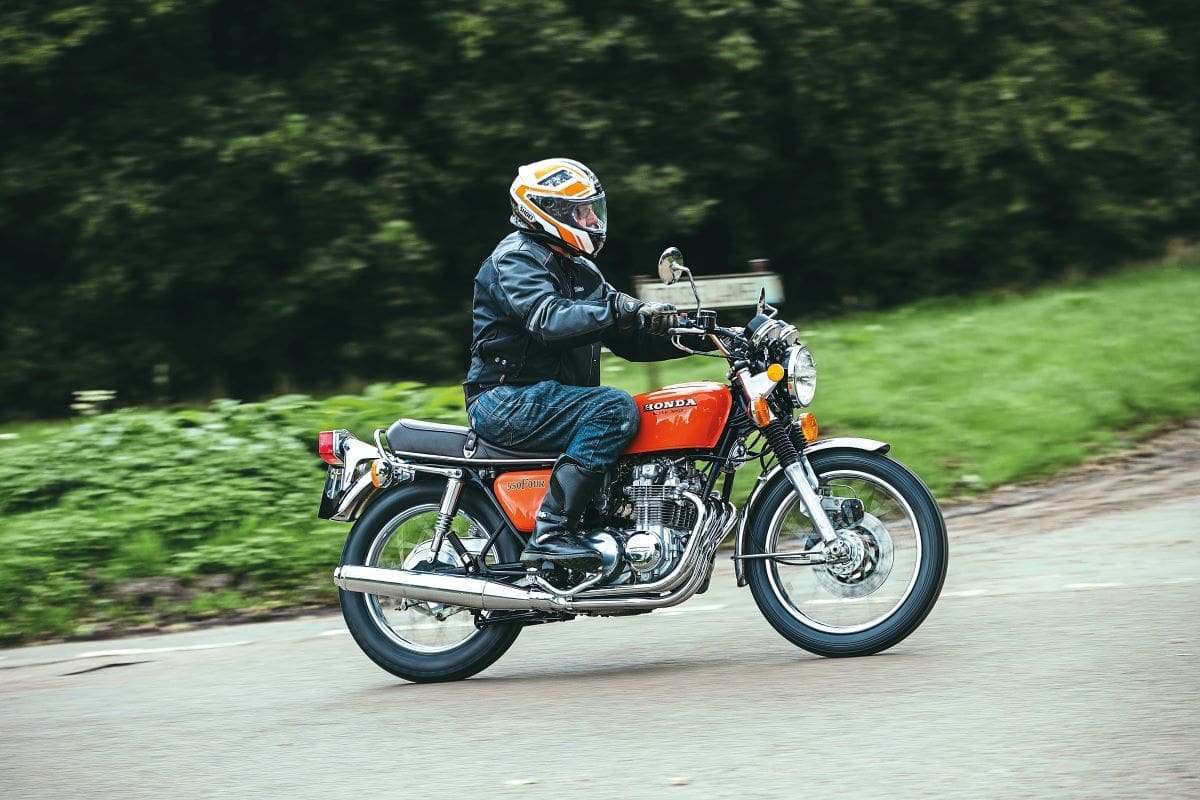 Words: Steve Cooper
Pics: Gary D Chapman
"You won't like this one very much I suppose – what with you being a two-stroke man!" says Dave the owner. Well, it's a reasonable assumption given my perhaps unhealthy obsession with older stinkwheels.
And, to possibly reinforce this, I've just got off two of Dave's trail bikes …yes, two-strokes – naturally. I've ridden several 550/4s over the years and some have failed to impress; Okay, so the odd one has made me smile but in the main I've come away feeling – meh – as the kids say. I always loved the look of the original 500/4s and felt the F1 550s were something of poor(er) second. I get that Honda was focused on car production at the time and had to rehash what it had rather than run out new designs. However, for me personally, the cosmetic reworking of the later 550s in general just looked like a subtly cynical redraft that cut down on shiny chrome pipes, silencers and, in some instances, even vinyl graphics.
Yes, Okay, Honda was also looking to capitalise upon the sales successes (in Europe at least) of the seminal 400/4 itself, a financial rehash of the previous 350/4. Plain, flat colours, minimal decals and the like had boosted the 400's appeal but that wasn't an automatic guarantee that the same would apply with the 550 F1. Oh, and whoever back at Honda HQ thought brown vinyl offered a cool look was plainly wrong. It didn't work then and doesn't work now – sorry hipster types, but it fundamentally ain't cool! Sniping and griping pretty much over, etc.
The bike in camera may look a little different to the UK versions as it's an American import. Therefore it runs the obligatory ma-hussive Yank rear light and the larger indicators… sorry, turn signals. Another foible of the American models is that they came with audible as well as visual reminders that the turn signal was still in operation; possibly a good thing in an urban environment but arguably as valid as an ashtray on a FireBlade when ridden at speed. Anecdotal information suggests the use of such auditory annoyances were dropped following altercations at designated crossing points between motorcycles and the visually impaired who thought they were safe to cross… so-called advances in technology, eh? And another safety feature you could potentially either love or loathe is the rubber flipper on the side-stand which makes it almost impossible to ride around a left-hand bend with it down. The start of the nanny state for motorcycles or a possible lifesaver – discuss!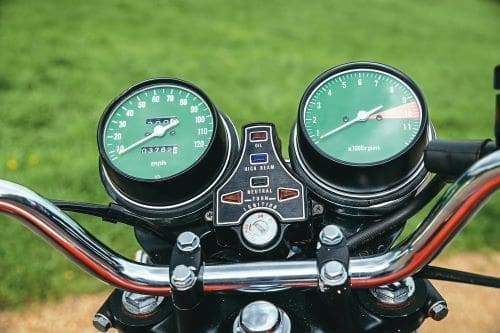 Regardless, Dave Payne's 550/4 is, unquestionably, a pearler and undeniably a very lucky find. Read Dave's story of the bike's resurrection and ask yourself how often does anyone get a result like that? Given its age, the overall condition of the bike is amazing and you'd seriously struggle to find a better 'restorer's reference'. Pretty much everything you see is original and OEM bearing testament to the quality of finish Honda is known for. The chrome plate still shines brightly; the paintwork on the panels still looks inches deep; the switchgear appears to be box fresh; the chassis is still the same lustrous satin black; even the zinc (or was it still cadmium back then?) plating belies the bike's age – how many Japanese machines from 1976/77 have survived this well?
If you look a little deeper then, yes, the 550 does have some patina, but who in their right mind would restore a Japanese classic that arguably only looks four or five years old, not 45! As the saying goes – they're only original once.
As the bike is variously positioned for Gary the Lens to do his stuff, I find myself worryingly admiring the bike, given my previously stated ambiguous feelings towards the model in general. That unusual orange paint catches the sun beautifully and is flattered by all the chrome. More by luck than judgement, I'm guessing, those large mid-green gauges contrast well with the tank's vibrant hue and (hush my mouth) even that brown seat is making aesthetic sense. Steady old man, steady! Many would opine that although the 550 F1 isn't from the same mould as the seminal 400/4, it would be a myopic misanthrope who reckoned this one here doesn't look stunning. Sometimes colours can make or break a bike's looks and this one is rocking its rehashed, mid-70s, makeover.
Visual appraisal completed, it's time to ride the bike and, as you would hope and expect from a period machine from The Big Aitch, it's pretty much faultless. It starts in a trice with a mere poke of the button on the right-hand bar and the choke can be flicked off as soon as there's some heat inside the motor. Often Hondas are erroneously cited as being boring machines to own and ride by detractors but, then and now, people studiously miss the USP (Unique Selling Point) of the brand.
Soichiro Honda and his company strived to deliver viceless machines – if you're the sort of person that likes to pass off faults and foibles as 'character' then, yes, you are likely to take issue with the great man's take on powered two-wheelers. If, however, you wanted a bike that could take you away on holiday, ride fast with your mates without issue, followed by the 9-to-5 weekly commute, then a Honda always was a damn fine choice. This particular motor is quiet even by Honda's peerless standard, further supporting the bike's low mileage, well-cared-for condition. The 4-1 exhaust isn't loud but lets you and the general public know the bike is alive and mobile. It's not exactly raucous by any means yet it would never, ever, pass any of the earlier Euro noise emission tests, let alone the latest Euro 5 regs. It's not going to trigger one of the noise 'cameras' we're being currently being threatened with either, but you most certainly know when the motor comes 'on cam'.
That power unit is incredibly smooth and sophisticated but, just like any of the genre, needs to be worked and revved to get the best performance out of it. And that's most emphatically not a criticism of it. Honda's R&D teams opted to put peak torque up high on the rpm scale and not very far from where maximum bhp was generated; totally the opposite of the 'old guard' where the two facets were generally pitched as far apart as possible. Once you've recalibrated your riding head it all makes perfect sense and you can relax knowing that being north of seven grand on the tacho will not be deleterious to the bike's longevity.
Handling-wise, the bike is of its time and no better nor worse than anything of the period. With that tall motor carried relatively high up in the frame, there's initially a subtle feeling of being slightly top-heavy but you very quickly gets accustomed to it. The rear drum works fine and the much maligned pivoting front calliper works better than its reputation might have you believe. That said, I'm very confident Mr. Payne has gone through it with a fine-tooth comb and that it's at its factory best. I've not gone delving through the parts books to look, but I'd guess the 550's suspension was gently upgraded as befitted its perceived 'sports' status. And if you've been studying Gary's superb photography carefully you'll spot the rubber is Avon Speedmaster at the front and Avon SM (Safety Mileage) at the rear. Perhaps not your first and most obvious choice of black hoops, but at the time of the bike's rebirth there really wasn't much in the way of choice. Lack of availability was variously blamed on Covid/Brexit/the container ship stuck in the Suez Canal/economic downturn – delete as applicable. Yet the fact remains the rubber fitted did a seriously better than okay job which only goes to show two things (a) rubber technology has come on a long way since the 1970s and (b) tyre snobs could do a lot worse than expand their horizons.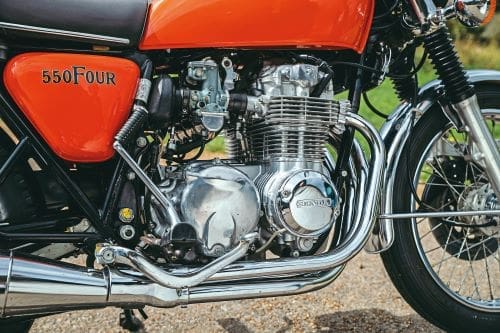 The bike rides beautifully and there's a real aura of quality to it. Yes, it would very probably have been blown into the weeds by a well-ridden, air-cooled RD350 but that misses the point by a country mile – different horses for different courses as they say. Only one minor gripe – but it's really endemic to most of the range at that time – is the slider for the indicators which is always some five millimetres too far away from your thumb. It's a strange oversight by anyone's call and even more so when you appreciate the average Japanese is physically smaller than we Brits or the Americans. If anyone knows why Hondas of this vintage were thus equipped please and tell us.
Ultimately, Dave Payne's delicious CB550/4 F1 has caused me to reappraise my feelings for the model. As this one stands it's a supremely competent and effective air-cooled four. I'd happily go on record to say it's very possibly the best of the early SOHC cam Honda fours. Enough poke to get a wiggle on and maintain a decent daily mileage, yet not too bulky or compromised by excessive mass. If you wanted a mid-70s air-cooled four for general use allied to the occasional longer trip or even a cheeky week away you could do a lot worse than consider one of these. Just hope and pray you can find one as smart and original as Dave's!
The owner's view by Dave Payne
I had a 550 F1 when I was 18. I brought it from a fellow apprentice at Vauxhall and I went everywhere on it. In so many ways, I grew up on that bike – it was thrashed and crashed, but just kept coming back for more. I'd always had a hankering for another but have never managed to find a nice one. Then earlier in 2020 I saw this one advertised on eBay from DK Motorcycles. I had a bid on it and won it. I had it delivered without even seeing it in the flesh, something I have always said I would never do.
When it arrived I had a good look round it. The silencer was rusted through; the front master cylinder was full of stuff that looked like muesli; the tank and fuel system needed a good clean; etc. I found a great guy through the VJMC to clean the tank! The rest of the bike just cleaned up really well… I was amazed! The build quality is something else. All the chrome, paint on both bodywork and frame is original with the exception of one side panel that's a replacement, painted by a mate – cheers Herbie! When I registered it, I sent a note to its original owner, a Mr Tom Rau in Minnesota. He sent me back a lovely note and some great pictures from when it was new, to when he sadly decided to part with his old friend. I am delighted to report that he confirmed the mileage at under 4000 miles was correct. For me, the 550 is a great reminder of happy and carefree days back in the 70s. A keeper? She sure is!
Honda's middleweight Fours back story
Honda pulled the covers off the CB500 in early 1971 to reveal its second take on a mass market four-cylinder motorcycle. The 500/4 addressed the twin concerns some journalists and owners had flagged up about the original 750/4 – mass and size. The 500/4 was an all-new design that favoured the use of a wet-sump motor that was, effectively, more in tune with Honda's core values. The bike was well received by the public and would go on to be arguably the best of the early air-cooled fours with some of the poise and litheness of the 350, whilst almost being up there with the 750 in terms of performance.
Day-to-day use showed the CB500/4 was probably the best of the bunch and most period journalists concurred. It also had some real potential as well, demonstrated when Bill Smith won the 1973 production TT on one. In 500 guise the bike ran from 1971-73 up to the K3 model.
1974 saw the CB550/4 introduced, even though the 500 was still being offered in some markets. A simple overbore of 2.5 millimetres upped both power and torque by a useful 10 or so per cent. Other than aesthetic changes, the 550 remained pretty much unchanged until the 1977 K3 model which saw the iconic tulip silencers swapped out for plainer, reverse cone megaphones and new styling. The following year the seat became a two-level arrangement, said to be aimed at providing better pillion comfort. In amongst this, Honda also introduced the F 550s series in 1975, borrowing heavily in terms of looks from the hugely popular 400/4's look. The F range would run through three model year, to 1977 before being dropped.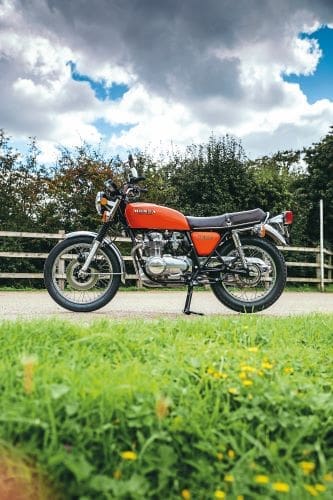 1978 saw the CB650 being unveiled for the 1979 model year and this was to be the final development of the original half-litre four. Increasing both bore and stroke near to the alloy casting's maximum capabilities saw power brought up to some 63bhp. Quite possibly Honda considered the 650 as a quick, convenient and efficient way of getting a 'new' middleweight four on the sales floor for minimum effort, but it's genuinely doubtful it could have foreseen just how successful the bike would be.
In both roadster and factory custom guises the bikes would run on until around 1985, with the later iterations proving surprisingly popular stateside. Badged as the CB650SC, the bike was also marketed as the 650 Nighthawk, which borrowed on the 60s CB72/77 model appellations whilst also adding 'mystique' to the machines so named. Although, truth be told, the Nighthawk badge was really a way of extending the lives of older models with some pulled-back bars, fancy wheels, faux king and queen seat, and chrome detailing. True fans may have thought Honda had 'sold out', but if the Nighthawk models brought in more dollars, was that really a problem?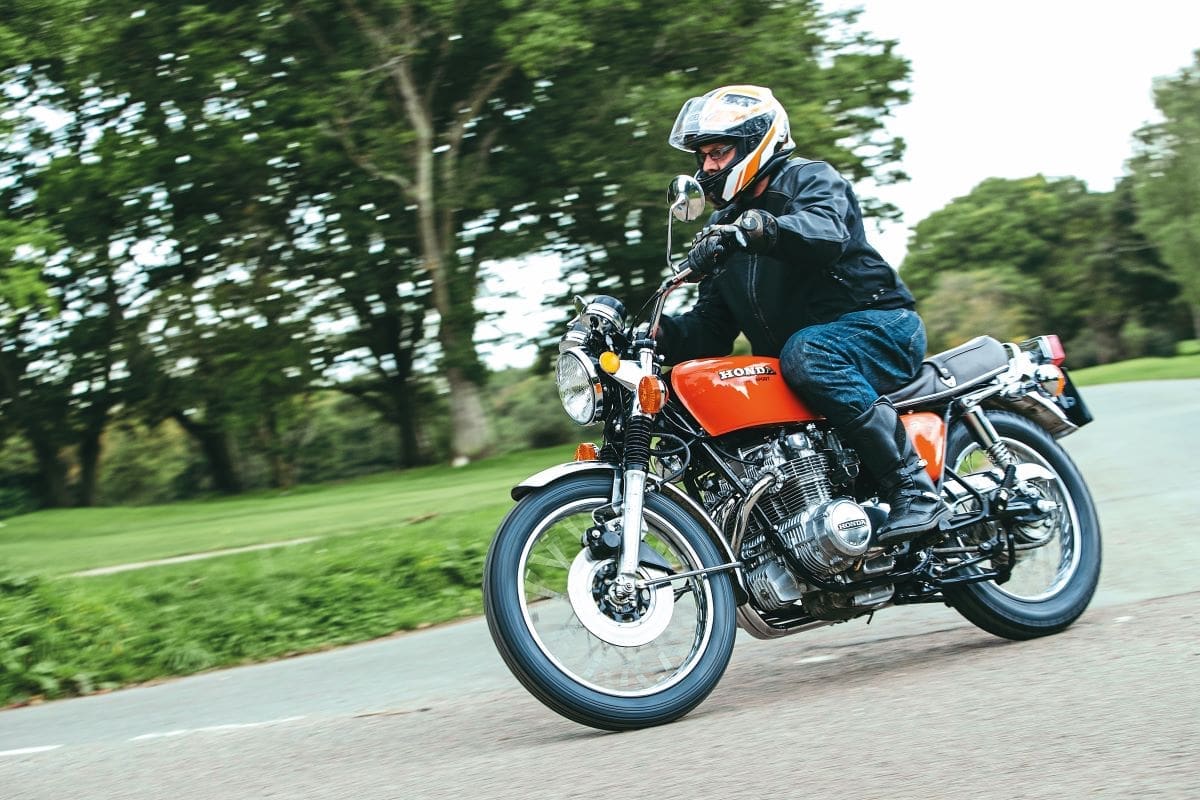 Engine type: 544cc air-cooled, four-stroke, four-cylinder, SOHC 8 valves
Bore and Stroke: 58.5 x 50.6mm
Claimed Horsepower: 50bhp @ 8500rpm
Maximum Torque: 31lb-ft @ 7400rpm
Transmission type: 5 speed
Compression ratio: 9.0:1
Carburetion: 4 x 20mm Keihin
Tyres: 3.25 x 19 (F) 3.75 x 18 (R)
Fuel Capacity: 3.1 gallons (14 litres)
Brakes: 270mm disc (F), SLS drum (R)
Wet weight: 206kg (454lb)
---
Advert
---
Enjoy everything More Bikes by reading the MoreBikes monthly newspaper.
Click here
to subscribe, or
Read FREE Online
.
Sign-up to the More Bikes Newsletter
Enter your e-mail address below and get regular updates straight to your inbox… You can unsubscribe at any time.