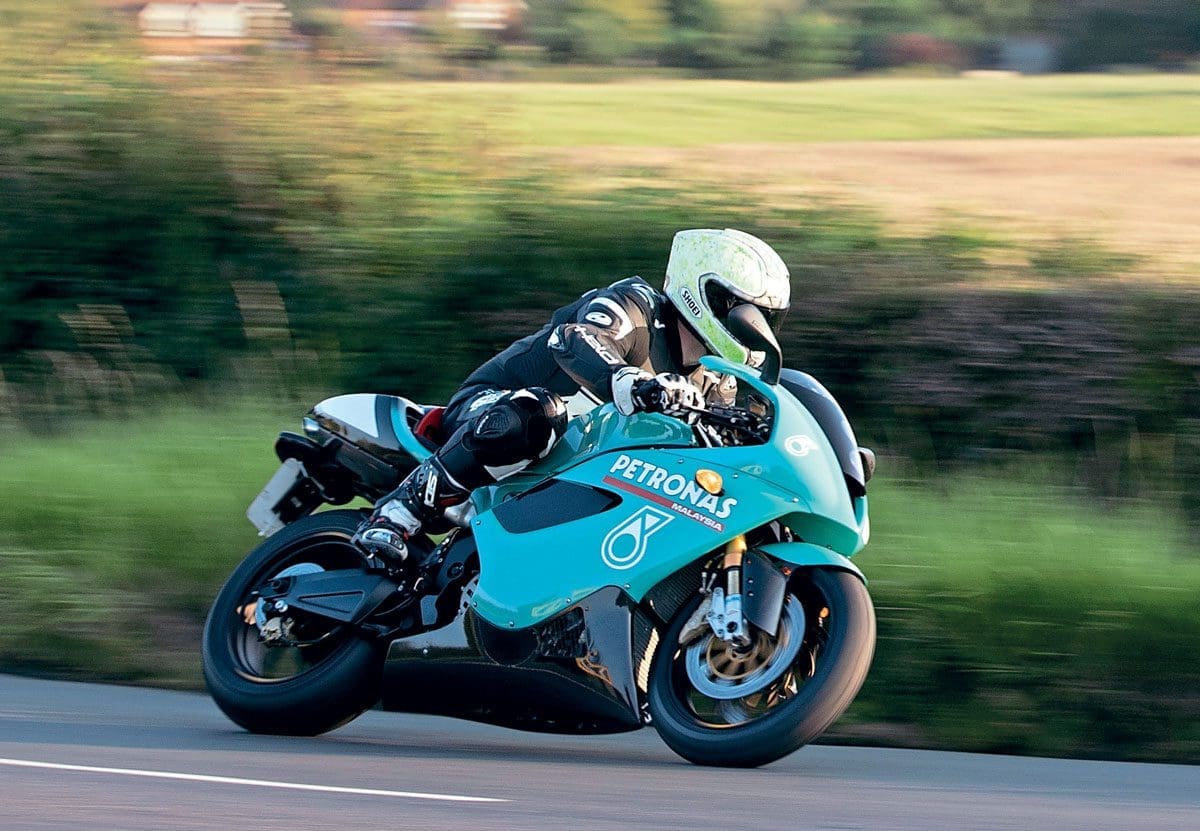 It's one of the most iconic and elusive bikes on the planet, with a back story so muddied that few people will ever know the full truth behind the Petronas FP1's tale. But having managed to get our mitts on one, we were at least in a position to see if it lives up to the hype…
There are rare bikes that might come with an interesting back story, or which have been produced in small numbers to satisfy homologation rules. There are also special bikes that happen when engineers are let loose and the bean counters kept out of the room. There are also unicorns – bikes that are all of the above, but which also come with enough urban myth to cast doubt as to their existence at all.
The Petronas FP1 is one such bike, whose legend is made by virtue of the fact that not one of the road bikes produced for homologation in 2003 were even officially sold – they are ghosts.
Almost every piece of media coverage the FP1 has had since it was produced has been speculation, and reports of deals gone bad, tax dodging, people being sued for tens of millions of dollars, bikes going missing, bikes found in containers, bikes impounded by foreign governments, debts owed, and gagging orders placed on anyone who had anything to do with the project.
I've never read an FP1 road test in print or online anywhere in the world, which only further adds to the myth. So, imagine how happy I am, having had a Petronas FP1 for more than a week, to be able to write about what it's actually like to ride instead of yet another update on its murky history. Having said that, it's still worth a recap of how the FP1 came to be such an icon without any getting sold, simply because you literally couldn't make it up.
When the Malaysian oil and gas company Petronas decided it wanted to make and race motorbikes, it threw the kitchen sink at the job and designed a bike with quite a radical layout – a reverse three-cylinder 900cc engine – with a view to entering the World Superbike Championship in 2003. Except the firm didn't get the memo about the rules changing in 2003 to allow 1000cc four-cylinder engines, which meant the Petronas was uncompetitive from the very start.
The pre-2003 set of rules allowed 1000cc twin-cylinder bikes, 750cc four-cylinder bikes and 900cc three-cylinder bikes to compete, and since the engine was designed to be as small as possible for a 900cc, to, in turn, allow for a compact chassis to be used, there was nowhere for the engineers to go with the bore or stroke to get it closer to 1000cc without designing and building a whole new engine and chassis. The only thing they could do was increase the revs to try and make more power, which wasn't enough, plus the extra revs made it unreliable.
Nevertheless, race fans were treated to four seasons of watching some of the greatest superbike riders of the era dragging the woefully slow FP1 round race tracks to mediocre results if they were lucky, or a trip to the gravel trap – usually on fire – if they were not.
Meanwhile, to meet the homologation rules for superbike racing, Petronas set about building the required number of bikes to satisfy the rule makers and get its road bike business off the ground. It's at this point that things get shady, with various differing accounts of what happened, where it happened and the numbers involved, depending on who you talk to.
The most common version of events – and therefore the most likely to be closest to the truth – is that an initial batch of 150 road bikes were scheduled to be built, with 50 destined for the race team.
This amount wasn't enough to homologate it for racing but with a lot of persuasion and no doubt some dodgy deals, it was enough to get the bike to the grid. Without doubt, if by some sort of miracle the FP1 had been competitive on track, you just know other manufacturers would have protested it.
The first 75 were to be manufactured here in the UK. Then, all the tooling, moulds and most of the staff were to be moved to Malaysia for the next 75 to be made. However, around the time this move happened, Petronas had already decided to throw in the towel and scrap the whole project lock, stock and barrel.
Enter another Malaysian company called Momoto, who did a deal with Petronas to buy all the designs, blueprints, patents, bikes, spares and tooling, with a view to rebranding them as its own bikes and effectively picking up where Petronas left off, but without the drain of racing.
Look up Momoto MM1 on the internet and what you see is unmistakable – an FP1 with a paint job. Around the same time, 60 bikes surfaced in a lock-up in the UK and were recalled to Malaysia as part of the deal. When they arrived, they were impounded by the government there for taxes and duties owed by Petronas, and so began a legal fight that lasted years and kept the FP1 unobtanium for even longer.
Two lawsuits were filed by Momoto against Petronas Technical Services, one to cover the fine for $83 million for Petronas not registering the TWO bikes it made with approved permits, and another for $9.25 million of unpaid customs and excise duties.
The case went to arbitration, and a deal was eventually done between the Malaysian government, Petronas and Momoto that resulted in all the bikes finally coming into Momoto's ownership minus all Petronas branding from any literature and – in a measure of just how bitter the legal fight had become – the removal of logos from the bikes with power tools to cause maximum damage to them.
A few years later, some FP1s showed up in Switzerland with a suitably vague story as to their origin. A couple popped up in America and one randomly showed up in the showroom of Sportsbikeshop in Boston, Lincolnshire, about 10 miles from where I live. That one was the first and, until now, the only FP1 I've ever seen in the flesh.
Meanwhile, Gareth Gent, a self-confessed FP1 nut and founder of foggyfp1.com, did the seemingly impossible and cracked one of motorcycling's greatest mysteries – just how do you buy a Petronas FP1? Persistence, patience, tenacity and a large dose of luck saw him realise the long-held dream of owning one, but not before it got stuck in the Suez Canal.
True to form, buying an FP1 isn't easy – you need to find the right people and convince them that they should sell one to you… just having lots of money to buy one isn't enough. There is no manufacturer anymore, no importer, and no dealers, just someone who knows someone, who knows someone else, who knows another person in Malaysia that can organise one for you if they like your tone.
As luck would have it, Gareth is a mate of mine, so on the basis of if you don't ask, you don't get, I popped the question and a few days later there it was – an FP1 on my driveway with an instruction of to not be shy. Gareth is one of those rare collectors who has bikes not to look at, but to ride and enjoy as they were meant to be.
Happy to oblige, I decide to waste no time and get straight out on it – except I can't take my eyes off it. It is stunning. The paint is perfect and the carbon fibre is as good as anything I've seen on a current bike.
The exhaust that comes straight out the back of the engine and runs directly under the seat to the mad end under the tail unit is like nothing I've ever seen before (probably because I've never ridden a reverse cylinder bike before). The way the rear brake hose and speed sensor cable is routed through the swingarm are all things I've not seen on any bike up to and including the current crop. There are details and touches all over that make it as interesting as it as beautiful.
My only pang of sadness is that I can't see any of the engine, as the whole bike is packaged so tightly and wrapped up in that gorgeous turquoise and bare carbon bodywork that all the technology is out of sight, except for the green and black digital dashboard. It would be easy to describe it as cheap and tacky, but remember this bike is 20 years old and back then, a digital display amounted to a mono LCD speedometer mounted next to an analogue rev counter.
The FP1 is all-digital with a gear position indicator and shift light, which must make it the first (I use the word very loosely here) production bike to have either – let alone both – those features that today we take for granted. There is more.
The series of menus that display the usual stuff, like mileage, tank range, water temperature and battery voltage – oh wait, most of those weren't common in 2002 either – also has a genius feature that lets you input the number of teeth your front and rear sprockets have so it can correct the speedo if you change the gearing. Simple, useful, brilliant and, to my knowledge, still not a feature on any modern bike.
It takes a few miles into my first ride on the FP1 to get rid of all the usual 'what ifs?' and put out of my mind the fact that there are no spare parts for this bike anywhere in the northern hemisphere – well, not yet anyway. Gareth is on the case, trying to organise a small supply of parts from Malaysia that aren't the proprietary things like suspension, wheels, brakes, and a lot of the electrics to keep him going.
Nerves set to one side, and I'm struck at how easy it has been to settle into the riding position and, actually, just how easy the bike is to ride. There are no strange nuances to adapt to. Everything just feels… right, except the seat. That's red-hot. The footpegs are a good distance from the seat, and the seat is just the right width and right distance from the handlebars, which are themselves in just the right position and just the right diameter.
I do believe that if I was able to start from scratch and configure my ideal riding position, it wouldn't be at all far away from that of the FP1. It's not cramped but it's not relaxed, either. It's dead easy to get folded up into a tuck or hang off the side through the faster corners, while somehow being fine to sit on through town… except for the heat from the exhaust. It's pretty full-on, but that's the price to pay for such a radical engine layout and narrow seat.
That, and the battery being relocated to the most inaccessible place on earth means there are a pair of battery terminals tucked away behind the bottom yoke, above the radiator, to clip battery charger leads onto if you ever get a flat battery.
Having said all that about my nerves should anything go wrong, there was still enough of a lingering sense of responsibility in my subconscious to drop back three or four bike lengths from cars without realising I was doing it for fear of a stone getting flicked into the FP1's tall and slim nose cone.
It's one of those bikes that gets inside your head and makes you ride just that little bit differently – not necessarily slower or with any less energy, more like with respect and consideration for its general wellbeing.
It's not just worrying about stone chips, either; it's choosing which pump to use at a petrol station, based on which one is in the quietest part of the forecourt with the least traffic… it's putting it straight into my garage when I get home and not leaving it on the driveway in full view for any longer than it has to be… it's making that extra bit of effort when swinging a leg over it to make absolutely sure there's no contact between boot and seat unit… you get the idea.
By far the biggest surprise of the FP1 is just how modern it feels to ride. These days, if I ride anything from that era it feels just like what it is – stepping back in time. You can feel how chassis design has evolved over the past two decades. Geometry is different these days, and the centre of gravity and weight distribution different.
Bikes then tended to have lazier steering, longer wheelbases, lower seats and greater stability, plus suspension has immeasurably moved on – but the FP1 is none of those things. It feels tall with a short wheelbase, with quick steering via a steep rake at the front.
The FP1 has even racier steering geometry plus a shorter wheelbase than the 2021 Honda Fireblade (universally considered to be one of the very best handling modern sportsbikes), which it can get away with due to having a lot less power. Both have 24 degrees of rake, while the FP1 has 4mm more trail, which will be because it has less offset in the yokes than the Fireblade.
It's a very extreme set-up, and the whole thing feels very similar to a Triumph Daytona 675 but a bit taller, a bit wider, a bit longer and a bit heavier. Without being able to weigh it, my guess, based on years of weighing bikes, is that it's at somewhere about 195-200kg fully fuelled and, if I was forced to make a guess, I'd say the weight distribution is probably 50/50, with the weight quite high up in the chassis – all of which is a million miles from the norm for a bike built 20 years ago and very much closer the basic formula for a sportsbike today.
To my naked eye, one of the only visual tell-tales of the chassis architecture pointing to the FP1's real age is the relatively short swingarm. These days, longer swingarms are increasingly used, along with raised pivot points to cope with the increasing levels of power and all the side effects that come with 200bhp, specifically traction, wheelies and straight-line stability. The concept hadn't really been thought of then, but then neither had engines pushing 200bhp been invented.
Speaking of power, my arse (which is frighteningly accurate at measuring power) tells me the FP1 is making the 130bhp that Petronas claimed, give or take a couple of bhp either way. But, as usual, that's not the whole story when it comes to engine performance.
All of the FP1's power is usable from very low down in the revs and, best of all, the fuel injection is absolutely on the money, even by today's standards. The bike had just 40km on the clock when I collected it, so I kept it below 6000rpm for the first few days and it wasn't until my last ride before giving it back that it occurred to me that I had gone well past my own self-imposed mileage that I would be gentle up to. That's how useable the power below 6000rpm is.
And what a last ride it was, rounding off a week that, frankly, already had me believing I was the jammiest git I know. It was as though the motorcycling gods decided that, for a couple of hours one evening between 7 pm and 9 pm, they themselves wanted to see the bike in all its glory after two decades stuck in warehouses, customs impounds, shipping containers, and even the Suez Canal. It was time it got what it deserved.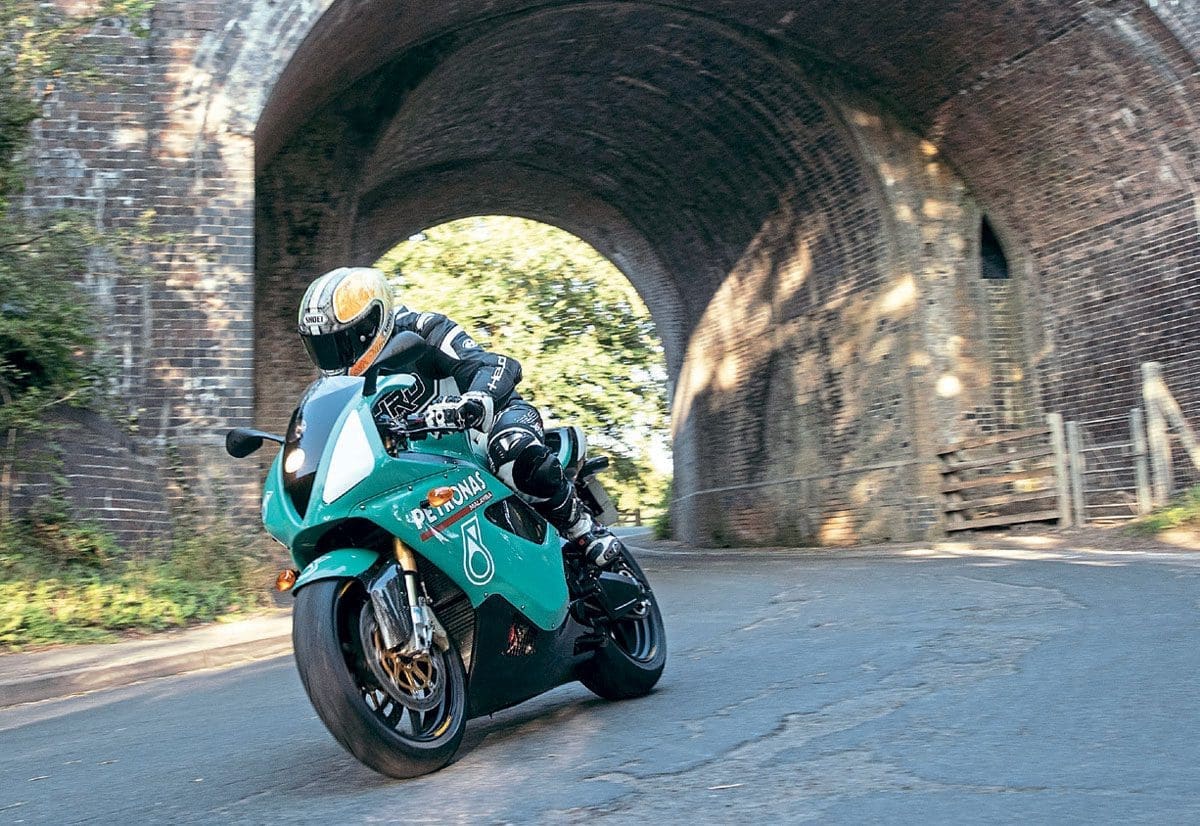 Me and the bike were gifted the most perfect sunset on the most perfect, empty roads, and for those two hours I had quite possibly the most complete ride on a motorbike, the kind I don't think I'll ever experience again.
I figured out that to be ridden hard, the FP1 really needs to be treated more like a 600cc bike than a litre bike. Rolling into corners just that bit faster than is initially comfortable, leaning it over early in the corner and staying that way is what it likes the most, digging in harder and harder and loading up the Öhlins suspension more and more.
The sound of the three-cylinder engine on the overrun through the exhaust – that's just on the right side of anti-socially loud – adds to the whole sensation of what the bike is saying to me through the corner.
The deeper tone of the overrun switches to a higher pitch as I pick the perfectly weighted but slightly long throttle up from fully closed to just enough open to transfer the weight of the bike from the forks onto the rear shock, before adding more throttle and power to pick the bike up and finish the corner. It's a totally immersive experience, with all senses invited to the party. If I wasn't me, I'd hate me.
The brakes are brilliant by today's standards, never mind the standards of when the FP1 was built. Just like the rest of the chassis, they manage to tread the fine line between being too extreme and too safe. The brake set-up, combined with the quality of the forks and front-end geometry, meet together for an overall effect that is simply stunning.
There's bite, power, and massive levels of feel through the lever from them that means there's never any doubt. It's a brilliant set-up, as is the gearbox and dry clutch.
There's no quickshifter or blipper, but it really doesn't matter because the gearbox swops cogs with barely any pressure on the lever, plus the clutch lever has just the right amount of weight and, just like the brake lever, there's so much information about what the clutch is up to right there literally at my fingertips.
It's not even a mark against it because the technology was so far ahead of its time, but the gear position indicator on the dashboard does take a little while to work out what gear it should display. It's just a quirky characteristic that is easily forgiven and, in fact, made me smile every time after a series of rapid backshifts.
The display might as well flash up the message 'WTF' while it works out what just happened, but it always figures it out and displays the right gear eventually, it just takes a while. No such problems going up through the gears though, as there's more time between shifts for it to do the sums.
During the final two hours of my time with the FP1, I ticked off literally all of my favourite roads within a 20-mile radius of home, joining up the corners that eventually join up the villages and town until eventually the light is gone and it's dark.
Time to head back and digest the past hundred miles or so – but not until Mrs Mack issues a warning that if I spend a second longer in the house with my leathers stinking of exhaust fumes then there's going to a problem in paradise. It's true, they really do reek of exhaust fumes, so my suit (not me) spent the night in the garage with the bike.
Stinky leathers dealt with, a message pops up on my phone from my mate Bernie, asking where I'd got the FP1 from. I ask him how he knows. There's a group on Facebook for bikers in Lincolnshire, he says, and a member spotted me and the FP1 at a petrol station and posted a picture.
The response to the picture was massive, ranging from people not believing it was possible to others chipping in saying that they too had seen it and me. It was like a UFO had been spotted and people needed to share what they saw – which brings me neatly back to the beginning.
I'm one of the very, very lucky ones who have ridden an FP1 and for me at least, it is no longer something mythical and so utterly out of reach that I can only imagine what it might be like to sit on one, let alone ride one. The good news is that, having met and got to know the Petronas FP1, any concerns about it being underwhelming and worrying that the whole experience would leave me wishing I hadn't taken the opportunity to meet a hero were unnecessary.
As a sportsbike, it is magnificent. It is fast, really fast – easily as quick as any of the other litre bikes of the era. It stops and turns like you would hope and pray something that looks so good would.
It is unbelievably trick; the exhaust comes directly out the back of the cylinder head in an arrow-straight line directly to the tail unit via a three into one, into two, into three labyrinth that, it was claimed, helps the bike run better at low revs.
The engine was developed by Suter Racing, which was dabbling with MotoGP at the time, and I am in no doubt that some of that thinking found its way into the Petronas engine.
Just blipping the throttle with the bike in neutral and on its sidestand is clear that there's some trick stuff going on inside, with how quick the revs pick up in response to the tiniest movement of the throttle.
Speaking of sidestands, my time with the FP1 also allowed me to experience THE worst sidestand I've ever had the misfortune to encounter. And to cap it off, the lug that's welded to it –which is the only thing that makes it possible to reach – snapped off, confirming that not only is it the worst design in the history of the motorcycle, but it is also made from possibly the lowest grade steel known to man.
The FP1 is loud, fast, and feels modern. It is drop-dead gorgeous, trick, and has a back story that makes all the others sound like bedtime tales. Even today, nobody still really knows how many FP1s there are in the world… we know the first 75 were built in the UK, and after that is anyone's guess how many of the second batch of 75 were made in Malaysia. Even if they were all made, it still makes it one of the – if not the – most exclusive, bikes ever. But the truth is we will never know, so its unicorn status is forever secure.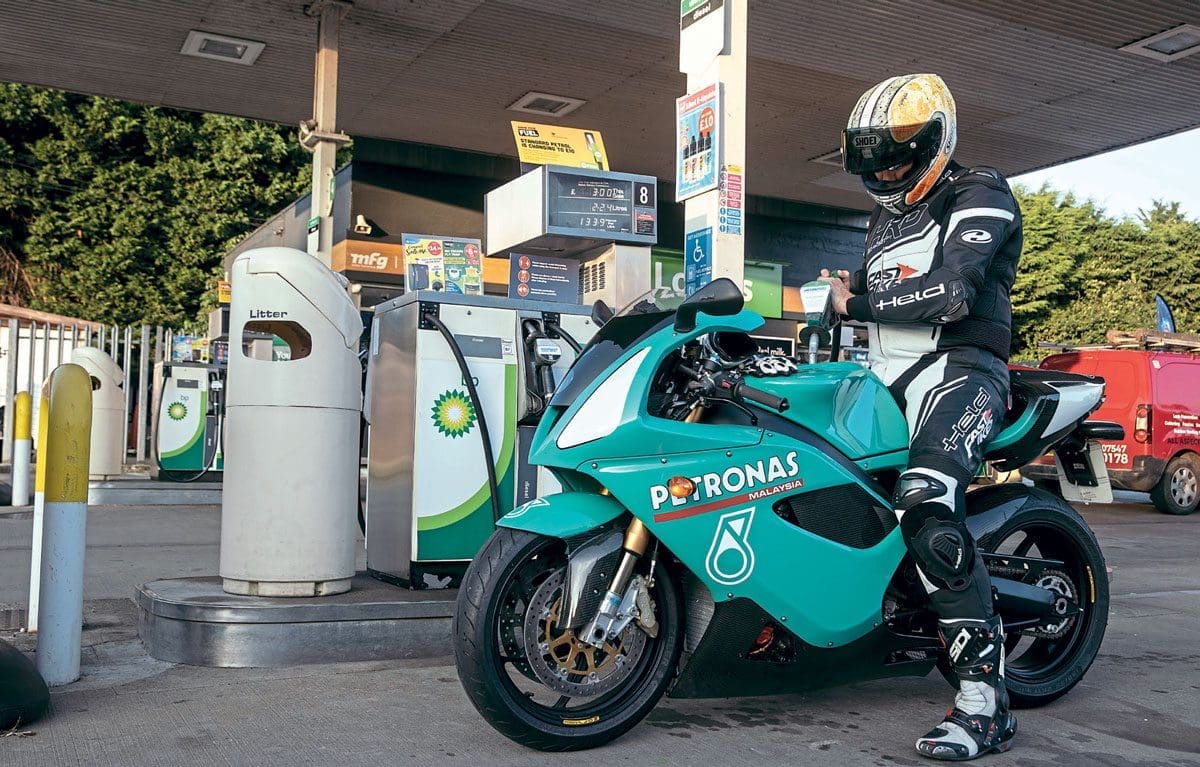 The morning after the night before can sometimes come wracked with guilt, sometimes joy. In my case, on this occasion, it arrived with a sudden burst of inspiration. Maybe that didn't need to be my last ride on the bike the night before.
Out of nowhere came the realisation that I live about 20 miles from Grantham, not famous for much apart from being Margaret Thatcher's birthplace and, more recently, the location of Chris Walker Motorcycles where ex-Petronas WSB rider Chris Walker can be found selling motorbikes when he isn't racing in the Ducati Cup.
A phone call at 9 am to Chris and a couple of hours later, I'm standing with him and the FP1 as he gets ready for a trip down memory lane. It seems even though he gave Petronas their first podium in WSB, he too can't resist the chance to have a shot on an FP1 once more.
I hand the keys over in return for an hour of his time so he can tell me all about THAT season, although I think I had him at "I've got an FP1".
Just before he snaps his visor shut, he shouts over the sound of the high tickover: "I really hope this one doesn't burn all my pubes off like the last one I rode did in 2004. They've only just grown back."
---
Advert
---
Enjoy everything More Bikes by reading the MoreBikes monthly newspaper.
Click here
to subscribe, or
Read FREE Online
.
Sign-up to the More Bikes Newsletter
Enter your e-mail address below and get regular updates straight to your inbox… You can unsubscribe at any time.