The last two years have hit the world hard, especially the world of the road racing. It's not just one that could cost you your life, but it also consumes your life, so when everything hit pause and road racing stopped, what on earth is a TT-winning racer to do?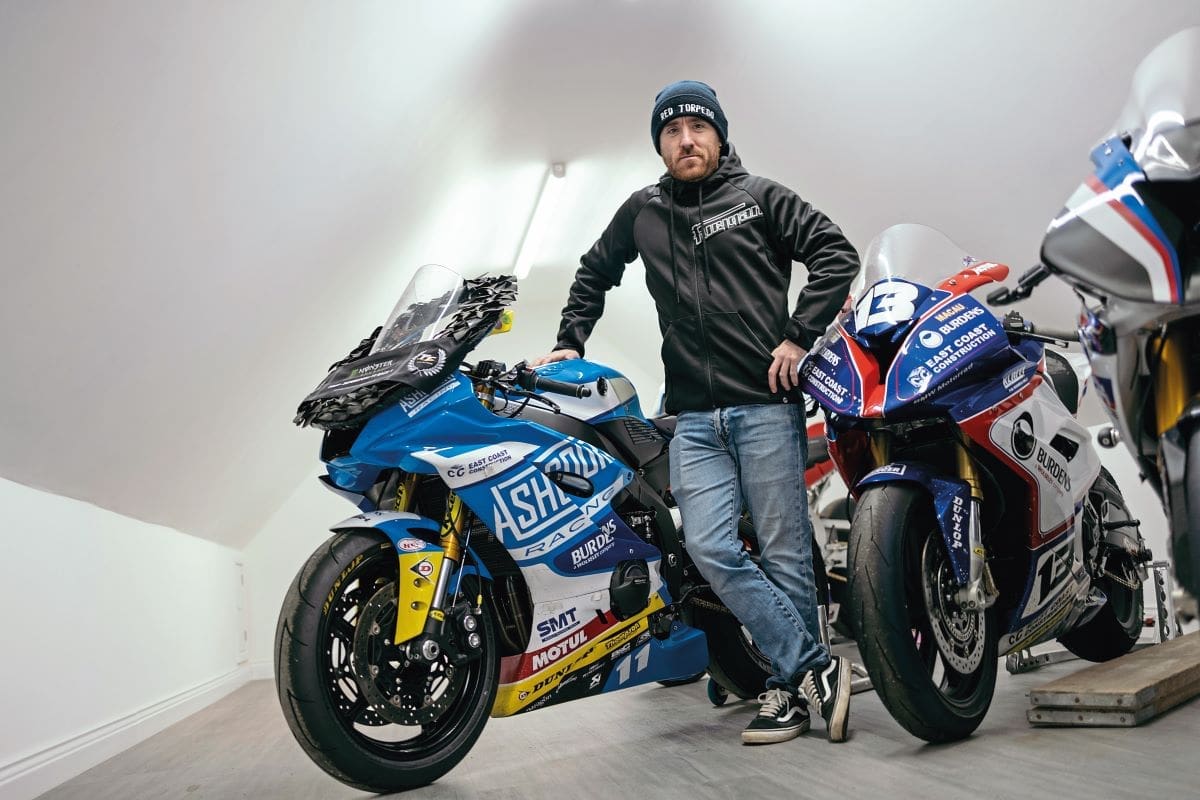 Words> Tim Neave

Article continues below…

Advert

---
Enjoy everything More Bikes by reading the monthly newspaper, Read FREE Online.
---
Pics> ChapPo / Tim Keeton
Like me, you might not know where this super-fast wee Irishman appeared from, but he's been winning races for a lot longer than I ever knew. He's been a winner at the TT, the Northwest 200, and the Ulster GP, and is heading into his 10th year of road racing… so you could say he's been around long enough to be a voice in the sport, as we were reminded first-hand on a visit to see him at his team's workshop.

Born in Northern Ireland, he was a late starter and didn't set out racing bikes until he was well into his teens. "I was playing football until I was 15, for my county and then for Northern Ireland. I was probably better at football than I ever have been at motorbike riding, and knowing what I know now, I could have earned a hell of a lot more money at it, that's for sure."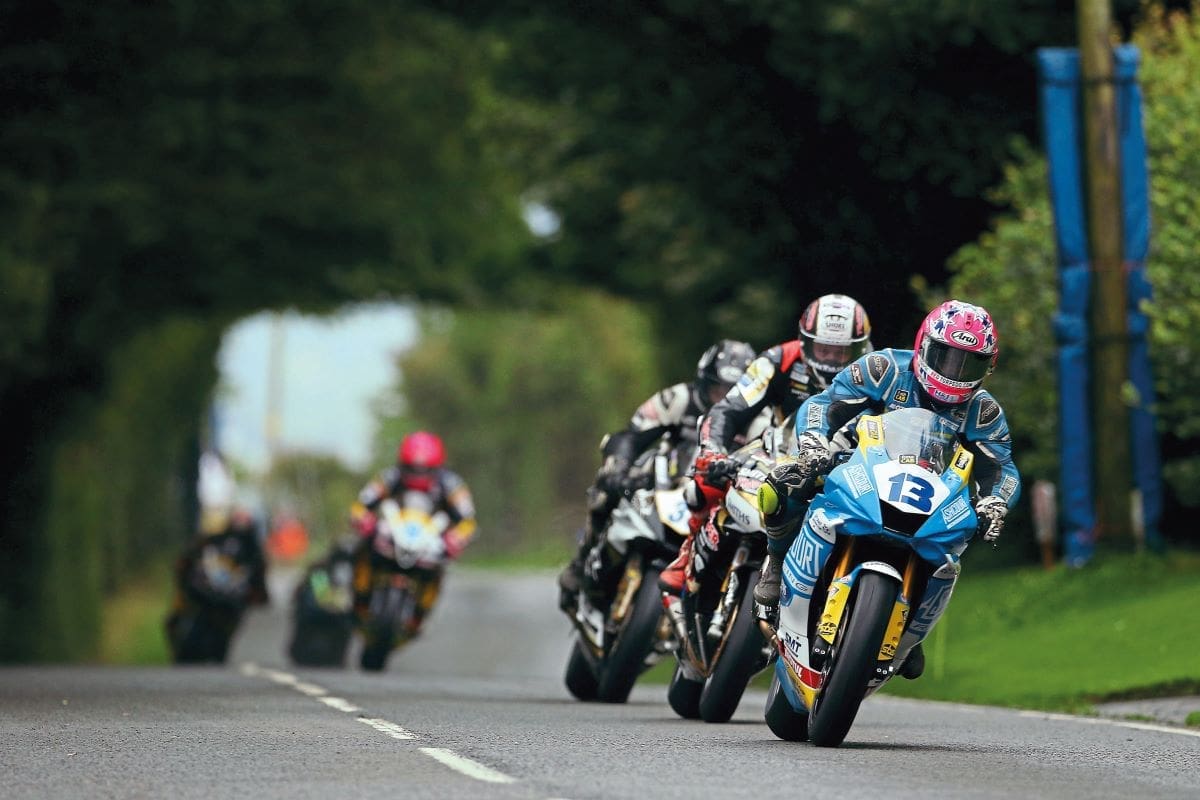 So, what on earth happened then? "My old man was having to drive me 45 minutes each way to training twice a week, and in my mind I'm so competitive that when I knew I was putting in more effort than the players around me, I got sick of it and packed it in.
"My dad and I were always into bikes, so we went to watch Josh Elliot riding minimotos at a local track and I ended up having a ride on one and took to it straight away, so we bought one and went on to win the championship. We went over to the UK the year after and won that championship as well. Looking back it's a bloody miracle because my dad didn't have a clue what he was doing with bikes. When we were faced with moving up a class, we decided to skip the 125s and went straight onto a 600 because we had literally no mechanical knowledge and we'd heard how fragile those little two-strokes were." Minimotos to Stock 600 – now that's a jump and a half and not the common path to building a successful racing future, but it worked for Lee.
"I did a few races on the stock 600 in Ireland, and then we stupidly bought a stock 1000 to ride in a couple of British championship rounds. I always qualified for the races but was at the back around 30th – f**k knows what I was thinking! Thankfully, the Junior Superstock 600 class started again the following year, so we did that and ended up winning the championship in 2008 when I was 19 years old. I ended up getting a ride with Raceways the following year to race in Supersport but got pretty injured and then had a couple of really tough years in racing. I signed for the East Coast Construction team in 2011, and that's where things took a turn in my racing career. They were running Gary Johnson on the roads at the time, so they took me over to race at the Northwest 200 and I ended up finishing fourth in the newcomer race… I thought 'this is bloody good craic' and was absolutely peaking, so I went and did all three international road races the year after, including the TT, and got a podium at my first ever Ulster GP. I'd never experienced anything like it – I got paid to turn up, got steaming all week, and did a load of shagging – it's every motorbike rider's dream. I only went back to BSB to do the odd round now and again, and I was always able to score a podium and run at the front, so I knew I had a bit of go in me still. It wasn't 'til Covid struck and the roads got cancelled in 2020 that I decided to do a full season of Supersport again."
Going over to the roads really transformed Lee's racing career, and surprisingly it wasn't a big decision for him to make: "I just see it all as riding my bike, whether it be the Northwest 200 or Brands Hatch." Learning the road circuits has never been such a problem either, and although you're wasting your time trying to get Lee to name the corners, he said he knew where he was going without having to think about which corner was coming up next after about 15-20 laps of practice at his first TT, which is pretty impressive.
It's hard trying to imagine just how the riders have dealt with the last couple of years while there's been no road racing, but Lee's had the full support of his team, Ashcourt Racing, and he's returned to the British Supersport Championship for the last two years. Not only has it kept him bike-fit and sharp, but he says he's feeling faster than ever before and ready for his next trip down Bray Hill.
And it's not just Lee who's ready to return to the roads again in a few weeks' time, as his bikes are prepped, polished, and ready to podium. At the Ashcourt team base, surrounded by some of the sexiest bikes known to racing, I asked him about the similarities between the machines he uses at BSB and the TT-spec supersport bike. It turns out they're a lot closer to one another than you might think.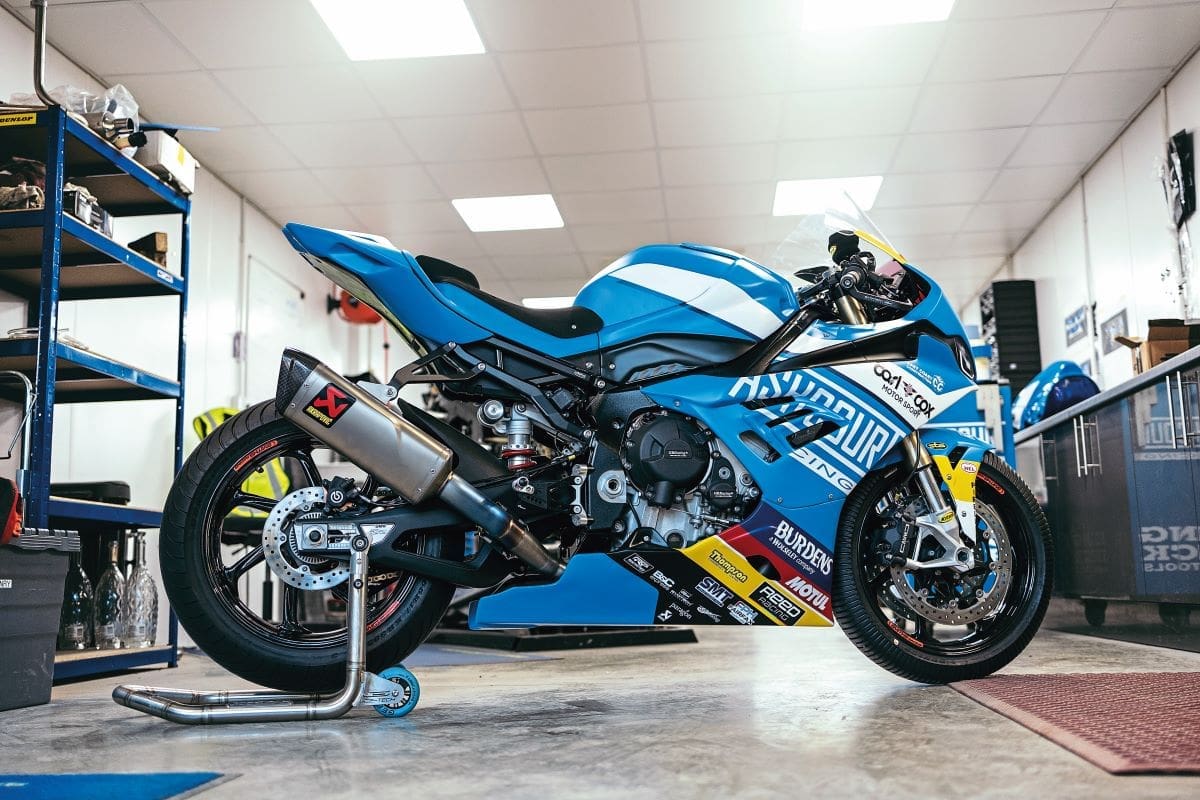 First of all, you don't need a big radiator on a road bike because there is that much air passing through bodywork that the standard radiator does the job fine. On the BSB job, they run a large Bora rad because the bike tends to run hot, especially when you're in a gaggle of riders. For the roads, they lockwire the hell out of the bike – basically anything that can come apart needs lockwiring. Carbon fibre parts such as the clock bracket may look trick and save a gnat's whisker in weight, but they've had to swap such parts for aluminium and stainless because Lee noticed vibration and rattling, even at BSB.
Obviously, they run a larger 20-litre tank at the TT and a standard 15-litre tank for BSB, and the lightweight aluminium subframe used on the BSB bike is swapped for the standard one at the TT; the aftermarket one is covered in welds so it's far more prone to breaking versus the solid cast standard part. The suspension remains the same, albeit with slightly different settings, and the braking set-up is identical for both events.
Engine-wise, the team runs the same spec for both events. Their motors are built by FW Developments, and they've got five motors ready to go all within 1hp of each other – they're kicking out about 139bhp. And finally, the Motec loom and ECU is the same for the roads as the short circuits.
So, with the bikes ready and Lee ready, what has helped pass the time in recent years? British Supersport aside, Lee has been flat-out vlogging on YouTube (tap in Lee Johnston and grab yourself a brew). "The YouTube channel has been going really well actually, better than I ever expected when I put my first video out there. I've just done a deal with Bennetts to vlog the full restoration of a bike, and then we're going to give it away.
"I'm doing about one video a week – you'd think that sounds quite full-on in terms of commitment, but what I've realised since I started is that I don't have to spend ages thinking about the perfect content, and people are pretty chilled with all sorts… not necessarily what I think is going to be best.
"I've tried doing the editing but I'm shit, so I let my missus get on with that now. If I'm not doing that, you can find me in the team workshop getting things sorted for the season with my main man Neil, or on my push bike training, or looking after my little man… so I've been keeping myself busy."
You might think that being fast on the international road racing scene means doing the smaller road races to keep sharp, but Lee has never bothered and has good reason.
"I have thought about them but they're not for me. They look too scary and I'm not so keen on riding with a load of unfamiliar riders on an unfamiliar track where I'd be expected to perform straightaway.
"My old man was never a big fan of road racing in the first place and didn't really want me to do any more than the three big ones, and before he died I promised him I wouldn't bother doing any others, so that's that."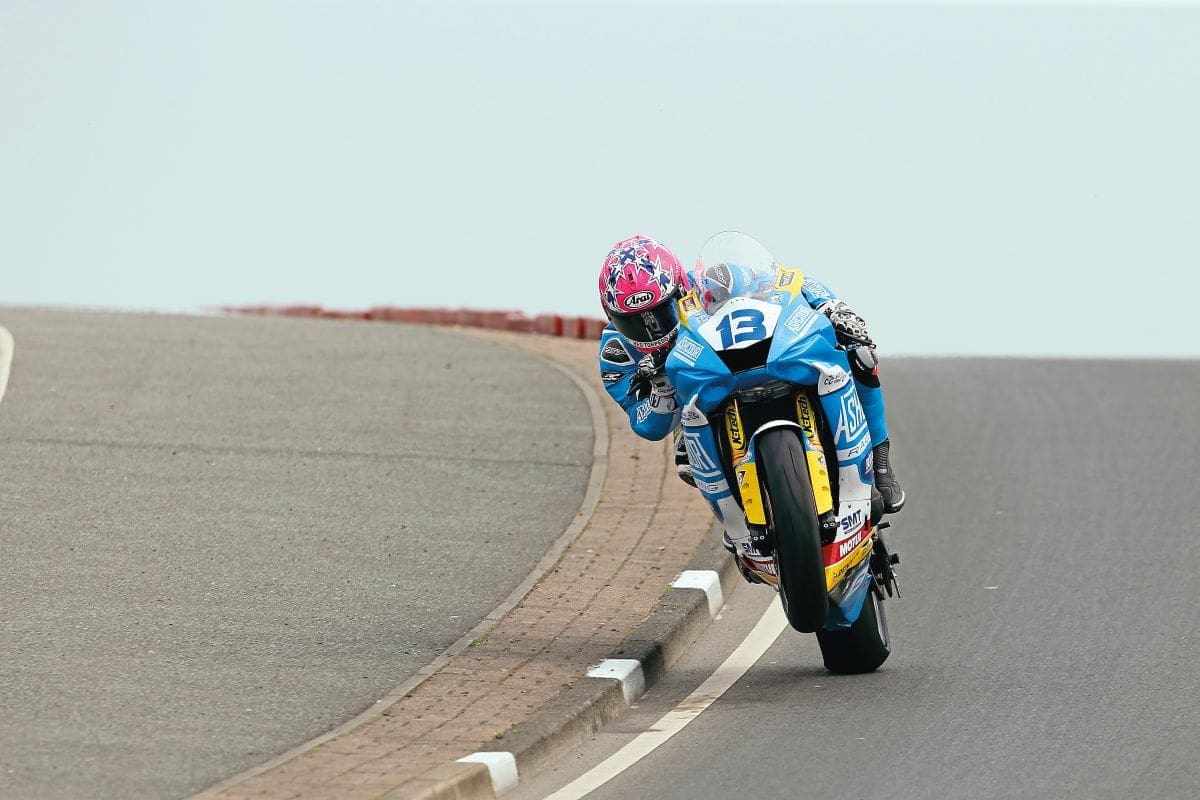 From 2012 to 2020, Lee only raced in the three biggies – the NW200, the TT and the Ulster GP – and didn't bother with much in between, which does seem a little strange when you think he came from the short circuit paddock.
"I've not bothered with BSB racing for the last few years because my big earner has always been the road racing, and the risk of racing in BSB every other weekend was just far too high in my opinion, but since I've been back and raced the last two seasons in Supersport, I've decided I'll carry on with the championship again this year.
"I've really enjoyed it, I'm riding better than I ever have because of it, and the sponsors are getting more out of it, so everyone is happy. I've come to realise the risk isn't as bad as what I remembered when I was running around scrapping for a top 10, and if I can stay at the front fighting for wins, then I feel pretty safe."
The boys who have come directly from the short circuit scene have always been super-fast straight away at the TT; the likes of Hicky and Josh Brookes have clicked with the circuit instantly and their results have been strong from the get-go. Lee believes that it's just a level of being able to ride a bike: "If you're coming from BSB to the roads, you are clearly already at a very high standard of bike control, so you're naturally going to be fast from the off.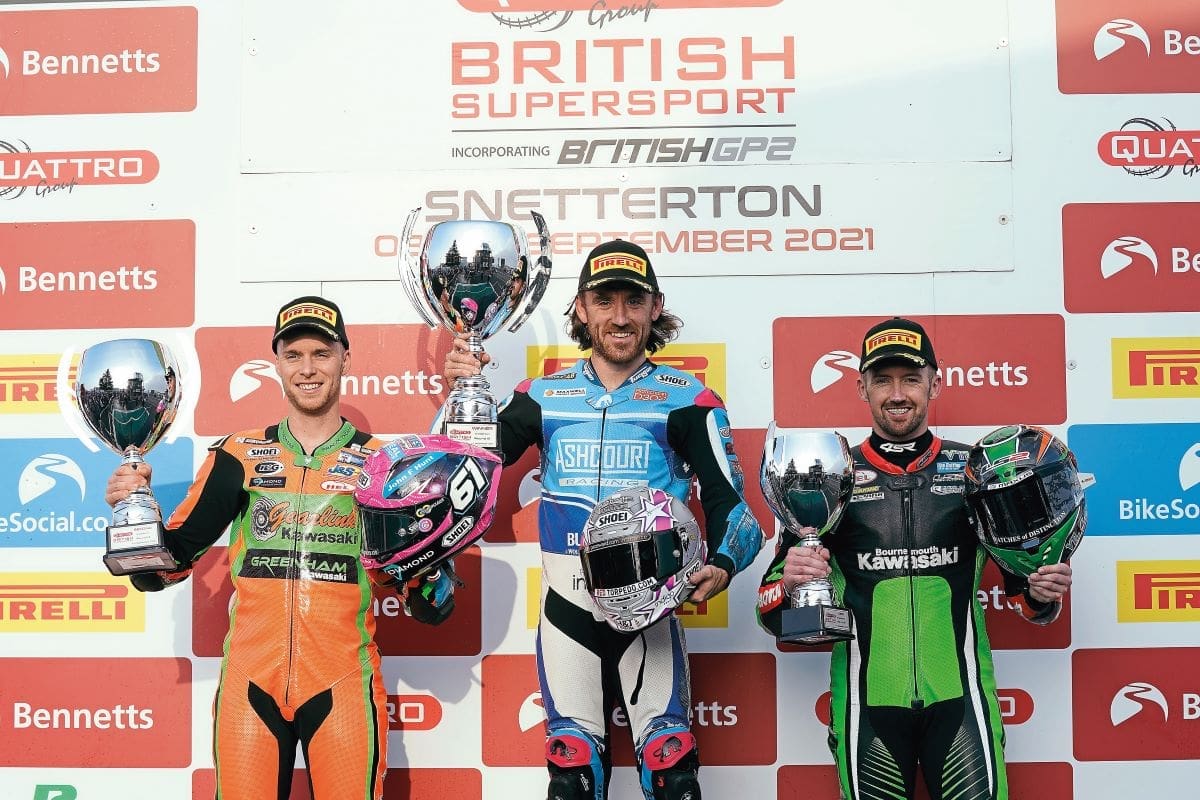 "What worries me is seeing someone I know who isn't at a high level on the track and going to the roads for the first time. I know how much risk I'm taking to be where I am, so when I see a new guy up there with us, I think they must be biting the screen so hard to be matching it, and that's a worry."
The demands of the TT circuit are so challenging, so being a small lad is never going to be make life easy when you're wrestling a bike around the TT. You don't have to be a rocket scientist to see why Lee is more suited to the Supersport 600 machines, so he opted to race in this class on his return to the British scene.
We wanted to know just how physical the TT is when you compare it to a 30-minute stint around Cadwell Park.
"Argh, f**k me, the TT is worse! A superbike race around there is like going from Manchester to London on a B road in two hours.
"The first couple of laps are always harder because it's fresh, but as you settle into the event, and the more times you've been, you soon get your head around it and stop focusing on being f**ked and start focusing on how it's going to feel better.
"Saying that, I've never ridden a superbike around Cadwell, but I do find the Supersport race at Cadwell Park to be much easier."
The Superbike and Superstock 1000 classes are a huge part of the TT though, and it's where the money is really at. The litre bikes are so good out of the factory nowadays that we are seeing more and more riders using them in the superbike races and saving the extra pennies. They have more than enough power as standard, so this maintains reliability, and it's no secret that they are easier to ride than the superbike around the mountain circuit. For 2022, Lee will be racing a stocker in the superbike class, changing only the tyres and the electronics, and fitting a larger screen. "I do enjoy the Superstock 1000 bike, and when the setting is right and the feeling is good, they're f**king nice to ride because they do have a friendly chassis.
"They are just a bit big for me around the TT. If the race was two laps, I'd have a bloody good go, but for six, I do just have to pace myself. I'd have been better off being born 10 years earlier, when the 750s were the big bikes – I'd have been the right size for them."
It's also no secret that at the end of 2020, Lee had really started to struggle with a bizarre illness that was causing pain and aching all over his body, and it had really started to affect his racing.
"Well, I'm going to have to take injections for the rest of my life, but that's a small price to pay now that I'm back to normal. It's called Ankylosing spondylitis and is basically caused by something my body produces which attacks my spine, causing inflammation. I initially thought it was something to do with me breaking my back a few years ago, but it just wasn't improving and got to a point where all my joints were aching so badly that I couldn't even get out of bed. I finally went private and within five minutes the doctor had diagnosed me with this really rare illness. I've been on the daily injections since last March now, and although I still get tired, the aching has gone, which was the main problem. I've had to tweak my diet slightly, but day-to-day life hasn't changed drastically."
When Covid hit the pause button on the TT after a record-shattering year, it's hard to imagine just how it's going to feel for the riders as they head down Bray Hill for the first time since 2019. A safe bet would be that the pace will have taken a knock for a year or so, but not in Lee's book. "I don't think it'll have made any difference at it. Let's be honest, it's the difference between one and two years – it's not like we've not being riding bikes in between, is it, and two years isn't enough to forget your way around the Isle of Man. The same people are going to be at the front; some boy who is usually 12th isn't going to suddenly clean up. Pace-wise, I don't think it'll be any different either. If we didn't race at Brands Hatch for two years, within 10 laps and if the bike was right, you'd be on the pipe. If the weather is right on the island, nobody will be any slower.
"I'm gonna put it out there right now that Dean Harrison will be fastest on the first night of practice with a 127.4mph lap… I think I'll be about 126 (on a 600), and I think my first run on a big bike will be faster than I've ever gone around there, too. I just feel I'm a far better rider now at 32 years old than I was when I was 27. When I first came into the British Championship way back when, I just wanted to win so badly that I used to crash so much and f**k it up for myself. The last two years away from the roads and having the reduced calendar for BSB has given me time to think and I've gained a different appreciation for everything I have now."
It's evident that Lee really values what he's got with Ashcourt Racing and it seems much like an extended family for him, but he did jump ship for one special year.
"I joined East Coast Construction in 2011 and stayed with them until 2017 when I joined Honda for the year, teammates with Hutchy. The East Coast lads wanted a few years out, and the dream of riding for factory team was at my feet. Guy and McGuiness had been there the year before and had those huge accidents on the Blade, but Honda had explained to me what had gone wrong and why it had happened, so I was comfortable with my decision to move. The bike was just terrible though, and when we turned up at the first test I knew within literally 10 laps that I'd made a big mistake. The SBK was 235hp with absolutely no electronic rider aids, and when it got to about 10,000rpm it was like an explosion – the thing was just an animal. I kept saying 'just take 30-40hp out of it and it'll be loads better', but they wanted to use the new Cosworth motors as they were – I was quicker on the 180hp stocker. I actually finished second at the Northwest 200 on it and was right up there everywhere else, so as bad as I say the bike was, I could ride it, but I just didn't enjoy it.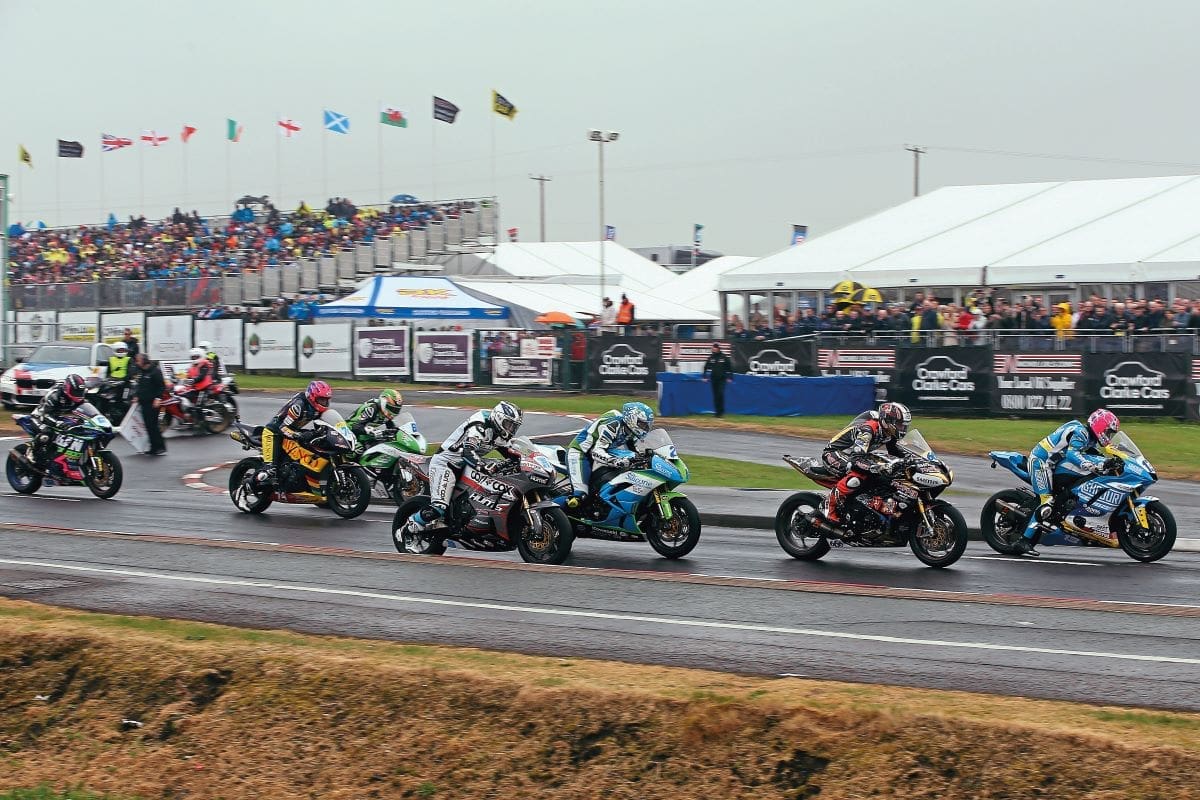 "Ashcourt bought East Coast Construction and Phil put the team together again ready for the 2018 season, and we won the Northwest that year and the Supersport TT in 2019, so it gone okay since I've been back. I'll never leave this team now. When these boys are ready to pack it in, I'll quit racing."
We all have favourite tracks and corners, but no track compares to the Isle of Man TT, with 37.7 miles of tarmac and 219 corners. I asked Lee which were his favourite corners but he couldn't remember the names, so he chose the Mountain section: "It lasts a good six minutes and it's just so fast and smooth. I'd say it is comparable to the feeling at Thruxton, and you've got to drift the bike to help steer it through the corner – there's no feeling quite like it. If you're to watch, I'd says the best spots are up the Mountain, but you can only really get there on enduro bikes as it's on the inside of the circuit.
"Knighter (David Knight) takes people up there to watch quite a bit. It's towards the end of the Mountain mile, between the white bridge and the right kink, and we're doing about 180mph there. I can see folks from about three miles away, so I always like to stick a foot out to let them know that."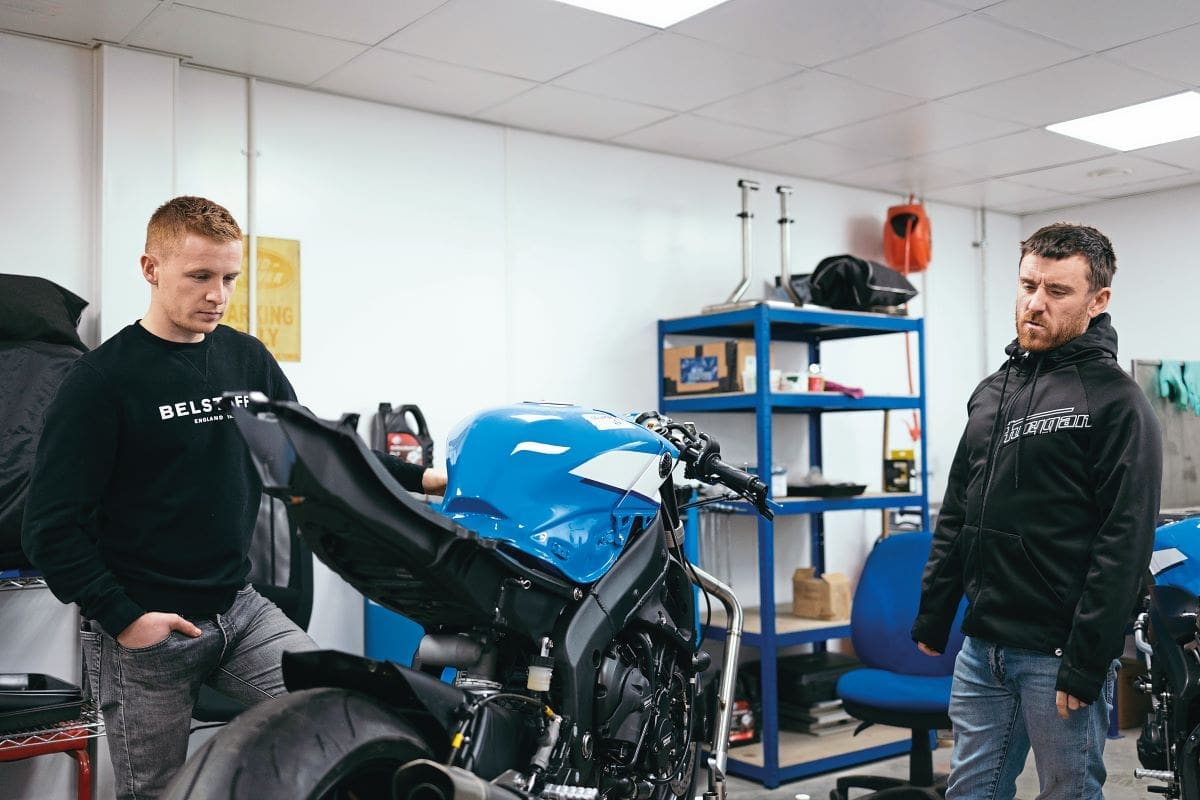 The road races have such a different atmosphere, and although you've still got the riders putting everything on the line to win races, there just seems to be a more positive air of respect that can't be felt in the BSB paddock. Lee thinks that's one of the big differences between the two disciplines: "I respect everyone, even the man in last place – he's willing to set off down Bray Hill on a bike he's probably built himself at home, he maybe doesn't have a pot to piss in, but he's still out there trying his arse off."
Quick-fire questions…
Best TT racer ever and why?
"It's got to be Joey Dunlop… McGuiness is just a wannabe isn't he, haha. Joking aside, one of my all-time favourite riders whom I've had the pleasure of riding with is Bruce Anstey. He's just so fast. He passed me at the Ulster GP one time when I was leading the race and thinking I'm on the absolute limit, and he comes past like he's cruising and just leaves me. I've seen him fully tuck the front ahead of me, foot pegs in the ground and everything, save it, and still make the apex and a perfect exit."
Best racing achievement?
"100% the TT win. People ask me all the time, would I sooner win another British championship or another TT, and I'd choose another TT any day."
What's it like being over on the island for two weeks?
"Well, it works out nearer three weeks to be honest, and there's the week at the Northwest 200 just before, so it's full-on for a month or so. It's not like real life during the TT, so having my son with me is the perfect distraction away from riding because things can get stressful at times during the event. When I get home after the TT, I just turn my phone off and maybe don't leave the house for two or three days because I've just had enough of talking. It's crazy over there, but I love it."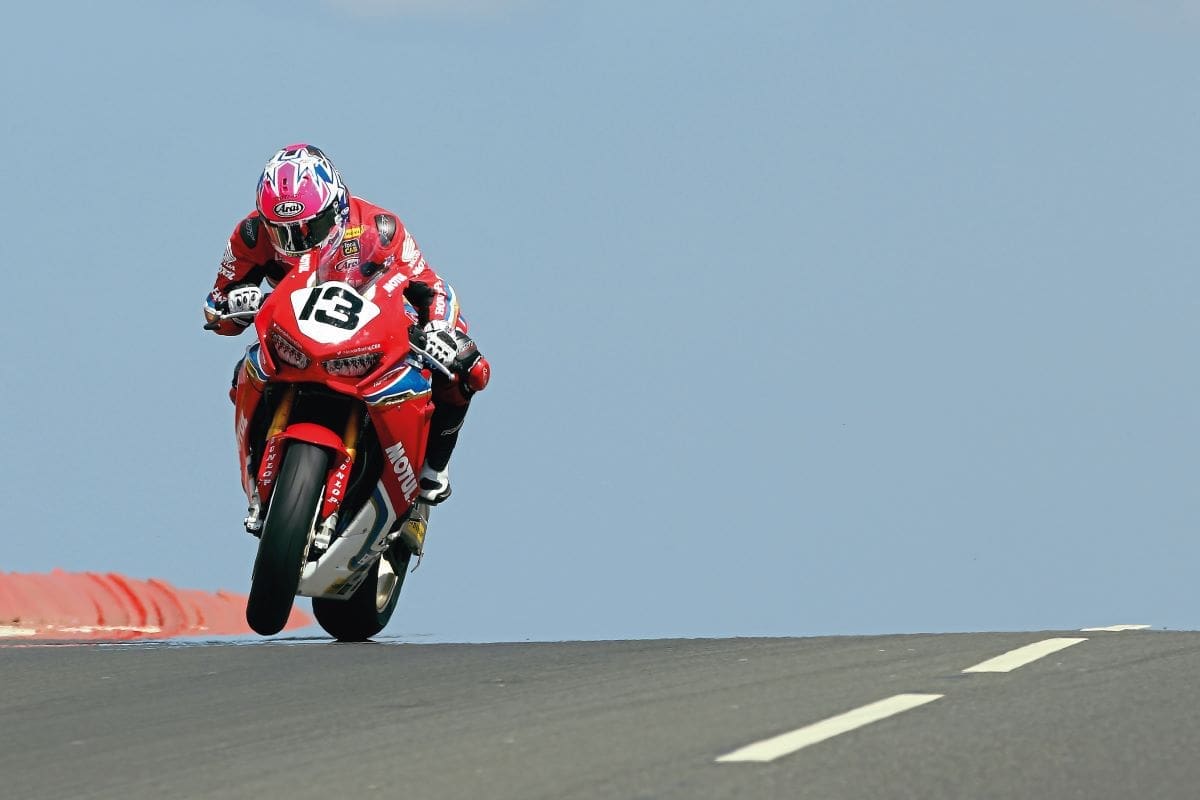 ---
Advert
---
Enjoy everything More Bikes by reading the MoreBikes monthly newspaper.
Click here
to subscribe, or
Read FREE Online
.
Sign-up to the More Bikes Newsletter
Enter your e-mail address below and get regular updates straight to your inbox… You can unsubscribe at any time.