Words and pics> Max Silvester
Not too long ago, it was common to see older ZX-6Rs dominating the field in national 600 classes, with the likes of Ben Currie and James Westmoreland each claiming British Supersport titles on their distinctive green and orange Gearlink Kawasakis. Now, such grids are crowded with the newer 636 Kawasakis, with a more aggressive style and a little more punch, though the old-style bikes are still going strong, with a big presence in the club racing scene… bikes like this 2010-spec machine.
It's owned by Tom Morris, who filled me in on his bike. At the time of catching him, he'd only just got the engine fully refreshed, as well as the suspension, by Dave Hewson at Obsession Engineering. Tom had previously spent a full season in a pre-national 600 class, finishing fifth, though this year he has taken a more affordable route, heading to race weekends as and when he can instead of pursing a full season, with plans to race at Thundersport GB as well as EMRA.
Tom originally bought the bike from Dave Hewson for just over £4000, and from there Dave has helped with second-hand parts. Tom said that, similar to the newer bikes, he has previously had to have a gearbox rebuilt, explaining that "they are like chocolate". Having made the move from a Honda CBR600 to this Kawasaki, and despite the gearbox trouble, he said the bike has been great.
Tom runs the ZX-6 completely stock, still putting out up to 118bhp prior to the refresh… not quite on a par with the bikes we see at national racing but still packing a punch. He has made the addition of a full Arrow exhaust system, supported by the SES exhaust bracket, as well as an race air filter to help the performance of the bike along, aided further by a Motion Pro quick-action throttle and an Annitori quickshifter for convenience when racing. Although an uncommon brand of quickshifter, the Annitori came recommended to Tom, with the previous owner having had no trouble with it. Tom, though, feels he jinxed that advice as he has found himself with teething issues, struggling to get the bike into gear properly, though after re-uploading data to the 'shifter via the compatible app, he seemed to have fixed his problems.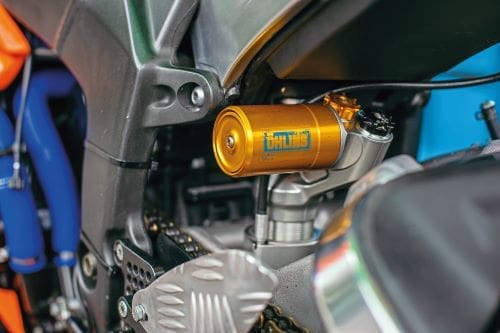 In the racing world, any part of the bike that can be adjusted on the fly can be incredibly useful. More common brands seem to use a display of some sort, which can be placed under the seat of the bike for adjustments, though the thought of Bluetooth adjustment to change kill time, sensitivity, and the option of compression or extension could very much come in handy for some last-minute changes.
These days, your average club racer will most likely have a lap timer fitted to their bike, with the growing popularity of Aim Solo lap timers or a HM dash system, but interestingly Tom told me that he doesn't run a separate lap timer but instead he manually uses the stock dash timer with the bike.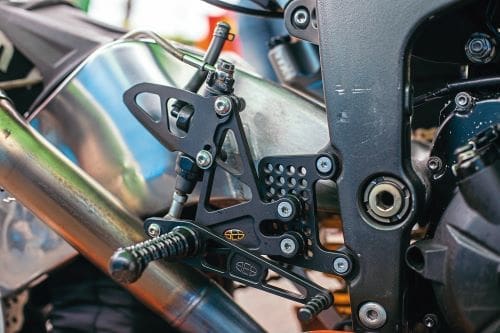 Somewhat like a stopwatch, he uses the bar-mounted switchgear – which is also wired up to turn on the rain light – to start a session and manually presses the green button each time he crosses the line to mark his lap time. Understandably, his own timing method is not quite as accurate, as he boasts that it is within half a second but also explained it's not quite an exact measure but a ballpark idea of his lap times for a practice or qualifying session.
For the rest of the rider controls, Tom has fitted his Kawasaki with Renthal clip-ons and matching orange Domino grips for the bright orange paint job done by himself, as well as SES rearsets and the addition of homemade ankle protectors.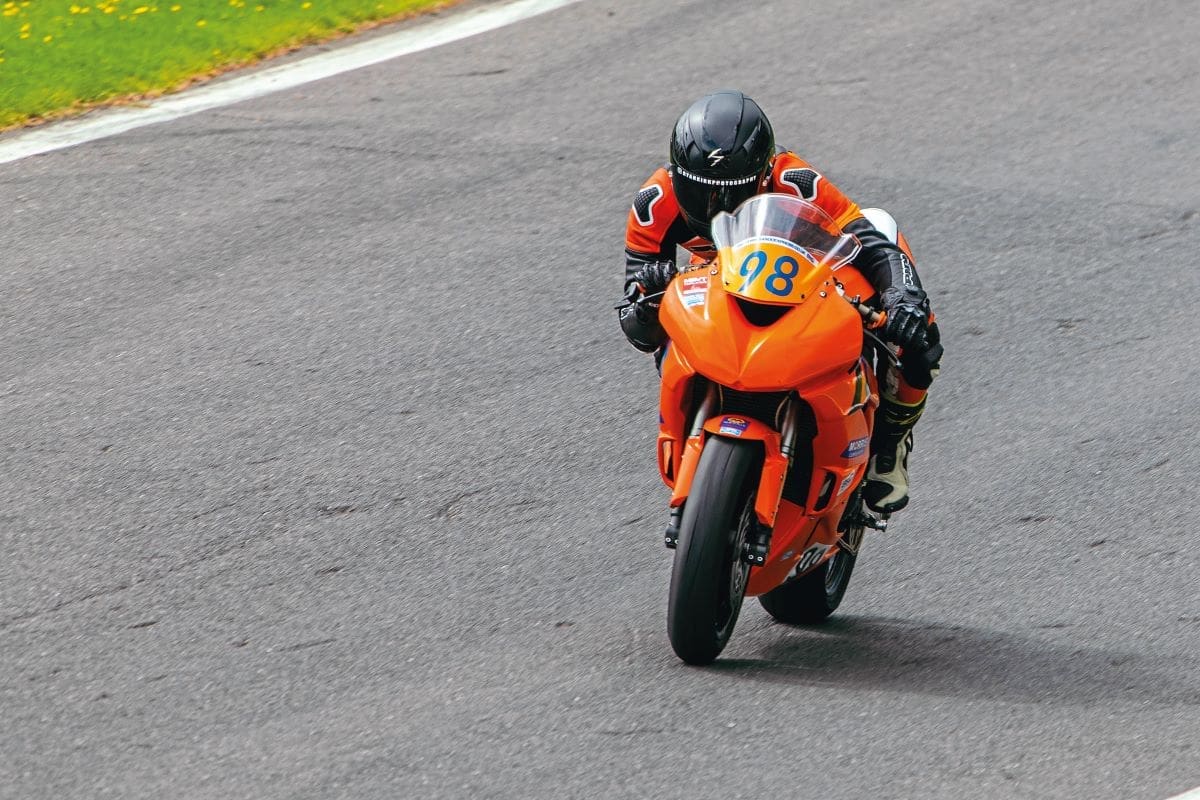 Tom has also fitted his bike with the Brembo 19 RCS master cylinder connected to the Nissin calipers with HEL brake lines. He has experimented with multiple different brake pads and has settled with the EBC GPFAX pads, which he loves, happy with their ability to work in all conditions – certainly a necessity in the UK, pairing them with TRW Lucas floating discs. Tom previously ran SBS with these discs and found that he struggled to warm up the system in the wet as well as he could in the dry.
His bike might not be the newest, but it's still plenty capable.
We asked Tom…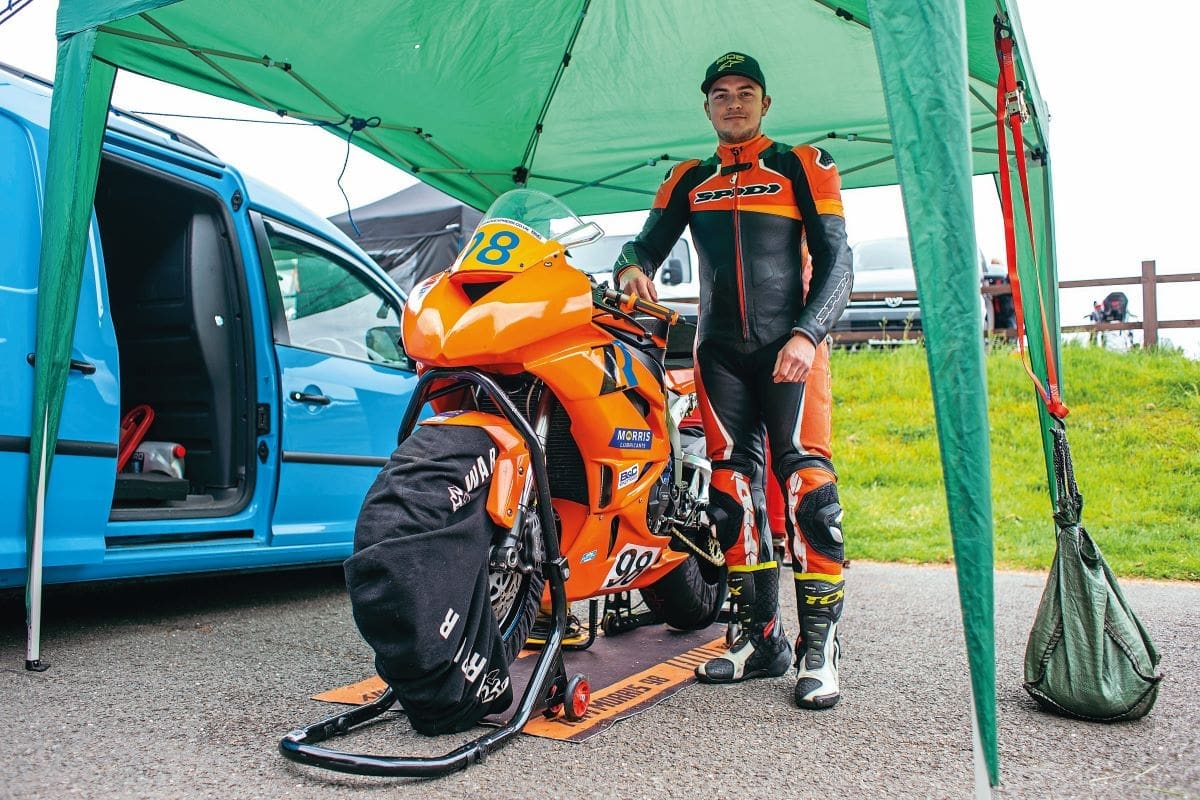 What is this bike like to maintain?
The gear selector fork has a dog leg on it and instead of being an extra part, they just cut it and bent it over as standard, which looks flimsy, and if you happen to drop the bike, there's a tendency to snap this leg off. I have found myself changing gear with the quickshifter and it would not go into gear, and would eventually jump into gear or miss a gear, hitting false neutrals. This snapped piece is the cause of that and has been a similar issue in the paddock… these need to be looked after and replaced somewhat regularly. Other than that there's not much I can say besides general cleaning, oil and filter every couple of race weekends… stuff like that.
Is this the right bike for you?
Considering I have only ever ridden this and a Honda, I have found that the Hondas are nimbler, but then this smashes them for outright power, and I also feel like I can hang on the Kawasaki more round the corners due to the wider tank. So I'm definitely feeling the benefit round faster corners, but I am yet to try another bike, like an R6. In the 600 class at the moment, it's a pretty obvious choice; it's one of these, an R6, or a Triumph, though there's not many people running the Triumphs.
What changes would you like to make to this bike?
In all honesty I'd just love to have gearbox upgrades, though I would look at trying a new quickshifter with it. A lot of people seem to experiment with the rear wheels, running them against the backstops with the ZX-6. I'm yet to try that but I do like the stability. I've always been better at longer corners; I like that stability. I'd like to try a few things like that but there's not much I'd change with the bike.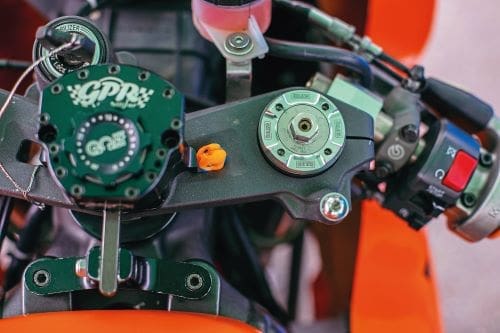 Kawasaki ZX-6R
■ Engine: Stock
■ Rear shock: Öhlins TTX
■ Forks: Öhlins FGK 206
■ Dash: Stock
■ Brake lines: HEL
■ Calipers: Nissin
■ Pads: EBC GPFAX
■ Discs: TRW Lucas
■ Exhaust: Arrow
■ Crash protection: GB Racing
■ Rearserts: SES
■ Clip-ons: Renthal
■ Steering damper: GPR
■ Fairings: CRC
■ Sprockets: Renthal
■ Quickshifter: Annitori
■ Chain: Tsubaki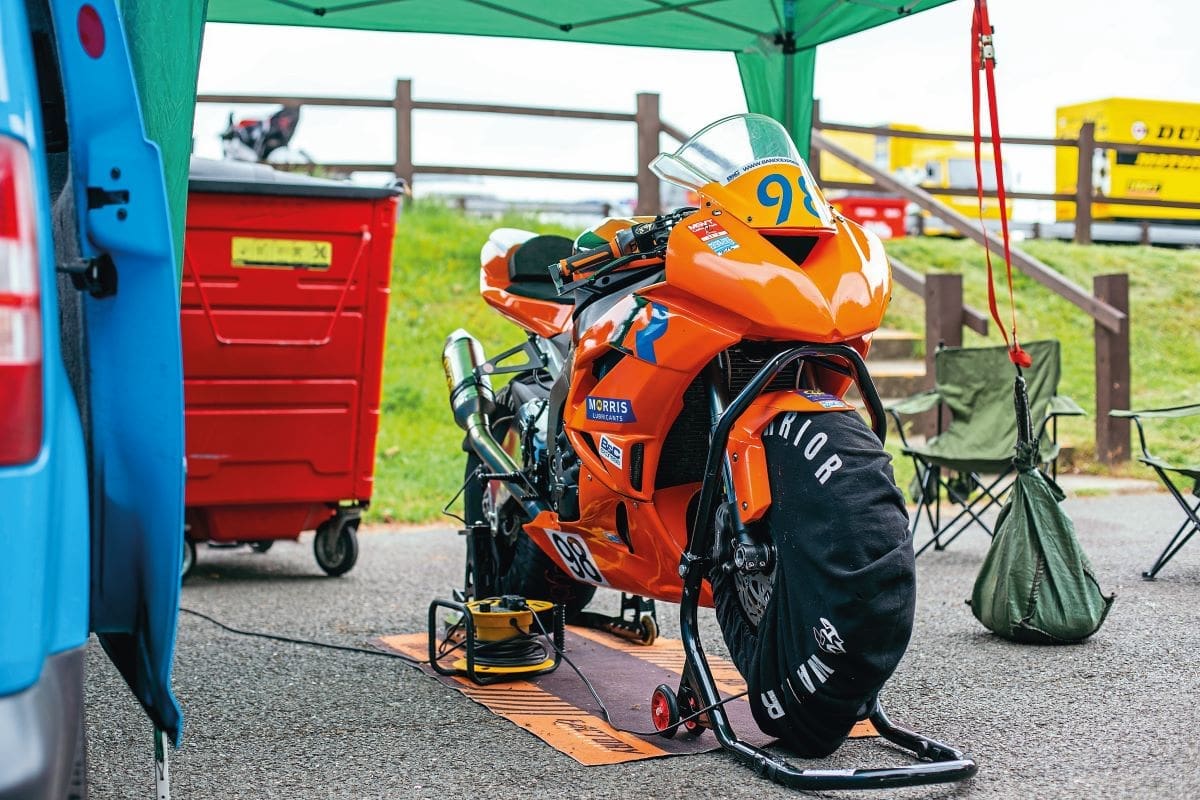 ---
Advert
---
Enjoy everything More Bikes by reading the MoreBikes monthly newspaper.
Click here
to subscribe, or
Read FREE Online
.
Sign-up to the More Bikes Newsletter
Enter your e-mail address below and get regular updates straight to your inbox… You can unsubscribe at any time.