Mossy takes a look at two versions of Yamaha's popular trailie twin.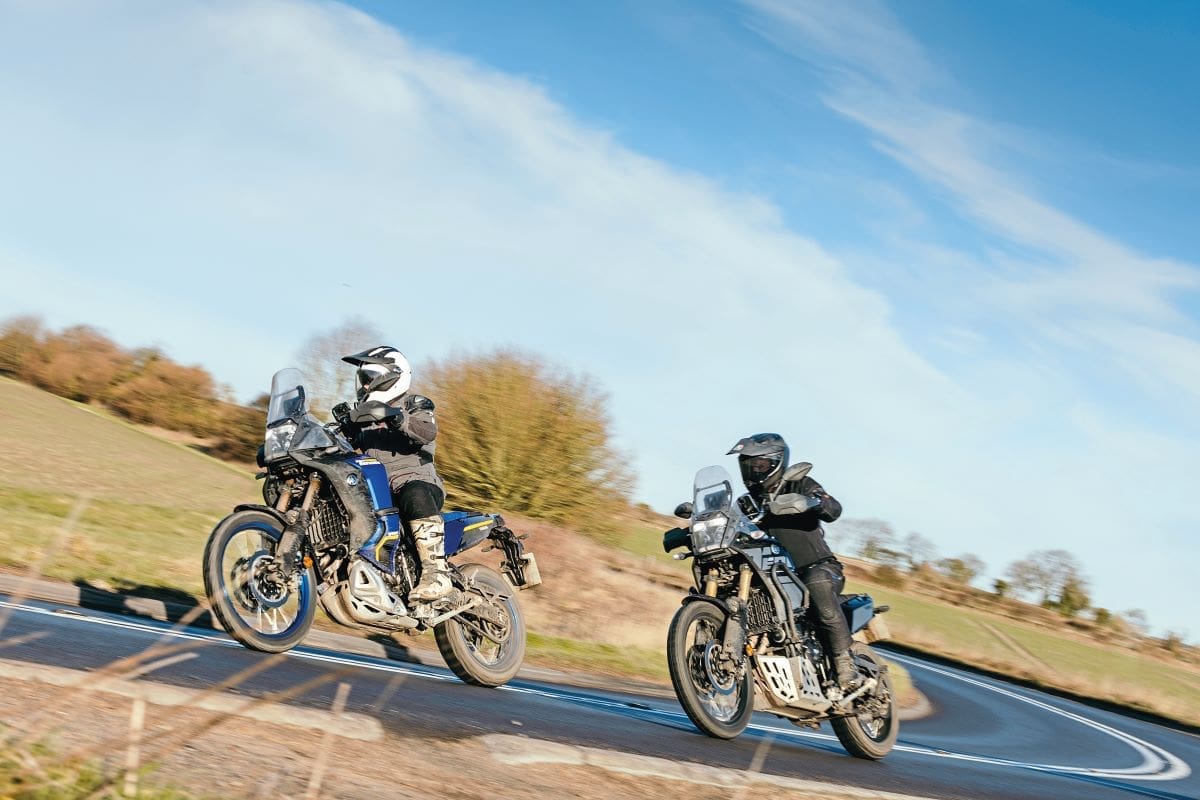 Word: Chris Moss
Photography: Gary Chapman
Unsurprisingly, we didn't see too many bikes that day. As you may tell from the pictures, we were riding a little outside the ideal biking season, in late January to be precise. But even though temperatures were very low, and the ground not at its grippiest, our little day's adventure both on- and off-road around the Wiltshire countryside brought many a smile, and plenty of overall contentment
If I'm honest, this is my favourite sort of biking these days. I love mixing a bit of road and trail, and especially enjoy the fact you can ride just about all-year round. I also had a vested interest in a couple of other issues. The main one being to discover just how well Yamaha's standard version of its Ténéré 700 compared with its higher spec and more costly sibling, the Ténéré 700 World Raid. I'd been to the foreign press launches of both bikes, held in much warmer climes in a couple of different parts of Spain, thoroughly enjoying both occasions. After that, I got to cover a fair few miles on each in the UK, and though I can see the multiple merits of each machine, it was going to be interesting to see if each of us could pick a 'winner' from this back-to-back test.
Getting a second opinion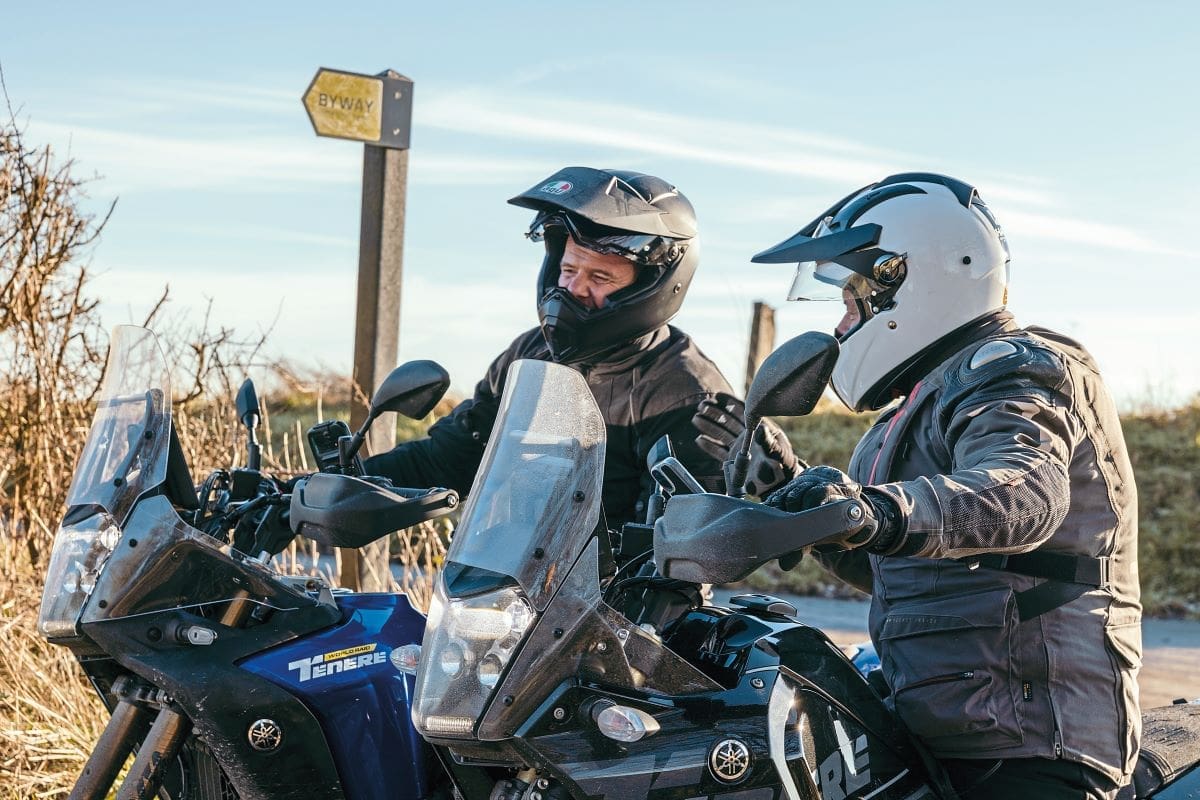 Joining me was Morton's ad man Charlie Oakman. With only limited experience off-road, his opinions were going to be another interesting discovery. He's only previously ridden much lighter and more focused enduro bikes. And though he'd very keenly accepted the invitation to try a bit of local green laning, I was keen to know how he'd fare on these relatively bigger and weightier motorcycles. The study would have further interest because he was bringing along the standard T7, a bike he's been using as a long-term test bike.
Memories were rekindled as soon as I tried to get on the World Raid at Yamaha's HQ in Woking. Just as I had a year previously outside the hotel in Spain when I attempted to mount it for the very first time at the press launch, I really had to psych myself up a bit because of the bike's very lofty 890mm seat height. It's an important thing to bear in mind if you're a bit short in the leg like me, and the issue would go some way to influence which of the two Ténérés I'd plump for if I was spending my own money. Once underway I remained mindful of needing to have a plan whenever I looked like I needed to come to a halt. Kerbs have never looked quite as relevant and helpful! Luckily it bothered me less and less as time and miles went by, especially as I've faced and managed this mini dilemma on several very tall enduro and adventure bikes I've ridden over the years.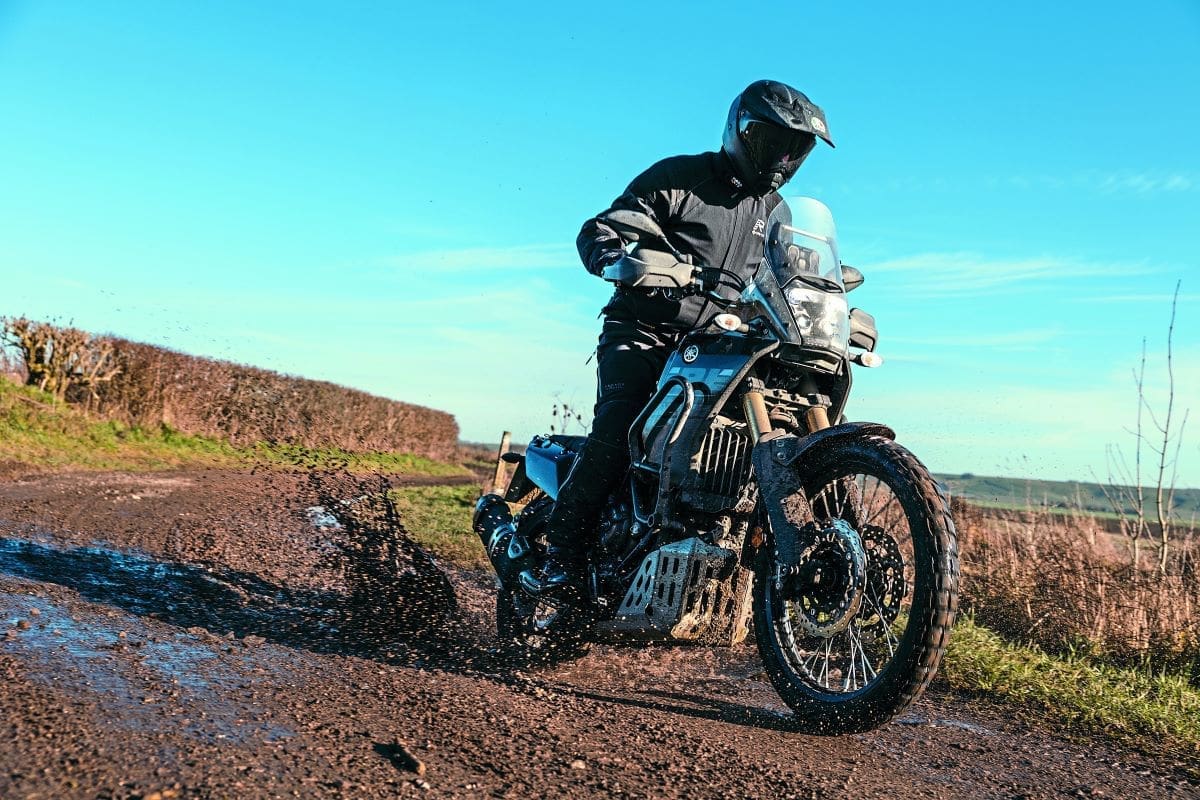 What a great engine
Other more favourable recollections returned during the ride home. I really do like the Yamaha's parallel twin-cylinder engine. Thanks to its configuration and uneven firing order, delivered by its 270° crossplane crank design, drive is delivered in a direct but predictable, very controllable fashion. It might only make a modest peak of just 72bhp, but it's a very usable motor that's great fun, too. Prompt throttle response is always available whenever you twist the grip, but the reaction is never intimidating. It's just a lovely engine, and one of my favourites.
I only had around 70 miles to cover, but with a full tank there'd be no need to stop for around another 200 thanks to the highly useful 23-litre twin tank arrangement.
Like the seat height, the tank's size and weight it adds when filled is another feature that can affect decision-making when it comes to choosing which Ténéré you fancy having the most.
The World Raid is a whole 15 kilos heavier than the base model, but personally I love the significantly longer fuel range it provides, not to mention the extra wind protection it offers your legs.
There's no doubting its size gives the impression it's the much larger and heavier version of the two bikes. Though it should be added the position of the twin tanks is such that the centre of gravity of the two T7s is the same.
Just as I'd remembered it
By the time I arrived home, the Yamaha had ticked all the boxes it had on the previous occasions I'd ridden it. I'd enjoyed the comfort it offered, with the 15mm taller screen keeping the worst of the wind off, and the seat supported me just as well as it had during two previous three-hour, non-stop runs I'd made from Manchester up to the Lake District and back last year. Also differing majorly from the standard bike and another feature very much worth praising is the World Raid's suspension. Longer by 20mm, it's one of the reasons the seat height is so tall and ground clearance greater. Its stiffer springing and alternative damping arrangement provides impressive ride quality, coping with the increasing number of potholes and other sorts of deterioration our roads seem to suffer from remarkably well.  It would draw even more praise later.
With my bike's 5-inch TFT dash's ambient temperature providing evidence of the very chilly start to the day, I set off to meet Charlie and the lovely Will who'd offered to help point us in the right direction and solve any problems we might have. We'd originally aimed to go and ride around Salisbury Plain but stayed away because of the chance of too much ice. I was really keen for Charlie to enjoy this outing, as I wanted him to become a fan of off-roading and not end up having such a difficult day, he'd never want to repeat it.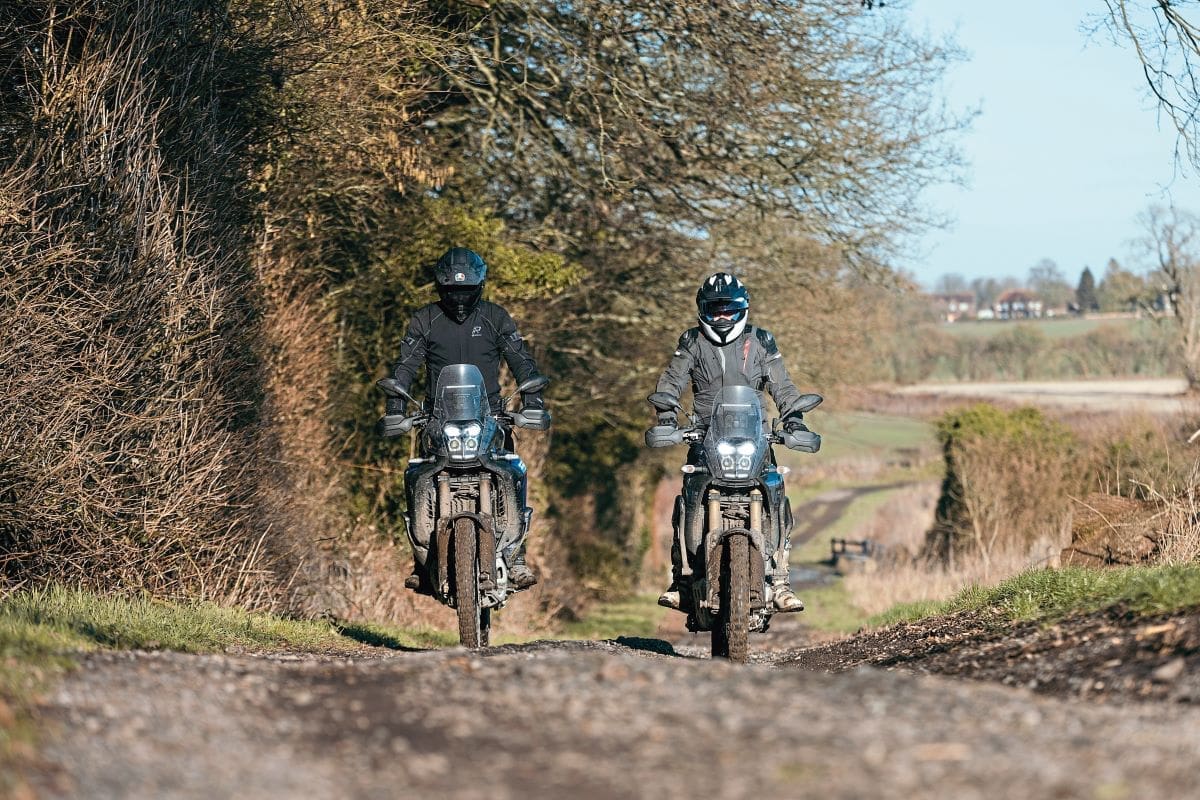 Don't know if you noticed
Now the sharper-eyed MSL readers amongst you will have noticed that Mr Oakman has modified his bike a little, adding a sprinkling of extras, some of which (like the beefy sump guard) bring it closer to the spec of the World Raid. After some discussion we felt these mods actually played into the hands of this test, as the accessories are quite typical of stuff Ténéré owners would consider fitting – another factor we're going to consider in this test. Besides, Charlie pointed out Yamaha had fitted some of them, and also made it quite clear they weren't going to be removed!
A run on his bike instantly highlighted some key differences. For starters, I could get on it more easily. Though it has to be said, even though the seat of the standard Ténéré sits a significant 15mm lower, the slimmer nature of the World Raid's saddle negates some of that, and I still couldn't get both feet flat on the floor. There's a considerably slimmer feel to the base model though, in the most part generated by the distinctly narrower fuel tank. That fact alone gives you the idea the standard Ténéré's a lot lighter than the World Raid than the 16 kilos it actually is. But any feeling of possible advantage that might bring is offset by the inferior quality of its suspension. Even before we went off-road, the comparative crudity of the way Charlie's 700 rode the bumps was clear. It's not especially poor, but compared to the plushness of the World Raid, there's a harshness and relatively budget feel to it. And I know from riding it off-road, running over bigger holes and drops can have the rear shock bottoming out. It simply doesn't have the same level of control as the more expensive set up fitted to the WR.
Let's head for the dirt
With road pictures completed, we headed for the trails. Given Charlie's inexperience and that all-important intention to have a good day, I chose some pretty easy routes. Hard-packed and without too many challenging features like ruts, roots and gullies, both bikes dealt pretty easily with the terrain. I've spent a lot of time on a standard T7 in the summer in this area and bar the occasional inadequacies of the suspension, the Yamaha usually coped well. It's a difficult bike to paddle your way through trickier sections if you're a shortie like me. But ridden with care, and just as we'd done on this occasion, always following a well-planned route to avoid difficult challenges, I'd always had a good time. Mind you, I've also seen the Ténéré in a bad light when I attempted to do the Coast to Coast run from the North York moors to the Lake District loaded with far too much luggage. Weighed down excessively, it proved unmanageable for me on several occasions, often resulting in me going to ground! Significantly lightened later, the Yam became far more rideable and underlined just how capable it was.
Both Ténérés are true dual-purpose machines, able to take you far and wide, on- and off-road. But to get the best from them, it's important to use appropriate tyres and match the route to your ability. We were pretty much doing just that in Wiltshire and though extra care was needed here and there, particularly over iced-over puddles, the day offered enough of a challenge to feel rewarding, never getting tough enough to spoil things.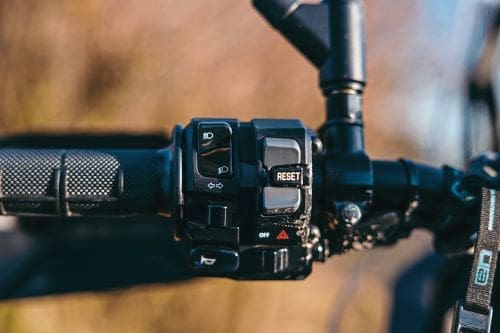 Feeling better and better
Charlie had admitted to being quite nervous and apprehensive when we first left the road, but the manageability of the Yamahas had boosted his confidence and the more time he spent in the saddle, the more at home he felt. We both agreed the way the well-mannered engines made their power really helped with control, and even without any traction control system to act as a safety net, each of the Ténérés remained agreeable enough not to feel handicapped by the absence.
The World Raid has the advantage of being able to switch off its rear ABS arrangement, which is useful as deliberately locking the rear wheel can help steer the bike into corners off-road. But just as it has every time I've ridden it, the system proved too frustrating to bother selecting as the relevant switchgear is tricky to use and can only be engaged after you come to a halt. Just as annoying, every time you either turn off the ignition or just stop the engine using the kill switch (which can be quite a regular thing if you're riding green lanes and meeting fellow users), the ABS reverts to being operational on both wheels again. If you do manage to isolate it on either just the rear wheel, or both, there's a useful button to press on the dash to instantly make it effective again when you return to the road. But it really could do with some improvement. The standard Ténéré can only run with its ABS either on or off on both wheels.
That could be pricey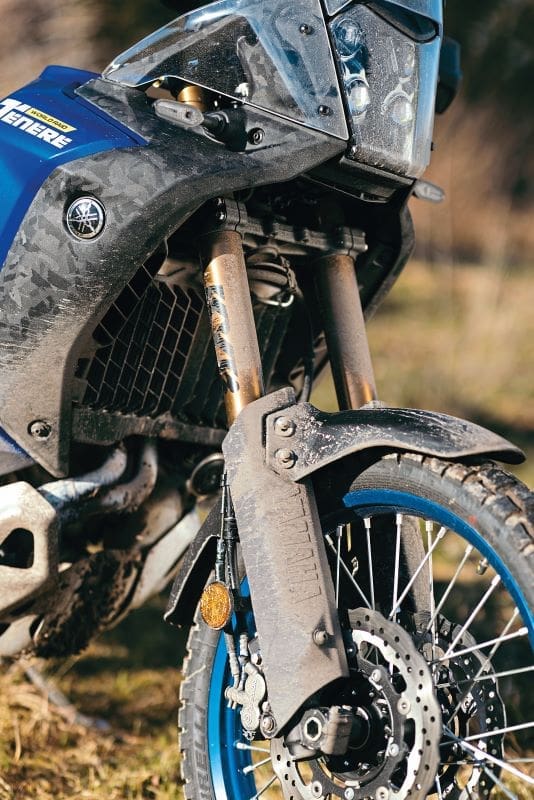 Another complaint, applicable to both bikes, is the design of their rear subframe. It's welded on to the main frame, as is the exhaust hanger attached to that. I've seen several cases of the end can folded in quite seriously when the bike has fallen on its right-hand side. If the damage is too great and either the hanger or the subframe can't be repaired, then the bike may need a new frame. And given falls are part and parcel of off-roading, it's an issue that ought to be addressed.
Luckily for Charlie and I, we didn't suffer such an outcome, staying onboard both bikes all day. I'd like to think the combination of our skills and the capabilities of the Ténérés was the reason for the continued good fortune. In reality, while some of that helped us have a great day's adventuring, I'm also happy to admit a bit of luck played its part, too!
Whatever, a good day was definitely had, proving with the right sort of preparation and planning, biking fun can still be had during the much colder months.   
Specification
700 Ténéré (700 Ténéré World Raid)
PRICE: £10,110 (£11,810)
ENGINE: 689cc, liquid-cooled, 8v, DOHC, 270° parallel twin
MAXIMUM POWER: 72bhp (54Kw) @ 9000rpm
MAXIMUM TORQUE: 68Nm (50lb-ft) @ 6500rpm
TRANSMISSION: Six-speed, chain final drive
CHASSIS/COMPONENTS
FRAME: Steel tubed double cradle
SUSPENSION: 43mm inverted forks, fully adjustable, 210mm travel (230mm travel) (F), rising-rate monoshock, fully adjustable, 200mm travel (210mm travel) (R)
BRAKES: Single 282mm discs, twin-piston ABS caliper (F), 245mm disc, single-piston ABS caliper (R)
TYRES: 90/90-21 (F), 150/70-18 (R)
SEAT HEIGHT: 875mm (890mm)
WHEELBASE: 1595mm
WET WEIGHT: 204kg (220kg)
FUEL CAPACITY: 16 litres (23 litres)
GROUND CLEARANCE: 240mm (255mm)
Warranty: 2 years
Contact: www.yamaha-motor.co.uk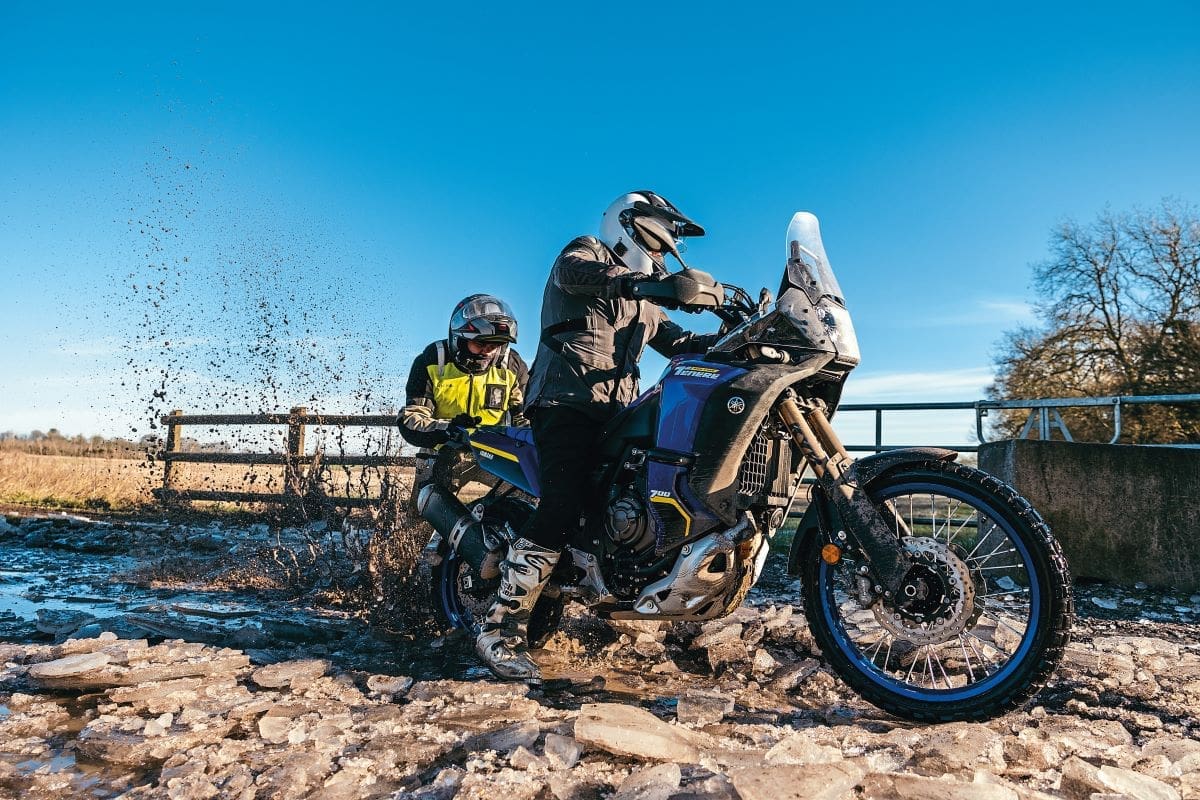 Rally Raid Products
Not everyone will favour going for the World Raid, especially anyone who's already got a standard Ténéré 700. As it's developed a large following, several firms sell aftermarket equipment to improve the standard T7. Northamptonshire firm Rally Raid Products is one such company selling a range of performance-enhancing equipment like premium quality suspension, lowering kits, luggage racks, bar risers, hand guards, taller screens and headlight protectors.
Contact: rallyraidproducts.co.uk 01933 666333
Yamaha Off Road Experience
If you want to try either Ténéré in the most ideal environment, the Wales-based Yamaha Off Road Experience training centre runs Ténéré Experience courses with a choice of either the basic Ténéré 700, or World Raid model.
Tours on offer include either one- or two-day tours. All riding equipment and tuition is provided. The riding includes spectacular scenic road routes and off-road terrain to suit your ability on both public rights of way and private routes. Prices range from £285 to £500. Bike, fuel, insurance, lunch and refreshments are all included. Three- and four-day tours are also on offer.
You need to have a full motorcycle licence and be over 5'6" tall.
Contact: yamaha-offroad-experience.co.uk
---
Advert
---
Enjoy everything More Bikes by reading the MoreBikes monthly newspaper.
Click here
to subscribe, or
Read FREE Online
.
Sign-up to the More Bikes Newsletter
Enter your e-mail address below and get regular updates straight to your inbox… You can unsubscribe at any time.