Mixing Italian exotica with an iconic circuit and a smattering of MotoGP stars, Ducati's inaugural DRE Race Academy was every bit the success its formula suggested it would be. Fast Bikes Editor Bruce Wilson reveals all…
Some days just start better than others… like when you open your bedroom curtains and stare down at one of the sauciest racetracks in the world – Silverstone. If the day had ended there, then I wouldn't have been too disappointed. But as it happens, this was but a warm-up act to the kind of prestige to be expected on Ducati's inaugural DRE Race Academy event.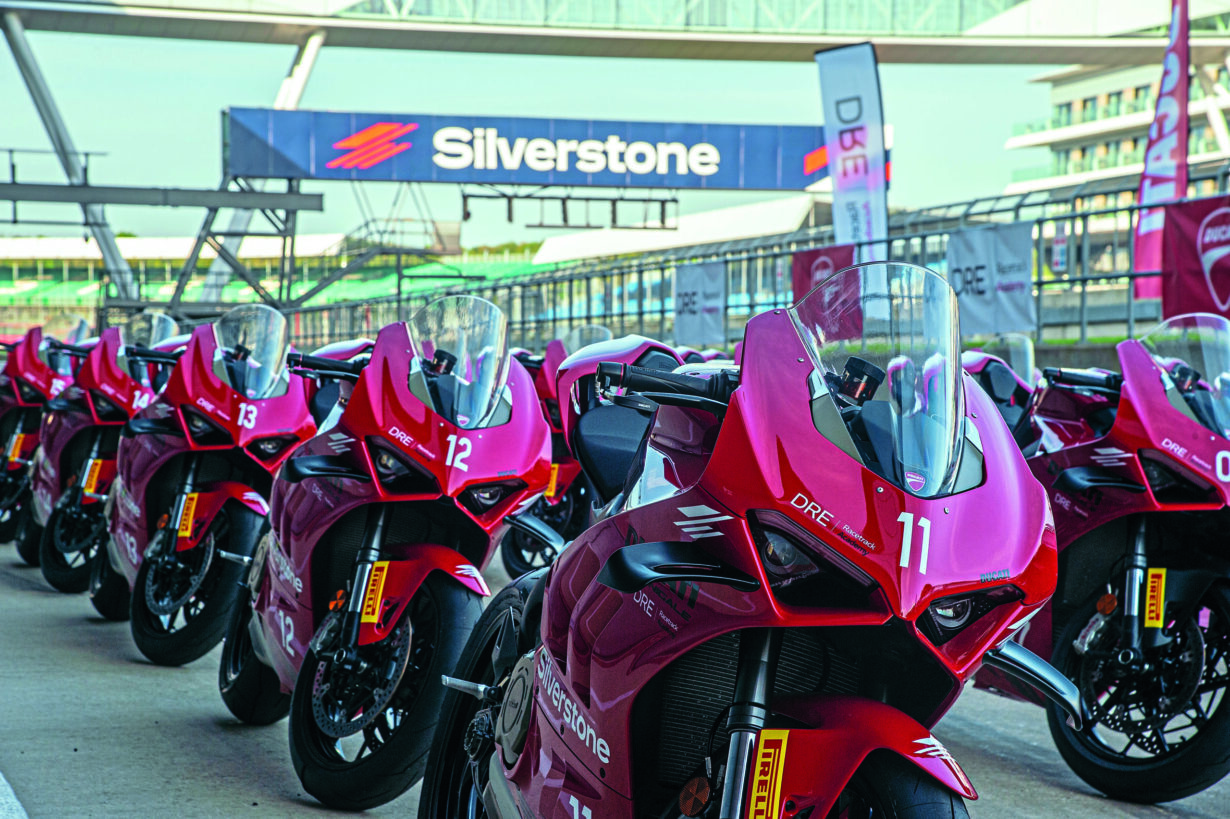 What's DRE, you might wonder? And rightly so. For the likes of myself, who all too often has to search down the back of the sofa for loose change in the week before pay day, it's a world far estranged from the one I can afford, providing motorcyclists access to Ducati's finest machinery on track, tours, and even off-road.
The Ducati Riding Experience, to give it its full name, is a proven formula that sees amazing trips on amazing machinery… and, for the first time ever, it's migrated over to the UK. While tours and adventure gigs are set to head to our shores, I wasn't complaining when Ducati decided to dip its toe into the British scene with a track riding spectacular on the aforementioned legendary circuit. The plan was simple: release a limited number of places for a closed-track exclusive experience, guided by World Championship riders, kitted out with immaculately prepped Ducati Panigale V4s and V2s. And they'd even pre-ordered the weather, meaning that from the outset of this escapade, we were graced by that rarest of sights – blue skies and sunshine.
To backtrack a little, I arrived the night before and headed straight for Silverstone's Hilton Garden Inn and its mezzanine bar. Over a refreshing beer, I looked around a room full of excited faces who'd paid the substantial £1800 asking price to book their slot on this soiree. I started chatting to a few, failing to mention I was a freeloader and couldn't match them in wealth or the number of Lambos in their arsenal. Of course, not everyone in the room was a billionaire – some were humble millionaires, and then there were the hardcore Ducatista who'd swallowed long and hard as they handed over the money that was meant to pay for their family's annual holiday, instead investing it in an experience that was, to them, simply unmissable. Whichever way you look at it, this was not your commonplace trackday, let alone some average track school, as we were soon reminded when our hosts rounded us up in the hotel's foyer. Outside, a queue of minivans lined up and we were allocated to specific vehicles. For me, that meant knocking around with a few of my journo mates, plus a certain Michele Pirro, who'd popped over to give us a few pointers around what he claimed was his favourite track in the world.
If you know Silverstone, you'll know it's a long old circuit, being one of the biggest on the GP calendar. The point being, we didn't stop at every kink to get Pirro's top tips, but he did a top job at tackling sections at a time, unloading us off the van to get his perspective on slashing tenths and building strengths. "This is an incredible part," said a beaming Michele as we reached Maggots. "It's so fast. It's all about setting up the second corner (Becketts) with the first one, then getting the line and drive out of Chapel. The exit is so important, because the Hangar Straight is so long. You have to be perfect."
No pressure, I thought, as the GP star rattled off waves of wisdom, building my familiarity and also my excitement for the circuit. Silverstone is one of those tracks I've hardly ever ridden, so the idea of having this legend on board to better my performance was one I instantly warmed to. From gear choices to lines, he covered the lot before dumping us back at our pad to download all he'd gone through during a good night's sleep.
Having ticked off breakfast, I made the short air-bridge walk over to the track's Wing. As pitlanes go, it's an impressive set-up – words I'd also use to describe the décor and feel of Ducati's DRE garages. In the pit lane itself were rows of perfectly placed Panigales, while the garages were adorned with pukka branded panelling, dividing up the huge expanse within into specific areas for the day's groups. There were a total of 60 riders booked on, with two instructors and 10 riders separated into each zone. Customers had been asked to identify their abilities ahead of time, meaning that pace-appropriate gaggles had been formed.
I dumped my kitbag, treated myself to a(nother) coffee, and made my way to the garage's centre stage, where DRE's technical director Dario Marchetti hopped up to welcome us all and explain what the experience was about, how it works, and who he'd managed to rope in to give us the world-class tuition you simply wouldn't get at any other track event. The only other place I've seen the likes of Karel Abraham, Chaz Davies, Alex De Angelis and Michele Pirro is on a MotoGP grid, but for today, they were on hand to tell us how crap our riding was and why we'd be better off taking up draughts… or in my case, at least. It was a draw-dropping line-up and immediately hammered home why this particular Race Academy was unrivalled.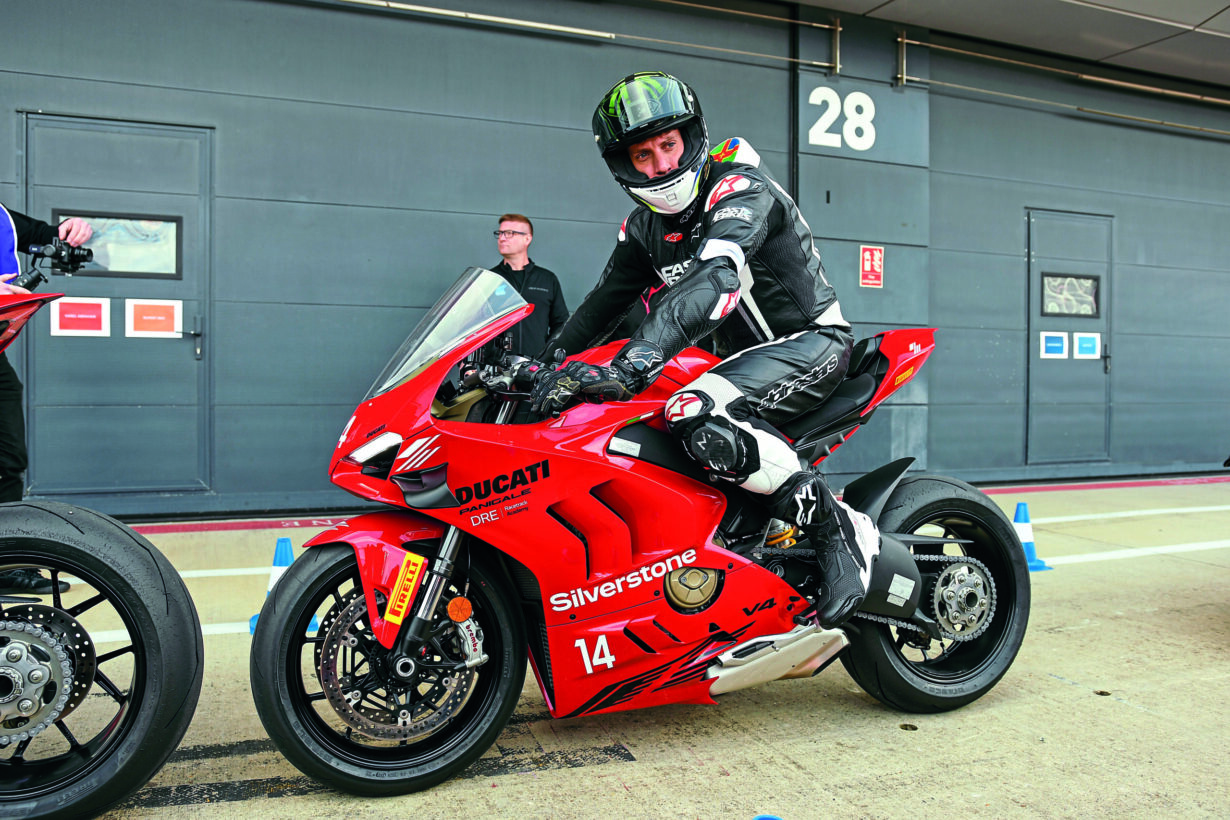 Suited and booted, the time had come for the first of the day's four track outings. Each was to last 20 minutes a pop and to get proceedings underway, the first stint was consumed following Pirro at a progressive pace as we got to grips with the track and the stock Panigales we were riding. Each of the bikes were set to sport mode, with a track-friendly set-up dialled in to the analogue suspension. It was a necessary albeit steady start, but I'll admit I came back into the garages gagging to get straight back out there and pull the pin. The reality was that we had just over an hour to kick our heels, drink more coffee and take advantage of the array of sweet treats before our second coming got underway. It was a long time, but it also made me more focused during the limited time we had left. The next part of the plan was to go out behind Pirro, rotating through the riders in our group after a lap, so we could watch his lines carefully at a pace we were comfortable with. For me, this was when the day really got underway, trying my hardest to keep up with the GP star, who was likewise trying his hardest to go slow enough. Whatever pace I was setting, he'd match it, hovering out front by all of 10 metres, tops. It was a 'pinch myself' moment that came and went all too fast as my lap came to an end. What had I learned? Fundamentally, that Pirro is 10 times the rider I am and that I really must work on my lines, braking points, and inability to strangle the throttle. Apart from that…
For some, food is a comforter, and I'd have to admit that as I ploughed through several plates of Italian-themed delicacies, my bottom lip was no longer quite so dropped. We had two outings left that afternoon and I was determined to make them count. The third session was to see us lead the pack, again alternating each lap, with Pirro playing the wingman, watching our moves and making notes for a retrospective debrief. Third time lucky, the track was feeling that bit more natural by the time I got my chance to shine, and I was loving the feel and flavour of the Panigale. I'm not saying my lines were spot on, but they were somewhere in the parish and I was able to show Michele that I'd taken note of his earlier advice. Braking harder, cracking on the drive that bit sooner and fishing out the apex of each and every bend, my lap was soon done and dusted. I slotted into the trailing pack with a mixture of apprehension and excitement buzzing around my head. Would I get a pat on the back? Or would he be so disgusted with my performance that he'd simply ignore me? Time would tell… and it sure enough did.
One by one, Pirro gave detailed breakdowns of our outings, backed up by video footage he'd recorded from his on-board camera. "You go so fast into corners," he half-questioned me. "Don't go so hard in. This is not where you make your time. That's where you make a pass. Here, to go fast, you have to think about your exit. This track is so big, so wide. Make sure you use it all. If you go so fast into a corner, you can't turn the bike and exit so good. And try to pick the bike up more before you crack the throttle. Smoother is faster."
Overall, I wasn't doing too bad, but what he had to tell me made perfect sense. I took it all in, plus a load of advice on slightly different braking markers and gears to use. Obviously, he was never going to get me up to his standard within a few years on track, let alone a few sessions, but he was good at picking out easy wins and translating them in a digestible way. All I had to do was get back out there and make my last session count. 
Each group's criteria was different, so I'd suggest that what happened next was a bit of a hybrid situation befitting of my group's hunger to crack on. To cut to it, we once again got back out there; in my instance, knocking around with my mates Fagan and Chris, from 44 Teeth. Being quite similar on track, it meant Pirro was able to shepherd us around at a toasty pace while we three dug in and did our best to keep in his wake. The advice from earlier was really paying dividends and the smile on my face had not been broader at any point of the day – and nor had my slides as I powered through Woodcote, Copse and pretty much every hard-driving corner on track. That circuit, on this bike, with the Pirelli Supercorsa SPs the bikes were shod in, made for an epic and memorable amalgamation, especially on the very last lap, when Pirro decided to well and truly put us in our places. He went all in, giving us a first-hand spectacle of why he belongs on a GP grid and we're better suited to the sofa. Quite simply, he was ballistic… and we were in awe.
I was also in awe of what Ducati had made happen at this event, starting something from scratch and delivering to riders on so many different levels of confidence and competence. Wherever you looked, there were grins aplenty and the noisy chatter of tales being traded validated the academy's success. The garages were abuzz and the noise only got louder that evening, back at the hotel, as pints were downed. We'd each shared in something truly special, totally unique and wholeheartedly unforgettable. This might have been Ducati UK's first crack at a DRE experience, but one thing's for sure, it won't be the last.
Wanna go?
As already mentioned, this was the first running of DRE in the UK, but it's certainly set to make a return next year… so if you want to get signed up for it, register interest at your local Ducati dealership or follow for news that's sure to be released online at www.ducati.com
#ducati #dre #morebikesyoulike #motorcycles #readersrides #motorcycle #ukbikers #bikelife #bikers #motorcyclists #morebikes #morenews #motorcyclenews #motorcyclegear #fastbikes
---
Advert
---
Enjoy everything More Bikes by reading the MoreBikes monthly newspaper.
Click here
to subscribe, or
Read FREE Online
.
Sign-up to the More Bikes Newsletter
Enter your e-mail address below and get regular updates straight to your inbox… You can unsubscribe at any time.