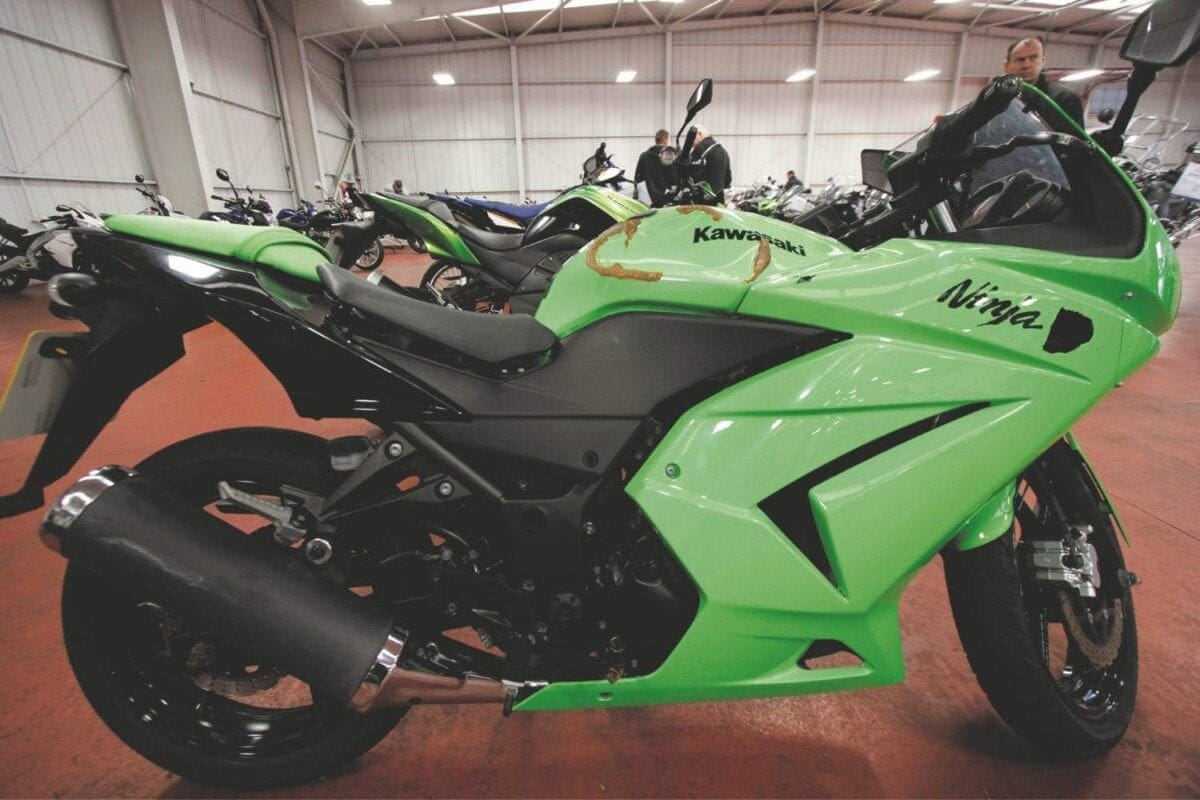 Written-off bikes can offer good value for riders on a budget – but only if you're salvage savvy. MoreBikes shows you how to bag a bargain, and or when to walk away
If you're on the look-out for a budget bike and maybe reckon yourself to be a bit of a handy spanner twirler, why not consider buying a bike that's been an insurance write-off?
Due to the value of used parts usually being a lot higher than the overall value of the complete bike, most write-offs are broken for spares. In the case of machines that only have light cosmetic damage (dinged panels, cracked fairing units) that's just plain silly. Luckily, these types of damage repairable motorcycles do often get another bite of the biking apple, and can make excellent project bikes (winter or otherwise), provide a challenge and maybe even make you some money once they've been rebuilt (properly of course) and sold on.
What should I consider?
There are a number of ways to get hold of a salvage machine, but is it a sensible thing to do? Yes is the answer, but you do need to consider a couple of key points first before considering any write-off.
First of all, you must know the value of an undamaged example of the bike you're interested in. It's no good buying a £2000 write-off if you can get an uncrashed, running bike for £200-300 more. Sniffing out bargains are the key to success: if you can repair a bike and put it back on the road for considerably less than the value of a standard, non damaged machine, then it's a goer (as long as it won't take you forever to repair that is). The less money it costs you, the better.
Next up, you need to think about how badly the bike in question is damaged and how much it will cost to repair or replace parts. The best thing to do is make a list of everything that needs replacing and find out how much it will cost to replace, either using new or second-hand parts.Then allow a bit extra on top, as there will be items and/or damage that you miss on your initial totting-up.
Where can I buy a bike?
The best-known places to look for a damaged-repairable machine are either at a local breaker's yard, through the private ads or online bid sites, the motorcycle trade or at industry salvage auctions.
If bikes are deemed to be in too good a condition to break, local breakers and, sometimes, small dealers will sell complete crash damaged bikes this way. Industry salvage auctions are where insurance companies shift written-off stock. It works because once the insurance claim has been settled and paid out, the insurer then owns the bike in question and wants to then sell it on. The key (and most important) thing here is doing your research.
Go along to an auction as an observer first: look at as many salvage bikes as you can before the bidding starts, jot down the number of bids on any bikes you are interested in and also see how much people are willing to bid. Soon you'll be able to discern which types of salvage bikes have a lot of bidding activity and which don't have much or any at all. On the bikes that don't attract much attention, it's more than likely because in most cases the cost of repair (COR) is too high due to the price of replacement parts and/or expensive labour costs.
Sometimes it will be because parts are probably hard to findandit therefore will take toomuch time, patienc end money to get the bike back on the road.
A good website to get an idea about auctions is www.ukbikesalvageauctions.co.uk
Regardless of where you decide to buy a damaged bike, don't commit to buy a salvage bike until you've inspected first. When you're looking it over, check where it may look 'clean'. Crash damaged motorcycles don't normally look neat and tidy: they are damaged goods. The seller (whoever it may be) may be trying to hide something a lot worse than the advertised or apparent and visible damage – work may have already been carried out todo this.
Always make sure you run a HPI (Hire Purchase Investigation) check on any machine before you buy. This will confirm exactly what write-off category the bike is listed as: those advertised as Cat D (minor damage) bikes can sometimes be in a much worse category than the advertiser is letting on.
If you're looking at a private advert in the paper, chances are thesebikes could be what's known as 'unrecorded' damaged machines. This may mean that the owner only had third party insurance, was responsible for any damage to the bike it may have suffered and therefore couldn't claim for it. As a result, they often can't afford the repairs, hence the advert.
As this damage hasn't been recorded with the insurers (and most likely the DVLA), the bike won't show up as any particular category with them or with HPI checks etc, so won't have an official write-off note on its record. The bike concerned could be a total write-off or completely repairable. It's worth a look as the long-term resale value might be attractive, but of course it does depend on the extent of the damage – always check it out very carefully before buying.
What about the logbook?
When a bike is 'written off' by the insurers, its logbook (V5C registration certificate) is withdrawn. For category A and B machines, the logbook will not be reissued because the bike(and its frame) are listed as not to be reused or put back onto the road.
For category C and D motorcycles, a logbook can be re-issued but needs reapplying for first – you need to fill in a V62 form and send it off to the DVLA. Information required will be the bike's registration number, colour and frame number. It's free to do this for category C bikes but will cost £25 for category D machines.
What are the insurance write-off categories?
A No parts of the vehicle can be salvaged at all.
B Some parts may be salvaged
C The cost of repair exceeds the value of the vehicle.
D The cost of repair is less than the value of the vehicle, but is deemed uneconomical for the insurance company to bother with.
Be extra vigilant when checking over a bike with a history of being written-off (though no history doesn't mean it hasn't been crashed and repaired). Ask for evidence of the work done (or even see the original parts). Steel frames are a lot easier to straighten than alloy, and I'd prefer to know a bike had been on a frame jig after a drop (expect to pay around £90 for a check, plus labour if it needs any work). Take extra care to check for any play in the headstock, swingarm and wheel bearings. You'll probably need to ask the seller to help you get each wheel off the ground to give them a wiggle.
Something expensive like a Ducati with only a few miles on the clock could have a lot of serious damage before being deemed uneconomical. Don't listen if you're told that C and D categories are for cosmetic damage only – it's all about the cost to repair, relative to the value of the bike.
Other categories you may come across
F These motorcycles have been damaged by fire and the 50 insurers have decided not to repair them. Could be repairable. If not safe to repair, they should be re-designated either Cat A or Cat B.
X The bike could be subject to a claim and then sold on by insurers as repairable salvage.
---
Advert
---
Enjoy everything More Bikes by reading the MoreBikes monthly newspaper.
Click here
to subscribe, or
Read FREE Online
.
Sign-up to the More Bikes Newsletter
Enter your e-mail address below and get regular updates straight to your inbox… You can unsubscribe at any time.