Forget GSX-R1100s:Yamaha's FZR1000 EXUP is the classic superbike bargain…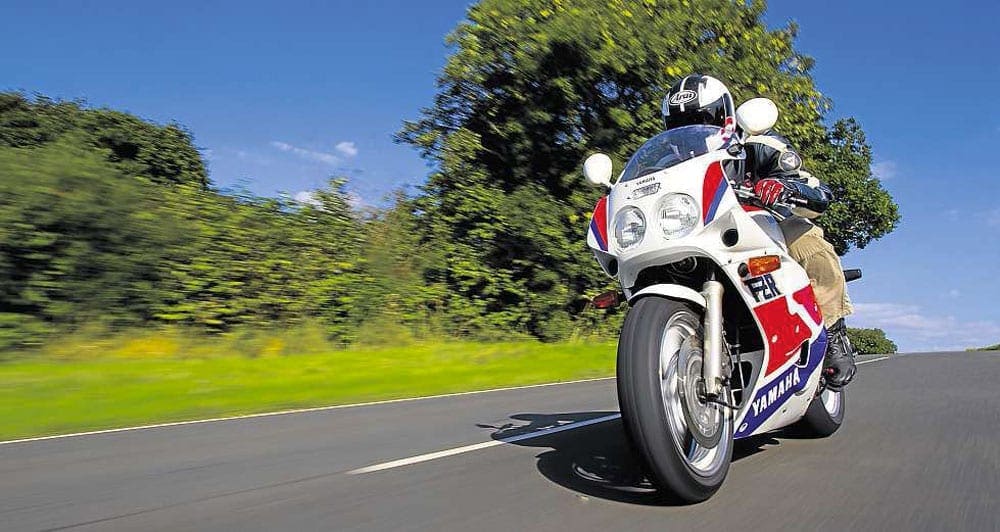 In this age of sky-high new bike prices, it's worth remembering what's available at the other end of the biking spectrum. not only are certain machines now excellent bargains, some are also downright good bikes, with the added bonus of becoming a potential modern classic. The Yamaha FZR1000 EXUP is one such machine.
So what's all the fuss about? Well, the birth of the modern Japanese superbike is directly and inarguably attributable to the FZR1000 EXUP. Votedas 'Bike of the Decade' by Us bike publication Cycle World, the 1989 FZR used cutting edge technology and design, most famously Yamaha's patented (for 10 years at the time) EXUP valve and their chunky aluminium Deltabox frame.
The two complemented each other in away that hadn't been seen before. Here was a monster engine with the ability to be flexible, powerful and oh-so torquey. It pulled from2000rpm, got a real wiggle on at 4000rpm and then just kept on building and building to just shy of 11,500rpm red line. All of which would entirely pointless if the rider couldn't keep the bike between the verges…but they could. That alloy beam chassis was a quantum leap for the Japanese motorcycle industry and many argue that theFZR EXUPwas truly the first bike from the land of the rising sun that really handled in a manner that wasn't outclassed by the horsepower.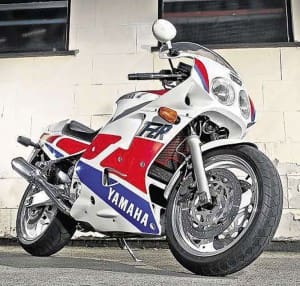 The EXUP benefited from the second generation Deltabox frame: the front down tubes of the 1988 FZR1000 were gone, with the engine now bolting directly to the frame. By making the motor a stressed member, it increased frame rigidity and stiffness, helping with high-speed cornering performance. The compact design also shaved 10mm off the wheelbase, which improved steering responses. The triangulated designed swingarm was also aluminium, and the rear wheel now had fancy YZF-type chain pullers.
But it was the clever EXUP or Exhaust Ultimate Power Valve that was the FZR's greatest innovation. The valve itself is fitted midway down the exhaust and works by manipulating pressure waves in the exhaust: put simply, it boosts low nd midrange power without losing any of the screaming top end. It effectively cons the engine into thinking it has a plethora of different exhaust systems attached and being swapped at millisecond intervals, delivering one of the best riding experiences of the late 1980/early 1990s.
The powerful 1000cc 170mph motor itself was interesting, namely because of the uniquely Yamaha five valves per cylinder 'Genesis' engine design that allowed superb cylinder filling. The arly models that carried the Genesis moniker identified the family lineage back to Yamaha's ground breaking FZ750, but the FZR1000 is so much more than a big bore version of the earlier machine.
Class leading brakes were needed to haul the EXUP up swiftly, and the original stoppers were excellent: even now in well-maintained condition they are more than capable. However, they areprone to wear and tear but are easily brought back up to scratch again (see what to check box).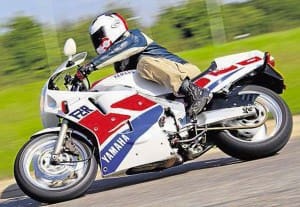 So why should you consider an EXUP? From 1989 to 1992 it blitzed everything until Honda launched the smaller, lighter FireBlade. It's not as popular and therefore undervalued compared to GSX-R1100s and indeed early Blades, but the EXUP certainly out handles the Gixxer 1100 and also Kawasaki's ZX-10. AYamahaFZR1000 truly represents a lot of bang for your buck.
What to buy/how much to pay
At £6000 new, EXUPs are incredibly cheap for what they offer now. Late foxeye machines are normally the most expensive, but you're still only looking at around£2000 for a well looked after bike.
Early (non RU) bikes fetch less, which make them real bargains. A good example with T&T recently went for £750, which is amazing for what could be the ultimate late 80s superbike. Just over a grand should see a very solid machine sitting on the drive, while anything lower will get you an EXUP that, if you're fortunate, won't need any major work. Colour scheme wise, the classic red, white and blue speed block is always a good bet. It's also just possible that there are a few unmolested examples out there that still retain the original 125bhp restrictors in the carb inlet rubbers. Should you find these still in place a few minutes with a craft knife will instantly liberate 10bhp.

What to check…
EXHAUST
Aftermarket cans seem to make EXUP valves rattle more than normal. Bush wear will make the valve tick on idle and they can also seize, taking out the servo motor.
ELECTRICS
Generally strong and reliable but fuel pumps and reserve switches can occasionally play up – check the contacts, as they may just need a clean.
BODYWORK
Plastics are on the delicate side, especially on 1989/1990 machines. Look out for cracking and fractures around mirrors.
SUSPENSION
Rear linkages can seize, and look for chipped chrome and/or leaking fork seals at the front end, especially on the USD fork (RU) models.
BRAKES
Floating caliper can seize and reduce braking efficiency. Brake pistons can corrode and seize in their bores. Prevention is much better than cure; service regularly. Front discs can warp, but many Aprilia discs as well as Ducati 916, 996 and 900SS ones fit on the used front.
ENGINE
Most use oil, which isn't anything unusual, but more than a litre every 1000 miles could mean new rings. Clutch plates can crack in use and debris may take out alternator chain, which sounds similar to a dying cam chain. Very first Genesis machines have a recall on the conrods due to little end eye wear. Clutch baskets can wear too and if they shatter can be dangerous and also expensive to fix. Check second gear too: these can slip because of wear on the dogs.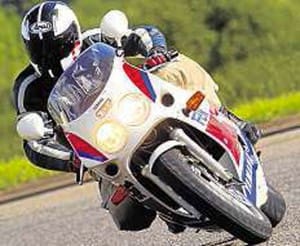 Verdict
Eminently usable with competent, predicable handling, gloriously tractable and powerful engine and fast enough for most real mortals and ridiculously cheap… do we need another reason to buy one?
Words: Steve Cooper Pics: Paul Bryant
Useful contacts
www.FZR1000.co.uk
Tech Spec
 Price: £500-2000 (up to £2500 if absolute minter)
Engine: 1002cc, fuel-injected, five-speed, liquid-cooled 35° forward inclined transverse four, DOHC with five valves per cylinder. 4xMikuni BDST38mm carbs, EXUP exhaust control system
Power (claimed): 145bhp@10,000rpm
Torque (claimed): 77lb-ft@8500rpm
Bore x stroke: 75.5 x 56mm
Rake and trail: 26.75º x 109mm
Chassis: Aluminium Deltabox
Wheels/tyres: Front: 130/60 x 17in Rear: 170/60 x 17in
Suspension: Front:43mm telescopic forks with adjustable preload,120mm wheel travel. Rear: Gas/oil single shock, rising rate adjustable preload and damping.130mm wheel travel
Brakes: Front: 2x 320mm disc, four piston calipers. Rear:267mm disc, single piston caliper
Wheelbase: 1460mm
Seat height: 765mm Fuel capacity: 19 litres Dry weight (claimed): 208kg
---
Advert
---
Enjoy everything More Bikes by reading the MoreBikes monthly newspaper.
Click here
to subscribe, or
Read FREE Online
.
Sign-up to the More Bikes Newsletter
Enter your e-mail address below and get regular updates straight to your inbox… You can unsubscribe at any time.