Sub zero temperatures, deep snow and frozen mud holes didn't stop riders competing in the oldest motorcycle race in the world…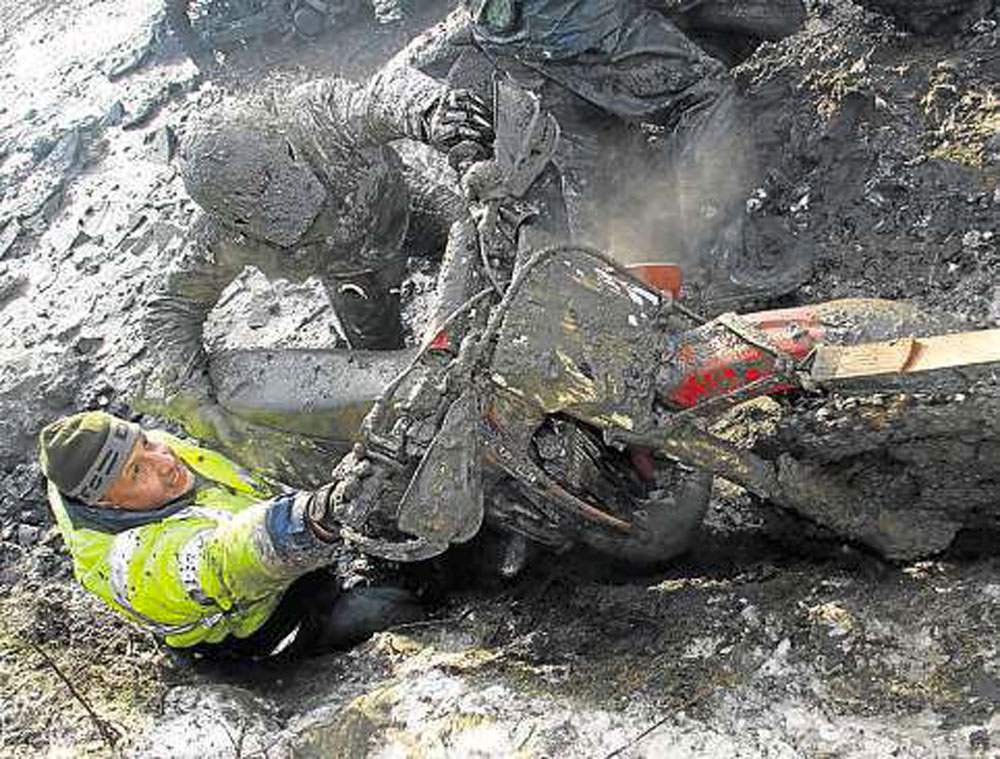 Boxing Day is normally the day of recovery from the Christmas excesses… and the beginning of the turkey leftovers foraweek. not so for a small village in northants. Every year, the 26th December heralds the start of the oldest, still running motorbike race in theworld: theWild andWoolly scramble. now in its 85th year, the freezing temperaturesdidn't put riders or the thousands of spectators off.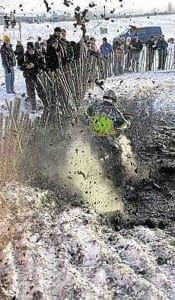 Normally renowned for its thick, suckingmud and deep waterholes, this year the Woolly's course resembled a winter wonderland with a thick covering of snow. Riders who had prepared for bog-like conditions found themselves dealing with a frozen track more suited to ice racing. Wet and mud-caked riders found that the subzero temperatures sapped their strength, with frozen feet and fingers making already challenging machine control painfully difficult. Riders sliding off felt the full shock of the rockhard track. And this was just during the compulsory practice laps…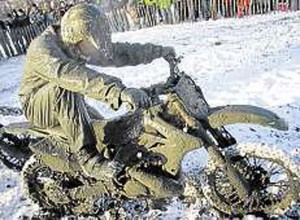 Time to race
During the second practice lap the ice covering the water crossings finally cracked,dumping riders into a freezing bog belowandmaking conditions very difficult. After the two compulsory practice laps,` chairman of the club, Fraser Law, made the controversial decision to remove two of the water crossings from the course as it was deemed that they were causing too much ofabacklog and itwas necessary to keep the riders moving.
The race then started on the stroke of 11am from a traditional dead-engine start. The bikes roared off with expertlevel Jack Lee leading onboardhis twostroke Gas Gas EC300, being chased by MichaelMcClurg, ex-British Champion Neil Prince, nine-times Woolly winner Ryan Griffiths and 16-year-old Kai Passmore-Jones.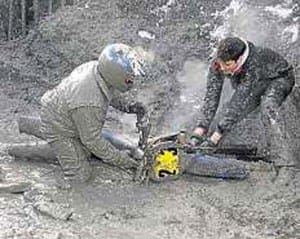 It soon became apparent that Jack Lee's trail riding experience on the softer-powered Gas Gas enduro machine was giving him the edge over the full-on approach of the motocrossers ridden by the other competitors.
Lap two saw McClurg slip to fourth leaving Griffiths to chase down and catch Prince. The two of them fought it out for most of lap four until a passing mistake by Griffiths on the railway embankment ended with him tangled in the ropes, leaving Prince in a comfortable second spot.
All the time this battle was going on, Jack Lee was pulling away at the front. Such was his pace that, by lap five, he'd lapped everyone up to fourth place.
He then caughtGriffiths on lapsix and also third-placedMcClurg by lap eight. Only Neil Prince, who'd lost none of his