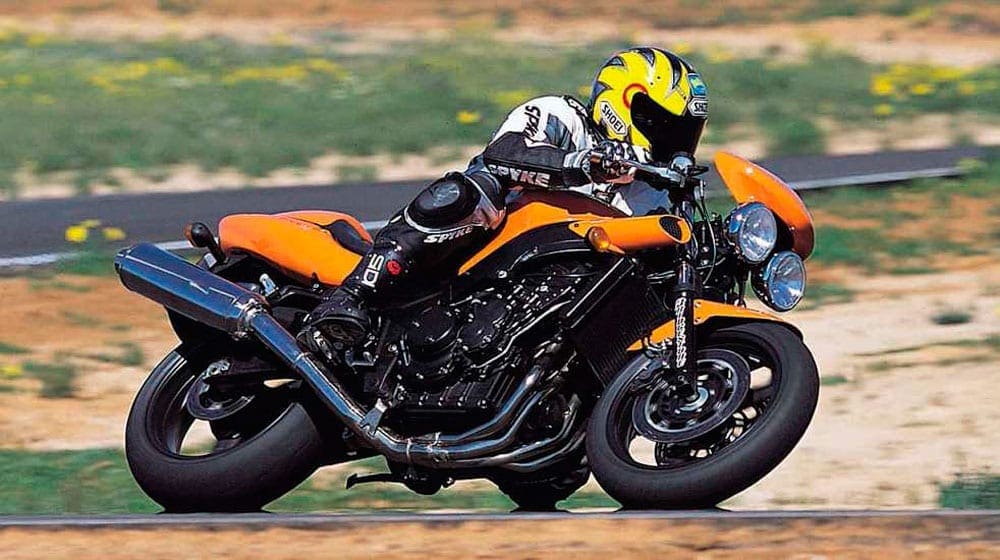 Underrated, overlooked but a brilliant bargain, Triumph's Speed Four makes magnificent sense in these cash-strapped times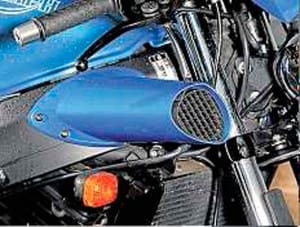 Triumph's model range has always been a little schizophrenic. On one hand they've produced unique machines that have been hard to pigeonhole alongside any Japanese, European or American equivalent, while at other times they've taken the more powerful opposition a little more head-on.
Back in 2000 Triumph dived into the supersport 600 class when they produced the TT600, a machine which was perhaps too much too soon for the Hinckley firm. It may have been the first mass-produced 600 with fuel injection, but it suffered badly from poor fuelling and a gutless power delivery. Fast forward two years and many engine and FI updates later, and the motor was better, almost up there with the TT's sublime chassis and fierce brakes. But by then the class had moved on and the Triumph was still at the back of the pack.
Instead, the Speed Four promised a 'less is more' approach at its launch in March 2002 at Cartagena in Spain. Less bodywork was to equal more fun – and so it proved.
I was lucky enough to be at the original launch and – to be honest – we weren't expecting such a good bike. Effectively this was a TT600 without the fairing, aping the looks of the Speed Triple and with all the updates to the motor that the 2002 TT600 had (new pistons, cylinder liners, new cams, revised timing and tweaks to the injection system.) But giving the motor more midrange, thanks in part to shortened air-ducts which jutted out past the fork legs and some injection changes, all made the bike miles better than the TT and Triumph's best middleweight bike thus far.
Added to the pokier motor was the TT-derived chassis – and it was still a peach. The TT600 was always a winner handling-wise and the Speed Four got all the gubbins the TT had: the awesome twin 310mm floating discs, Triumph four-piston calipers and fully-adjustable suspension front and rear – something the opposition such as the SV650, Hornet and Fazer 600 didn't have.
Add in the dropped clip-ons of the TT600 rather than the sit-up-and- beg bars of the Speed Triple and you've a sportier middleweight proposition altogether. Around the tight and twisty Cartagena circuit, this made the Speed Four a winner. I wore my sliders down through the leather and to the knee armour, I was having such fun.
Today the bike is still as good as it ever was, but Triumph aficionados would probably still bemoan the lack of a three-cylinder engine and the aluminium beam frame rather than the more attractive Speed Triple tubular framework.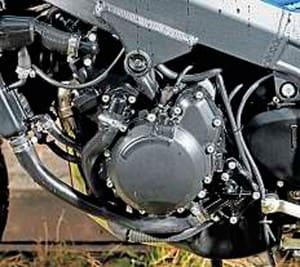 Why do they get overlooked?
Well, perhaps the Speed Four was always fated to fail. It was launched on the very weekend that a fire tore through Triumph's factory, meaning production was ultimately affected. Also, although it shared the looks of the Speed Triple – save for that beam frame – it didn't have that character packed triple snarl. On the launch it was also £1000 more than the Japanese opposition, but it did have more adjustability and character.
Don't cry for the Speed Four though. The bike pointed the way to the Street Triple – a bike that truly punches way above its weight – and all of this means the Speed Four is now a proper bargain, offering more performance and handling than its Japanese rivals for around the same price. That spells bargain in my book.
What to check
The Fours are generally very robust, but owners do report certain problems. Some early Speed Fours may suffer from accelerated chain guide wear. Owners say it's cured by going from the original 14 front/42 rear sprockets to a 15 front and 45 rear tooth. This work may have been done under warranty, so do check. The clutch cable can wear as it rubs on the radiator bracket. Either zip-tie tubing on the area, or reroute the cable. Other owners have had a replacement cable fitted.
The rear shock top mounting bolts are too long. Owners either replace the bolt with a shorter one or put a rubber cap over it so it doesn't come into contact with anything.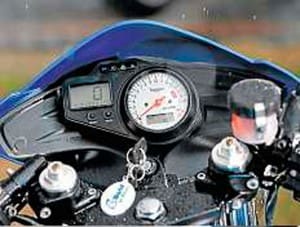 Equipment
The bike came with a nose cowling above the clocks, which was a decent windbreak, and a single-seat cover. Triumph produced a useful series of accessories including a radiator protector and a bellypan. Some owners who do motorway miles plump for a Laminar Speed Shield that sits atop the clock cowling. A wide range of replacement exhausts are also available, but rarely seem to be fitted by owners.
What's it like to ride?
Our test Speed Four was a 2005 plater in blue up for sale at World of Bikes in Corby for £3295. The first thing I noticed was how well cared for this 12,331-miler was. The motor sounded crisp, revved freely and out on the road felt so much stronger than the early TT600s that I remember all too well.
There is an urgency with the Speed Four that the early Hinckley 600- fours don't have and it actually makes you sad when you realise that this motor is no more. The gearing is the same as the TT, but you don't spend your time chasing the revs. You can use a Speed Four's mill from around 4000rpm, and even in top at 2-3000 revs there's noticeable pickup. Try that on an early TT and it would stall.
If there was any area in which this Speed Four disappointed, it was the brakes. For some reason on this example, the lever would come back almost to the bar a little disconcertingly, no matter what you did with the adjustment. I may have felt a little juddering through the lever too, but with the conditions being so bad (we managed to get the only torrential rainy day in the middle of a gorgeous first fortnight of July), I couldn't really haul them on to see if power was affected. I reckon a good bleeding would help.
Either way though, the Speed Four is as I remember it: fun, frolicsome and now even better value than ever.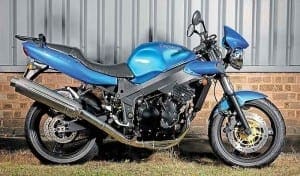 What to pay
£2500 gets you into the middleweight Triumph club with the Speed Four. Early models (late 2002 early 2003) machines are available privately at around this mark. You will also find that these bikes are much better looked after than a Suzuki SV650 or Honda Hornet of the same age. The simple reason is that they attract a different sort of owner: older, wiser and – quite possibly – slower and more careful.
Reflecting this is the fact that the majority of bikes we've seen have the original exhaust cans on them and only approved Triumph accessories such as belly pans.
Chances are this also means you'll see fewer scuffs on bar-ends, end-cans and pegs. Normally middleweight nakeds attract new riders who make the odd boob; not so much with the Speed Four. We spotted a privately owned 53- reg Speed Four with a ridiculously low mileage of 6831 on the clocks up for sale for £2495. Even the last 2006/07 reg Speed Fours will only fetch about a grand more than that.
Verdict
I loved it at the launch and the intervening years have simply made it a better, shrewder buy than ever. I'd have one over a Hornet any day…
Tech Spec
Engine: 599cc, liquid-cooled, 16-valve, six-speed, in-line four-cylinder
Power (claimed): [email protected]
Torque (claimed): 50lb-ft@10,500rpm
Tyres: Front: 120/70-17 Rear: 180/55-17
Suspension: Front: 43mmcartridge forks fully adjustable. Rear: monoshock fully adjustable for pre-load, rebound and compression.
Brakes: Front:Twin 310mm floating discs, Triumph 4-piston calipers. Rear: Single 220mm disc, Triumph single-piston caliper.
Wheelbase: 1395mm
Seat height: 810mm
Wet weight (claimed): 170kg
Fuel capacity: 18 litres
Colours (on launch): Black, green, orange
---
Advert
---
Enjoy everything More Bikes by reading the MoreBikes monthly newspaper.
Click here
to subscribe, or
Read FREE Online
.
Sign-up to the More Bikes Newsletter
Enter your e-mail address below and get regular updates straight to your inbox… You can unsubscribe at any time.