MoreBikes Quick Spins are brought to you by Classic Motorcyce Mechanics Magazine – the BEST magazine for great bikes from the 1970s, 80s and 90s. Click on the link to get the CMM world on your screen.
When the arrival of this ground-breaking Benelli was causing a sensation in UK showrooms, I was still a couple of years from starting my own riding career. Even so, as a keen biking apprentice wanting to learn the trade, I bought all the key glossy bike mags to swot up on what was what. Clapping eyes on pics of the 750 Sei for the very first time brought gawps of utter disbelief, memerising me totally. Talk about being won over. To me it was just the greatest motorcycle ever made and the pics went up on the walls of my boudoir alongside those of George Best, Robert Plant and Jilly Johnson.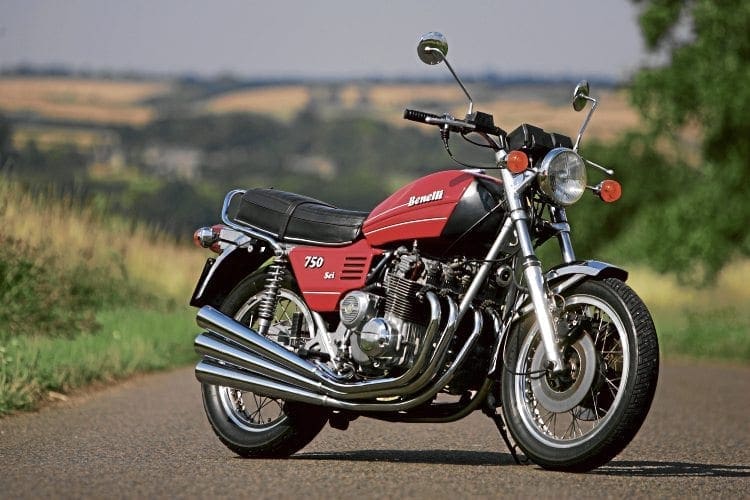 Six cylinders, six shiny silencers, all that chrome and polished alloy in a fantastic package from Italy amazed me each and every time I looked. I could only wonder how it was possible to create something so magical. Alas, any thoughts of actually riding one would have to remain a young lad's fantasy. I should have been more patient. Nearly 40 years on, I got the chance.
Of course a fair few things have happened since 1975 to alter my perception of things in life, so excitement at the prospect of riding the Sei wasn't quite as profound as it would've been back in the day. That's not to say I wasn't keen mind you. Let's face it, having a go on the world's first six-potter gives you a membership to an exclusive club. I think the only time I can remember seeing a 750 in recent years was a the Manx. I never really thought I'd ever get to ride one.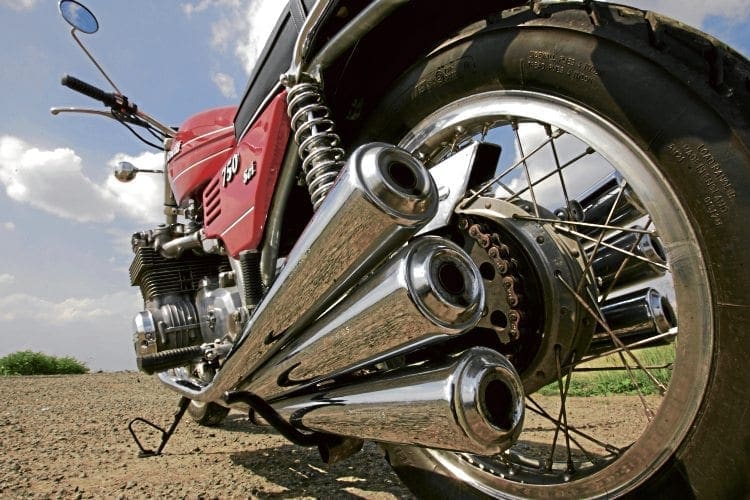 "Ah, just take it whenever you want," said owner Kev Pennell nonchalantly. "I've just been down to the south coast on it. The old girl's going well." Before checking out the dynamics it felt only right to inspect the bike to take in all of its distinctive architecture. It'd be sacrilegious to dive in and sample the 'go' before checking out the 'show'.
There's got to be some doubt about the authenticity of the sub 6000 mile reading on the clock of this particular model. Judging by the regularly used appearance of some of its bits, I'd reckon it's probably done two or three times that. But to me, the evidence of it having lived a little only adds to the Benelli's attraction. It's clearly been 'out there and done it' rather than lying dormant under a sheet.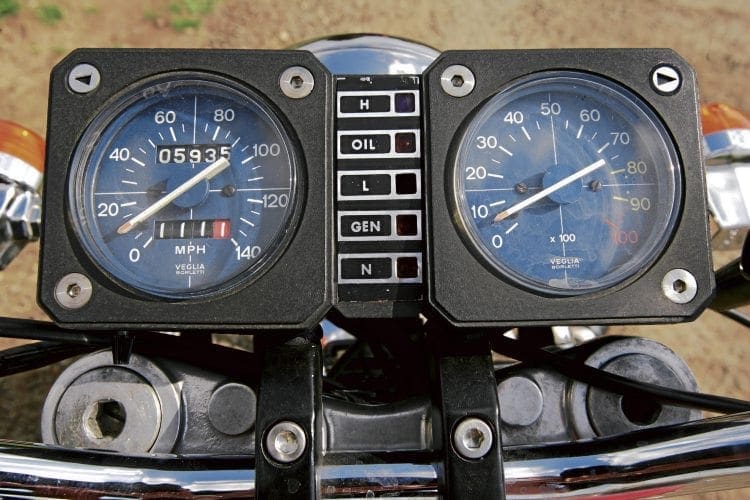 The bike's worn well though, with the majority of its obviously solid and durable components standing the test of time quite comfortably. The motor looks especially impressive. Heavy finning, 12 tappet covers and of course those six headers routing their way back to their individual cans really do catch the eye — whether you're into bikes or not. Discovering it has just three carbs was actually a bit of a disappointment.
Get the motor running and the fantastic looks are matched, possibly even topped, by the music generated by those six cylinders. They play a classic tune which goes from burble to sophisticated roar and then on to a higher pitched yowl as the revs rise.
Once warmed and ready for action I have to admit to suffering from a fair bit of nervousness. Kev might have sounded relaxed about the idea of me running round on his Sei, but suddenly its massive rarity value dawned on me. I couldn't afford for anything to go wrong. To begin with the ride was restricted by the terrifying fear of stuff like slipping off it or blowing its motor. However, it's such an easy bike to live with, such paranoia soon subsided and I just got on with enjoying the occasion. In the end it felt like a bike you could run every day.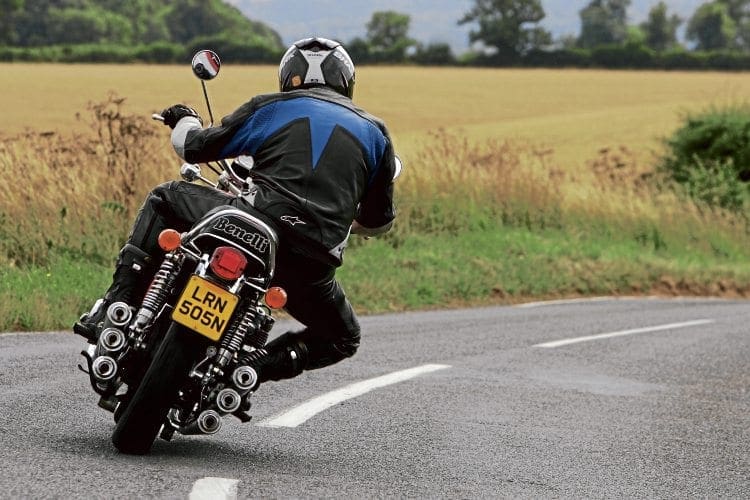 The sit up and beg riding position and wide bars make the Benelli easy to manage. Sure it's weighty by modern standards and the steering doesn't feel that sharp, but the chance to physically dominate the bike means it's easy to boss about and make it do what you want.
Average braking power dictates riding with plenty of anticipation to avoid any last second moments of terror. And the below par old tyre and sloppy suspension combo definitely inhibits full progress too — as does the easily-grounded centrestand. In saying that, the six-pot motor can still provide a healthy turn of speed, with its remarkable smoothness and classy exhaust note completely compensating any lack of serious pace.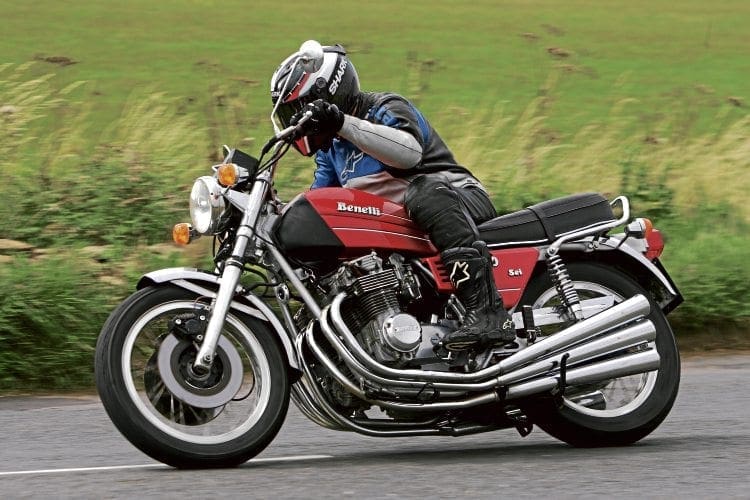 By the end of the tide, I didn't have that much to complain about and had to pronounce myself fully satisfied from my first ever outing on the Benelli. Then its full value was underlined. And I wasn't even riding it.
While we were taking static pictures of the 750 a lad on a new Yamaha FZ8 rode by. While acknowledging him I considered just how superior his machine would be, no doubt able to outperform the Italian bike in every single area. But those thoughts were immediately followed by a more relevant sentiment: so what, who cares?
The fact is, the Yamaha though it's a fine bike, is just another mass-produced Japanese machine. Right now there'll probably be yet another one dropping off the end of the production line to join the hordes of others that'll make it to market. The Benelli, on the other hand, is one of around just a score of runners in the UK today, steeped in history and kudos. I'm sure I'm highly unlikely to see another 750 Sei unless I go to a classic bike show or event, whereas spotting another Yamaha wouldn't require anything like such a specific search.
And that's the real appeal of this exotic and iconic six-piped machine, it's just so damned rare and special. It's a virtue that few other bikes possess and one that means just looking at it reaps reward. Riding it is even more thrilling, and after waiting 40 years to do that, I have to say the experience felt well worthwhile and is something I'll definitely add to my biking CV.
Selwyn Stickler, of Selwyn Motorcycles Benelli Sei specialist, 01223 893331
"Since the centenary in 2011, prices for the Sei seem to have shot up. A good MoT'd runner will bring around £6000. But a fully restored pristine example is worth over £10,000 these days.
"With only 3200 750 Seis ever being made, they're a rare sight now. There's probably less than 100 left in the UK, with the owner's club having 52 on its books. I'd bet only around 10 are ridden regularly.
"They're tough enough to put miles on. I've had mine since 1979 and have clocked over 60,000. I know two others with around 100,000 on the clock. As tough and reliable as any Japanese bike of the same era, you can keep them running. Some spares are harder to find, but there's not much we can't get. You can source stuff for Benellis easier than you can for CBXs and 11300s. Exhausts are still made in Turin. Not everything can be had new though.
"We get a lot of stuff from Bauer in Germany which is well stocked. It doesn't give stuff away, but it doesn't try to stitch you up either. Bauer wants to keep Benellis on the road.
"There were some gearbox issues on early bikes, and I've had two examples of that in recent years. Problems with early switchgear isn't uncommon either. You'd be advised to fit electronic ignition and modem coils to get the best out of the engine, and an oil cooler won't hurt either. And if you plan doing big miles sorting the valve gear or using an additive is advised to cope with today's unleaded petrol. The owner's club at www.benelliclubgb.net is very useful."
SPECIFICATION 1975 BENELLI 750 SEI
ENGINE 747cc, air-cooled, 12-valve, sohc, inline six
MAX CLAIMED POWER 71bhp @ 8500rpm
MAX CLAIMED TORQUE 47lb-ft @ 6750rpm
TRANSMISSION 5-speed
FINAL DRIVE Chain
FRAME Steel tubed double cradle
SUSPENSION Front: 38mm telescopic forks, no adjustment; Rear twin shocks, adjustable preload
BRAKES Front: twin 300mm discs with twin piston calipers; Rear: 200mm sls drum
TYRES Front: 100/90 x 18; Rear: 120/90 x 18
SEAT HEIGHT 813mm
WHEELBASE 1450mm
DRY WEIGHT 220kg
FUEL CAPACITY 23 litres
Words: Chris Moss Photos: Mike Weston
MoreBikes Quick Spins are brought to you by Classic Motorcyce Mechanics Magazine.
---
Advert
---
Enjoy everything More Bikes by reading the MoreBikes monthly newspaper.
Click here
to subscribe, or
Read FREE Online
.
Sign-up to the More Bikes Newsletter
Enter your e-mail address below and get regular updates straight to your inbox… You can unsubscribe at any time.