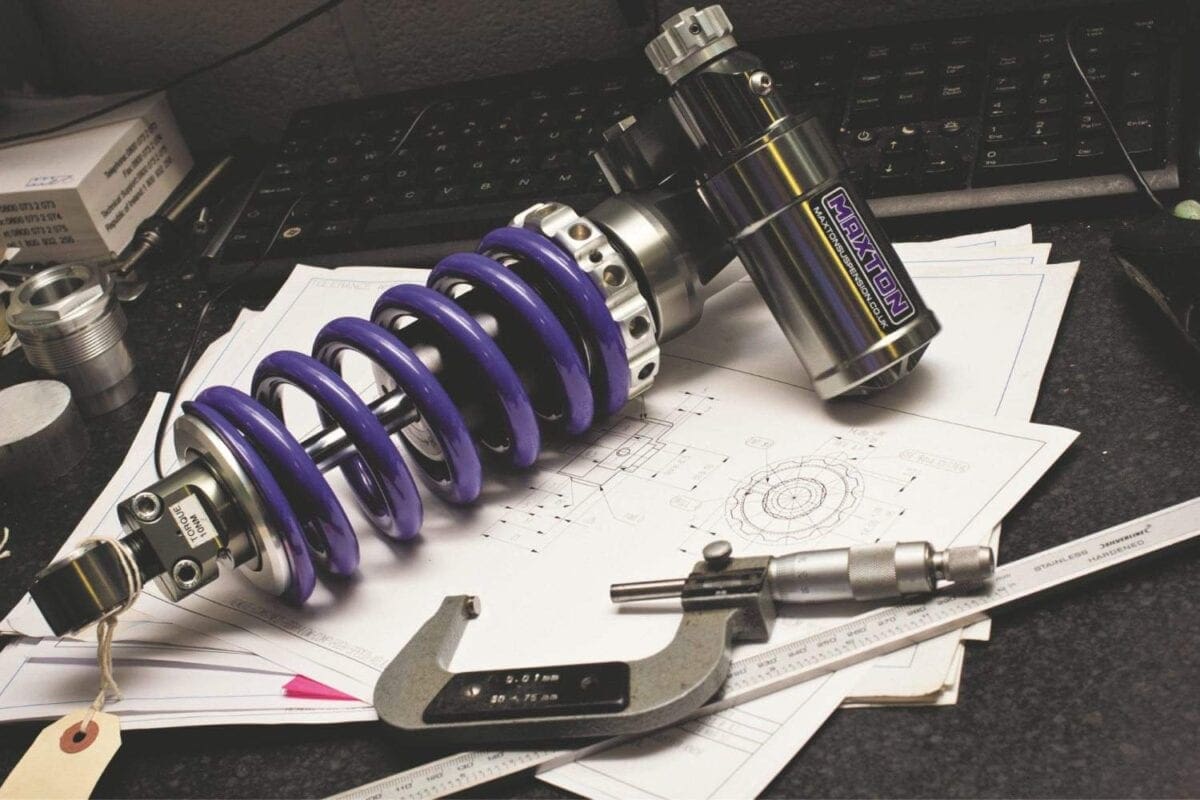 Maxton Engineering are one of the world's top motorcycle suspension specialists, and the perfect people to demystify the springy stuff.
Words and photos by: John Milbank
How many times have you heard the local pub pundit dishing out his 'expert' advice: "You want to stiffen that up with a bit more preload" or "My bike chatters as I push it hard into corners, so I run a heavier fork oil"? You know it's cobblers, and you know how suspension works, but do you REALLY know how to interpret what your bike is doing, and what you can do about it? Do you REALLY know if the suspension on your machine is as good as it can be? I don't mind admitting that, until I visited Maxton Engineering, I still didn't REALLY know…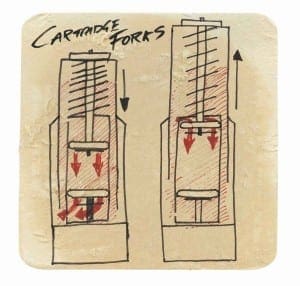 How suspension works
In the 60s and 70s, most bikes used a simple damper rod in the forks, with a basic piston moving through oil to control the return (rebound) of the front-end. As bikes and tyres improved, more precision was needed. Enter cartridge forks. These give separate control of the damping as the fork compresses and rebounds, by moving oil within a chamber (the cartridge). A piston on the end of the sprung fork rod displaces oil through a valve in the base of the cartridge under compression. On its return (rebound), the oil is governed by a valve built into the fork rod's piston… See the beer-mat sketch for a simplified explanation.
During slow-speed damping (gentle movement of the bike's suspension), a needle restricts the flow of oil through a hole in the centre of these valves, just like a pilot jet in a carburettor. In high-speed damping (over harsher bumps), a sprung stack of shims are pushed out of the way and the oil flows through carefully designed ports in the perimeter of the same valve.
The spring and the compression damping both work to support your bike – reduce one, and you can (to a point) balance it with an increase to the other, but then you have to consider the rebound damping that works against the spring when the suspension returns… It's a bouncy, oily love-triangle.
Your shock absorber is generally connected to the swingarm through a linkage (except on twin-shock bikes like the XJR) – which translates the travel of your rear wheel to the movement of the shock by a certain ratio: sometimes by as much as 3:1. There are also rising-rate and linear linkages to consider: A rising-rate (or progressive) linkage moves the shock by a greater ratio as the swingarm rises further.
On a smooth track, a progressive linkage helps the rear get firmer as the suspension is loaded, making it easier to get the back wheel to spin up, and drift controllably out of corners. At the Isle of Man TT, for instance, there are large bumps, and fast changes of direction, so linear suspension is best: If the rear shock 'locks up', that force has to go somewhere, so the weight is thrown to the front of the bike over bumps. Not good.
On road bikes, while a linear setup would generally be the best bet, you'll tend to find progressive linkages (R1s and R6s being among the exceptions). Relatively cheap shocks are used on most of our machines, so the linkage is helping the shock to support the motorcycle, especially where pillions and luggage have to be taken into consideration.
How it affects your ride
A common issue in a road-bike is a lack of support from the forks, making it dive under braking. This is caused either by a too-soft spring, or too little compression damping. Generally, it's the springs that are too soft. Adding more compression damping works when you're braking, but unlike a spring it won't be able to move quickly enough when you're in a corner, making the front wheel kick off small bumps. It's often best to use a 10-15% stiffer spring, then fine-tune the compression damping for the perfect ride.
Of course, this stiffer spring will be working against the rebound damping, and the bike can run wide as you accelerate out of a corner, because the forks are unloading too quickly. Another way to spot a lack of rebound damping is when going straight-on in a fast roundabout, turning quickly left, right and left again. The bike might enter okay, but as you come out of the first left it 'fires' up, making it harder to push into the right and left again.
At the rear, if the bike's squatting under acceleration, you'll need more support. Increasing compression damping can fix this, but as it's slower to react than a spring, it'll give you a harsher ride. Again, a stiffer spring means you'll need a bit more rebound damping, but it's less important than on the front, as too much rebound on the shock makes the bike ratchet down over bumps (known as jacking down).
Basically, you need rebound damping on the front to hold the bike in position during fast direction changes, but not too much on the rear, so the bike can keep the tyre in better contact with the road.
Contrary to what many believe, adjusting the preload on your bike just affects the ride height. This is measured as 'static sag', and is typically 10mm at the rear, and 25mm at the front. It's what gives the bike a bit of slack before a wheel is lifted off the ground. We'll show you how to check this in a future issue, but if in doubt, stick with the standard settings.
The best way to get a feel for what your bike does is to find a ten mile 'circuit' with a variety of surfaces and bends. Get used to how it reacts and you'll have a better understanding of what's going on.
New springs and settings then?
Suspension has improved a lot over the last few years, but more than ever, bikes are being designed to a price (we all want cheap bikes, right?). Manufacturers will often go to a suspension company with a very limited budget, and fit a set-up that reflects what they believe to be suitable for their notion of the world's average rider, on their average roads.
As an example, let's take my 2000 model Honda CBR600. This has cartridge forks, and is quite soft as standard, being under-damped and under-sprung. It's a comfortable sports-tourer, designed for a variety of riders who might carry luggage and a pillion. If I fitted stronger fork springs, I'd have to increase the rebound damping, but the needle valves in these forks aren't very effective, acting more as an on/off tap than giving true control. So, heavier oil then? This could help, but only with the low-speed damping: As the shim-stacks come into play over sharper bumps and mid corner, the weight of oil is irrelevant, so with a stiffer spring and thicker oil I'll just have a bike that bounces about too quickly.
It's the same story on many modern bikes, and even those with high-quality kit as standard are designed only to suit an average rider and road.
You might ask why ineffective adjusters are put on some bikes: Adjustability is of course a selling point, but it can also be a problem. It wouldn't be hard for someone with limited knowledge to fiddle with their compression and rebound, only to make the bike worse. If enough people did this, rumour might spread that the bike's a bad ride. It could be that it's better for motorcycle manufacturers to give only a minimum of adjustment, and not allow an owner to take the bike out of a 'window' of optimum – but average – settings.
How to fix it
Maxton engineering make suspension to suit you, your bike, and your roads, and machine every part (except the springs) in their
Cheshire factory. Over the years, hundreds of TT racers have paired up with Maxton, and the company currently also supports 20 BSB teams.
It's certainly not all about sports bikes or racing – the Triumph Explorer, for instance, is great on perfectly smooth roads, but Maxton have had a huge number of customers looking for help with the hard suspension on UK surfaces. Equally, many riders of tourers, nakeds and classics around the world have benefitted from having their suspension modified to perfectly suit them.
With most road-bikes having progressive shock linkage ratios (for the first 25mm of swingarm travel, the shock might move 12mm, whereas in the last 25mm, it can be as much as 16mm), the ride can get really harsh as the bike is loaded up. Maxton look at the weight of the rider, along with their riding style, to get the ideal setting – allowing the shock to work perfectly on any given bike.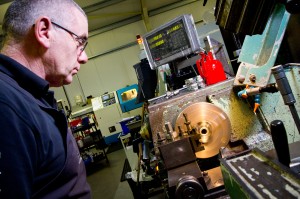 Contact Maxton by phone or email and you won't get a hard sell – what you will receive is a list of options, from springs and oil for your forks, to a complete rebuild or replacement cartridges. You're also welcome to visit the factory, where they're happy to help you look at all the options.
On my CBR, because the damping adjustment is so poor, it'd need new valves. Fortunately, the cartridges are re-buildable, so sending Maxton my forks would see them returned, ready to run, with new springs, valves and oil perfectly matched to my weight and riding-style, with full adjustability.
The Showa shock on my old Honda can be rebuilt, but parts aren't available, and Maxton value their reputation too much to bodge a rebuild. If I wanted to improve the rear I'd opt for their RT10 unit.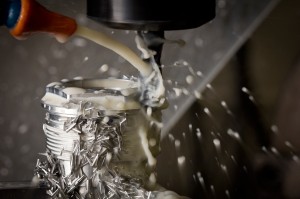 Prices vary depending on what you need, but as a guide, to change the springs and oil in forks is £114, or the average revalve and respring is £438, including new seals and oil. An RT10 rear shock (designed for road or track use) is £498 for bikes like the VFR800, R1200GS etc, or £696 for a remote-reservoir version.
It's not pocket-money, but keep in mind that the OE shock for a 2010 Fireblade is over £1200, and Maxton's prices for bespoke equipment look much more reasonable.
Most of us 'put up' with our suspension, but only when you start to think about what your bike's doing, and try a modified set-up, do you discover what you're really capable of.
The history of Maxton
A family business, Maxton was founded by Ron Williams in 1971, working on his own building frames for Yamaha engines to race at the TT. Going on to design and manufacture his own magnesium wheels, then working for Honda Racing Corporation (HRC), Norton and the HRC Grand Prix team, Ron ended up using his knowledge and experience to create suspension for race bikes.
Ron's stepson, Richard Adams, took over Research and Development in 2004, after already working at the company for nine years. Also taking care of the day-to-day running of the business, this leaves Ron free to concentrate on his passion: the design of suspension systems and shock absorbers. Call Maxton and you'll most likely speak to Richard, or his mum, Mary.
www.maxtonsuspension.co.uk or 01928 740531

Inside a Maxton GP20 Fork Cartridge
The bottom valve in the fork cartridge is for the compression damping, while the upper valve affects rebound. Needles adjust low-speed damping, and shim stacks affect high-speed by restricting oil-flow through the machined valve ports (the sprung shims prevent hydraulic lock). Going in for a closer look, our stripped parts here make up the rebound valve, with the four thin discs being the shim-stack. You can also see the hole in the end of the fork rod, through which low-speed damping is regulated by the needle.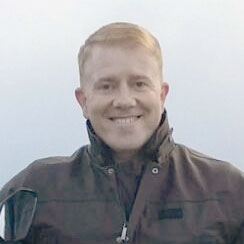 Latest posts by Tony Carter
(see all)
Does this get you revved up? Tell us why...
---
---
Subscribe to MoreBikes Newspaper
Get MoreBikes delivered through your letterbox every month. 12 issues for £15. Click here for more information.
---
Get MoreBikes.co.uk Updates
Enter your e-mail address below and you will receive biking news straight into your inbox...



You can unsubscribe at any time.
---