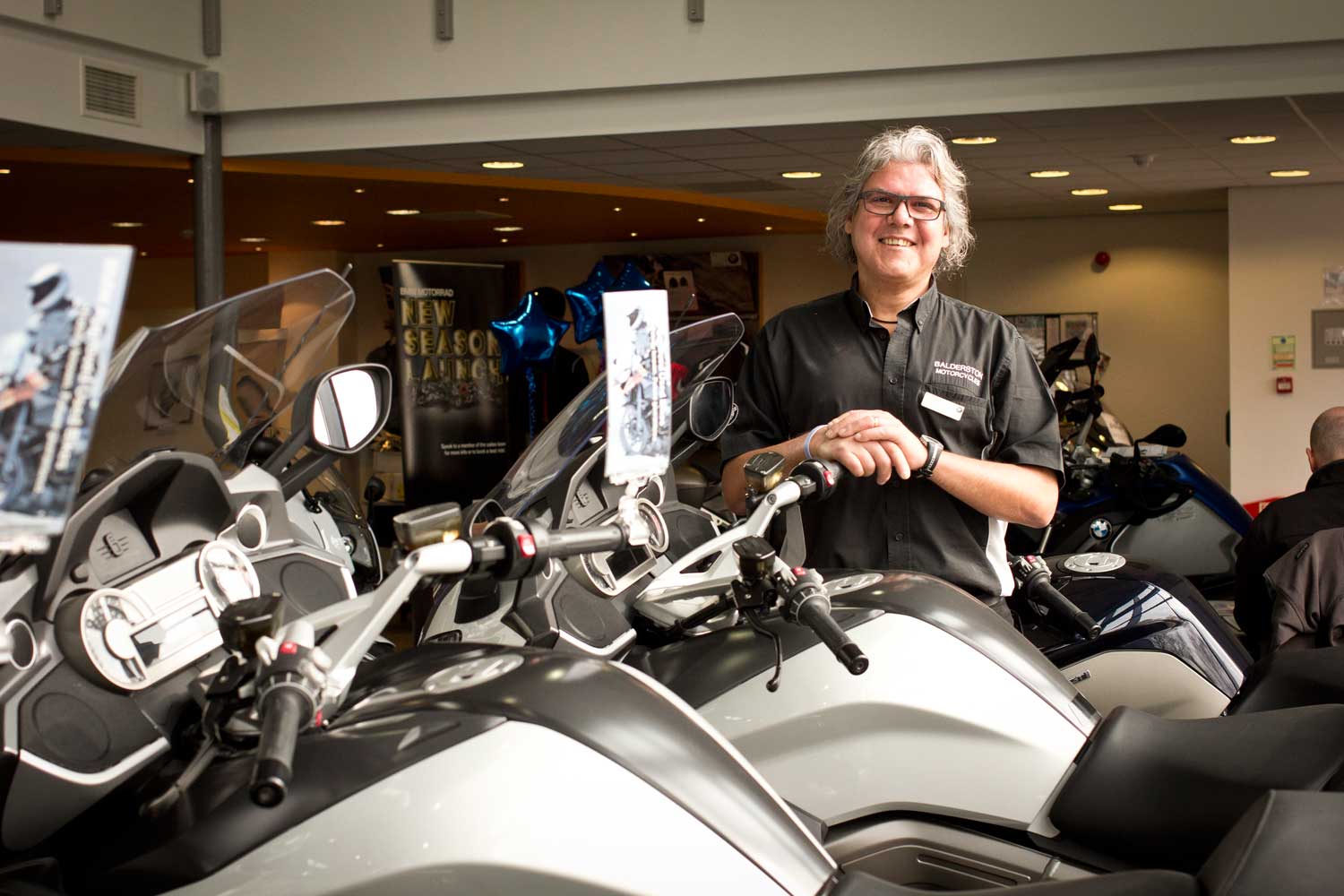 With 17 years experience selling BMWs, TJ Skrobot – Sales manager at Balderston Peterborough – knows how to buy, and sell, a decent bike…
"I have to make sure I'm going to make a profit. When buying, I'll check a bike's general condition, then pass it to the workshop, where they go over everything and road test it – I don't want any nasty surprises. Often, simple 'tells' like dirty brake fluid are a good guide to how well maintained a bike is.
"Some people think 'You paid £5000 for that, and you're asking £6000'. What needs to be kept in mind is that the workshop check and an annual service costs me £150, and an Approved Used warranty costs me £210 plus VAT. If I sell it for £6000 I have to pay the VAT on the £1000, so that's a total of £560 gone before salaries and rent. The profits often aren't as big as people think.
"I wouldn't take an insurance write-off – there are plenty of other bikes out there, and I don't want to be explaining it to someone when I'm making a sale. I'll always look for a full dealer service history when I'm buying too: The biggest service on a BMW is at 18,000 miles (£400-£450), so If your bike has a bid value of £8000, I haven't got dozens of them, and it doesn't have that service, I'm going to bid you £7500. If I've got six of the same model, I'll probably go in at £7000 or even lower.
"At the end of the day, I'm generally buying BMWs, and having been here for 17 years, I know what one should look like. There are certain potential problems I know of too, like the black-painted front panel of a boxer engine that can get chipped and corrode quite badly (£350 to repair).
"Some old BMWs with servo-assisted ABS had to have their brake fluid changed every two years with an electric pump, which meant it couldn't be done at home. If it was neglected, and moisture got into the fluid, the servo could fail and cost £1400 to repair. BMW discontinued that system a while back, and most people simply bypass the ABS with a new set of braided lines.
"If I get something in I don't know enough about, I phone someone who does. Knowing as much as possible about the bike you're buying is vital."
So how can we get the best deal from a dealer?
"I honestly think the days of shops looking to fleece you have mostly gone. I remember firms in the past paying their staff purely on commission. That's simply not right. When you work like that, people will do anything to sell a bike.
"We don't make money from selling finance, but we do save it: If we have 20 new BMWs at the depot, we, as the dealership, have about 10% of their value invested in them, and BMW cover the remaining 90%. The charges we pay for this are dependant on how many bikes we sell with BMW finance, not how much profit is made on it. The higher our finance penetration, the lower our interest rate is. However, buyers aren't daft, and know what rates they could pay on a bank loan, so we make sure we're competitive."
So is cash king? "No. The bank charges us 1% for counting it and putting it in our account. If you pay by credit card, I'll have to pass on the 2% charge. If you want to put a £5000 cash deposit on a bike, I'm okay with that, as I can keep it in the safe, ready to buy something. Bank transfer or a debit card is the best bet, and online banking makes it even easier and more secure.
"Like many franchises, we have quarterly targets. If you came to me on the right date, and I was one short, you're possibly going to get a better deal than if you came a week later. If a dealer is well under or over a target, it won't make a difference to getting their bonus". Of course, a dealer won't tell you where they're sitting with those targets.
At the end of the day, dealers aren't a charity, and have to cover the costs of their premises, and their wages. What you pay for is the support, service and warranty that you don't find privately. You'll most likely make some savings if you buy any clothing or accessories at the same time, but remember that dealers have to make a living, the same as all of us.
TJ has the last word: "If I have a bike up for sale, and I've got no profit left in it, or it's a very popular machine, then the price on the ticket is the price you're going to pay". So don't expect any discounted R nineTs for a long time…
Click here for expert advice when buying privately or from eBay…
Click here for expert advice when buying from an auction…
See new and Used Approved bikes at www.balderston.net
Check out some great advice from our reader panel at www.morebikes.co.uk/howtobuy
---
Advert
---
Enjoy everything More Bikes by reading the MoreBikes monthly newspaper.
Click here
to subscribe, or
Read FREE Online
.
Sign-up to the More Bikes Newsletter
Enter your e-mail address below and get regular updates straight to your inbox… You can unsubscribe at any time.