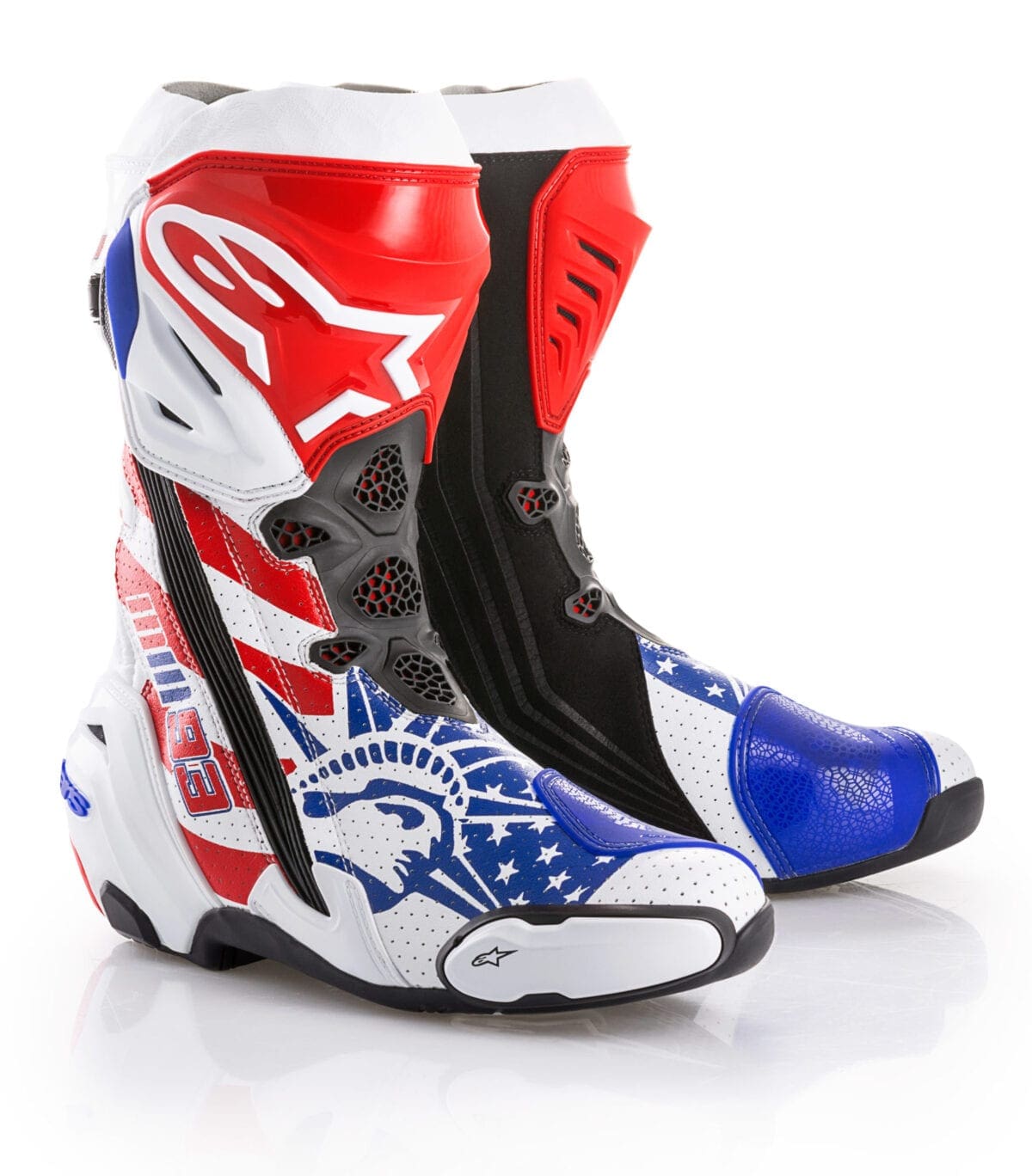 Now, this we like – a timely release from Alpinestars ahead of this weekend's American round of the MotoGP championship in Texas.
This is what the Italian bike gear company describes as a: "Clebration of Marquez's relationship with the GP of the America's."
The Limited Edition 'Republik' Supertech R features all the same technical innovations as the Supertech R, but will be available in a Limited Edition colorscheme.
The 'Republik' Supertech R gets a Red, White, and Blue scheme featuring the statue of Liberty, American stars, and the MM93 logo to finish off the look. The result is a highly captivating premium race boot with a modern motorsports feel.
SUPERTECH R CONSTRUCTION
Durable and technical microfiber upper construction offering superb levels of flexibility. • Microfiber main shell offers high levels of water-resistance, durability, and improved weight-savings. • Material ensures consistent fit for long term usage and is easy to maintain and clean. • Redesigned front flex area is constructed from over-injected TPU over inject on breathable mesh with shaped reliefs for improve abrasion resistance and natural forward and back movements. • Top gaiter follows leg contour and is made of flexible high-grade synthetic leather reinforced with PU. • Lightweight rubber compound sole offers excellent grip and feel and allows for natural flex as the rider changes position and pressure on the foot-peg.
PROTECTION
Newly designed external TPU shin protection is ergonomically shaped and wraps around to outer calf and is engineered to spread and dissipate impact energy across the entire surface while remaining compact. • Integrated replaceable co-injected TPU/Aluminium toe slider features new easy screw fixing concept provides feel and protects the outer toe box structure from abrasion. • Replaceable polymer heel plate slider protects from impact and reduces friction in the event of a crash. • Supertech R boot is CE certified to EN 13634:2010
KEY FEATURES
Flexible accordion microfiber stretch at Achilles allows natural movement. • Innovative, full length medial-facing microfiber panel features new texture pattern offering excellent grip and feel against the bike and protects from abrasion and heat. • Flexible, lightweight toe shifter allows feel for changing gears. • Separate internal bio-mechanical ankle brace works with the outer structure of the boot to form a protective system allowing full and free movement of the foot, ankle, and leg. • External entry has stretch accordion panel for a close fit and ease of entrance and removal. • New, soft TPU stretch panel on the lateral side gives easy closure with an excellent fit. Continued/… (4) • Zip is made from TPU to reduce friction in the event of a crash. • Velcro tab locks the zip pull closed, keeping it flat and secure. • Shin plate features new micro-adjustable ratchet top closure for safe and precise fit. • On vented version: strategically positioned ventilation in heel and shin TPU guides air through the boot. • These boots are available in men's EURO sizes 39 – 48.