John Milbank finds out how the aftermarket bodykit industry has evolved since the early days of LCs.
In 1986, an industrial designer teamed up with a mate to produce colour-matched belly-pans for Suzuki RG125 and RG250s. Working with Cash on Delivery, and communicating with overseas customers via Telex, this was a time when the only aftermarket bodywork available was universal, and in just a few colours.
Ben Bowser's still passionate about industrial design, and as one of the Managing Directors of Pyramid Plastics, he's as enthusiastic now as when he started modifying the RGs.
It's a different world today: "When I first started doing shows at the NEC in 1987, my average customer was 19 years old. Now I'm 57, and my average customer is 67!
"The market has changed massively, but confidence is definitely returning to the motorcycle industry after a lull for the last few years. Of course, there's more money available now with the banks paying out on mis-sold payment protection too."
What's also clearly proving a boost to the industry is the new range of motorcycles being launched. Look back several years and it was the Honda Hornets and Suzuki Bandits that fuelled the aftermarket parts businesses. Now, with Yamaha's superb MT-09 and MT-07, there's a renewed passion for motorcycle individualism.
Screens, Huggers and mud-guards
There's not just the big four Japanese brands to worry about now (Honda, Suzuki, Kawasaki and Yamaha): Triumph, BMW, Ducati and more are all bringing out new models every year that need accessories.
Parts for sportsbikes aren't as popular as they used to be – partly due to the downturn in that market, and partly because many sports owners now want to keep their bikes completely original. The most lucrative area today is in motorcycles of three to four years old, with the most popular being adventure bikes. Ewan, Charlie and the GS weren't just a game-changer for BMW; the bike opened up opportunity across the accessory world.
Tucked away in the corner of a Lincolnshire industrial estate, Pyramid Plastics is one of the best-known body kit suppliers. From their bread-and-butter products like the Extenda Fenda, to colour-matched seat cowls and huggers, the chances are you've had one of the company's products on one of your bikes.
Many of the parts are hugely popular in dealerships – bikers calling into their local store will often find something to buy, whether it's a screen, or the simple but effective Extenda Fenda and Ductail. It's why Pyramid is passionate about supporting the bricks-and-mortar bike shops that are so important to the UK's biking community.
A huge amount of stock for hundreds of bikes is kept in the Gainsborough unit, including the old Kawasaki ZX-7R two-tone, colour matched seat cowls. 100s were sold, and the development costs have long been paid off, but there's still a demand.
Building partnerships
Using UK-based businesses to help produce product is what keeps Pyramid efficient, says Ben: "We haven't got a £300,000 multi-axis robot to trim plastic, but a business in Leeds has, and they do it for us. We haven't got a paint plant, but Dream Machine has; we haven't got injection moulding equipment, but a guy in Hertfordshire has…" It's the R&D knowledge, the customer service and the market experience that makes Pyramid able to offer such a massive range of products.
"By teaming up with Puig in Barcelona, and Ermax in Marseilles, it's far easier to keep up with the demand for kit, making Pyramid a one-stop shop for aftermarket motorcycle bodykit, and allowing us to offer a combined development experience of over 100 years."
Designing for new bikes
The main priority is keeping pace with the new models coming onto market, which is why there's an MT-09 stripped, and covered in clay and measuring tools, sat in the Research and Development department.
It's already a hugely popular bike, and of course, Yamaha will produce their own range of products, but as Justin Patchett, Marketing Manager at Pyramid says: "People need a choice. If you only had Yamaha's selection, there'd be a lot more owners trying to do their own mods, and I've seen home-made parts bodged together from cardboard and pop bottles before!
Ultimately, we're here for the people who want to customise their motorcycles, whilst still getting on and riding them. We just want to give them the best choice."
The MT-09 sitting in R&D was bought from a local dealer in December 2013. The first product on the market was its Extenda Fenda in February 2014, the first batch of which sold out within two weeks.
The development team strip the bike, measuring every point from the swingarm pivot, then create clay parts that are carefully shaped by hand. These are duplicated in model board (a rigid polyurethane material for prototyping) before being vacuum-formed on site. From here, a resin cast is made, sanded and refined further, before being sent away to create the production tooling.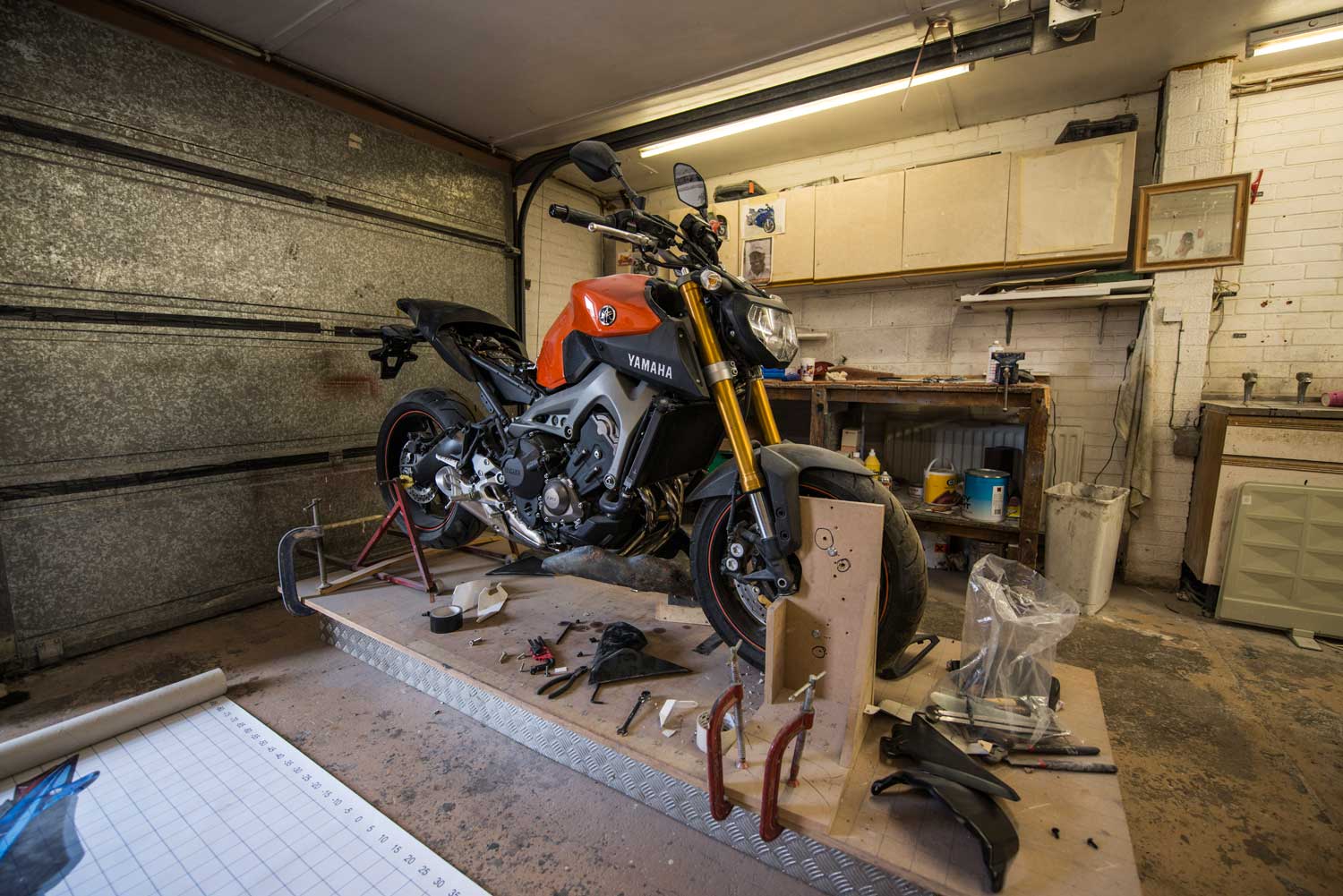 There's a lot to design: front screens; Extenda Fenda; radiator cheeks; side infills; Hugger extension; a full replacement Hugger; bellypan; seat cowl; Ductail and more.
Some machines cost more in time and money than others: Fairing lowers for the new Suzuki Bandit required a full computer-generated render to be produced by Newcastle-based Xenophya. The bike was sent to the company, where designs were visualised before being modelled. Xenophya's clients include Aprilia, Royal Enfield, Rieju and Yamaha YEC racing parts. It's also responsible for the design of Triumph's Tiger 800 and Explorer.
Even the Extenda Fenda is in constant development, the construction material evolving over time, and its fixings moving from self-tapping screws in the early years, through plastic push-rivets, to advanced adhesives – the same used by Jaguar, Caterham and Aston Martin to stick car body panels together.
Looking to the future
The Extenda Fenda is a great guide to how popular a bike is going to be – the number of calls Pyramid get for the front mud-guard is the perfect guide to the value of investing in R&D for a bike. The Honda NC700 is a good case in point, proving to be a hugely popular machine.
The first seat cowls were seen on Japanese bikes like the RD and RG500s. Pyramid picked up on the idea, and were able to offer it to almost every biker. The same is happening today with the hugger extensions that are bonded to the short items supplied with many new bikes. Pyramid already have several fittings available, with many more to come: "We're not always first on the market" says Ben, "But we make sure we do something different, something that – we believe – the customer really wants".
The history of the Hugger
First recognising the benefit of the 'slipstream mudguards' that started life as original equipment on Italian bikes like Ducatis, Pyramid Plastics wanted to be able to offer the same product – that attached to the swingarm and hugged the rear wheel – across a range of popular bikes. In 1988 the term 'Hugger' was born when Pyramid released them for Kawasaki's AR50/80 and Yamahas RD125LC.
Find 1000s of bike products at www.pyramid-plastics.co.uk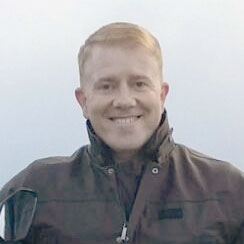 Latest posts by Tony Carter
(see all)
Does this get you revved up? Tell us why...
---
---
Subscribe to MoreBikes Newspaper
Get MoreBikes delivered through your letterbox every month. 12 issues for £15. Click here for more information.
---
Get MoreBikes.co.uk Updates
Enter your e-mail address below and you will receive biking news straight into your inbox...



You can unsubscribe at any time.
---