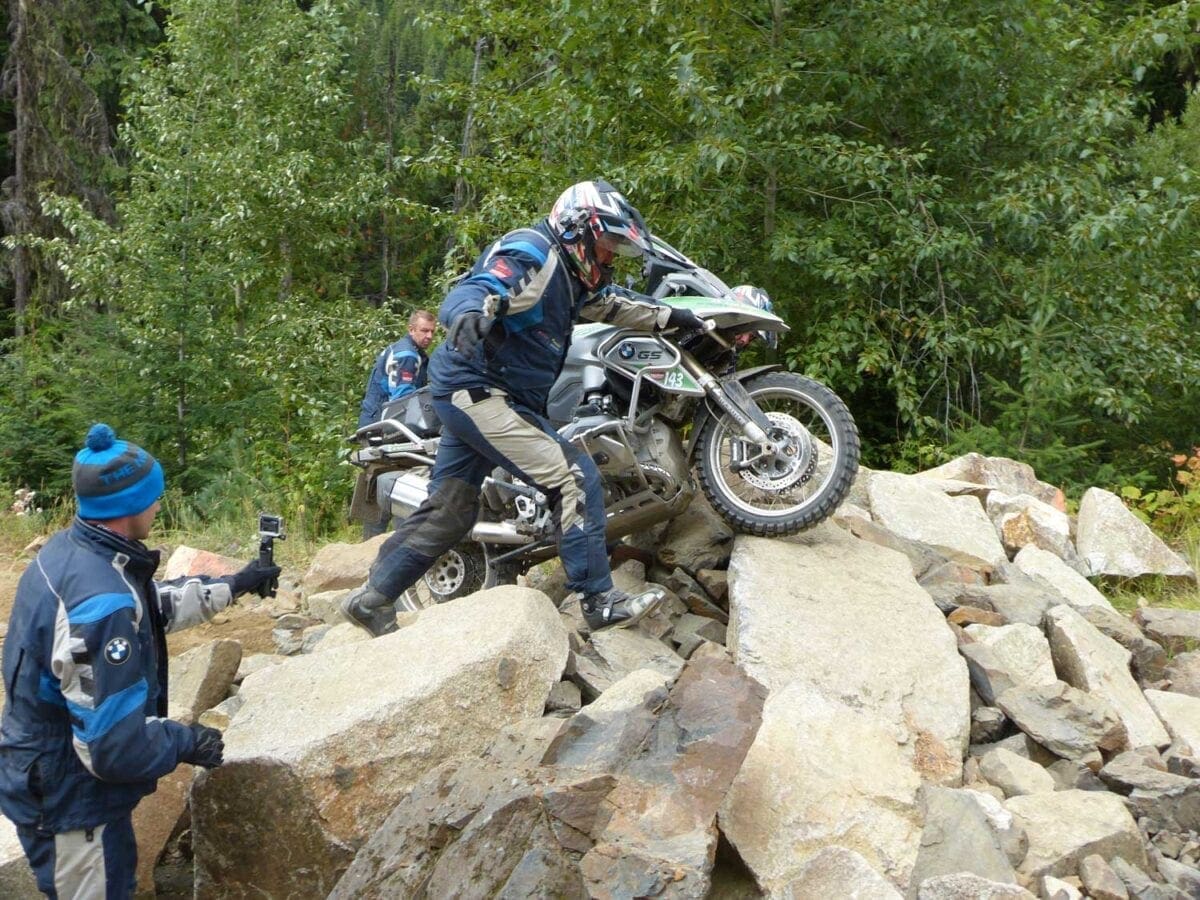 Bruce Wilson, Motorcycle Sport & Leisure's Deputy Editor is with the three riders making up Team GB in the BMW GS Trophy – the ultimate two-wheeled adventure. 
Staged bi-annually, it sees amateur racers from around the globe qualify for a spot in BMW's prestigious R1200GS fuelled event, covering thousands of kilometres of gruelling off-road terrain. This year it's being hosted in Canada and there are 16 teams entered from around the world, taking on an abundance of dynamic challenges, which remain a secret until the moment the competitors arrive for the task. Physically, mentally and emotionally demanding, the GS Trophy is no game for half measures…
If I hadn't of seen it, there's no way I'd of believed a huge rock the size of a roasting dish could have been launched 20ft, let alone that it would happen to hit another parked bike and send it toppling over a cliff edge. On the one hand it was hilarious and the other bloody terrifying. We were in the middle of a special stage and I was a matter of feet from the Russian team who were desperately trying to haul their straddled GS over a five foot rocky road block. Rocks were flying everywhere and I took the decision to sprint to safety, just avoiding a rock to my face by a matter of inches. When the clock's ticking, desperation kicks in, and these guys were trying everything they could to get the heavyweight boxer over the tricky obstacle course. The problem was that there was little-to-no logic to their efforts. The same can't be said about Team GB's approach. It was methodical and considered. To onlookers it looked painfully slow as the trio of John Small, Jon Crockett and Marcus Arrowsmith causally walked their first of three bikes over the base of the challenge. But they took their time, stuck to their plan and nailed the task, scoring the third fastest time overall, picking up extremely valuable points. It was a great start to the day, which was to see us pack up camp and head out of Nelson on route to Fort Steel in Alberta. We were in for a long day, with three special stages to break up the 400km ride, which consisted of mostly the rough stuff on simply awesome trails.
Article continues below…
Advert
---
Enjoy everything More Bikes by reading the monthly newspaper, Read FREE Online.
---
This is our sixth day of riding and I now feel at one with the big GS, pushing it harder than I ever have, and replacing fear with excitement. The GS Trophy is not for the faint hearted. It's physical. Very physical. And it requires a lot of skill. Much more skill than I possess, but I've dug deep and learnt to keep pace with the other guys. And it feels really satisfying. Most of the trails we ride are pretty sketchy, being littered with everything from deep sand to huge potholes, rocks and fallen trees. I've learnt to pick my lines carefully and use the bike's potential much more to power my way through obstacles, wheelying over holes in the ground and weighting the bike through the pegs to steer quickly around the unexpected. Things are going well and I'm really enjoying this amazing and unique riding experience. Perhaps one of the best rides of the day came just after lunch when we took to some random route which winded its way up along a mountain side, before we branched off onto a metre wide passage that took the challenge to a whole new level. The first physical obstacle was a steep drop off into a river, before climbing a steep and loose surfaced bank on the far side. Rocks were everywhere and we had no choice other than to take the clout from trees and bushes as we squeezed the huge Beemer down the twisty and narrow path. It came to a halt at the second special stage, where the other guys had to complete a trials route in the fastest time. It didn't quite go to plan, with two of our guys toppling over on some nasty adverse cambers. They regained composure as quickly as possible, but crossed the line a minute after the leading team's time. It put a bit of a damper on the guys, but any frustration was soon lost the moment we got back on travels, blasting along some ridiculously scenic trails.
When vision from the dust clouds allow, we scoot along at some serious speeds. 140kmph is pretty normal to see and at that pace it's easy to get yourself in bother when you suddenly hit a big rock or find yourself in deep sand. I've had many a scary moment and I know from the comments heard on our Interphone F5 intercoms that I'm not the only one to find myself cursing away my terror, having narrowly avoided a potentially nasty accident.
Article continues below…
Advert
Our third task of the day was to start and stop the GSs across a timed section, ending up with the front wheel in a designated area of ground. It sounds simple, but most people made a hash of the 50 metre sprint, often overshooting the stopping box and having to paddle the heavy bike rearwards in order to end up with the bike where it was needing to be. For this exercise the Media guys got involved and I was pretty chuffed to post a really competitive time, taking half the time of a couple of my teammates. It all added to what had been a really successful and enjoyable day, made even sweeter when we stopped on our route to camp to watch two grizzly bears bounding their way along the river below. I couldn't believe that just 50 metres the other side of the bridge were a couple of guys fishing, most probably unaware of the potential danger they were in. Just this week we heard that a grizzly had attacked and killed a walker a few miles from where we were, so it was no surprise that our travelling marshal was especially keen that we got back on our bikes and got the hell out of there. The remainder of the ride was simply awesome and the folly of nine riders, which included four Italians, were all buzzing come the time we reached our campsite and lined up as instructed to face a wooden fence. We were told our last challenge of the day was to hurtle the fence and grab a beer from over the other side. I needed no second invitation, reaching the rammed cooler box in second place. A few of the guys weren't so agile, with one of my teammates finding himself flat on the ground, having knocked the fence clean down. I was in stitches. And the night got even better when we settled down for the evening's scores to discover we'd made a huge leap up to 7th place, having scored a third and a second in our riding challenges. Winning's out of the question, but with one day to go, we're still giving it all we can and loving every second.
You can follow the GS Trophy at www.gstrophy.com and www.facebook.com/BMWMotorrad
---
Advert
---
Enjoy everything More Bikes by reading the MoreBikes monthly newspaper.
Click here
to subscribe, or
Read FREE Online
.
Sign-up to the More Bikes Newsletter
Enter your e-mail address below and get regular updates straight to your inbox… You can unsubscribe at any time.