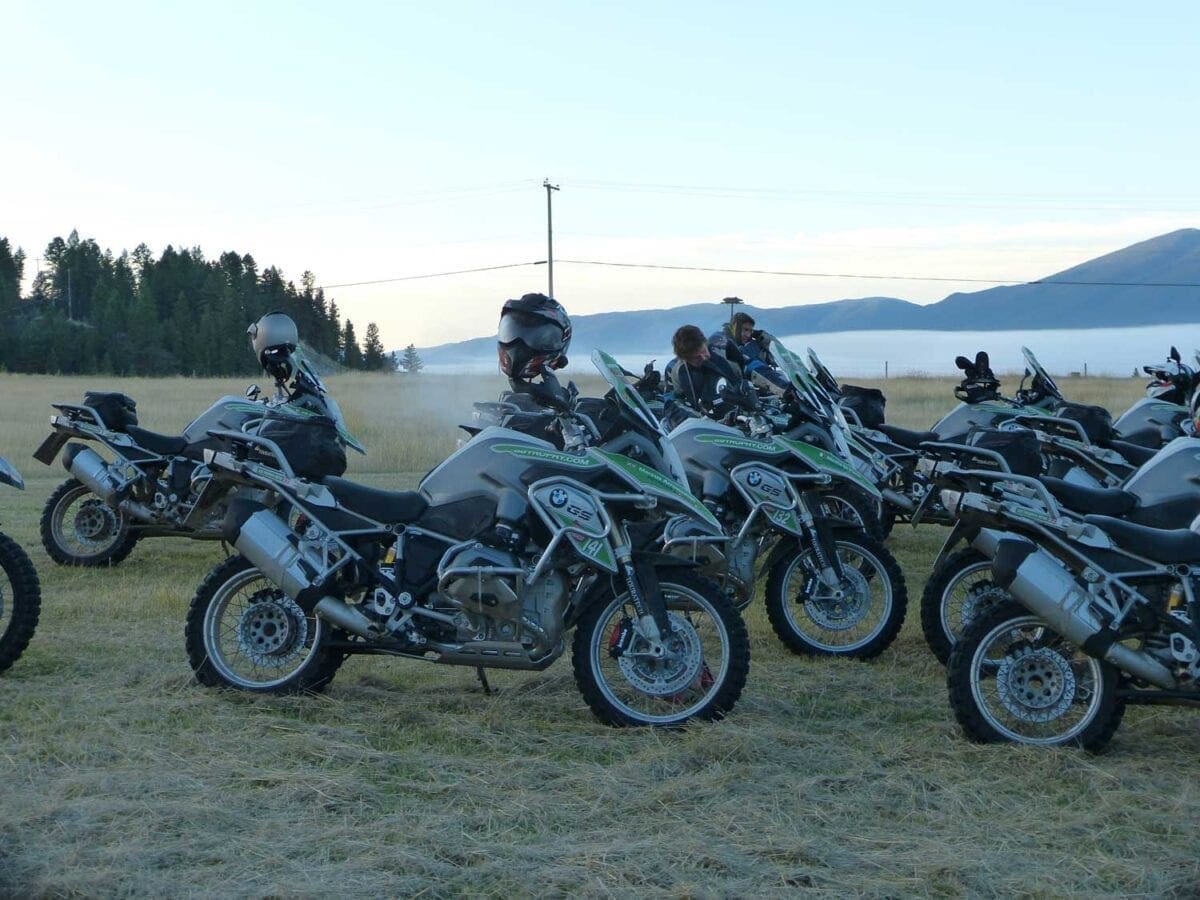 Bruce Wilson, Motorcycle Sport & Leisure's Deputy Editor is with the three riders making up Team GB in the BMW GS Trophy – the ultimate two-wheeled adventure. 
Staged bi-annually, it sees amateur racers from around the globe qualify for a spot in BMW's prestigious R1200GS fuelled event, covering thousands of kilometres of gruelling off-road terrain. This year it's being hosted in Canada and there are 16 teams entered from around the world, taking on an abundance of dynamic challenges, which remain a secret until the moment the competitors arrive for the task. Physically, mentally and emotionally demanding, the GS Trophy is no game for half measures…
Seven days ago I set off on the adventure of a lifetime. A trip I could have never imagined in my wildest dreams, spanning two time zones and 1500 miles, most of which being covered off-road. The GS Trophy has just concluded. We didn't win, but, just like the other competitors from the 21 nations entered, every single one of us will come away from Canada with an overwhelming sensation of motorcycling fulfilment.
Article continues below…
Advert
---
Enjoy everything More Bikes by reading the monthly newspaper, Read FREE Online.
---
Scraping the ice from my tent this morning, it suddenly hit me that I had neared the end. That these days of excitement, of fear and of the unknown were almost numbered. It was a sobering thought and I pledged to myself that I'd make the most of this last long blast across to Calgary, where our trip began so many days ago. Institutionalised, I packed up my kit and headed to the breakfast area, eager to help out with the team's first task of the day; to pull a vintage car across 50 metres on the campsite. I was driving. My teammates were pulling. The gig went flawlessly and before long we'd departed the night's base, where 12 hours previously we'd been serenaded by indigenous Indians, performing traditional songs and dancers.
Our route East hit the dirt after a matter of minutes. The days of easing us in were long behind us and we relished the challenge of river crossings and hazardously loose rocks. This was what we were here for and I felt in the zone as I hurtled the big GS across the scatty ground below. Unfortunately for my French counterpart, the team's journalist came a cropper around a particularly nasty bend and I was straight off my bike to help him back up. If I've learnt anything over these past few days, it's that motorcycles form a common bond across different nations and beliefs. If someone's hurt you help them. If someone's repairing a tyre, you assist them in anyway you can. Is an unwritten law within the GS Trophy.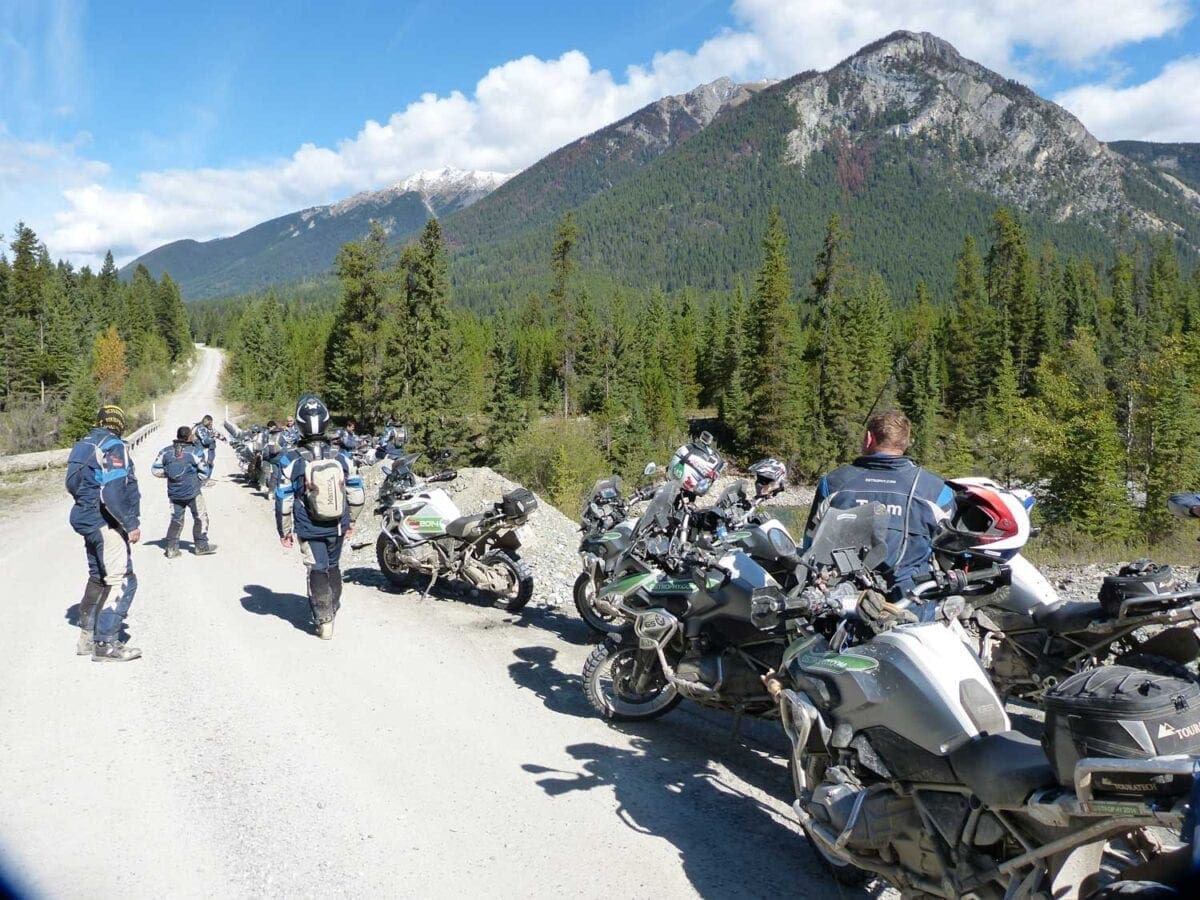 Article continues below…
Advert
Today was my fastest ride. Opening up on some of the bigger forest trails, we were hitting 150kpmh. It felt great and I was at one with my Beemer. I know this bike well now and it's never failed to impress me. Likewise, I know most kinds of stone and rock. Like an amateur geologist, the competitors have learnt the hard way to know what surfaces off grip and which are plain lethal. The crashes have become less these last few days, although today saw one rider cartwheel his GS three times, whilst another broke his leg. Danger's never more than a stone's throw away, but that's what keeps us alive. That and the beauty of Canada.
The day's second challenge was to perform a 'bear turn'. Changing direction against the clock and returning to the starting place. John and Jon performed marvellously, but unfortunately Marcus somehow managed to drop his bike three times in the process, rendering the other two's efforts irrelevant. It was a sobering moment which would blatantly impact severely on the team's ranking. We tried to forget about the incident by indulging in the rest of the fantastic off-road blast, which curtailed far too prematurely for my liking. Being told that we'd completed all our off-road riding was a little hard to stomach, but the 150km ride on roads back to camp gave me plenty of time to reflect on the week's many, many highs.
The last task of the competition saw each team take on gymkhana-type challenges, passing one bike between three riders across an assault course. Our guys did their best, but it was a little depressing to learn at the evening's final presentation that we'd slipped back to 10th place in the final standings. The guys had tried so hard throughout, but a few silly mistakes had cost them dearly. Position aside, it was however evident that every single individual had enjoyed their best motorcycling experience of their life; myself included. Right now there's a part raging with 129 people thriving in the euphoric atmosphere. It's great to see and as much as I enjoy typing away, I'm desperate to get back into the folly and share what's left of this fantastic night of celebration. Must go.
Article continues below…
Advert
You can follow the GS Trophy at www.gstrophy.com and www.facebook.com/BMWMotorrad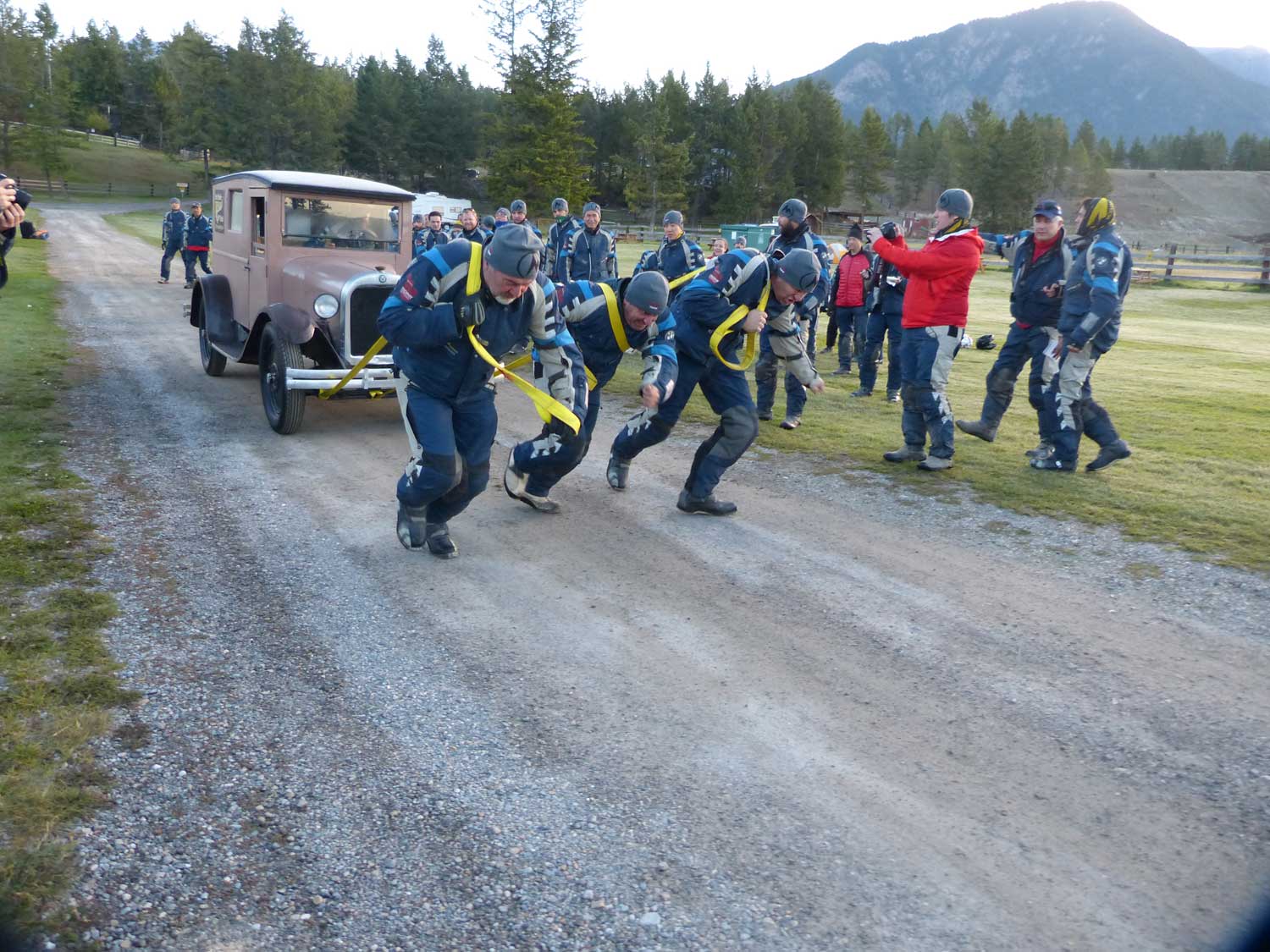 ---
Advert
---
Enjoy everything More Bikes by reading the MoreBikes monthly newspaper.
Click here
to subscribe, or
Read FREE Online
.
Sign-up to the More Bikes Newsletter
Enter your e-mail address below and get regular updates straight to your inbox… You can unsubscribe at any time.