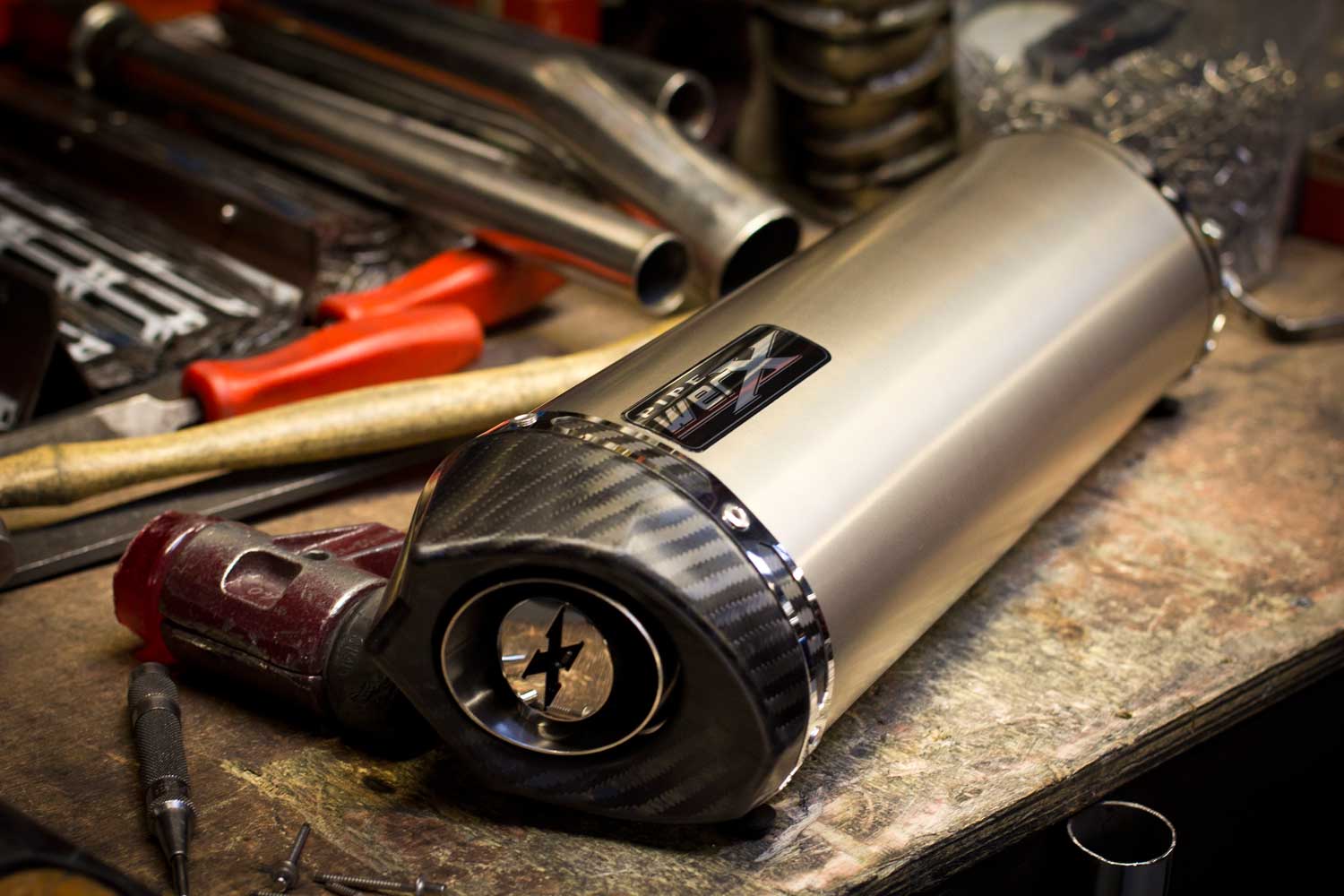 Photos by John Milbank
It's one of the most popular aftermarket accessories for a bike, and there are some brilliant companies producing quality exhausts in the pages of Motor Cycle Monthly, but have you ever really considered what goes into a motorcycle exhaust end can? We visited one of the UK-based manufacturers to get some inside-knowledge on the tech that goes into a can. Ian Birch is the owner of Pipe Werx in Ormskirk, Lancashire and happily proclaims: "Everyone thinks there's an amazing science in exhaust cans. There's not. Basically, a can is a can". Refreshing honesty, but it turns out there's a bit more to it than that…
The history of Pipe Werx
Ian worked as a Volkswagen mechanic after leaving school, then moved to a VW tuning company, specialising in engine conversions. In 1997 he squeezed a 200bhp VR6 engine into his own brand new VW Polo in just two weeks, then built a twin-engine Golf, and started Dubsport, making crazily powerful VWs.
Next, after a few years making performance car brake disks, he got involved with exhaust development for another company. Finally, he saw the opportunity for quality aftermarket exhausts, and in 2006 Pipe Werx was born.
Initially, the company built cans for cars: Business was great, but there was only time for small custom runs of bike exhausts, so Ian split the company and franchised the car side of the business which is also based on the same plot.
Ian's a biker at heart: "My first bike was a DT50 when I was 16, but I got my mate to put a DT80 motor in. Then I got a tuned FS1E. On my 17th birthday I got a DT125, passed my test within three weeks, then was out on a 350LC. Since then there's been too many to remember." Now he's got a Kawasaki ZX-10R-based café racer (dubbed 'Latte racer') and an Aprilia 1200 Dorsoduro.
What makes a Pipe Werx can?
"Whether it's a £600 high-end, big brand or a cheap Chinese offering, 99% of companies use the same basics: Two-inch perforated tube, packing/wadding, a sleeve, rivets and end caps. But the difference is about the quality of components, tight tolerances between these, and the care taken in assembly.
"I wanted to offer a quality product that would be delivered on time, with the best customer service" says Ian, who works alongside ex-racer and office manager Martin Allen; Thundersport racer Dean Court in the workshop along with apprentice Ste Hargreaves and Ian's wife – Donna – who looks after the accounts. "Right now the business is a good size. We could expand, but in a way I don't want the company any bigger, so we can keep control of the quality and the service."
Pipe Werx offers a lifetime guarantee on all its products, so does all it can to make sure there are no warranty returns: "We use gas-tight rivets – the heads can fall off traditional rivets, leaving a hole for the gasses to blow out of. We also use exactly the same wadding as Akrapovič, which is expensive, but it doesn't blow out of the can after a few months."
High quality stainless steel – not just for the link pipe, but the perforated tube too – and supple, foil-lined carbon fibre add to the quality, while the billets are made to be a very tight fit: "It makes assembly tricky, but we don't fill gaps with silicone, and the whole thing stays solid for years. We sold over 2500 cans last year, with not one warranty problem."
Having dozens of styles and options for over 130 bikes (including many older machines), you'd expect the company to be one huge warehouse, but because every can is made to order and dispatched within 24 hours, it's not much bigger than a double garage. You can see one being made by watching the video below.
"We make pretty much everything here, and have been developing cans and link pipes since the business started. We regularly get new machines in, like the KTM 390 Duke recently: every mounting point and dimension has to be spot-on. From getting the bike in to having the product ready for sale takes just two weeks –being a small team we can move very quickly.
"We had a guy ring up recently for a VFR1200 Crosstourer exhaust. We didn't have one, so he came down, we measured it up and now it's on the books. Another customer had a 'Blade RR8 with Arrow headers, so we made a link pipe to suit the setup. We'll do fully custom work too, though tend to do leave it until winter, when orders are a little quieter."
What performance gains can you expect?
"When you make an end can, all you're really doing is tuning the noise" says Ian, "All the important gas flow happens in the headers (downpipes). A lot of the gains in race header development is for top-end, at the detriment of the bottom-end, which isn't what you want on the road. Having said that, we've gained 10bhp in the mid-range on a Fireblade with the link pipe eliminating the catalytic converter."
There can be substantial weight savings to be made (6kg on some bikes), but most customers are simply after a better sound. "We also get a lot of people who worry that car drivers don't hear them when they're filtering, as standard bikes can be so quiet now."
And does your bike need the fuelling adjusted? "If people use one of our baffled cans, with a standard set of downpipes, they won't need to re-jet carbs, or re-map fuelling."
Getting a second opinion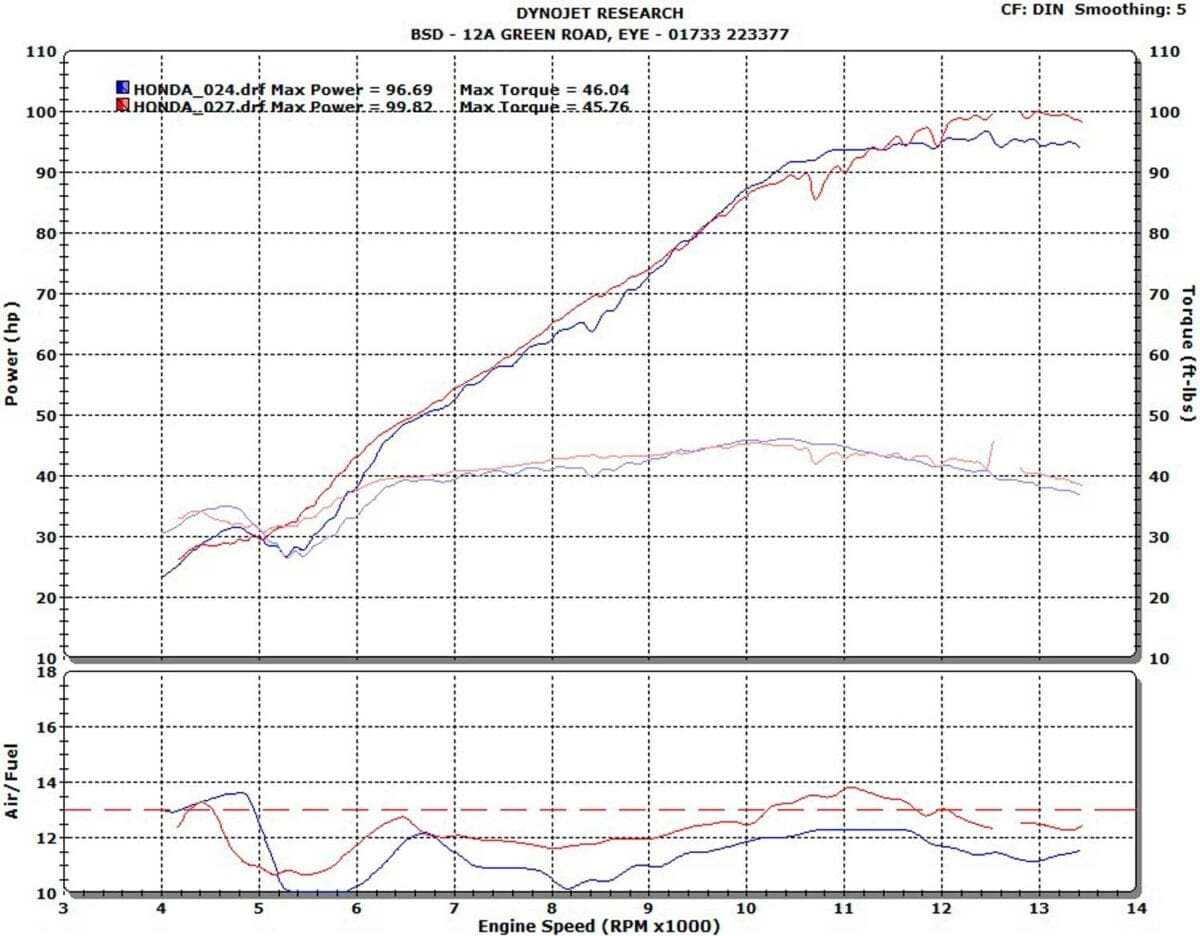 Of course, it's easy for any company to make bold claims about their products, but having seen the care and quality that goes into them, I wanted to test one on my 2000 Honda CBR600.
I took the road-legal titanium oval pipe with carbon outlet and removable baffle, to race engineer Mark Brewin at BSD.uk.com…
With the OE header pipes and can fitted, years of neglect to the 14-year-old carbs had the bike running rich (shown by the bottom blue line being low). Fitting the Pipe Werx can with its baffle in has improved the mixture (the red line), and given me some reasonable performance gains. You can see the bike on the dyno below.
Mark was happy with the old CBR, and more importantly, was confident that fitting one of these cans (with the baffle in) to a standard bike, running correctly, shouldn't see it needing any jetting or mapping work. Removing the baffle could make the bike run a little lean, so at this point you'd want to start thinking about the fuelling. Of course, it also wouldn't be road legal anyway, and once you're into serious track use, you'd be daft not to get the bike set up by a company like BSD.
Despite being good value, Pipe Werx also offers the Hawk range, which has the same high quality components, but without some of the time-consuming TIG welding techniques, or specialist carbon fibre mouldings needed for the Pipe Werx outlets. For more details on all the exhausts, go to www.pipewerx.com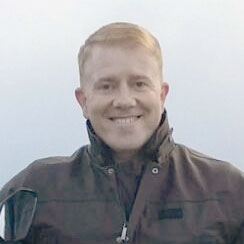 Latest posts by Tony Carter
(see all)
Does this get you revved up? Tell us why...
---
---
Subscribe to MoreBikes Newspaper
Get MoreBikes delivered through your letterbox every month. 12 issues for £15. Click here for more information.
---
Get MoreBikes.co.uk Updates
Enter your e-mail address below and you will receive biking news straight into your inbox...



You can unsubscribe at any time.
---