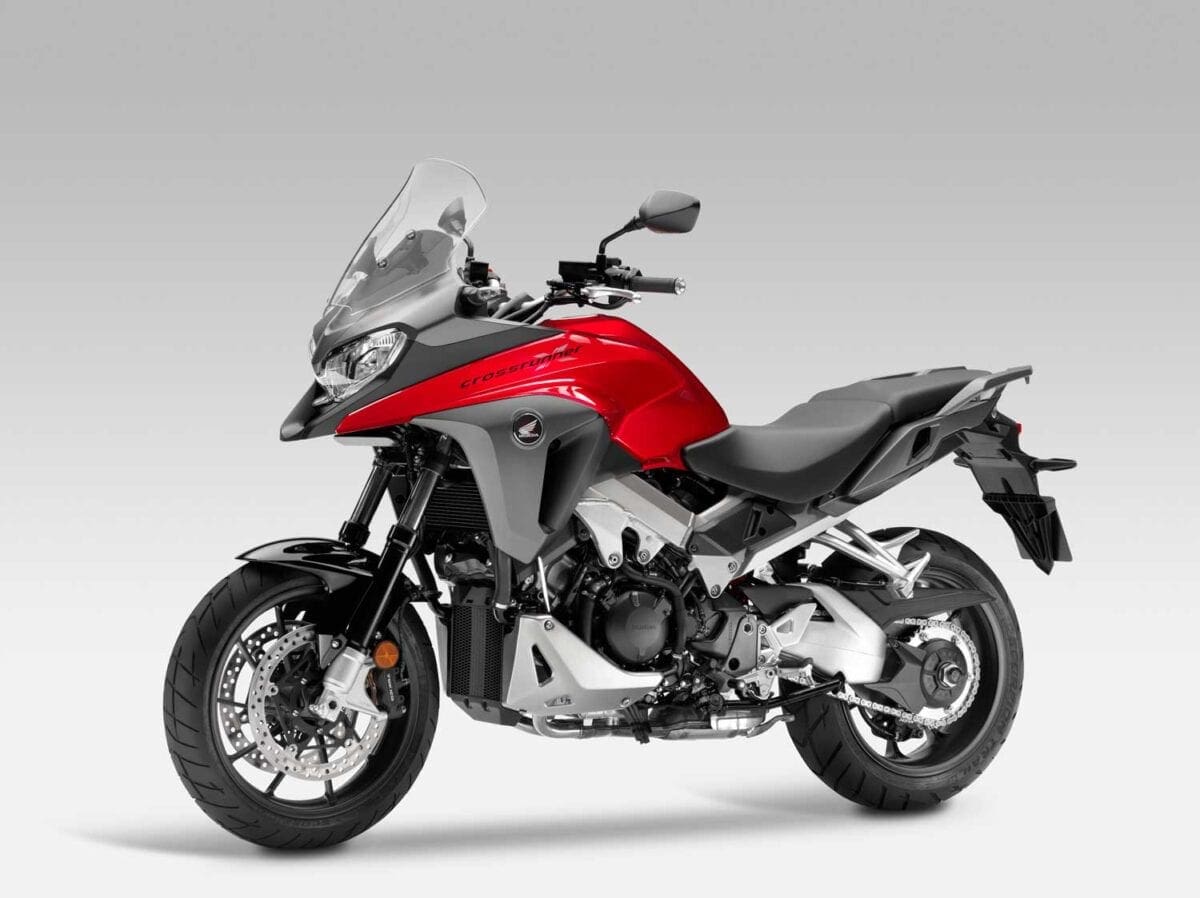 Honda's premium sports tourer – the VFR800X Crossrunner – has evolved for 2015, with a host of upgrades designed to deliver more hard-riding excitement. It features more mid-range torque and top-end power from its upgraded V4-VTEC engine, sharper modern styling plus refined ergonomics and longer travel suspension, new wheels and brakes. Honda Selectable Torque Control (HSTC) system, ABS, full LED lighting, 5-stage heated grips, self-cancelling indicators and a height-adjustable seat are all fitted as standard.
The 2015 VFR800X combines the VFR800F sports touring platform with an upright, comfortable riding position to create a multi-purpose motorcycle with a soulful V4 motor providing exceptional power and feel, and a chassis that – Honda says – can carve out corners or the daily commute in equal measure.
Incorporating many elements from the new VFR800F – the 2015 VF800X strongly pushes motorcycle development forward, with a clear focus on performance and technology. Its revised engine and chassis, HSTC, LED lights, and refined, sharper styling improve both function and form to create a practical all-purpose motorcycle with that sharp V4 edge for excitement with every ride.
Mr Yoichi Inayama, Large Project Leader (LPL) VFR800X: "For this development of the VFR800X we wanted to create a premium motorcycle with a 'ready-for-action' feeling, for customers to use with maximum enjoyment every day. The styling demanded beautifully functional parts, and light proportions with minimal fairings. We wanted an upright position giving great visibility and agile handling so the rider can attack any corner with confidence. And refinements to the V4 engine had to deliver responsive and enjoyable power.
"Our new VFR800X has fulfilled these goals and follows the VFR tradition: it has an array of advanced technologies including LED headlights, our Honda Selectable Torque Control system and automatic turn signal canceller. For us it gives a craving to ride every day and we hope it brings the same fun and good spirit to our customers' lives"