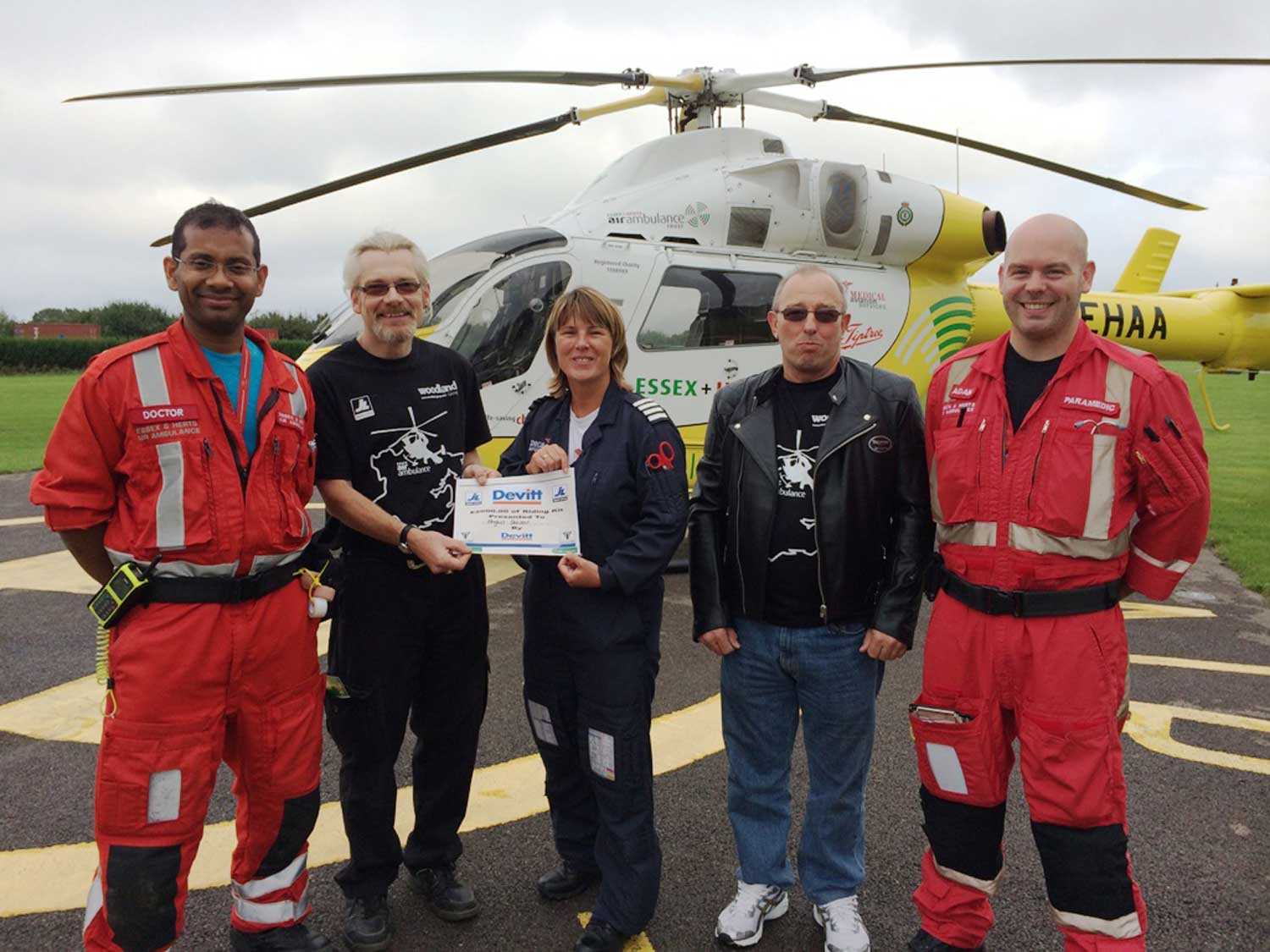 Two lucky winners recently benefitted from taking part in the Essex Air Ambulance Motorcycle Run & Harwich Family Festival.
Angus Dewar from Thorrington is the lucky winner of the Star Pre-reg prize sponsored by Devitt Insurance and has won £2,000 worth of motorcycle kit from Jack Lilley Motorcycles of Romford. Plus, congratulations to Gary Barton from Leytonstone who won the runner's up prize of Iconic Lewis Leathers Triumph Jacket worth £700 donated by Jack Lilley Motorcycles.
Angus and Gary recently paid a visit to the Essex Air Ambulance Air Base and Visitor Centre to be presented with their prizes and for a photo opportunity with the Crew.
Speaking about his win, Gary said: "What a nice day in more ways than one to take part in a well organized run out to help a good cause. The main meeting place at Ford Dunton was enjoyable and to see the IMPs was good, then the run up to Harwich was enjoyable as the weather stayed dry for most of the ride! Then the entertainment at Harwich was good plus the joy of winning the runners up prize really made the day! Then to receive the prize from Doctor Ash Vasireddy, Pilot Nicky Smith and Critical Care Paramedic Adam Carr put the icing on the cake. Many thanks to everyone and I will be back next year!"                
Plus, Derick Simms from Ingatestone found the one and only Golden Ticket inside his Motorcycle Run t-shirt and won a Motorcycle Training course courtesy of Bellevue Motors. There are still some official Motorcycle Run 2014 T-shirts up for grabs so if you want to get hold of one call Wendy Marcon-Knightley on 0345 2417 690 to order yours.
The final prize in the 3 Ways to Win is an HJC IS-17 helmet worth up to £190 courtesy of Parkinson Motorcycles.  All bikers that send in their sponsorship forms and money raised to the Fundraising Office no later than Friday 24th October will automatically be entered in a prize draw to win this fantastic prize. Last year, bikers sponsorships helped raise an additional £3,000, so it really does make a difference.
We are delighted to announce that the final total raised at the 2014 Motorcycle Run & Harwich Family Festival is a staggering £41,754!