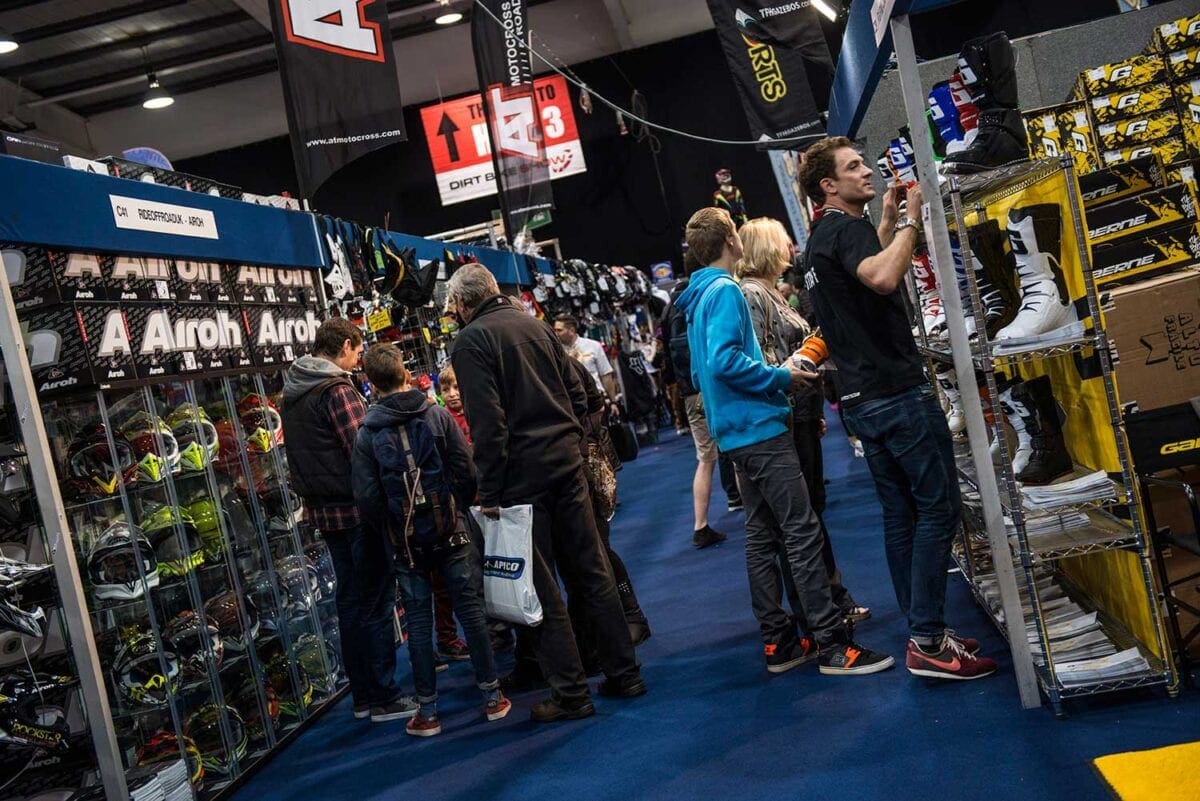 The annual International Dirt Bike Show off-road fest returns to Stoneleigh Park, Warwickshire this autumn for another four action-packed days of dirt biking product launches, entertainment and bargains. The Show has been running for well over a decade at Stoneleigh Park and early indications are that this year's event will topple previous years in terms of visitor attractions, value-for-money and the range of goods on display, plus there's a fantastic chance to WIN A HONDA CRF450
If you've ever fancied taking a look at just what goes on off-road, then there is no better place to start…
Hot metal
This year, all the major manufacturers' machines will be on display. Spread throughout the Stoneleigh Park halls you find KTM, Honda, Yamaha, Kawasaki, Husqvarna, Suzuki, TM, Oset, Mecatecno, Beta, Montesa, Sherco and GasGas covering the disciplines of motocross, supercross, enduro, trail, trial, supermoto, minimoto and electric trials.
Everything but the bike
The Show is also where visitors will get to see or try on the very latest new-season kit, gear, parts and accessories for both rider and machine from some of the biggest companies in the world. Over in the retail hall, you'll be spoilt for choice with a mind-boggling selection of trick bits and bargains covering head to foot, wheel to wheel, bench to van, and everything in between. There are simply far too many top-name exhibitors to single out and mention here, but to help plan your day and find your favourite exhibitors, the free-of-charge souvenir Show Guide will carry a full A to Z listing of all exhibitors.
Action stations
The fun starts even before you enter the Show halls, as the gravity-defying Wall of Death will be situated out front, adjacent to the catering units. Once inside, the activity halls will house Inch Perfect Trials – with displays to first watch and then machines to try out; Owd Codgers Trials – bringing a sense of decorum to proceedings; Lee Bowers' stunt spectacular – using both superbike and motocross machines; FlatTrack demos with former British champion Pete Boast; My First Honda Licence – let the youngsters of the family get the biking buzz; the Electric Zone with Oset and Mecatecno – children from as young as two can have a go; remote-control bikes – challenge your family and mates; Strider bikes for the very young; kids quads and more.