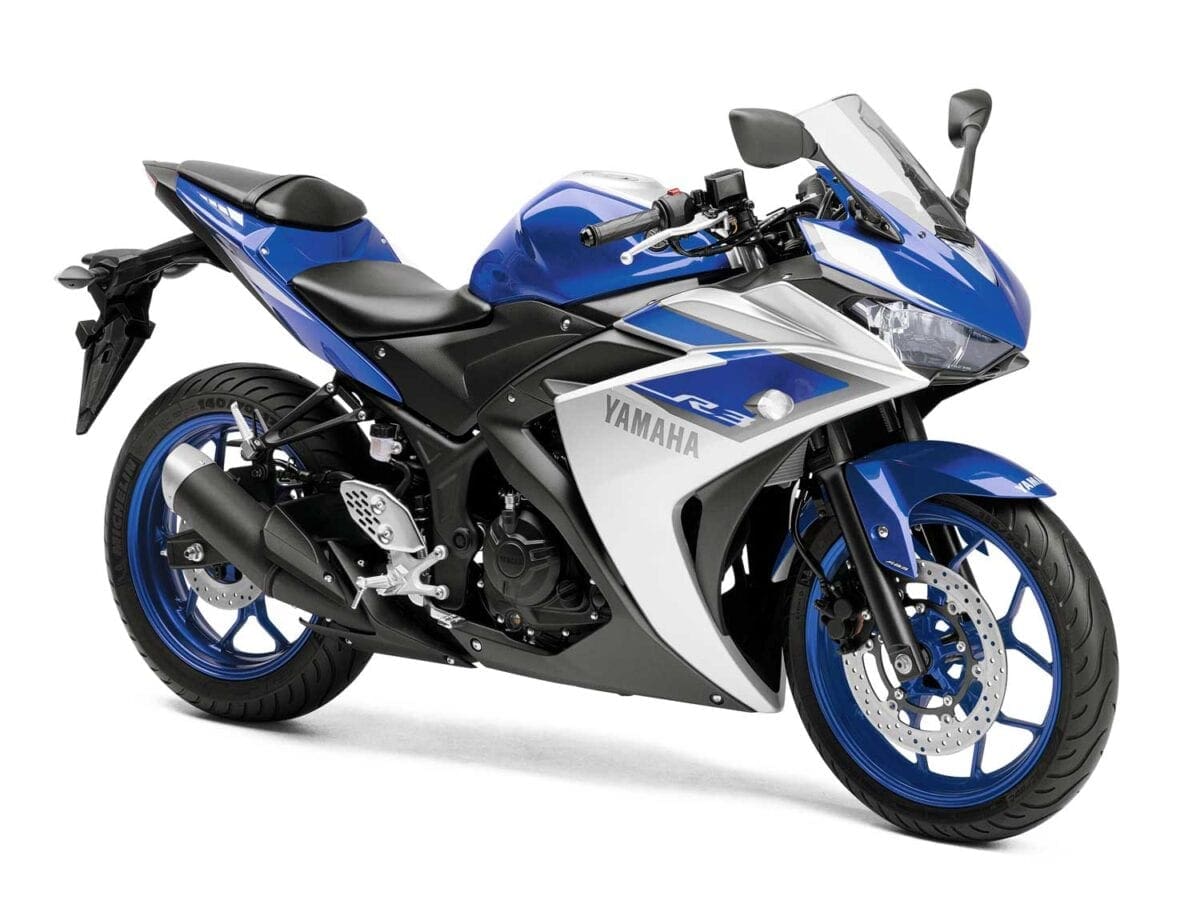 Described as a lightweight supersport bike for everyday use, the Yamaha YZF-R3 brings an all-new 320cc parallel-twin motor to the R125, R6 and – soon to be updated – R1 line-up. 
ABS comes as standard on this A2-licence  compliant, 42bhp / 22lb-ft bike, making it an ideal entry-point to the world of sports machines. Here are all the details from Yamaha…
Yamaha's R-series models are world famous for their advanced technology, supersport pedigree and race-winning performance. Since Yamaha changed the face of motorcycling with the original YZF-R1, the R-series has firmly established itself as the definitive line up of high-performance models that are capable of smoking the opposition in national superbike and supersport championships.
The R1 and R6 have set the standard, and their race-bred design, combined with precision handling and dynamic image, ensure that Yamaha R-series models are the bikes against which others are judged. The same is true in the 125cc class, where the recently introduced second generation YZF-R125 has taken over from its best-selling predecessor and is dominating the 125cc sales charts throughout Europe.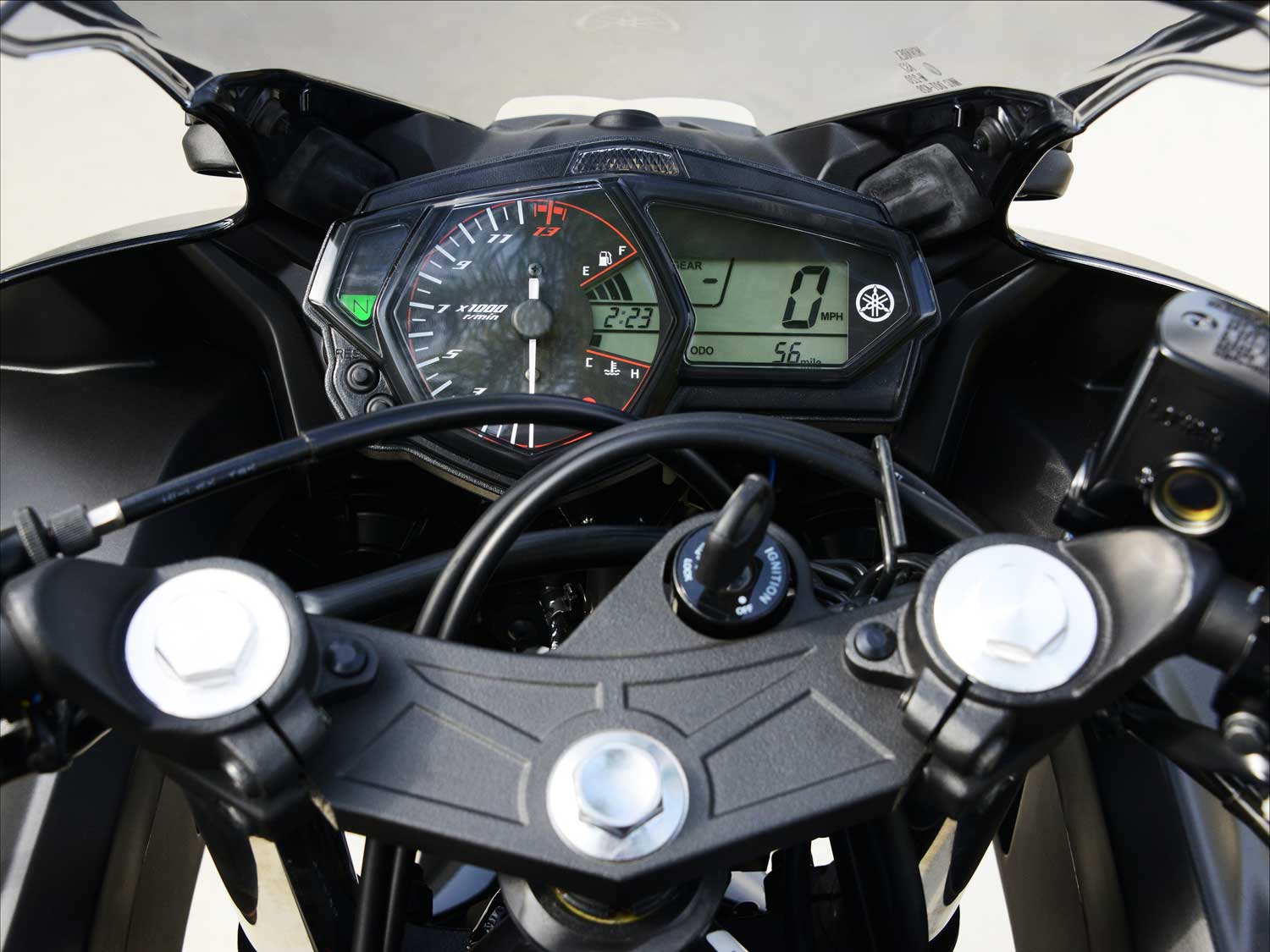 YZF-R3: the Yamaha R-series supersport for A2 licence category
The introduction of a new A2 licensing category has presented Yamaha with an opportunity to create a new model that offers an ideal step up from the 125cc (A1 licence) class. Designed to offer newer and graduating riders the chance to own a genuine purpose-built R-series model, the all-new YZF-R3 perfectly fills the gap between the YZF-R125 and YZF-R6.
Developed with the aim of creating a 'lightweight supersport bike for everyday use', the YZF-R3 is a stylish and practical performance model that's ready to open up the world of R-series to a new generation of riders who are looking for cutting edge design combined with exciting performance and excellent value.
YZF-R3 Overview
Lightweight A2-licence category supersport bike for everyday use
Developed using pure R-series DNA
Powerful, smooth and strong 320cc inline twin cylinder engine
Slim and light chassis offering predictable and sporty handling
Aggressive R-series dual headlight full fairing
Aerodynamic bodywork with mass-forward image
Sporty and comfortable suspension
Strong braking performance with ABS as standard
Designed to fit everyday use in urban and highway situations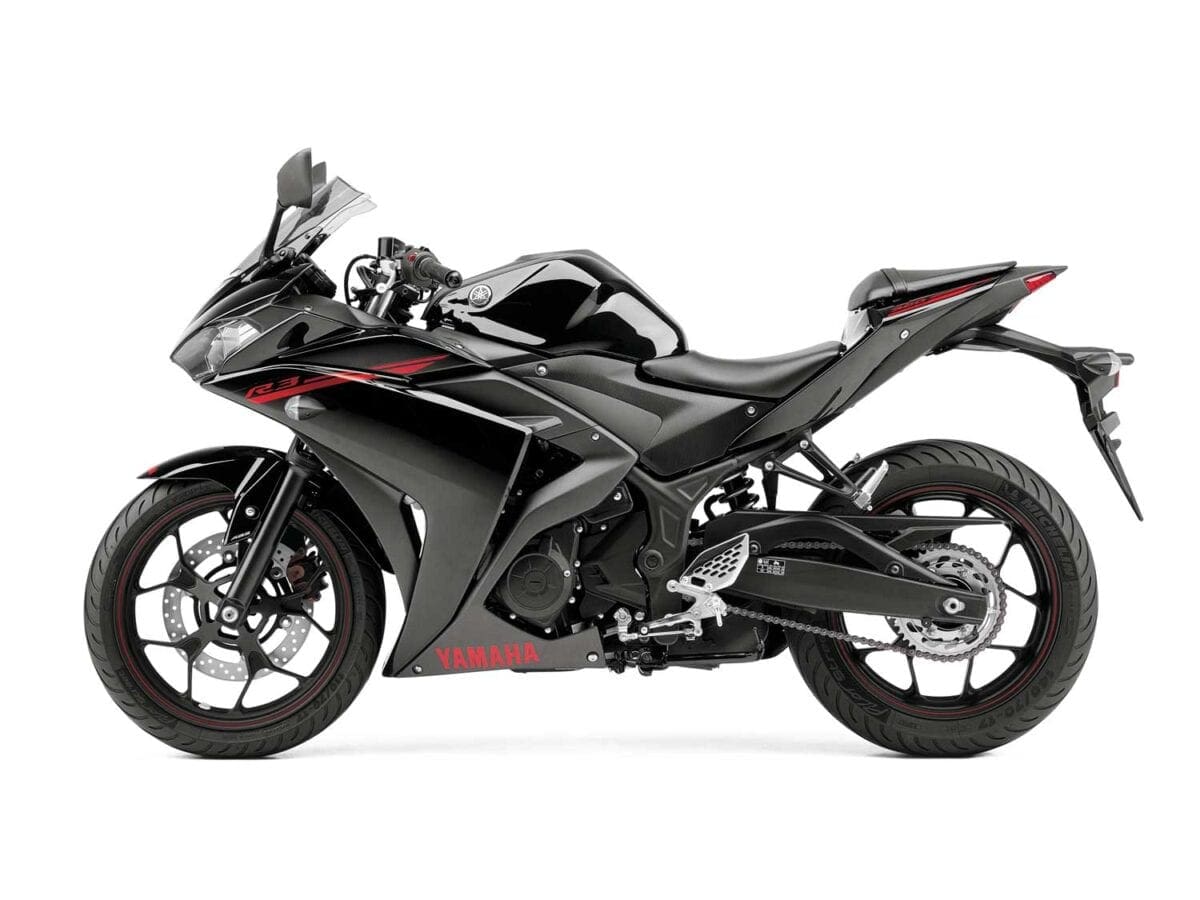 YZF-R3 ENGINE
All-new 321cc inline twin cylinder engine
The YZF-R3 is powered by an all-new 321cc inline twin cylinder 4-stroke DOHC 4-valve engine that benefits from much of the advanced technology seen on Yamaha's larger capacity supersport bikes.
The clear development concept behind this new engine was to create a 'supersport machine you can ride every day', and the architecture of the new powerplant is designed to ensure good rideability in the low to mid-speed range, together with a strong and responsive character at higher rpm. At the same time as creating a dynamic new engine that is both practical and exciting to ride, Yamaha's engineers have also ensured that this efficient new 320cc inline twin also delivers good fuel economy.
The new YZF-R3 engine has been designed using cutting-edge technology that has already helped to establish the R1 and R6 as two of the most respected supersport models available today. The result is that this new inline 321cc DOHC 4-valve engine has a sporty free-revving character with strong performance across the range, making it an ideal step-up model from the YZF-R125. Featuring a bore x stroke of 68.0mm x 44.1mm and running with a compression ratio of 11.2:1, this compact engine develops 30.9kW/42PS @ 10,750 rpm, with maximum torque of 29.6Nm/3.0 kg-m @ 9,000rpm.
The YZF-R3's exciting and responsive supersport engine performance is ideally matched to the newly-designed chassis, making this new A2-licence category model the clear choice for new riders who want to experience R-series technology – while it also represents an ideal step up for current YZF-R125 owners looking to upgrade.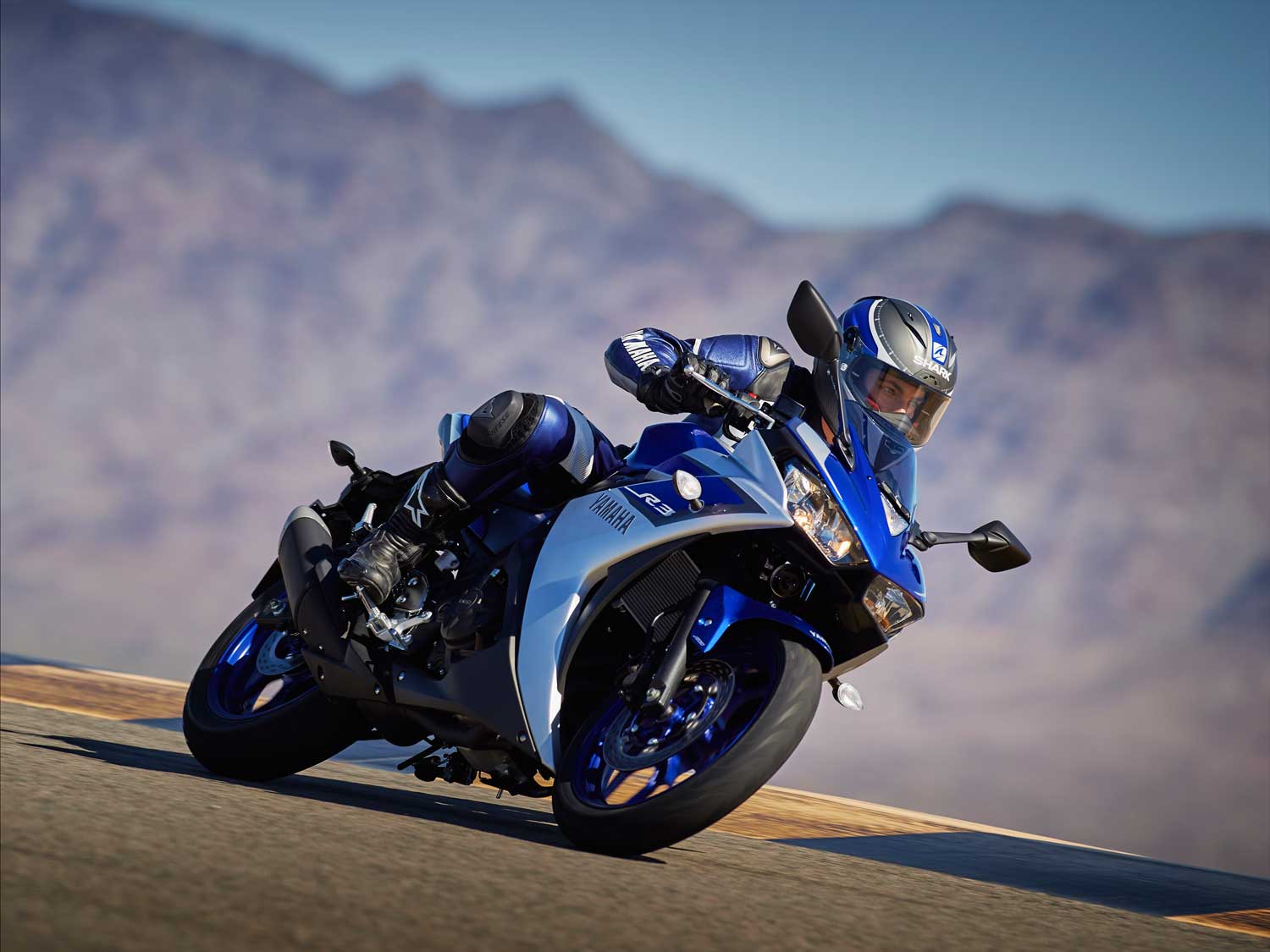 Optimal combustion efficiency
Yamaha have used the latest combustion analysis technology in the design of the cylinder head to ensure optimal combustion efficiency, and the fitment of a downdraft throttle body along with narrow angle 26.0mm intake valves and 22.5mm exhaust valves ensures that the new 321cc engine delivers strong performance over a wide operating range.
R-series type direct-drive camshaft
The new YZF-R3 benefits from a great deal of technology transfer from the larger-capacity R-series bikes, including the design of the valve drive mechanism. On the R3 the only components between the cam and the valve are the lifter and the shim, and this direct-drive design is light, compact and gives efficient performance especially at high rpm.
Forged aluminium pistons and carburized con rods
In order to enable the new 321cc inline twin cylinder engine to deliver optimal power and all round rideability over a wide range of engine speeds, it is equipped with lightweight forged pistons. With a reciprocating weight around 10% less than cast pistons, the forged design helps to give instantaneous throttle response, and the higher strength of the forged design at extreme temperatures ensures increased efficiency and reliability at high rpm.
More R-series technology transfer is evident in the use of carburized con rods that – as well as being lighter and more rigid – also have finer tolerances than standard rods.
Lightweight DiaSil cylinder
The new Yamaha YZF-R3 is equipped with a lightweight DiaSil cylinder – the first time that this advanced design has been used on a Yamaha twin cylinder engine. Manufactured using an exclusive Yamaha casting technology, this all aluminium design has a 20% silicon content to give a highly friction-resistant microstructure resulting in excellent heat dissipation, reduced weight and minimized oil consumption. In addition, its perfectly cylindrical shape allows the use of low-tension piston rings that consequently reduces horsepower losses.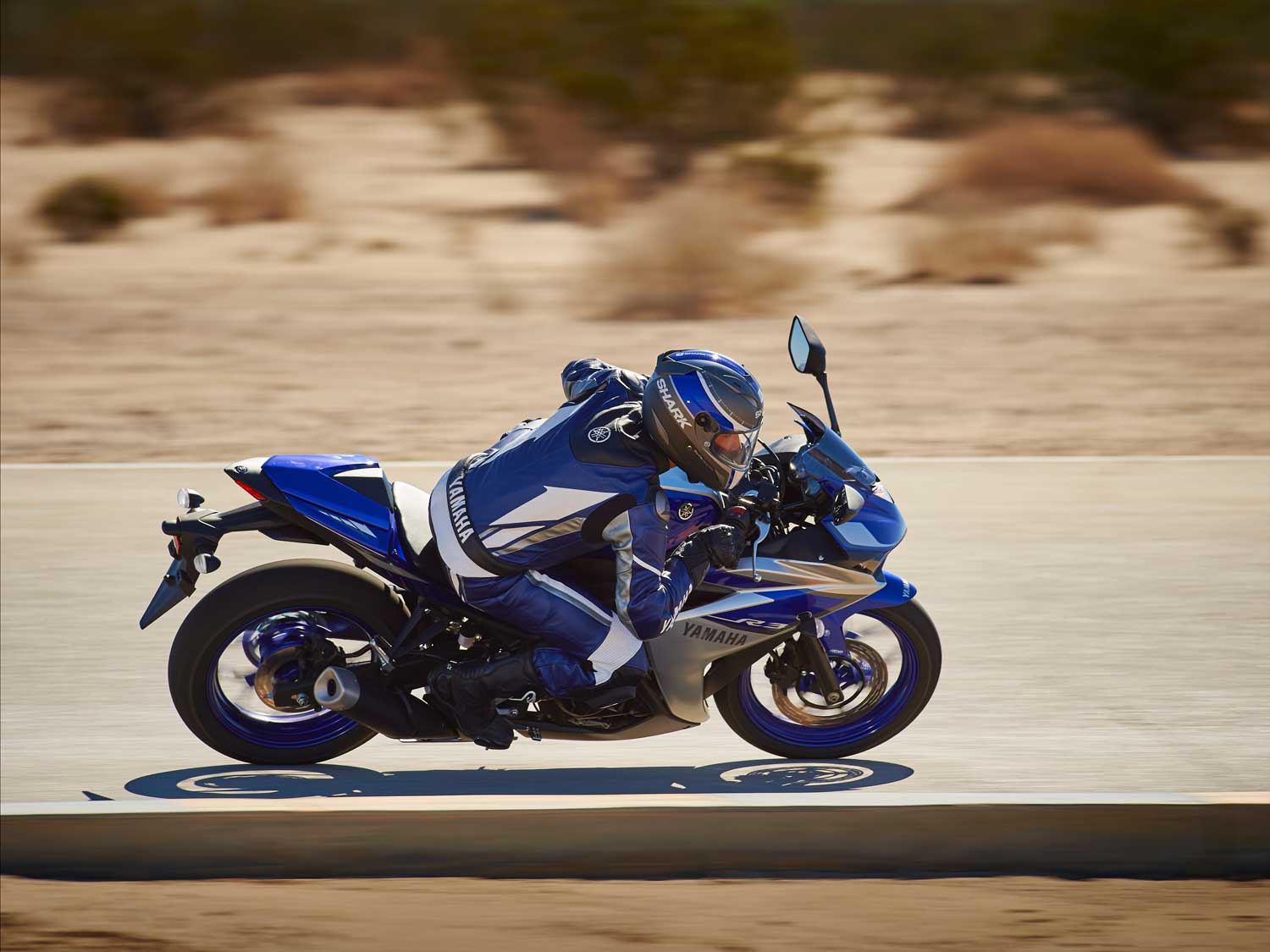 Offset cylinder design
Just like the latest MT twin and triple engines, the compact new R3 engine features an offset cylinder design. The centre of the cylinder is offset closer to the exhaust ports, and this significantly reduces the force of the piston's motion towards the cylinder wall during the combustion phase. This smart design reduces frictional losses and enhances the engine's power output for a more thrilling ride.
180-degree crank with optimum inertial mass
One of the main features of the R3's all-new 321cc inline twin engine is its good balance of low speed rideability and high-speed performance. One of the key factors in achieving this character is the use of a newly designed crank featuring an optimal inertial mass. The lightweight 180-degree crank design enables the R3 engine to rev freely, giving strong acceleration together with a thrilling and responsive character at all engine speeds.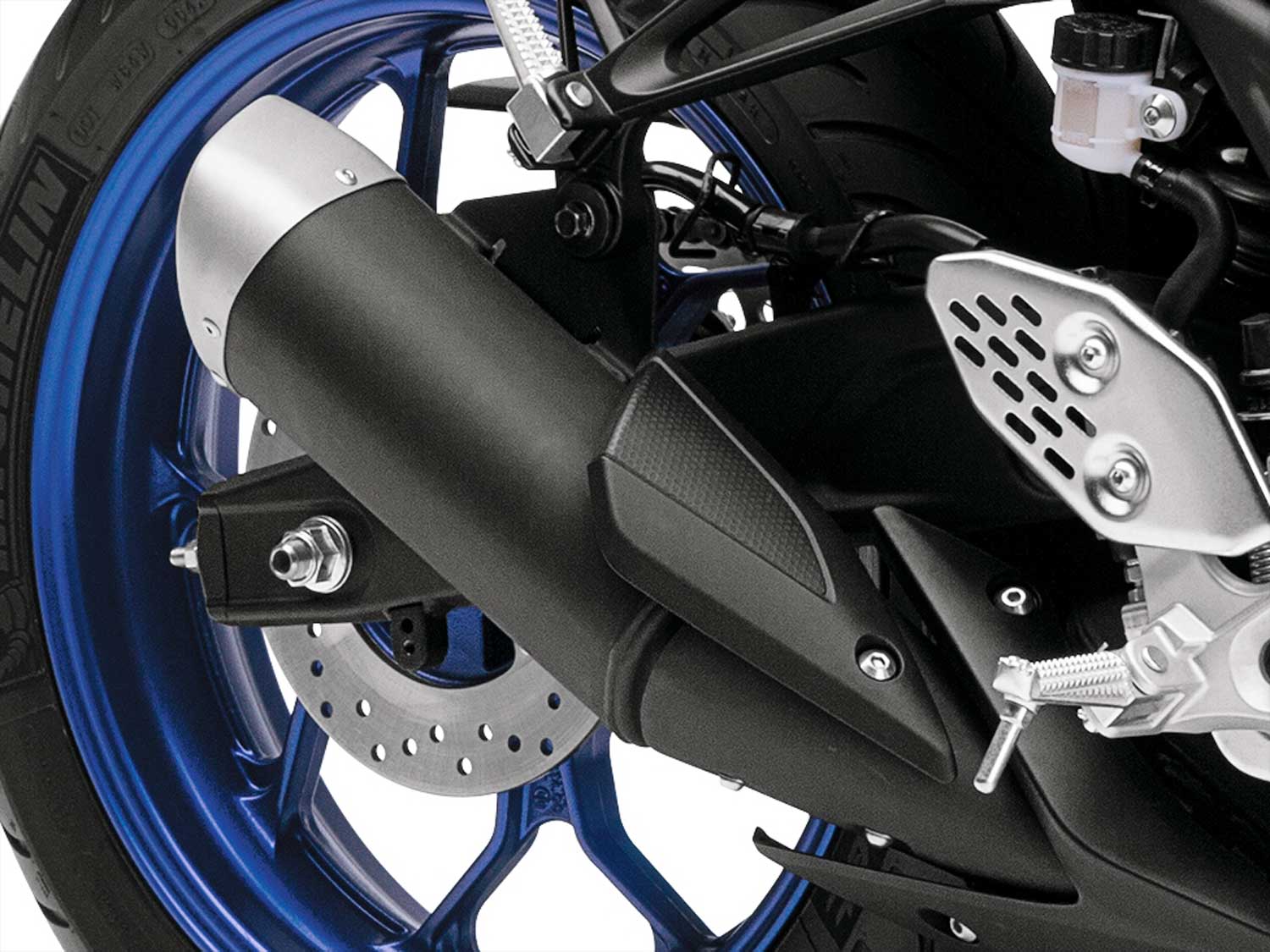 Sporty and short 2-into-1 muffler
More R-series styling influence is evident in the R3's short 2-into-1 muffler that has a distinctive R6 style about it. This compact muffler is positioned close to the machine's centre of gravity to give improved mass centralization, thereby contributing towards the bike's agile handling character. Equipped with a triple expansion chamber and oxygen sensor, this stylish muffler emits a sporty exhaust note to complement the R3's performance-focused character.
Lightweight primary balancer
The R3's primary coupled-force balancer is adopted to reduce engine vibration as well as mechanical noise, giving a more rewarding and enjoyable riding experience. The use of the balancer also allows the engine to be fitted with a rubber mount – as well as three other rigid mounts – and this helps to further reduce weight and vibration.
Progressive throttle pulleys
To ensure that the R3 delivers smooth and easy to control power – particularly at lower speeds in urban situations – both the twist grip and throttle valve are equipped with progressive pulleys. Together with the user-friendly character of the ECU's fuel injection mapping, these progressive pulleys ensure that the R3's throttle response is smooth and predictable, making this lightweight supersport bike more enjoyable and easy to use for newer riders.
YZF-R3 Engine Technical Highlights
321cc liquid-cooled 4-stroke DOHC 4-valve inline twin cylinder engine
Excellent power and torque characteristics
30.9kW/42PS @ 10,750 rpm
29.6Nm/3.0 kg-m @ 9,000rpm
Good low to mid-speed rideability
Direct drive camshaft for excellent high rpm performance
Forged aluminium pistons for reduced reciprocating weight
Light and strong carburized con rods
Lightweight DiaSil low-friction cylinders
Offset cylinders for reduced frictional losses
Compact combustion chamber design
R6-inspired 2-into-1 muffler
Primary coupled balancer
Progressive throttle pulleys for smooth acceleration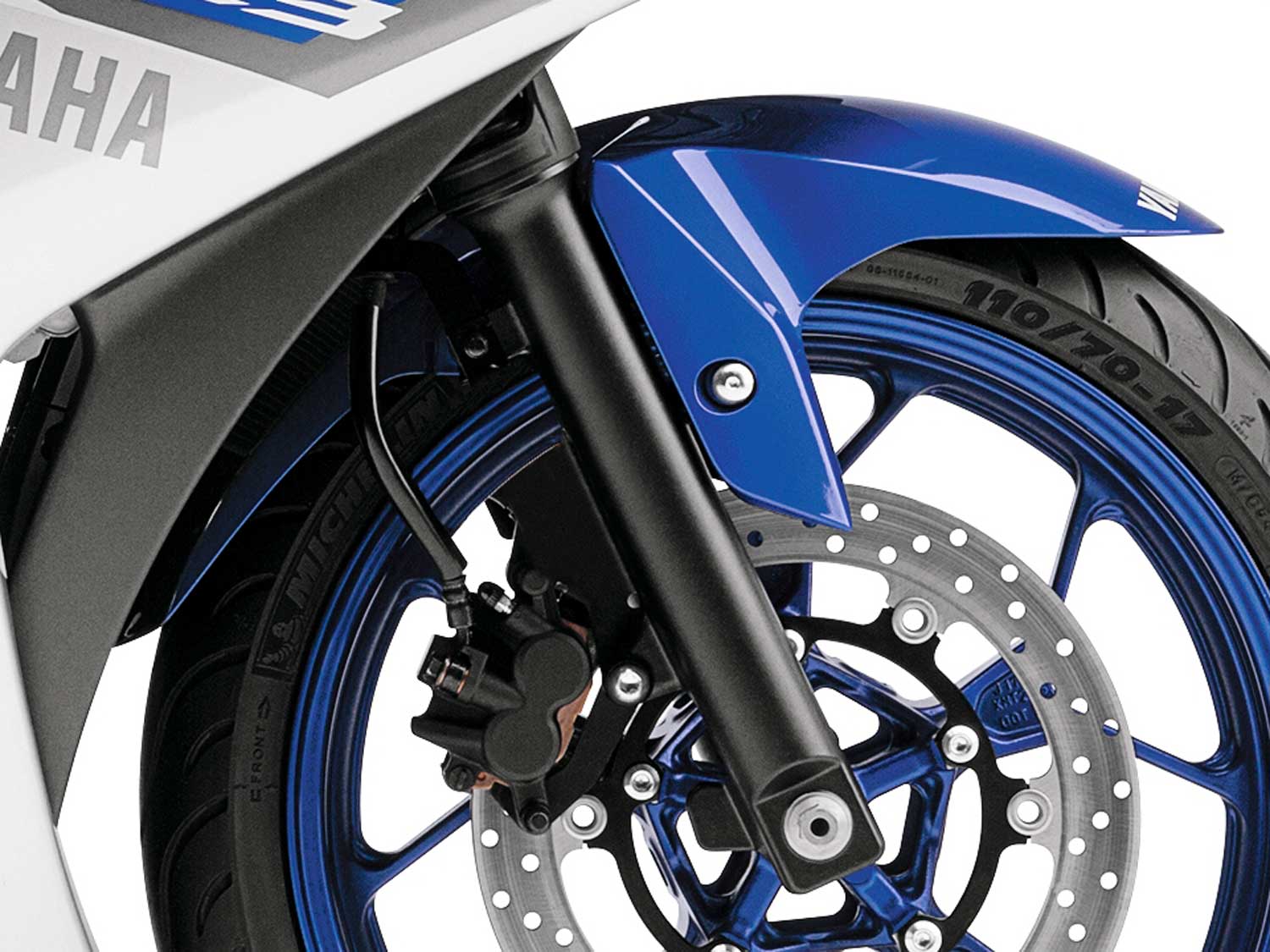 Yamaha YZF-R3 CHASSIS
Lightweight diamond-type frame
The R3 is equipped with a newly designed steel diamond-type tubular frame that has been developed using the latest structural analysis technology. Its main tubes are 35mm diameter steel pipe, and the compact 321cc engine acts as a stressed member and features three rigid mounts and one rubber mount.
Idealized front/rear weight distribution
With a wet weight of only 169kg, the R3 has been developed to attract those riders who may be stepping up from the 125cc class, as well as newer riders who may have little riding experience. To cater for this important sector of the market, Yamaha's designers have created a chassis that delivers a predictable handling character.
The wheelbase has been set at a relatively compact 1,380mm, while the caster angle is 25.5 degrees, and the seat is also set at a manageable height of 780mm to enhance rider confidence. Significantly the front/rear weight balance is almost 50/50, and together with the use of 17-inch wheels and the centralization of the bike's mass, this design gives predictable and easy handling both in the city and on the open road.
Combined with features such as the instant engine response and progressive throttle action, these measures work together to make the YZF-R3 a genuine all rounder capable of handling everything from weekday commuting through to weekend sports riding and much more.
R1-type long swingarm
The YZF-R1 was one of the first supersport models to feature a long swingarm, and this proven technology has been adopted by the new YZF-R3. By using a longer swingarm there is less variability in the chassis geometry during acceleration, cornering and deceleration, and this ensures more stable handling.
This 573mm long swingarm gives the R3 chassis the same swingarm/wheelbase ratio as the race-winning R1, giving strong straight line handling performance and more efficient transmission of power to the rear wheel. Manufactured from pressed steel and featuring an asymmetrical left/right design, this long swingarm delivers a good balance of weight, strength and rigidity.
Lightweight sports suspension systems
The R3 is equipped with front forks using sturdy 41mm diameter tubes, the largest in the class, and is fitted with an aluminium handlebar crown and under bracket. Offering 130mm of front wheel movement, these forks are designed to deliver smooth action combined with a good feeling of rigidity that helps to ensure confident and predictable handling.
The Monocross rear suspension system gives 125mm of rear wheel travel, and its lightweight design gives a smooth and comfortable ride. The compact shock absorber is mounted directly to the long swingarm, and the optimized layout of the drive axis, swingarm axis and rear axle contribute to the R3's stable handling, as well as accentuating this new sports bike's thrilling and engaging character during acceleration and braking.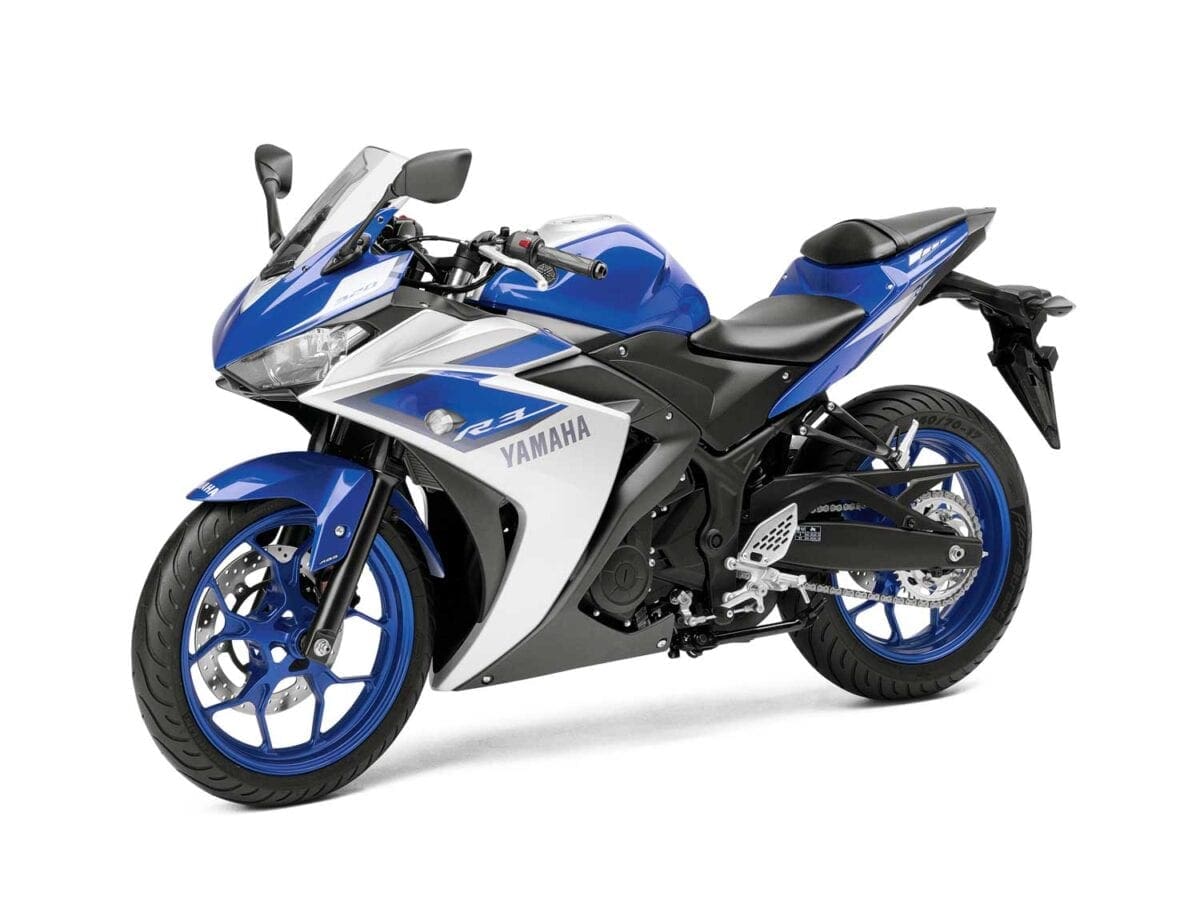 Ten spoke cast aluminium wheels & large diameter disc brakes
Lightweight 10-spoke aluminium wheels underline the R3's supersport character and accentuate this new bike's R-series specification. Featuring five pairs of thin cast spokes that emphasize the bike's light and sleek image, the 17-inch wheels are fitted with a 110/70-17 front tyre and a 140/70-17 rear tyre.
The lightweight wheels are equipped with a large diameter 298mm floating front disc with a 2-pot caliper, and a 220mm rear disc with single pot caliper that give smooth, strong and progressive braking performance. ABS is fitted as standard equipment.
Multi-function instrumentation
Featuring a wide range of information, the multi-function instrument panel includes an analogue tachometer and digital speedometer – and to underline its strong R-series heritage the R3's instruments feature a shift timing indicator lamp similar to the design used on the YZF-R1. There's also a gear position indicator, fuel gauge, water temperature gauge as well as fuel economy information, clock, tripmeters and more.
YZF-R3 Chassis Technical Highlights
Predictable handling
Lightweight tubular steel diamond type frame
169kg wet weight
Virtually 50/50 front/rear weight distribution
Short 1,380mm wheelbase
Long R1-inspired swingarm with identical swingarm/wheelbase ratio
41mm front forks with 130mm wheel travel
Lightweight Monocross rear suspension giving 125mm wheel travel
Lightweight 10-spoke cast aluminium wheels
Floating 298mm front disc/220mm rear disc
ABS fitted as standard equipment
Multifunction instruments, analogue tachometer/digital speedometer
780mm seat height with separate rider & passenger seats
Clip on handlebars with wide 68 degree turning angle
14-litre fuel tank for good riding range

YZF-R3 STYLING
In the same way that the YZF-R1, R6 and R125 are instantly identifiable as being part of the same thoroughbred R-series family, so too has the look, character and feel of the YZF-R3 been shaped by the same 'R-DNA' that characterizes Yamaha's supersport models.
The key elements of 'R-DNA' are the aggressive twin headlight fairing and the centrally positioned front air duct, as well as the forceful mass-forward silhouette, and the athletic and aerodynamic body.
Aggressive twin headlight fairing with central air duct
The YZF-R3's fairing features twin headlights with a reverse slant design that gives this new A2 licence class supersport bike a distinctive image that, while clearly part of the R-series family, has its own unique look. Between the lights is a centrally located air duct reminiscent of the YZR-M1 and YZF-R6, further strengthening the family ties.
Mass forward silhouette
The mass forward silhouette is created by the slim and lightweight image of the sharp and high tail, combined with the large angular V-shaped sections of the fairing sides. This creates an impression of mass concentration just behind the front wheel, suggesting strong front wheel traction and a real impression of forward motion.
Athletic and aerodynamic body
The combination of an aerodynamic layered fairing with lightweight cast aluminium wheels – reinforced by the muscular look of the long swingarm and the strength conveyed by the mass centralized design – conveys a sleek and athletic impression. From every angle the R-series DNA of this new A2 class supersport is evident.
Colours        
Race Blu
Black
Availability   
April 2015
www.yamaha-motor.eu/uk/index.aspx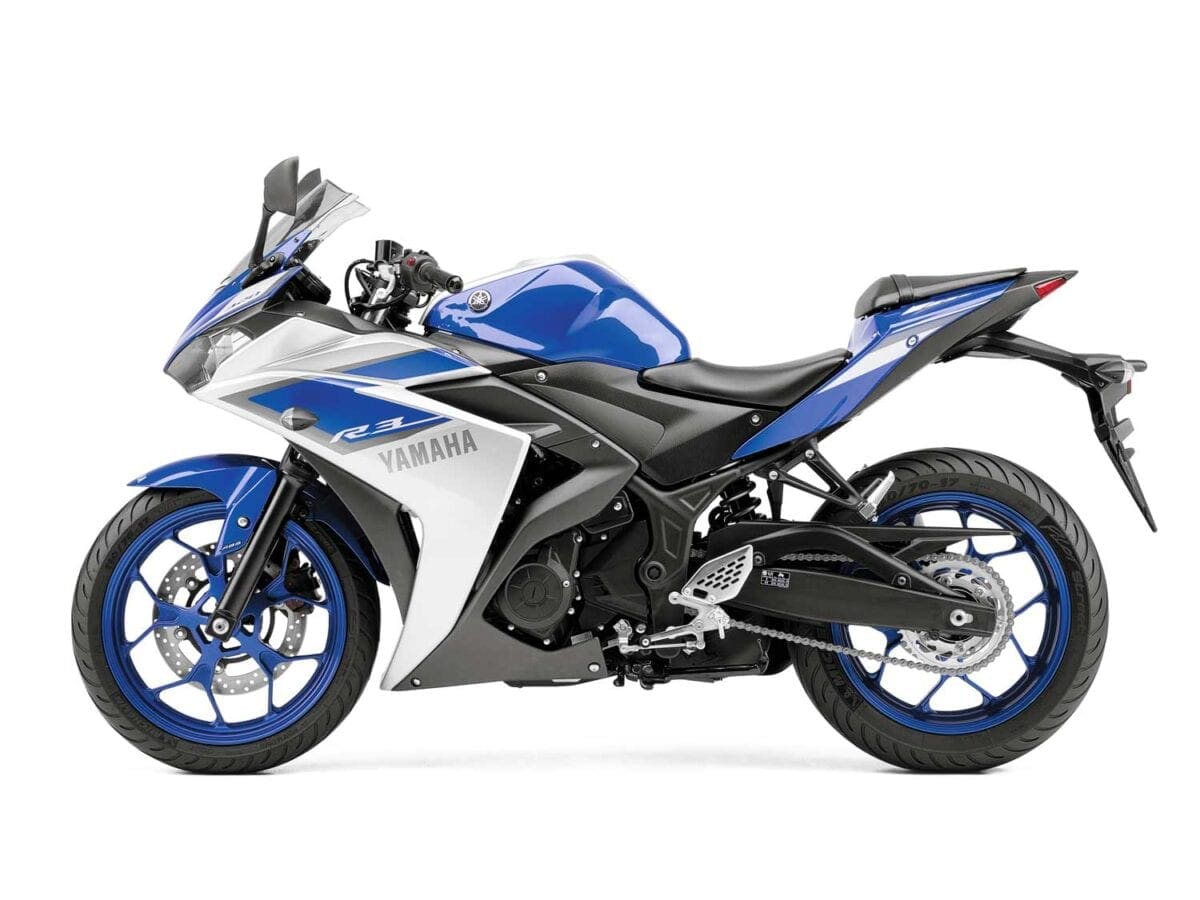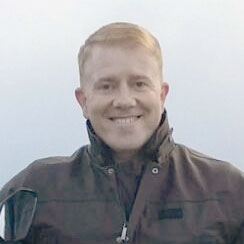 Latest posts by Tony Carter
(see all)
Does this get you revved up? Tell us why...
---
---
Subscribe to MoreBikes Newspaper
Get MoreBikes delivered through your letterbox every month. 12 issues for £15. Click here for more information.
---
Get MoreBikes.co.uk Updates
Enter your e-mail address below and you will receive biking news straight into your inbox...



You can unsubscribe at any time.
---