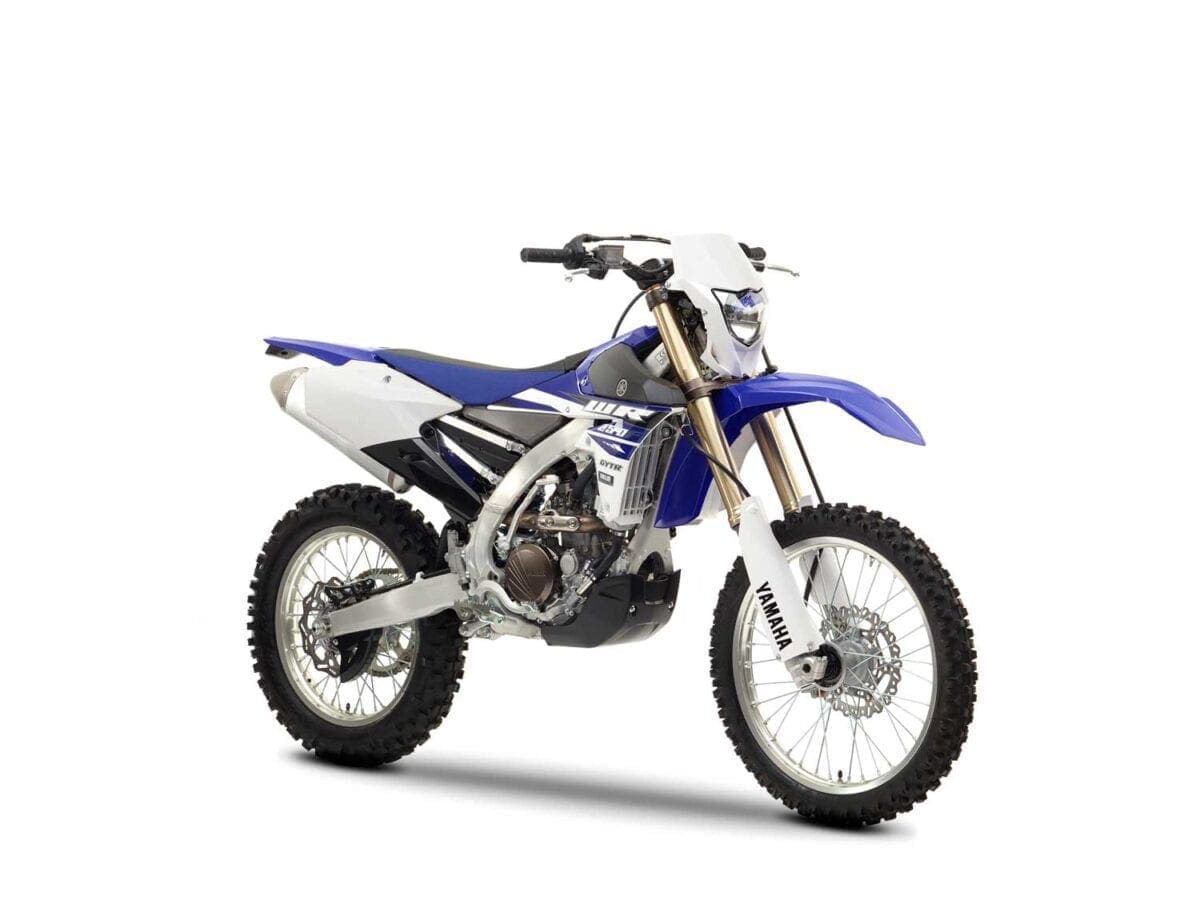 Along with the announcement of a brand-new R3, Yamaha has revealed a full revamp to its popular enduro machine – the Yamaha WR250F. With its reverse cylinder, the engine is effectively backwards – the inlet is at the front of the bike, allowing air to be drawn straight in, while the exhaust exits the cylinder at the rear, then wraps all the way around the front, and off to the back again, apparently improving mass centralisation. Other advantages include a redesigned tank that gives a flatter seat with more space to move around.
Here are the full details from yamaha…
New WR250F enduro. Aiming higher.
Yamaha is no stranger to top-flight competition, and over the past two decades the company's WR enduro bikes have clinched numerous national, international and world titles. Aimed both at competitive and hardcore enduro and leisure riders, the radical new WR250F is designed to re-establish Yamaha – the inventor of the modern 4-stroke competition engine – as one of the leading brands in the enduro world.
2015 WR250F Model Overview
Lightweight, compact and easy to handle 250cc 4-stroke
Potent YZ250F-based fuel injected engine
Enduro clutch and wide ratio 6-speed transmission
Engine character can be set with Power Tuner for high versatility
5 L central fuel tank
Compact and minimal bodywork
Optimal mass centralization for quick directional changes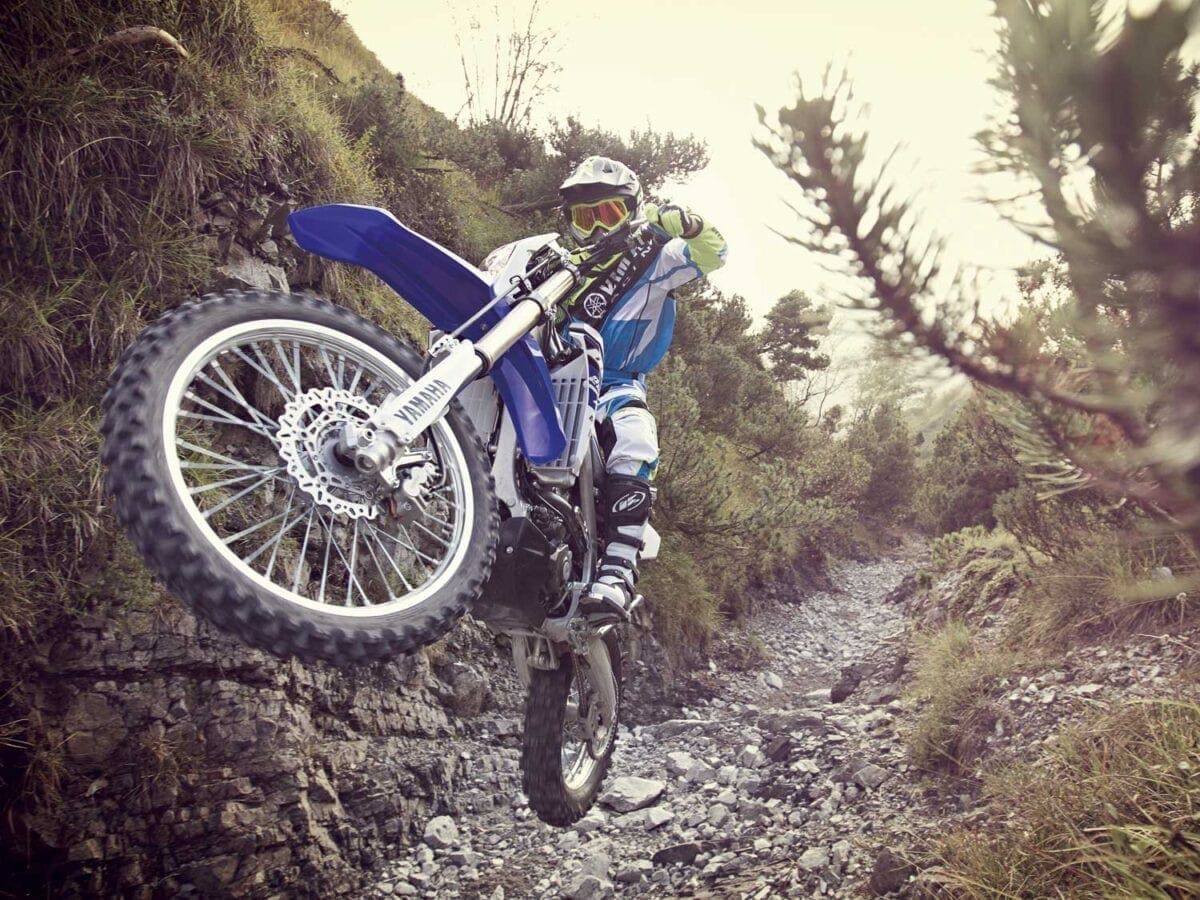 WR250F ENGINE
YZ250F-based engine tuned for a high level of enduro performance
In its debut racing season, the new-for-2014 YZ250F motocross bike has proved to be one of the most competitive motocross bikes at every level, with Jeremy Martin dominating the MX250 AMA Pro National MX series to take the 2014 title. In the FIM MX2 World Championship – as well as the FIM Women's World Championship and also the Australian MX2 series – the YZ250F has reaffirmed its winning potential at national and international level.
The new WR250F engine is based closely on the winning fuel-injected YZ250F design, and features – for the first time in the enduro world – a rearward-inclined cylinder and reverse cylinder head. With its airbox situated in front of the rider and the fuel tank located at the centre of the bike, this unique configuration contributes towards the bike's mass centralization, which plays a pivotal role in achieving the light and agile handling for which the 2014 YZ250F is renowned.
In addition, the WR250F's reverse cylinder head allows the use of a straight air inlet for higher levels of intake efficiency, and by locating the fuel tank centrally, this innovative design permits the use of a long and flat seat that allows the rider to shift their body weight quickly and easily.
In terms of overall engine specification, the new WR250F retains the same bore x stroke, compression ratio, cam profile, forged aluminium piston and carburized crankshaft as the YZ250F, giving it a high level of winning performance. Compared to the former WR250F engine, the 2015 design is considerably more powerful at higher rpm, and also delivers a stronger feeling of power right through the rev range, making it a serious contender for top honours.
6-speed wide-ratio transmission
The 2015 WR250F is equipped with a newly developed 6-speed transmission that is designed to handle a wide variety of terrain, from technical rock climbs through to full throttle blasting along forest tracks. To complement its new wide ratio 6-speed transmission the WR250F is fitted with a special enduro clutch with specifications to match the extreme demands of enduro riding. Featuring new friction plates, springs and other internal components, this durable new light-action clutch is built to perform consistently and effectively for long periods in toughest terrain.
Enduro engine specifications
In order to enable the engine to deliver high levels of power together with consistent hot and cold engine start-ups, the WR250F benefits from its own unique 3D-mapped ECU that delivers enduro-specific fuel injection settings. These newly developed settings have been designed to complement the characteristics of the WR-F's new multi-expansion chamber type muffler to give strong performance together with excellent noise reduction characteristics.
To ensure stable oil pressure over long distances and many hours of enduro riding, the new WR250F features an increased oil capacity of 1100cc, 22% more than its motocross brother, the YZ250F. For efficient cooling performance a radiator fan is adopted, while the WR250F is fitted with the same AC magneto as used on the WR450F, as well as a new crankcase cover. Other user-friendly features include a revised decompressor design that ensures reliable engine starting, and for easy air filter changes the accessible top-mounted air box has quick-release fasteners.
Yamaha Power Tuner for instant fine-tuning
Available as an accessory, the Yamaha Power Tuner is a remarkably quick and easy way to adjust the fuel injection volume and ignition timing settings on the new WR250F. As with the YZ250F, riders looking to fine tune their WR250F's power delivery are now able to plug the Yamaha Power Tuner directly into their bike – without the need for a laptop – and make adjustments to suit the prevailing track conditions and their riding style.
Access to this kind of exclusive hardware and software has previously been restricted to factory teams, and the availability of the Yamaha Power Tuner gives WR250F riders the potential to gain a distinct advantage over the competition.
Electric start with switch-free starting
For easy and reliable starting the WR250F features a newly developed electric starter powered by the same type of 12V6A battery used in the WR450F. A new switch-free system allows the rider to start the machine immediately at the press of a button, and when the engine is turned off the system automatically shuts down after one minute – although if desired, the system can be shut down immediately by holding the engine cut button for 1 second or more.
Lights and instrumentation
With its clear focus on enduro and leisure riders, the WR250F is fully equipped with the same style front and rear lights as our WR450F model – while the compact and lightweight instrumentation includes a speedometer, fuel level warning lamp and engine warning lamp.
WR250F CHASSIS
Lightweight bilateral aluminium beam frame
The WR250F's bilateral beam frame is closely based on the design so successfully used on the winning YZ250F. Manufactured entirely from aluminium, this compact and lightweight design contributes significantly towards the WR250F's feeling of lightness, agility and easy directional changes.
In order to optimize the YZ250F motocross chassis design for enduro use, the 2015 WR250F's frame features new engine mounting brackets that give a revised balance of rigidity more suited to the demands of enduro riding. Combined with the mass-centralization benefits of the rearward-slanting cylinder and reverse cylinder head, the re-engineered frame's enduro-specific specification gives outstanding agility together with confidence inspiring front wheel controllability and strong rear wheel traction.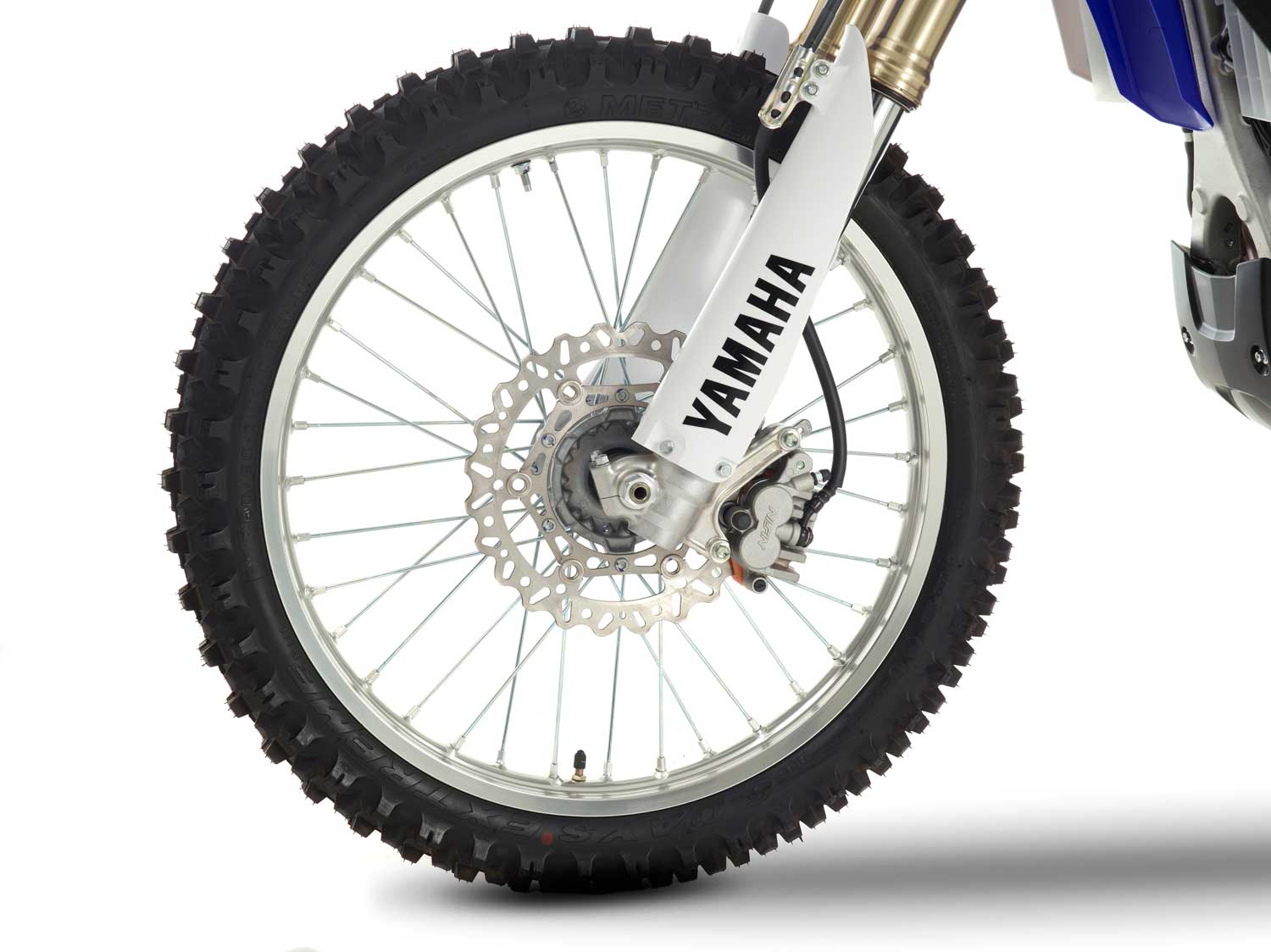 Industry-leading front suspension with separate air-oil system
One of the 2014 YZ250F's features that has won over many new fans is its outstanding front suspension system, and the key feature that makes these high-tech upside down forks work so well is the separation of the air and oil chambers.
This separate air/oil chamber design minimizes aeration and cavitation over bumps to give a more stable damping force, which in turn gives good front wheel tracking characteristics together with high levels of feel and feedback from the front end. This industry leading system is used on the 2015 WR250F, and to accommodate both the wide speed range and also the extreme terrain found in enduro, new WR-F specific suspension settings are used.
Rear suspension
The new WR250F adopts the same overall rear shock design as the YZ250F, and to suit the different requirements and demands of enduro, the shock length as well as the stroke and spring rate have been optimized. Compared to the YZ250F the WR-F's shock is 4mm longer, giving an overall increase in rear suspension travel of 10mm. Together with the changes made to the advanced front suspension system, this revised rear shock contributes significantly towards the WR250F's agile and responsive handling character over typical enduro terrain.
YZ250F-type 7.5 litre fuel tank
The centrally located fuel tank features a concealed filler in front of the long, flat seat, and the tank's position beneath the rider plays a crucial role in centralizing the bike's mass. More than that, its central location also means that the bike's handling characteristics remain more consistent as the fuel level drops. With its new enduro-specific ECU controlling the fuel injection system – combined with the new WR250F's low overall weight – the new WR250F is a highly fuel-efficient machine, and the 7.5 litre fuel tank gives a good range between refills.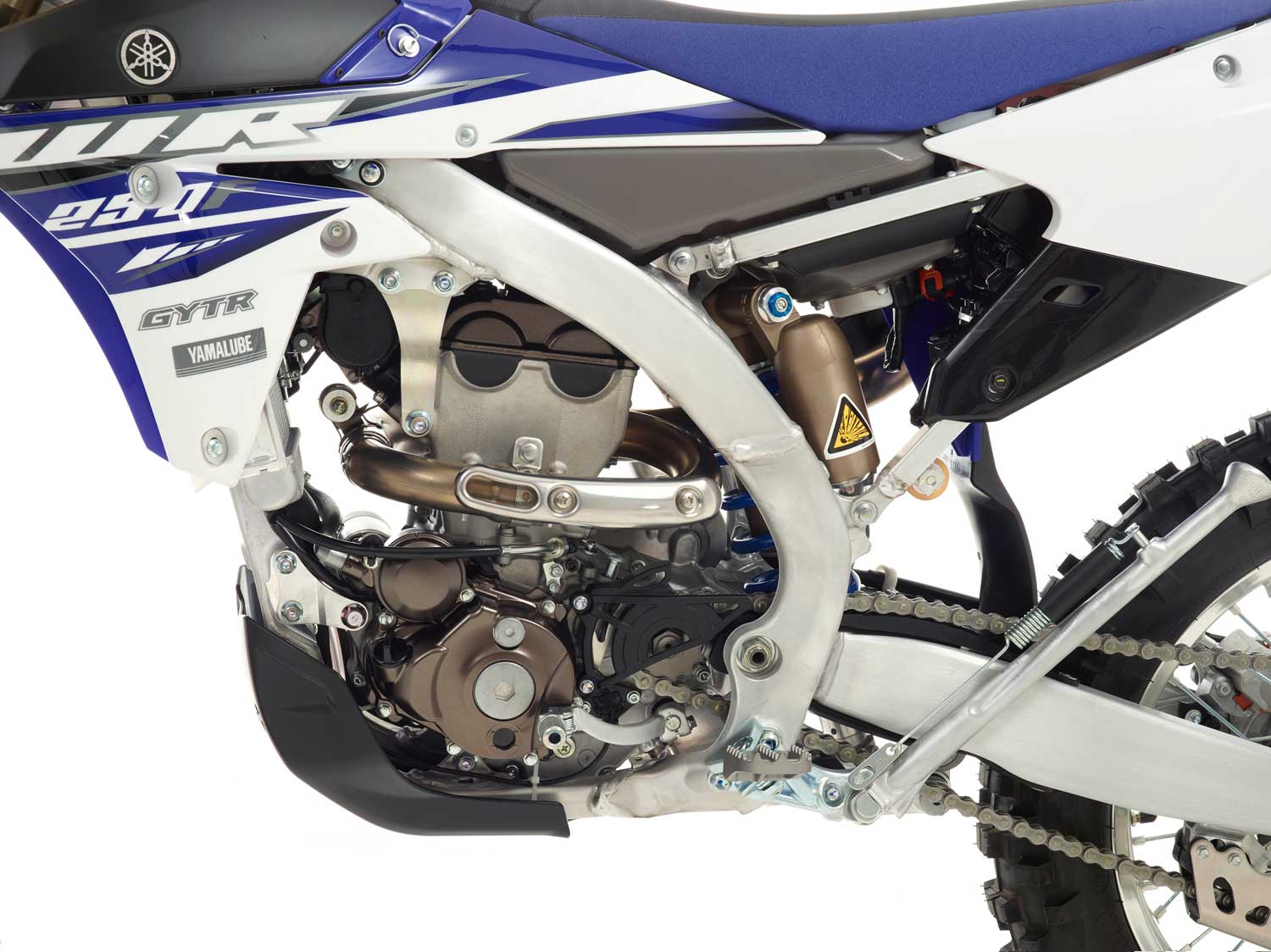 18-inch rear wheel
The WR250F runs with an 18-inch rear wheel, and Metzeler 6 Days Extreme enduro pattern front and rear tyres are fitted, making this new bike ready to race straight from the dealer's shop!
Engine guard and sidestand
For added protection from rocks, tree stumps and other debris, the WR250F is fitted with a sturdy yet lightweight engine guard, and there's also a lightweight frame mounted sidestand.
Factory look
With its minimal bodywork, long flat seat and compact number plates, the new WR250F reflects the look of Yamaha's factory race bikes. Featuring lightweight radiator shrouds with new white/blue graphics, and equipped with newly designed mudguards, the WR250F brings a fresh new look to the enduro world.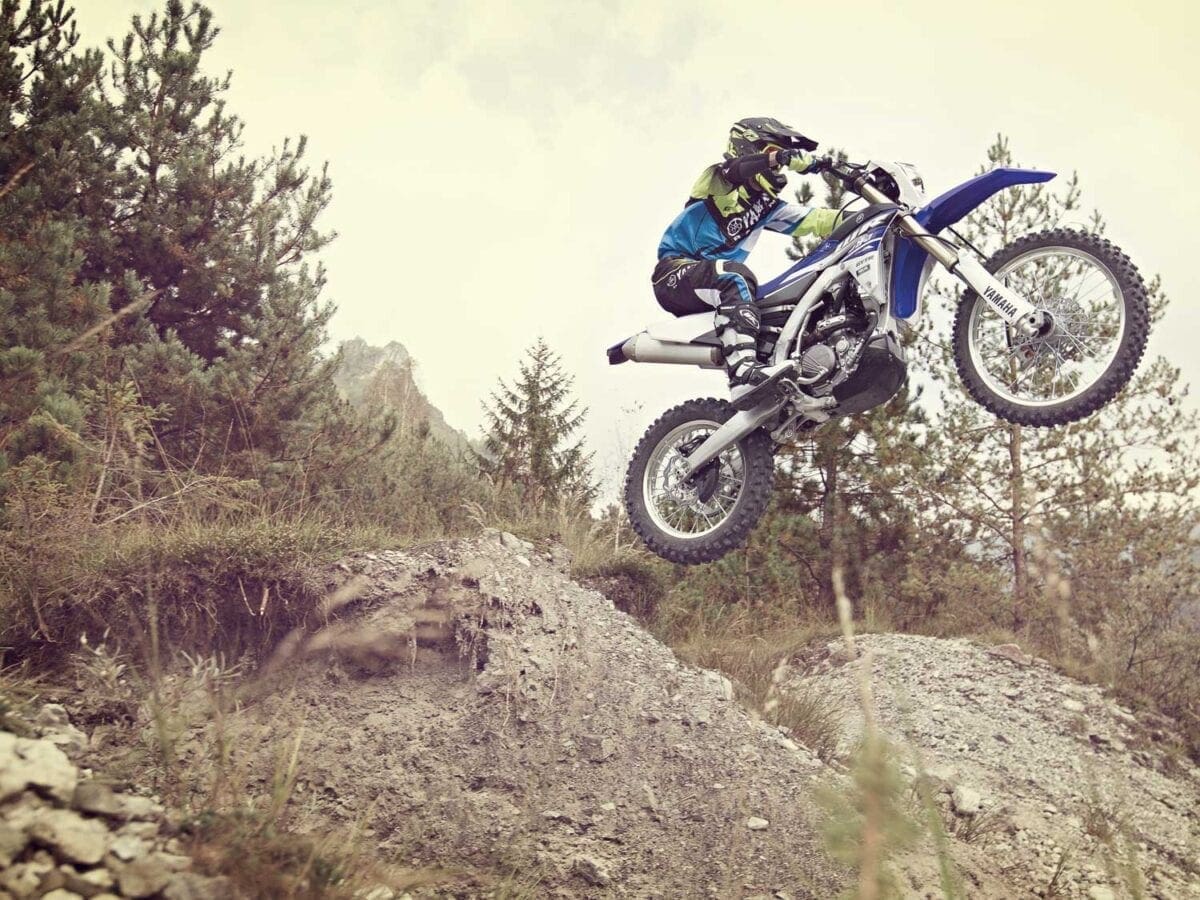 Additional information
To enable customers to enjoy serious enduro action, Yamaha dealers will be providing the new WR250F in competition specification, with road registration. Licensing requirement is A2. Further details, including conditions of correct product usage and recommendations regarding engine mappings for various riding conditions, will be available from January 2015 onwards.
WR250F Technical Highlights
Engine
Based on the winning 2014-model YZ250F
Fuel injected, rearward slanting engine
Reverse cylinder head with forward facing straight intake
Snaking exhaust for mass centralization
New model-specific fuel injection settings
Tunable engine characteristics with Yamaha Power Tuner
Wide ratio 6-speed transmission with enduro clutch
New electric starter with switch free system
1100cc oil capacity – 200cc more than YZ250F MX model
WR450F AC magneto and MF battery
Easy-access top-mounted air filter with quick-release fasteners
Revised decompressor design
New crankcase cover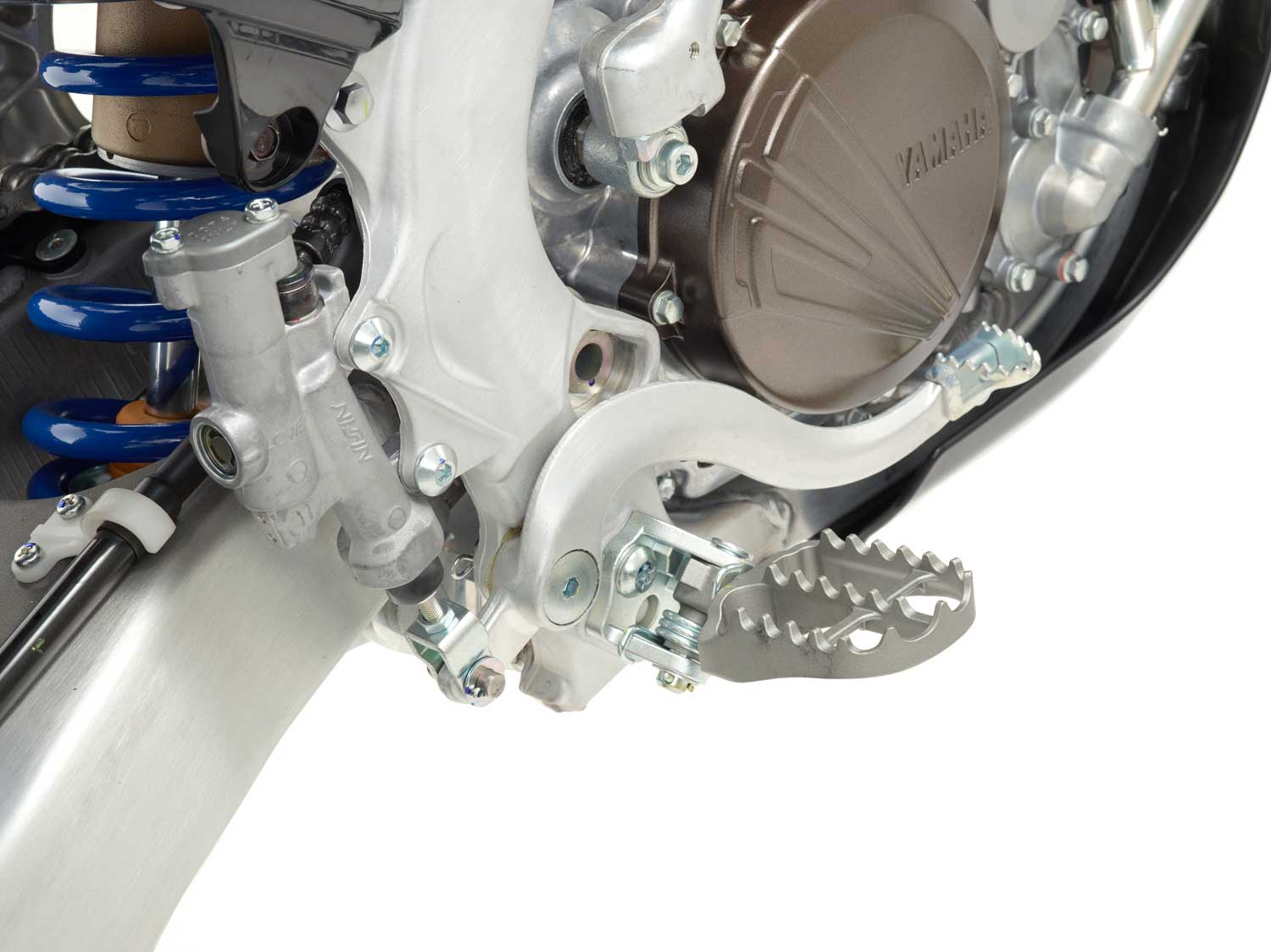 Chassis
Compact aluminium chassis with short subframe
Bi-lateral aluminium beam frame
Centrally-positioned 7.5 litre fuel tank
New enduro suspension settings
YZ-F type front forks with separate air-oil system
10mm extra rear suspension travel compared to YZ250F
18-inch rear wheel
Metzeler 6 Days Extreme FIM tyres
Lightweight side stand
Sealed chain
Equipped with WR450F style front and rear lights
Radiator equipped with new electric fan
Engine guard
Speedometer, fuel and engine lamps
New muffler
Long flat seat with hidden fuel cap
New tank/shroud graphics
Optimized engine plate mounting thickness
Colour
Competition Blue
Availability
February 2015
---
Advert
---
Enjoy everything More Bikes by reading the MoreBikes monthly newspaper.
Click here
to subscribe, or
Read FREE Online
.
Sign-up to the More Bikes Newsletter
Enter your e-mail address below and get regular updates straight to your inbox… You can unsubscribe at any time.