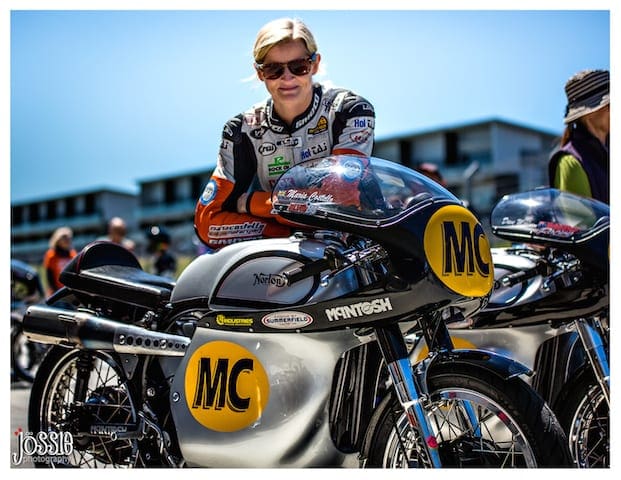 Maria Costello  joined women from New Zealand and Australia on track at Hampton Downs in a celebration of women in motorcycling at the Barry Sheene Motorcycle Classic.
The Northamptonshire racer returned to the southern hemisphere after a successful Australian debut in the first leg of the Trans-Tasman Trophy at the Barry Sheene Festival at Eastern Creek in March.
Costello again competed on a Honda VFR400, provided by Australian Rob Francis, and for the first time on a McIntosh Manx Norton owned by New Zealander Bruce Verdon, of TT Industries.
Costello claimed 7th and 8th places on the right-foot gear change Norton before switching to the Honda 400, which has left-foot gear change, to claim 4th and 5th places.
Sunday saw her take further 5th and 4th places on the VFR400, while she took 6th place on the Norton from the back for the grid. The results combined to place her 4th overall in the Factory 500 class (Norton) and 3rd overall in the pre-'89 Formula 3 class (Honda 400).
"It's not just a dream come true to race here, this meeting is close to my heart because we are celebrating women's involvement in our sport," said Costello.
"A wonderful group of current and former female competitors were brought together to race classic machinery, some for the first time, against the guys. I feel very honoured to have been the special guest.'