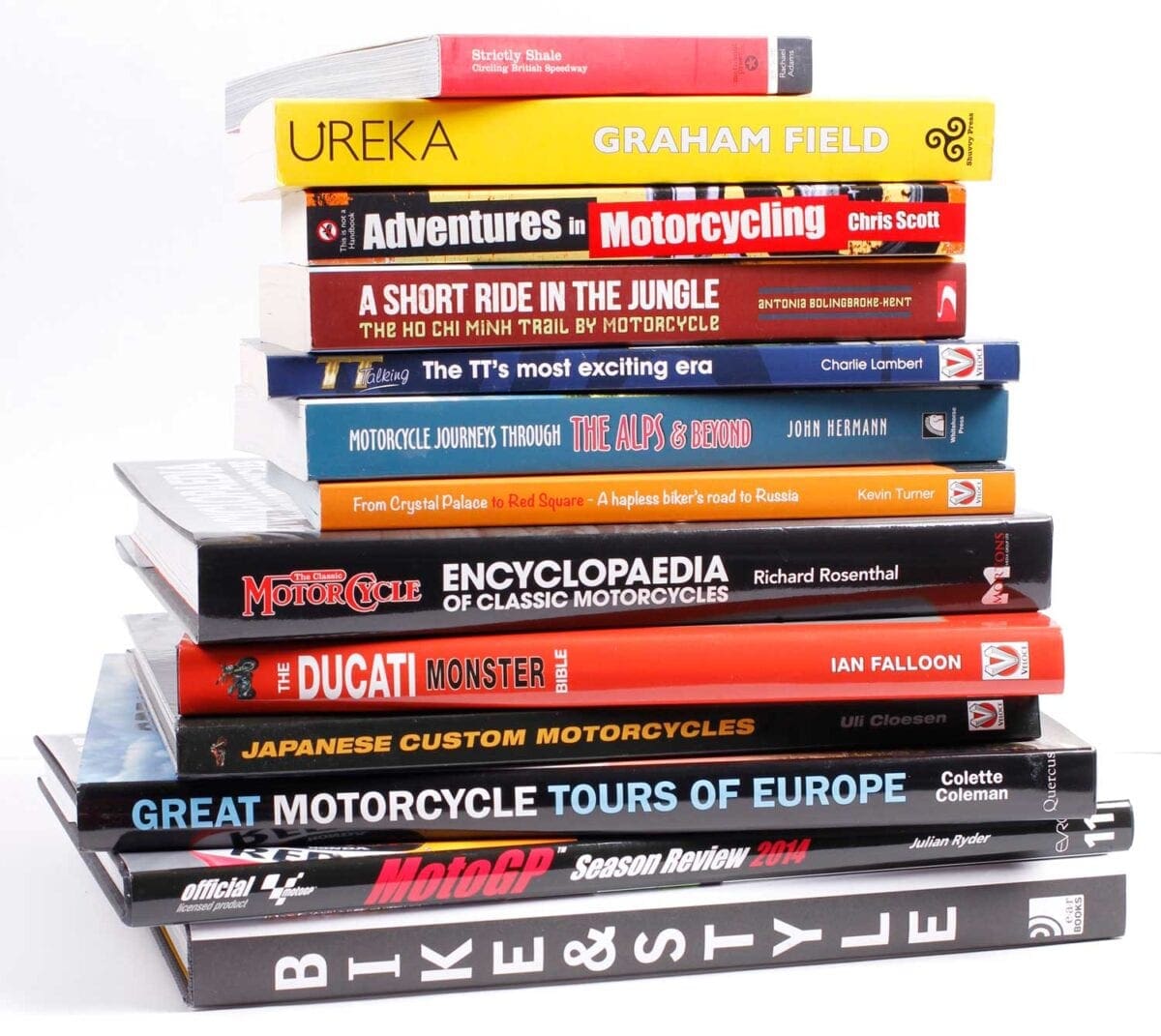 If you're anything like me, you're starting to get a little nervous about Christmas being so close! Have you got everything covered… have you forgotten something, or does everyone know what YOU would like?!
I've rounded up a stack of books that would make fantastic gifts for a motorcyclist. Choose something for the biker in your life, or share this link with some not-so-subtle hints if you've seen something you fancy…
And by the way, if you include your favourite in the Facebook comments panel below, I'll see if I can make contact with some of you, and send the odd book out…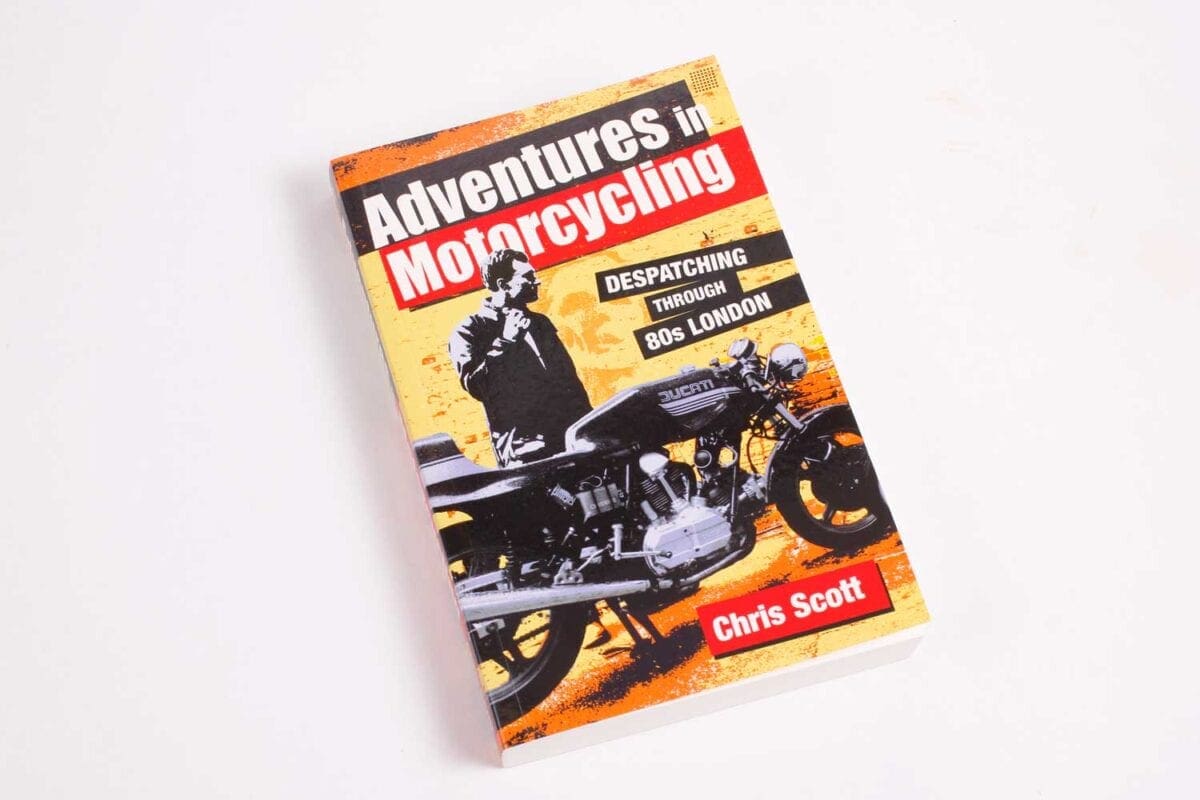 Adventures in Motorcycling £8.99
Chris Scott is best known for his acclaimed travel bibles including the Adventure Motorcycling Handbook and Sahara Overland. It's less well known that by the end of the 1980s he'd had many more motorcycles than birthdays.
Set in the late 70s and the following decade, 'Adventures in Motorcycling' is the story of his start on bikes and subsequent years as an urban motorcycle mercenary. It was an era when badly behaved messengers capitalised on London's economic revival, squatting was easy, Thatcherism polarised the nation and rioting was a frequent response to it.
Despatch riding on everything from classic Brit twins to thundering Italian street racers, demented dirt missiles and nitrox-injected dinosaurs, his story includes a brush with Class War and regular spells in hospital.
Chris Scott's sensible overlanding guides advise how it should be done; 'Adventures in Motorcycling' is not that kind of book. Also in paperback at adventuresinmotorcycling.com
Encyclopaedia of Classic Motorcycles £15
This book is the culmination of hours of painstaking work by author Richard Rosenthal who has, over a number of years, developed a passion for old motorcycles.
The Encyclopaedia of Classic Motorcycles will become the definitive guide to motorcycles, from the very earliest attempts to motorise pedal cycles to the latest technology seen in more modern-day machinery. It lists in alphabetical order all the machines you are ever likely to see, from the dawn of two-wheeled power right up to the mid 1980's. Machines falling within this period are generally accepted as classic motorcycles. This is a very generic term and it is impossible to make direct comparisons between a machine made before the First World War and one which, whilst still carrying a classic title, is capable over reaching over 150mph. We have viewed them all as classics in their own right.
When he was just 14, Richard saved up £5 and bought a 1962 Paloma moped. He repaired the engine and got the hang of two wheels riding round the lawn before, illegally, taking to the country lands near his home. Apparently, he told his mum it was perfectly legal as French children could ride mopeds at 14! He 'went legal' and a week after his 16th birthday took to the roads on a 1955 Zundapp 200s…the beginning of a long love affair with bikes.

Ureka £12.99
After the success of his first book 'In Search of Greener Grass', Graham Field  hits the road again with his bargain-basement KLR650, recording his experiences in his inimitable and revealingly honest diary style.
"The Caucasus region is often overlooked by travellers, but Graham may inadvertently be about to change all that. A single pivotal moment can transform any journey, on this occasion a significant U turn became a real eureka moment. The result ensures a fantastic exploration of Eastern Europe and beyond, the discovery of a hidden gem in Georgia and meanderings that leave us all much richer. Who tries to get deep into Iraq just to see if the news reports are accurate, ends up joining a street demonstration against someone else's government or sticks their arm between the jaws of a wild mountain wolf-dog?
"Ultimately, Ureka is an almost accidental realisation that we cannot control our mood on the road, but merely embracing this can be the most enlightening travel experience of all. U-turn if I want to, is that what I should do? The words rang a distant bell. I can't decide if turning suggests rebellious failure or submissive success, not that it matters. If all my experience had taught me one thing, I'd be buggered if I knew what it was. I had all the usual ingredients, my trusty KLR, a little bit of money, plenty of time and lots of new countries to ride through. I transited through Bulgaria resisting its long stay temptations, took an excursion into humbling Iraq, then wound on up through the wild surprises of Eastern Turkey on the way to Georgia. In Azerbaijan I turned the plan and the map round. It wasn't just the journey that took a different direction, everything changed…
"If there's one thing I've learnt on the road it's that I never stop learning. Some things are not meant to be and others are; the trick is finding the line between desire and contentment, then riding it."

Veloce Essential Buyer's Guides £12.99
Veloce's superb buying guides are available for a wide range of motorcycles – I've used them when buying, and wouldn't be without one now.
Having a Veloce Buying Guide in your pocket is like having the marque expert by your side. In this book, Peter Henshaw's years of Thunderbird, Trophy and Tiger experience will help you learn how to spot a bad bike quickly, and how to assess a promising one like a professional.
Get the right bike at the right price!

Strictly Shale: Circling British speedway £15
Strictly Shale is a love-letter to speedway – its thrills, spills, sense of community and essential Britishness – masquerading as a photography book about the sport. Speedway is an audacious pursuit of racers on high-powered bikes without brakes, which continues to be shaped by its glorious history, flavoured by its landscapes, forged from the valour of its riders and driven by its culture.
Though no longer mainstream, it tenaciously holds onto its traditions: Breakneck thrills, glamour, derring-do and a unique community ethos. It is something which, on every night of the season – provided it's not lashing down – can be experienced somewhere in Britain.
With Strictly Shale, Jeff Scott offers a revealing glimpse into the culture of this robust, social ecology. His collection of candid photographs takes you behind the scenes, capturing the methanol-fumed spirit of speedway.
For over ten years, Scott has documented in words and pictures the diverse range of people who love British speedway: The fans, the riders, the volunteers, the officials, and many of the other devotees who make up its congregation.

The Ducati Monster Bible £35
When Ducati unleashed Galluzzi's Monster at the Cologne Show at the end of 1992, few expected it to become Ducati's most successful model. Dramatically styled, minimalist in stature, yet bristling with innovative engineering, the 900 Monster created a new niche market. A multi-faceted machine, the Monster bridged the gap between racetrack-oriented sports bikes and cruisers. Here was a naked motorcycle that was as much a performance machine as it was a cruiser.
The Monster's radical styling has also been the inspiration for a large after-market industry, providing cosmetic and performance accessories, and with engine capacities ranging from 400 to 1200cc there really is a Monster for everyone.
This book provides a fascinating and encyclopaedic guide through the maze of Monsters produced over the past 21 years.

A Short Ride in the Jungle £9.99
The Ho Chi Minh Trail is one of the greatest feats of military engineering in history. But since the end of the Vietnam War much of this vast transport network has been reclaimed by jungle, while remaining sections are littered with a deadly legacy of unexploded bombs. For Antonia, a veteran of ridiculous adventures in unfeasible vehicles, the chance to explore the Trail before it's lost forever was a personal challenge she couldn't ignore – yet it would sometimes be a terrifying journey.
Setting out from Hanoi on an ageing Honda Cub, she spent the next two months riding 2,000 miles through the mountains and jungles of Vietnam, Laos and Cambodia. Battling in hospitable terrain and multiple breakdowns, her experiences ranged from the touching to the hilarious, meeting former American fighter pilots, tribal chiefs,illegal loggers and bomb disposal experts.The story of her brave journey is thrilling and poignant: a unique insight into a little known face of Southeast Asia.

MotoGP Season Review 2014 £30
Now in its 11th year of publication, this officially endorsed all-colour hardback provides comprehensive coverage of the 18-race MotoGP World Championship season of motorcycle racing, complete with race reports, comment, analysis and statistics, written and edited by TV commentator Julian Ryder and featuring superb photography by Andrew Northcott.
Eight-page race reports
Technical revieww
Rider's rider of the year
Moto 2
Moto 3
Red Bull MotoGP Rookies

From Crystal Palace to Red Squre: A Hapless Biker's Road to Russia £14.99
Critically acclaimed author Kevin Turner (Bonjour! Is This Italy? A Hapless Biker's Guide to Europe) heads off on another ill-thought out adventure, aiming his heavily laden Kawasaki north towards the towering waterfalls of Norway, before heading east on a long and treacherous journey to Moscow. This fascinating adventure – part sprint, part marathon – charts the perils, pitfalls and thrills of a 6000 mile solo motorcycle journey across Europe, Scandinavia and into Asia. The author's observations and anecdotes transform this motorcycle guidebook into a laugh-a-minute page turner, which inspires and entertains in equal measure.

Great Motorcycle Tours of Europe £21.25
Whether you are an experienced biker or just discovering the joys of touring, this is the perfect introduction to the most inspiring motorcycle routes in Europe. Packed with breathtaking photography and practical information, Great Motorcycle Tours of Europe contains everything you need to plan an unforgettable trip.
Motorcycle adventurer Colette Coleman takes you bend-by-bend along the narrowest passes and up the steepest climbs as you ride through some of the most impressive scenery in Europe. Experience the snowy peaks of Norway's Arctic Circle, head to the balmy French Riviera, ride through the valleys and peaks of the Italian Dolomites, tackle the twists and turns of Romania's Transfagarasan Highway and cruise down to the Aegean Sea.
Over 200 stunning images are accompanied by insightful commentary from an author who has been exploring the world by motorcycle for over 25 years. Each tour features a locator map together with a fact file giving practical information on the route's length and terrain (from rocky tracks to snowy roads), highlighting local colour such as sites, events and the wildlife you might encounter, and including a wide range of valuable tips that will enhance your ride.

TT Talking: The TT's Most Exciting Era £14.99
The decade between 2004 and 2014 was one of the most dramatic eras in the century-old history of the Isle of Man Tourist Trophy, which began with the races in decline, and many observers fearing that they would soon be killed off by a combination of rising costs, political correctness and logistical practicalities. But, just a few years later, the triumphant 2007 celebration of the races' centenary launched the TT into a whole new era of public and commercial success.
With growing public interest and awareness, road racing became established as a specialist sport in its own right. Media interest soared; a feature length documentary took cinemas by storm worldwide, and a new generation of technocrats hastened to the island to develop zero emissions motorbike racing.
All of these events unfolded under the gaze of Charlie Lambert, appointed TT Anchor Commentator by Manx Radio in 2004. In TT Talking, Charlie tells the story of the TT's sensational turn of fortune, whilst simultaneously lifting the lid on his role behind the microphone in this story. Revealing the pressures, the controversies, the laughs and the sadness that go with being at the heart of the world's most famous – and controversial – road races.

Motorcycle Journeys through the Alps & Beyond £16.99
John Hermann's fifth edition of Motorcycle Journeys Through the Alps & Beyond is the complete resource for any traveler to this part of Europe. Now covering more area than any previous edition, John "King of the Alps" Hermann brings nearly 100 trips to life. Everything has been updated: Hermann's ext has been thoroughly refreshed, with more roads in Switzerland and France, and Hermann has added spectacular new pictures.
Riders of all brands of bikes the world over have kept Motorcycle Journeys Through the Alps in their tank bags ever since the first edition in 1993. And no wonder: all of the important roads and passes are described and critiqued. Every region of the Alps is covered: Switzerland, Germany, Austria, Italy, France, and other special Alpine lookalike places such as Corsica, Slovenia, and the Pyrenees are included. Each trip has a detailed route description, easy-to-follow maps, and unique photographs – all brought to life by Hermann with local customs, history, and travel anecdotes dotting every page.

Japanese Custom Motorcycles £25
Japanese Custom Motorcycles is the first book to solely cover the evolution of the Japanese cruiser into metric custom.
The growing trend of customising metric bikes into chopper, bobber et al – be they high-end bikes, garage built beauties, or more recent Japanese cruisers – is superbly illustrated with examples from all over the world.
Featuring owner's stories and technical descriptions, Japanese Custom Motorcycles is guaranteed to interest metric bike fans and members of the custom scene alike.
From singles, twins, triples, fours, and sixes – see the 'custom' side of Japanese motorcycles.

Bike & Style £40
Like no other mode of transport, the motorbike stands for freedom, rebellion, unlimited speed and, above all, for personal adventure. This book is a homage and a guide at the same time. It explores the fascinating world of motorcycles with a reliable sense of style. It presents the most popular bike classics, gear and accessories, major races and racing series, topped off by the most appealing motorbike trips.
Comes complete with a collectable 10-inch vinyl with legendary rock classics including Born to be Wild and The Road to Hell, as well as a MP3 free download code.

Under Asian Skies Audio Book £8.95
Motorcycling, people and adventure are the inspirations for Under Asian Skies.
"When I set off to spend a year riding the length of Africa on a motorcycle, I'd no idea if I would like travelling by bike, or whether I would survive; I've an active imagination, and I'd been riding a bike for just three months. At times the roads made me feel like I was some sort of motorcycling accessory, not the person who was supposed to be in control. I learned lessons the hard way – falling off hurts, and jail in Africa should be avoided at all costs.
"The bike acted as the connecting factor between adventures. It got me into and out of trouble. It gave me time to myself when I was on 'intake overload' from life on the road. It gave me the freedom to explore on the spur of the moment, and to take advantage of opportunities as they presented themselves. Travel on two wheels took me from gentle mellow cruising days, to full-on adrenaline-packed adventure and my bike frequently broke the ice between myself and strangers.
"It's the people that make a trip like this into a success. They may wish to live your dream with you, or find empathy with some aspect of your nomadic adventure. Landscapes, climates and histories enthral, but it is people who make every day significant. For the traveller, people bring joy, frustration, and warm generosity. It was people and the act of riding a motorcycle 22,000 miles through the magic that is Africa that changed me. By the time I'd made it to Southern Africa, I was an addict; I wanted more. It felt as if the journey had barely begun, and that I had only just discovered how to look at the world. On impulse I shipped across the Indian Ocean to Australia, and headed for Asia.
"There's a magical, captivating, buzz about being on the road under Asian skies. As I motorcycled across the continents, I was constantly challenged by things I'd never dreamt could happen. Things I thought I knew well were changed by the adventures.The stunning beauty of the land enthralled, and the people were an enigma; they were fascinating. There was no end to the adventures I could have and I sought them with my eyes wide-open, or they came to me!
"This world of ours is amazing and biking is a stunning way to see it. I'm incredibly lucky to have been able to share, though briefly, other people's homes, their dreams, their lands, their cultures and their travels."
https://itunes.apple.com/gb/audiobook/under-asian-skies-australia/id894671055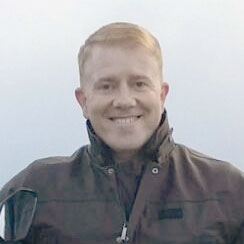 Latest posts by Tony Carter
(see all)
Does this get you revved up? Tell us why...
---
---
Subscribe to MoreBikes Newspaper
Get MoreBikes delivered through your letterbox every month. 12 issues for £15. Click here for more information.
---
Get MoreBikes.co.uk Updates
Enter your e-mail address below and you will receive biking news straight into your inbox...



You can unsubscribe at any time.
---