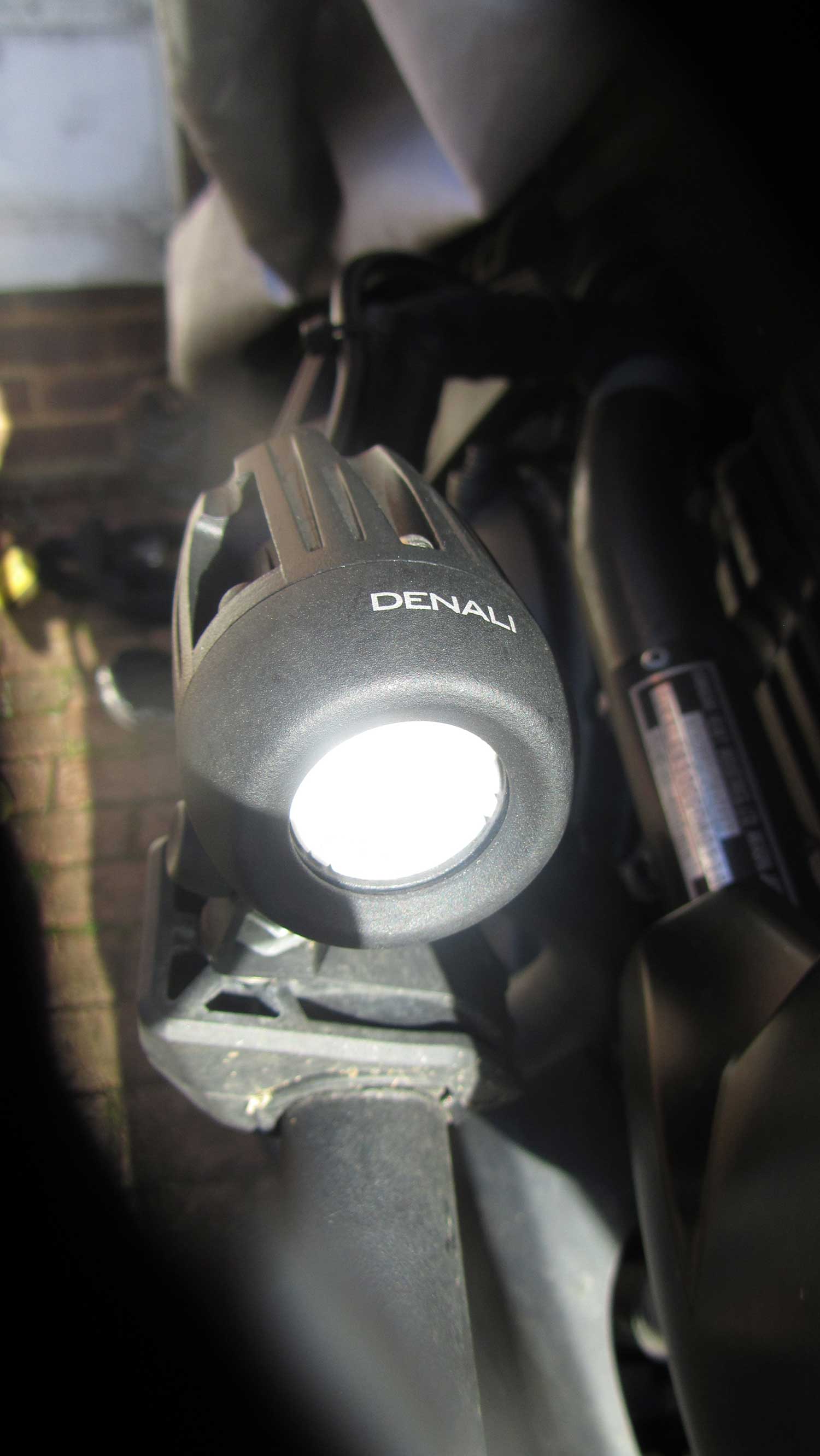 Denali DM motorcycle Fog Lights review
Tested by: Graham Mudd from Bedfordshire
Riding for: 17 years
Price: £135 including fitting kit and loom in September 2014
Why did you buy them? They were given to me by MoreBikes for review, from www.rg-racing.com
What type of riding do you do? I ride year round in all weather. My trusty Versys workhorse takes it all in her stride, from motorways to byways and farm tracks to track days.
With the warm summer evenings long behind us and looking forward to dark, wet winter nights ahead I figured it was time to invest in some extra lighting to boost my headlights and to make me more visible to other traffic.
The Denali DMs come with everything you need to fit them; very quick and easy it is too. All in it took me just under an hour to have them mounted, working, adjusted and looking neat. And I'm no vehicle electrician. The supplied mounting kit gives you real flexibility , whether you choose to pop them on the fork legs, under the headlight, by the screen, by the radiator shrouds/bodywork or (as in my case) on the crash bars.
Initially I was dubious about the claims on the box about how effective they are as they're tiny! The front is barely the size of a 50p and a body the size of a matchbox, though they do have a heavy solid feel. My fears were unfounded as they use the latest generation Cree LEDs to produce 800 Lumens (flippin bright in layman's terms).
The Versys' headlight isn't bad to start with; compared to my previous Bonneville and TDM850, – which were like gloomy candles in a gale – they're brilliant. But switching on the Denalis at night converted my dipped beam from a yellowy patch in the road to a bright white spread covering everything from the wheel, either side of the road and a good 10m further out. Really the difference is staggering, I pressed the dash-mounted switch and said "Jeezus". Short of the hassle (and legality) of fitting High Intensity Discharge (HID) bulbs, I don't know how it could be any better. That is with the 40 degree optics fitted; the DMs also come with 12 degree optics which when fitted give you an even longer beam (about 20m further) but at the expense of the side illumination.