Richard Sinclair is usually found on the advertising team at MoreBikes HQ – but after years of working around motorcycles, this week he is finally taking the plunge and getting his licence! He's joined the guys at BMW Rider Training for a week of intensive training. Find out how he gets on jumping on the BMW GS for the first time…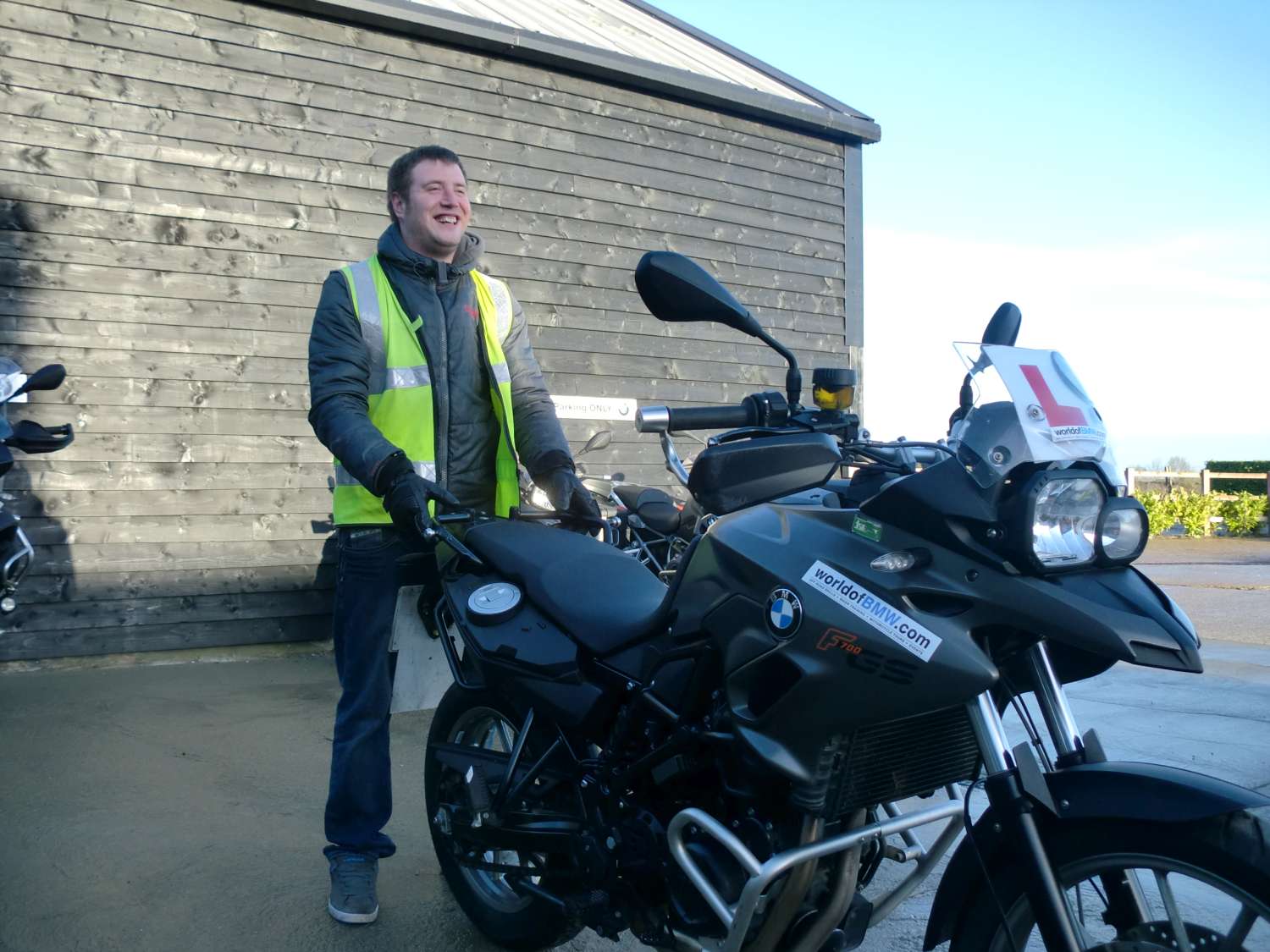 So, the day had finally come to get onto the BMW GS700, three days ago I had never ridden and all of a sudden I will be riding a machine that isn't even a year old – something I'm sure a few friends will be envious of. That's one of the many benefits of going to World of BMW for your training, their fleet of bikes are upgraded every year, meaning you will be riding the very latest machines. The 125's that you do the CBT element on tend to be used for three years.
All of the fleet are given a letter, my machine for the week was marked with an 'I' – I thought it was only right to give my girl the name Irene, and then we could start our relationship.
First of all a little fondling. This bike weighs twice that of the 125 so getting to understand the bikes balancing point was important, we were set the task of walking around the bike slowly while we balanced it with our hands, a little pull here and a push there soon got us acquainted.
Ian took the bikes up to the pad, and today I was joined by another student who has held his CBT for 1 year, while at Motorcycle Live he spoke to the team on the BMW stand and decided that extra training and to take the MOD 1 and 2 would be worth while, especially while their was a 20% off winter discount.
To get myself used to Irene, we did some left and right turns as we looped around the cones, it wasn't going as smoothly as I had hoped for.  I wasn't sure why and as my frustration grew, Ian brought me back, gave me some pointers and then talked me through my next few turns and before long I had the hang of it again.
Today was one of mix emotions, not everything went to plan and I was getting too hung up about things that were in the past, and like Ian says, 'just keep looking ahead, the past is the past'. It was our big ride today, and the first 20 miles were fine with minor issues, mainly running wide on corners and a bit jerky on the throttle, but nothing major.
We stopped at a café. With biker helmet shelf and the smell of bacon and eggs, now I know what all the fuss was about. The irony was, not long after we had finished and went about preparing to hit the road again, another motorcycle instructor and student from another school arrived and were eyeing up our GS's. I can now appreciate the feeling that riders get when others look at their bikes. I was thankful to have my BMW textile trousers on too, they were doing a sterling job keeping me warm… I haven't even used the bikes heated grips yet!