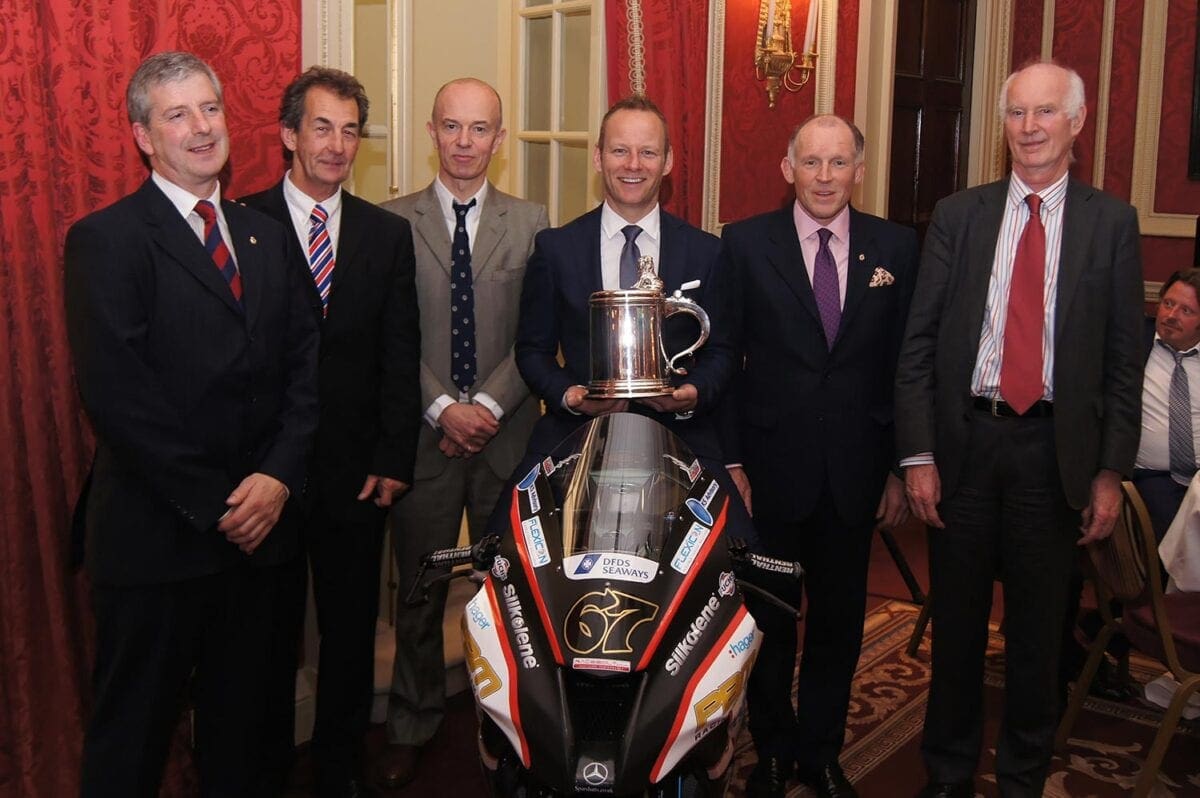 British Kawasaki rider Shane 'Shakey' Byrne has been awarded the coveted Torrens Trophy on January 27 at the Royal Automobile Club in Pall Mall, London.
The Torrens Trophy recognises an individual or organisation considered to have made an outstanding contribution to the cause of safe and skilful motorcycling in the United Kingdom, to have made an outstanding contribution of technical excellence to further the cause of motor cycling in the UK, or to have shown outstanding skill in international motor cycling sporting events in the United Kingdom. The Trophy was first awarded in 1978 in memory of Arthur Bourne, a motorcycling journalist and Vice Chairman of the Royal Automobile Club who wrote a column under the name Torrens. It has only been awarded eight times in its history, and only when the club feels that the achievement justifies it.
Upon receipt Shakey said "It's a great achievement to win the Torrens Trophy and be recognised by such an established and respected organisation as the Royal Automobile Club. It's been a fantastic year for me and the Rapid Solicitors Kawasaki team – I have won three of my four titles with Paul Bird Motorsport, and our aim is get the fifth title for 2015!"
In 2014, there was a strong crop of potential worthy recipients. The Club's Torrens Trophy Nominations Committee – consisting of Motoring Committee Chairman Ben Cussons, Torrens Nomination Committee Chairman, Club member and ex-bike racer Barrie Baxter, well-respected motorcycle journalist Mat Oxley, former racer and commentator Steve Parrish and Arthur Bourne's son Richard Bourne – debated long and hard. It was decided that that 'Shakey' would be awarded the trophy for his unique achievement of securing a fourth British Superbike Championship.
As Barrie Baxter said: "Motorcycle racing can be a very punishing discipline, which makes 'Shakey' Byrne's career all the more remarkable. In October the Kawasaki rider secured his fourth British Superbike title at the age of 38, 11 years after he won his first BSB crown. The British series is now the world's most competitive national championship, with top competition from across the globe. Byrne won the 2014 title in brilliant style, out-pointing three-time champion Ryuichi Kiyonari and became the first man in history to take the MCE Insurance British Superbike Championship on four occasions when he clinched the 2014 crown."
Former motorcycle commentator and enthusiast Murray Walker said to Shakey: "As a great admirer of your skill and personality, you are a credit to yourself, your team and, most of all, the sport we all love. Well done, all the best for the same again in 2015 – you know you can!'
Former racer and current BSB commentator James Whitham commented: "I'd