Richard Sinclair is usually found on the advertising team at MoreBikes HQ – but after years of working around motorcycles, he has finally taken the plunge and is getting his licence! He's joined the guys at BMW Rider Training  to learn to ride a motorcycle. Here's how his module 2 test went…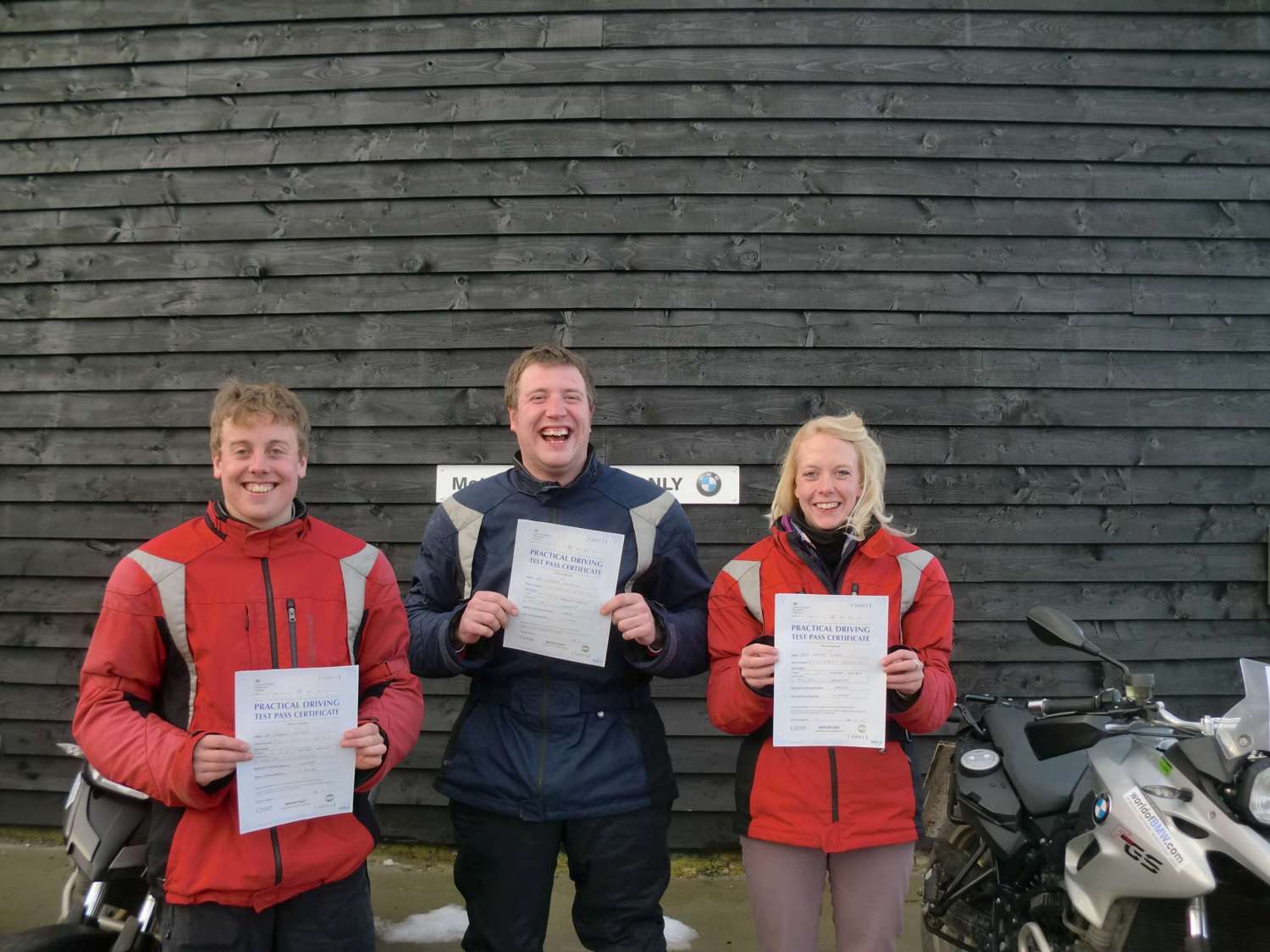 If I get through today, it was going to be great… I could ride any motorcycle I wanted, whenever I wanted, wherever I wanted and with whoever I wanted on the back! No pressure then. My module two test was on Friday and as I had been getting on well before, we decided that I should only come down for the day, with the test in the afternoon and a few rides and lunch planned in the morning. In Lincolnshire, we were pretty much snow free, but I was conscious that the weather might not be the same on the Cambridgeshire/Hertfordshire border – where the BMW Rider Training school is. I gave my instructor Ian a bell the night before to check we were all on – all was well.
Pulling into the snow covered car park at the World of BMW, I was confident after listening to the news that the weather would warm up soon. While we were waiting, I got to get to know the others who would be completing their test today. They were all on a direct access course and passed mod 1 first time. As it got closer to the time of the first test, the sun disappeared and mist arrived instead – unfortunately the first test was cancelled. Credit to Ian, he found the best solution for us all, he spoke about availability for retakes and where they would be, and after a persuasive conversation with the DSA he managed to get our tests pushed back and rearranged in order so that one of the group could return this week without others loosing out – thanks mate.
It wasn't until 11ish we were pushing the bikes out of the car park and getting kitted up, the roads were clear and the sun made a welcome return. I'd had a little break since my module 1 test, so I was happy to ride the 40 minutes to the cafe near the test centre for a bit of practice.
Soon it was test time….here we go! First of all it was time to read the number plate from distance and then a couple of questions about the bike. "Which Adjustments could you make if you're carrying a pillion passenger?" Suspension, headlights, mirrors and tyre pressures… the second was "show me how you would operate the horn" simple enough!
On with the riding part. They say its 38-40 minutes long but it flies by! The instructor commands four pullover and pull away's, which could include an uphill start and my first wasn't the best but as the nerves settled I soon got in my stride. We covered all types of road and I dealt with lots of different road situations. Pulling back into the test center, my mind wandered to the mistakes I had made – an issue with use of indicators and stalling the bike on the first pull over – I wasn't sure what to think. "Pull into one of the bays and make your way into the building."
Helmet off, we made eye contact. "Congratulations, you've passed!" – what a feeling. All this training, practice and nerves and I'd done it!
That was it, time to say goodbye to the two I's who got me to my license, Irene – my bike – and Ian – my fantastic instructor. I knew the latter would be there for any extra training I decided to undertake, but Irene, well she will be going back to BMW at the end of the month after her year of 'national service' as a training bike. This means it should be sold through a BMW dealership any time soon… would it be stalkerish to track her down? What better first bike than the one I learnt on?