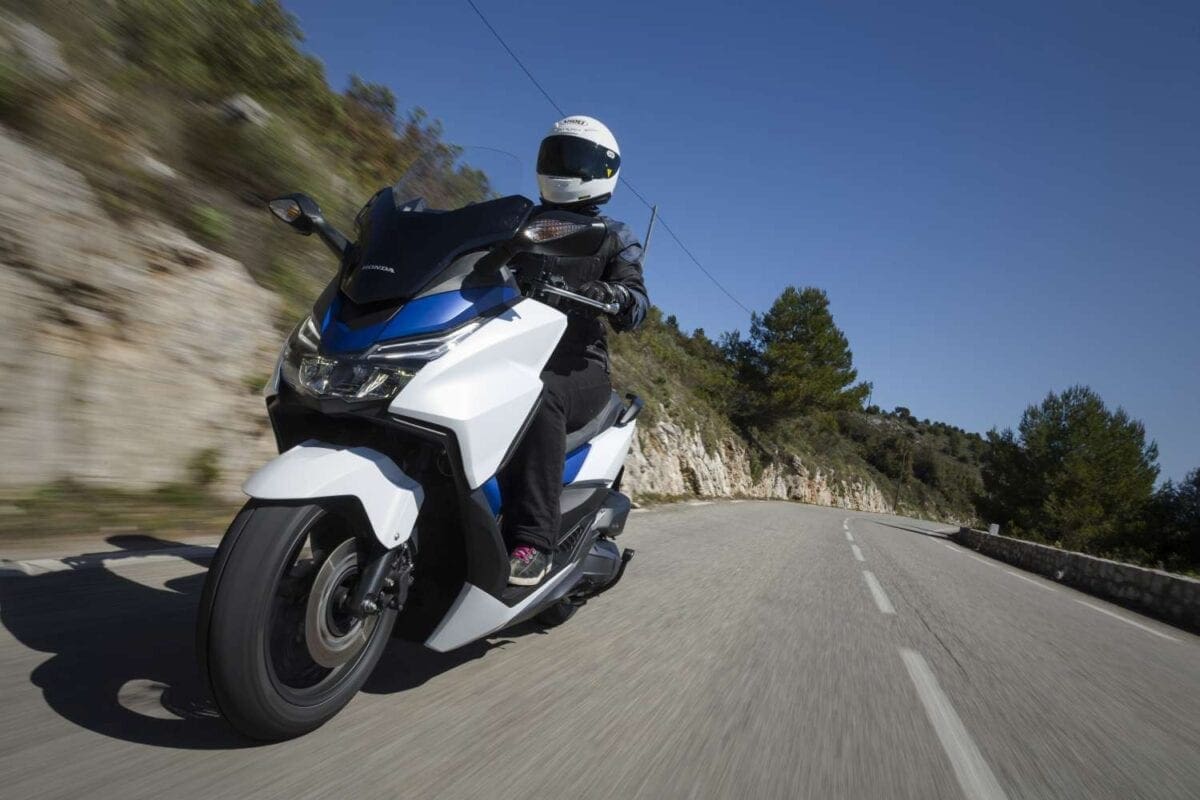 Ever wondered what happens behind the scenes of a launch? I decided to keep a diary of my adventures when I headed out to Nice, France on the world launch of the Honda Forza 125 to show you what goes on. Despite not travelling until Thursday, my planning started much earlier in the week…
Tuesday March 24
Because I'll be away for the rest of the week, I spent the day in the office attempting to get up to date with things and making sure that I've sent everything to the editors that they need for while I am away.
I like to be well organised to avoid last minute panics of where my riding kit is or whether my passport has moved so tonight, I'm sorting out my riding gear and making sure that it's clean. It's a scooter launch so obviously full leathers aren't required, so I decide on protective jeans, TCX boots, Knox jacket and a Shoei helmet. Outfit sorted – now where's my passport…
Wednesday March 25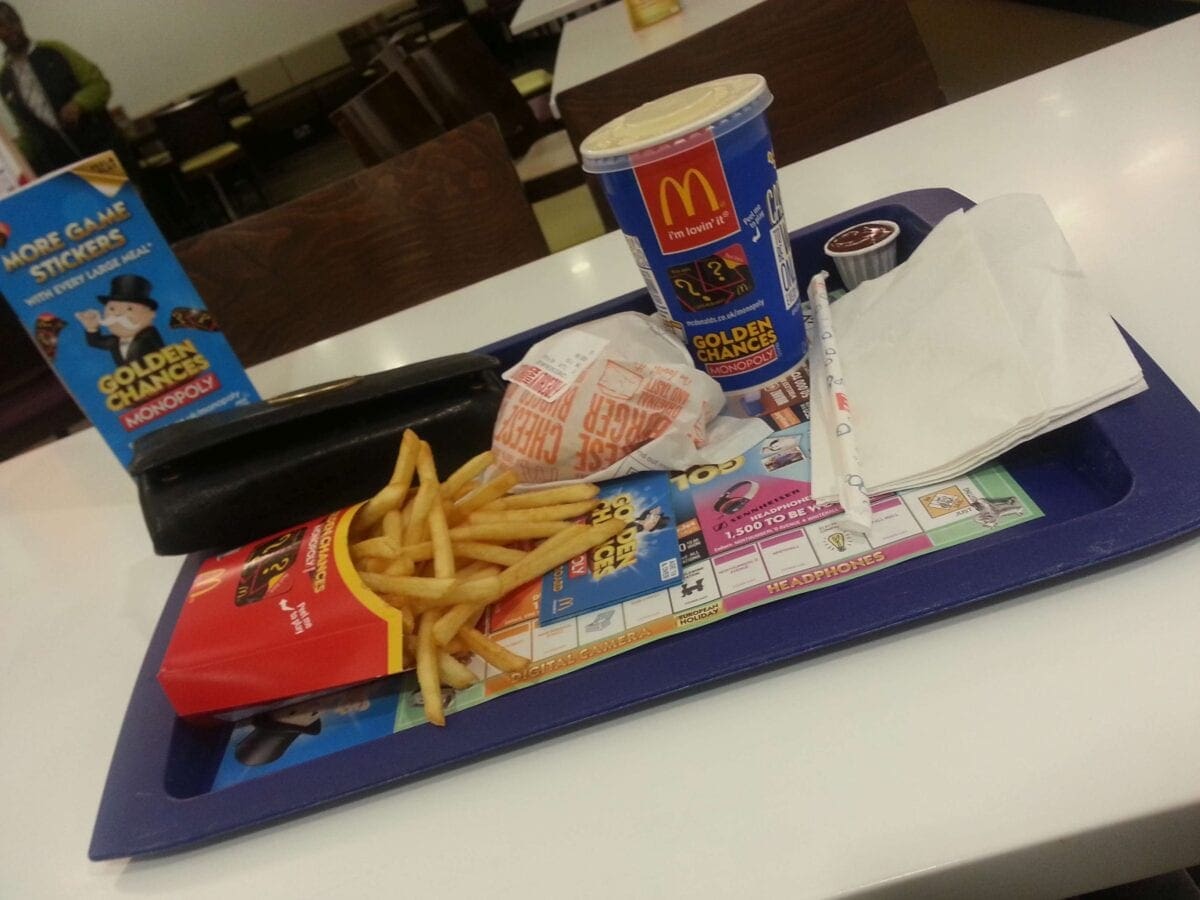 I live 'up North' so getting to Gatwick is a bit of a mission and if there's an accident it can easily add on two hours to the journey, so depending on the time of the flight I tend to travel down the night before. As I sat in the services, scoffing a McDonalds I gave my grandma a quick ring – she likes to talk to me before I go away on a trip. I got to the hotel around 8pm, caught up on a few emails and had an early night.
Thursday March 26
Time to fly! I met up with David and Monique from Honda UK at the airport, along with the other journalists on the launch, checked in and got through security.  No sooner had we landed in Nice but we were on the transfer bus and heading to the hotel.
"The presentation is in 10 minutes…"
I'd better run up to my room then! I dumped my stuff on the bed, got my riding gear on and headed down for the presentation. This is a vital part of the trip as you're given all the tech spec and information on the concept of the machine and are also briefed about the rest of the trip – photo locations, health and safety, routes etc.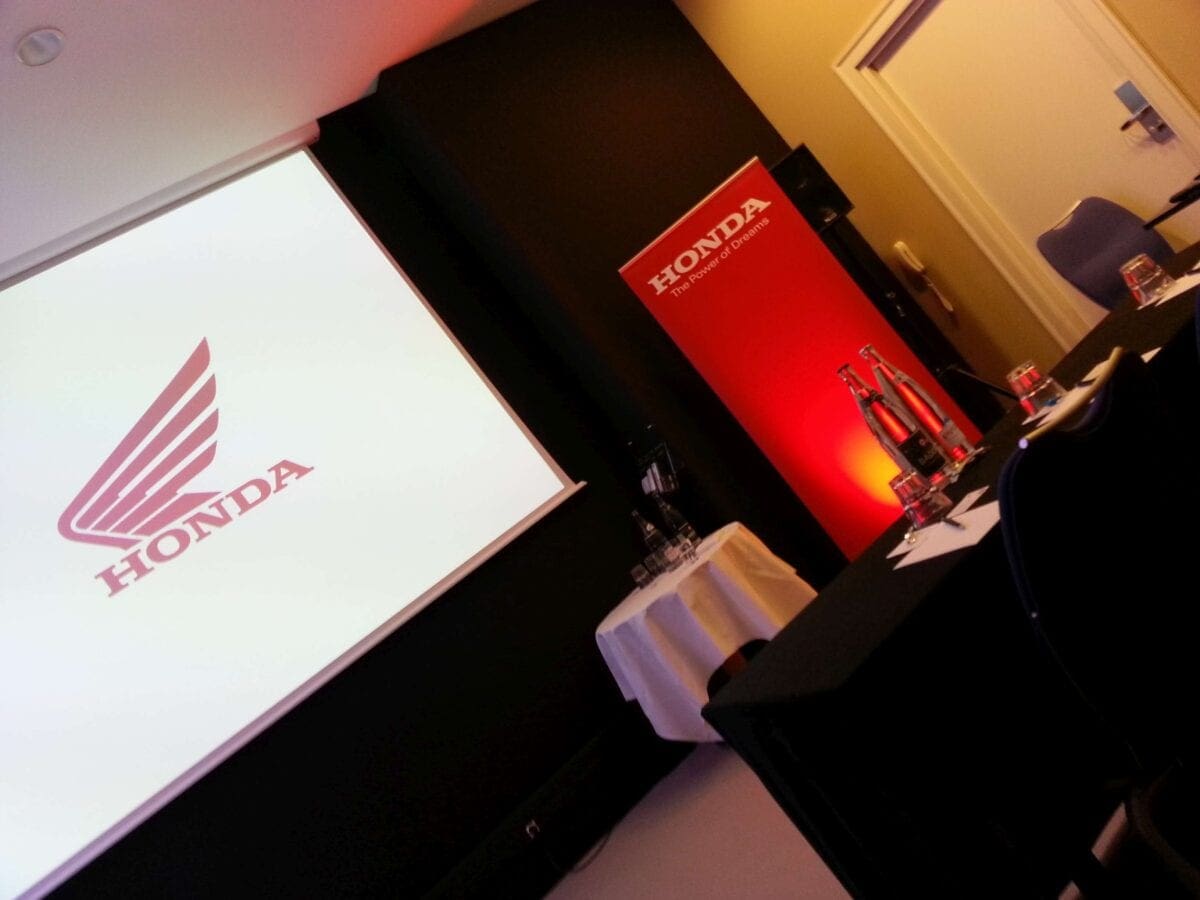 After frantically making notes and taking pictures of the presentation screen for the slides I couldn't write down quick enough, it was time to do a photoshoot to get some cool night time shots – and some tracking video.
Shoot finished, I ran up my room again to get changed for dinner. I headed back to my room around 11:30pm, busy day tomorrow and I need to have my brain in gear…
Friday March 27
Riding day today! Because you often fly in and out quite quickly, I like to take a stroll around the area when I can. I woke up mega early through a combination of excitement and because my mind was whirring thinking of all the work I had to do when I got back – so I went for a walk to the beach. Turns out I couldn't get down onto the beach as there was a steep drop so instead I sat on a bench and watched everyone milling around…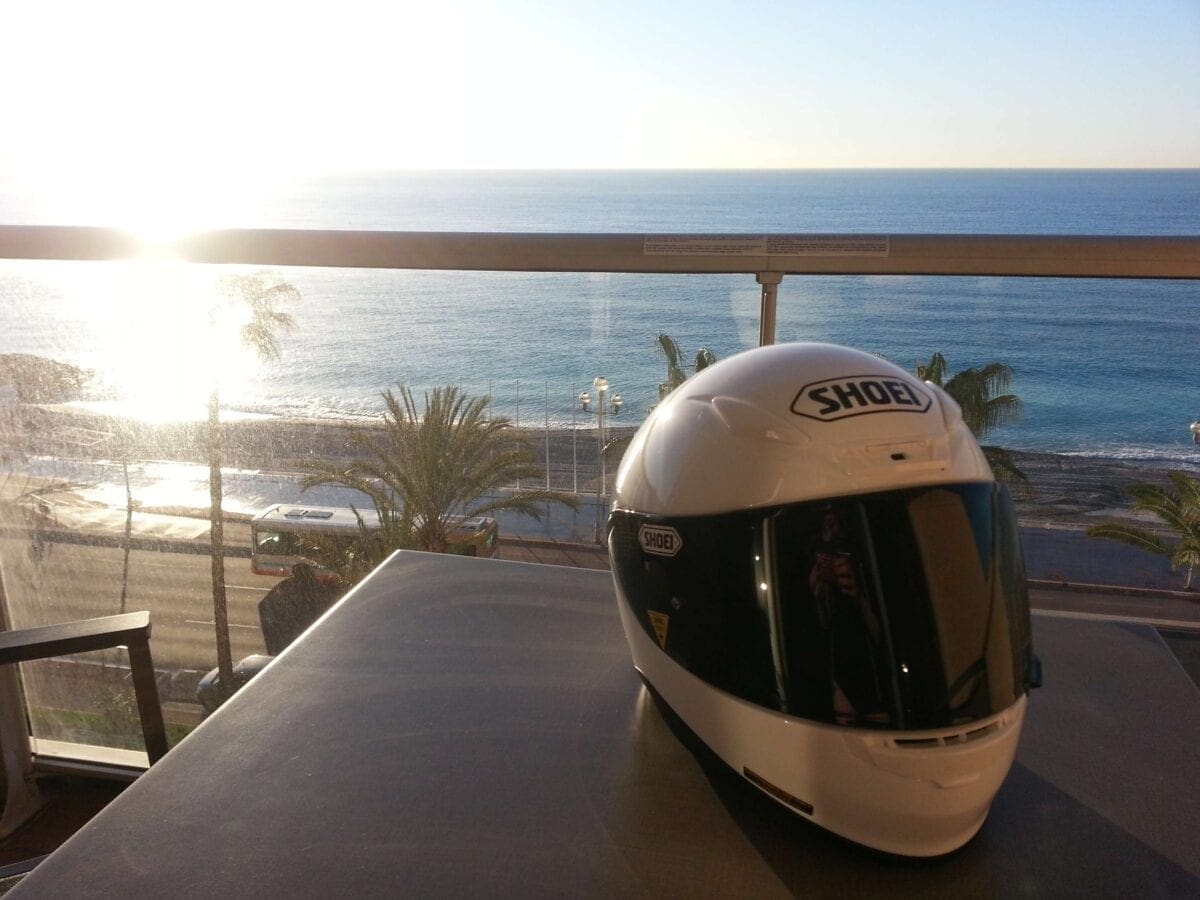 After breakfast it was time to head out for the ride. You follow a guide rider and all ride together in a big pack – there's often a back marker too to help keep everyone together. A challenging task in the inner city, at rush hour, with hundreds of traffic lights – but they did it!
We had one stop – around mid-morning – in Monaco. We each took it in turns to go out and have tracking shots taken around the F1 track. Tracking shots are when you ride the bike or scooter behind the photographer who is on the back of another bike (or in a car) and they take pictures of you as you're riding. It gives a cool 'going fast' look to the images.
I also took the opportunity to interview the Large Project Leader of the Forza, Tomokatsu Suda, who was all the way from Japan. I couldn't have done it without Paul from Honda Europe though as he kindly translated for me!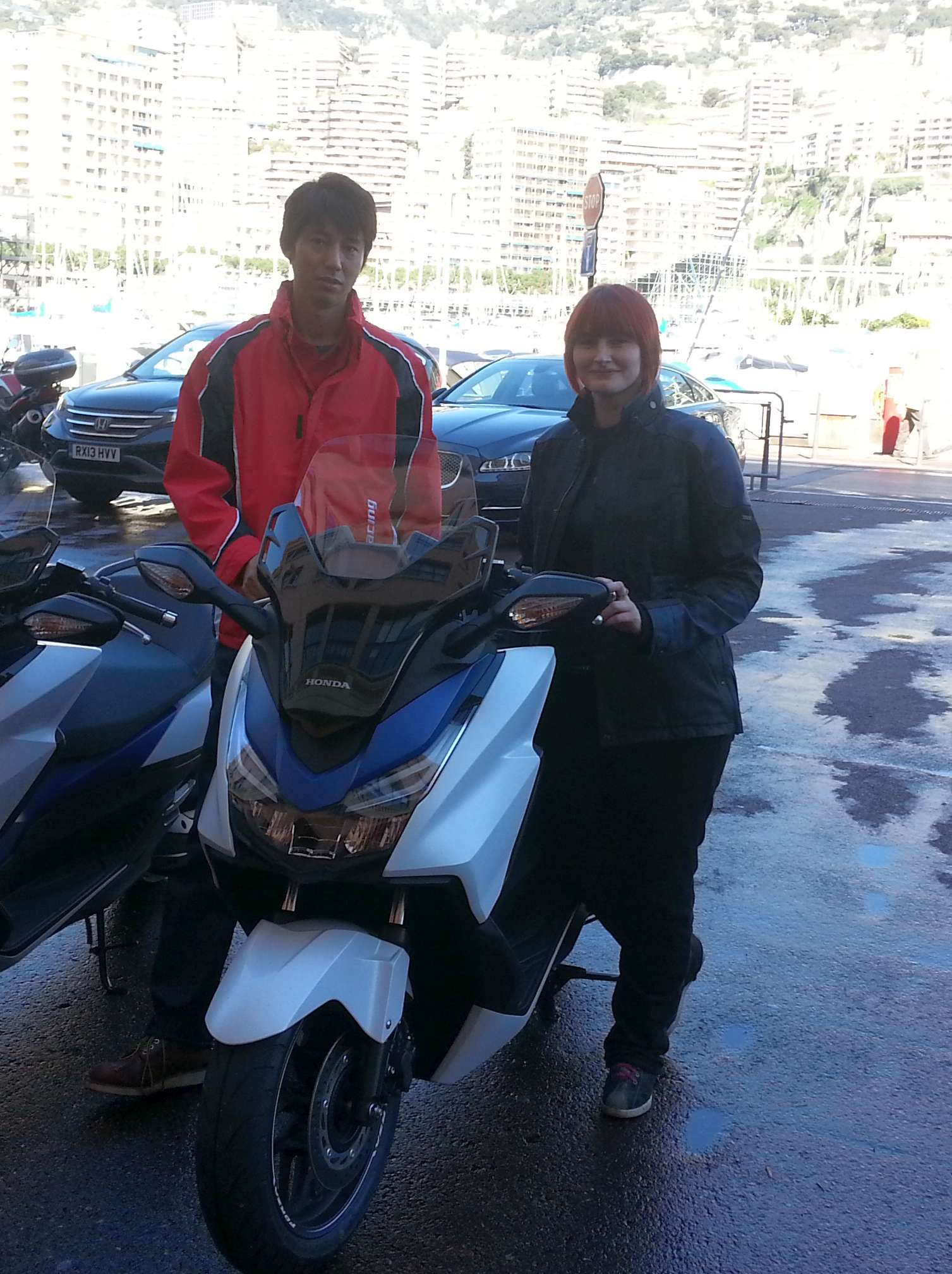 After a quick drink it was time to set off for the photoshoot up in the mountains. Each journalist takes it in turns to ride up and down a particular road which has photographers and videographers along the route to capture it. I took the opportunity to take a few selfies as the scenery was stunning!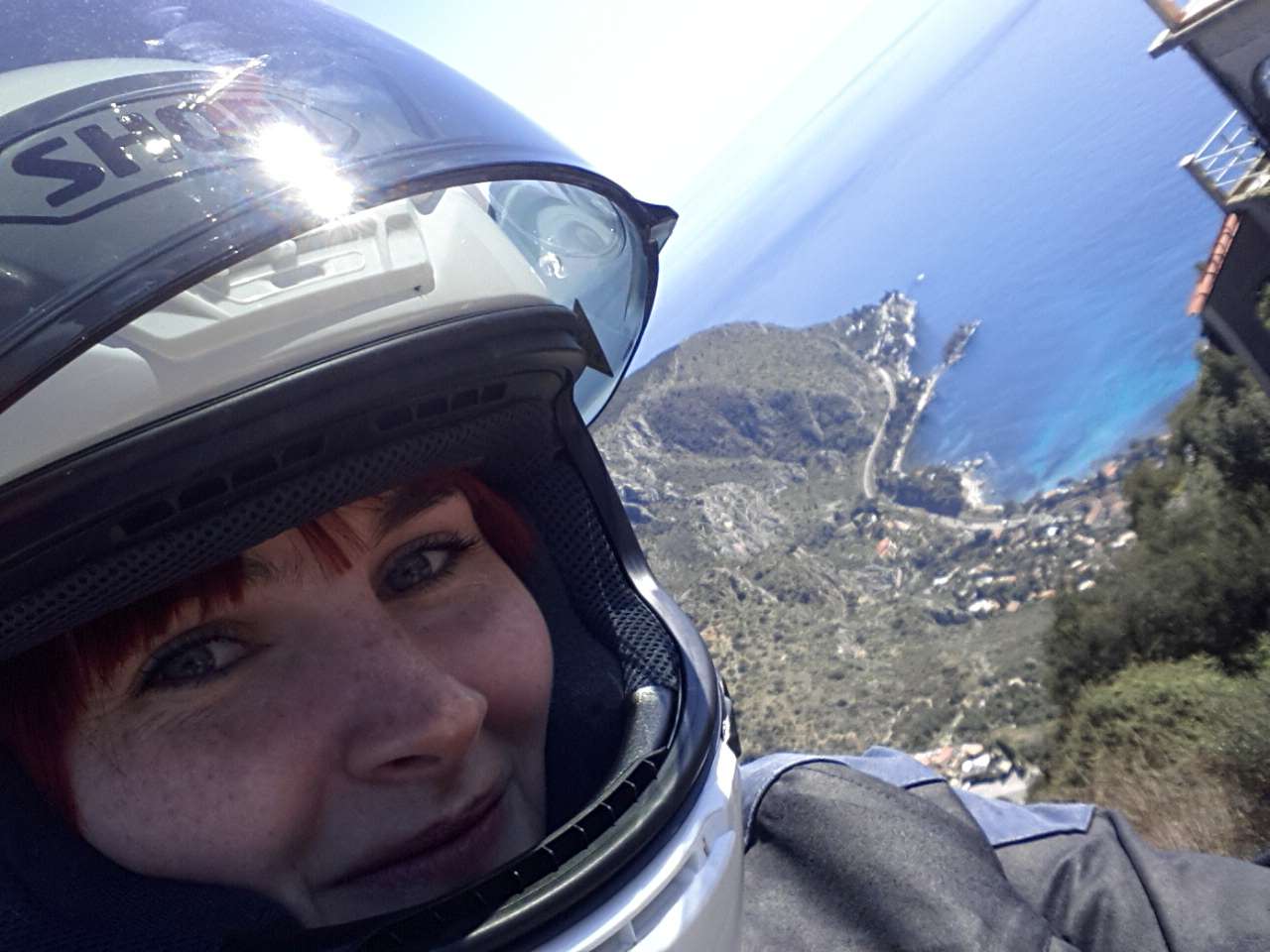 Time to head back to the hotel for lunch, the ride back was along the highway.
We were super lucky on this launch, the weather was amazing. Every other launch I have been on, it has rained at some point. We made the most of the sunshine and sat out on the roof terrace eating lunch after I'd stood next to the scooter and made my notes for my review.
It was time to go to the airport for our flight. I had a little nap on the plane… as did everyone else – all the excitement had taken it out of us – plus Nigel Havers was also on the plane so we'd all got a bit rowdy about that!
We landed around 5:30pm and headed through passport control – and it was time for celeb spotting again – this time Mark Wright from The Only Way is Essex and Take Me Out. Baggage collected –always a relief – I collected the car from the car park and then 'parked' it again on the M25. 200 miles to go and it was 7pm…this is the not so glam side of launches – but hey, I can't complain, just hours before I'd been sat in the sun drinking coca cola.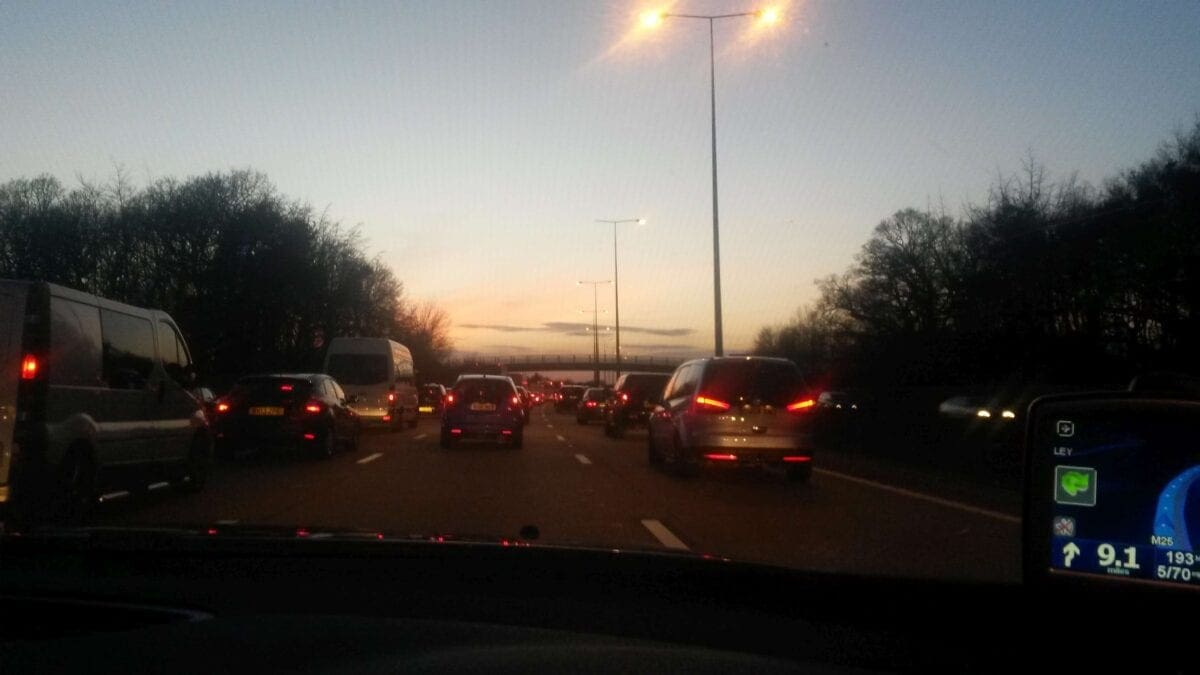 Saturday March 28
Last night I returned home at around midnight and this morning I was up at 6am to get my review written and submitted for MoreBikes.co.uk and Twist and Go Magazine. I sat writing my review in my PJ's, drinking tea with my dog sat next to me. After a few hours the pictures were downloaded, review written and editors emailed… let my weekend of catching up on housework and relaxing commence before work on Monday morning!
You can read the review of the Honda Forza 125 here: World launch report: Honda Forza 125
Or listen to the podcast about the launch here: Podcast episode 10: Forza Fun and more ramblings…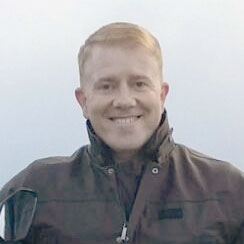 Latest posts by Tony Carter
(see all)
Does this get you revved up? Tell us why...
---
---
Subscribe to MoreBikes Newspaper
Get MoreBikes delivered through your letterbox every month. 12 issues for £15. Click here for more information.
---
Get MoreBikes.co.uk Updates
Enter your e-mail address below and you will receive biking news straight into your inbox...



You can unsubscribe at any time.
---