Tested by: John Milbank Pictures by: James Wright and Ula Serra
£9,999//143.5bhp @ 10,000rpm//78.2lb-ft @ 9,500rpm//214kg//www.suzuki-gb.co.uk
The new GSX-S1000FA has been carefully targeted by Suzuki – its typical buyer is expected to be an experienced forty-plus rider with an above-average income. They previously owned a sportsbike and they're expected to be using this for weekend rides without a pillion.
Essentially, what we have here is a faired GSX-S1000, the bike that has re-inserted Suzuki into the big naked marketplace. And like with the unfaired 'S' the 'F' uses the GSX-R K5-derived 999cc making a claimed 143.5bhp. This legendary sports motor has now got 3% lighter pistons and new cam profiles designed for improved low- to mid-range power. There are also iridium plugs, as well as a friction-reducing cylinder plating.
In our test of the naked machine, the fuelling was commented on (it was mentioned that it made the bike a little snatchy) and opinion was once again divided amongst the journalists with the F, but I found it little distraction. If Suzuki were aiming the bike at tourers or commuters, I'd perhaps be more critical of the slightly sharp delivery when rolling on from a closed throttle; on such a sports-orientated machine, it's more expected, if anything adding to the immediacy of the ride.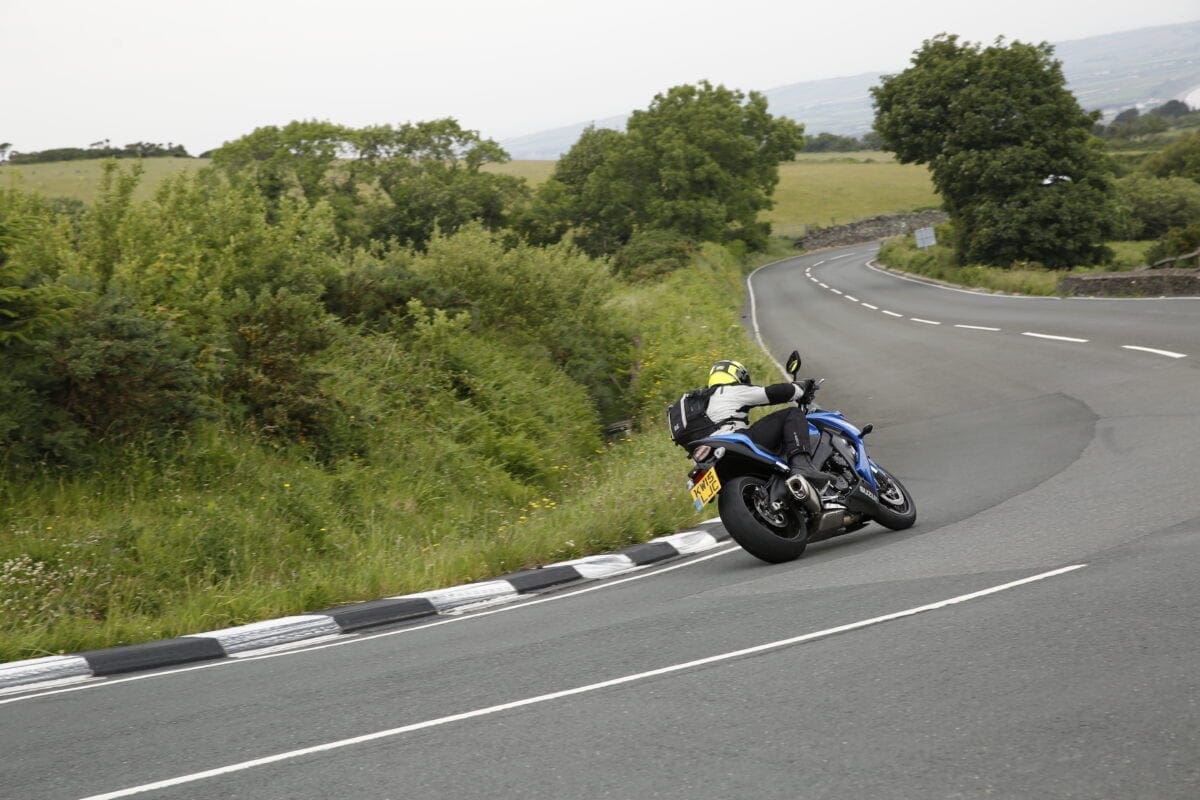 While ABS is standard on all the UK bikes (it's an option on the naked machine, at least until the regulations change in 2016), and there's three-stage switchable traction-control, Suzuki has done what I consider a superb job of avoiding dulling the machine with technology – if you were a fan of the GSX-R range ten years ago, there's little that will put you off here; if your days of squeezing in to a race-bike have passed, the GSX-SF offers a real alternative, positioning itself somewhere between the sports-touring Kawasaki Z1000SX and the all-sport GSX-R. If you've ever hankered after the raw performance of a litre sportsbike, but with a set of wide, high bars, this is the machine to buy.
While it's 9kg heavier than the current GSX-R1000, the F is still relatively light at 214kg (just 5kg heavier than the naked machine). This is thanks to a new frame, which is lighter and stiffer than the one currently fitted to the GSX-R; expect to see this on a soon-to-be-announced new Suzuki sports machine.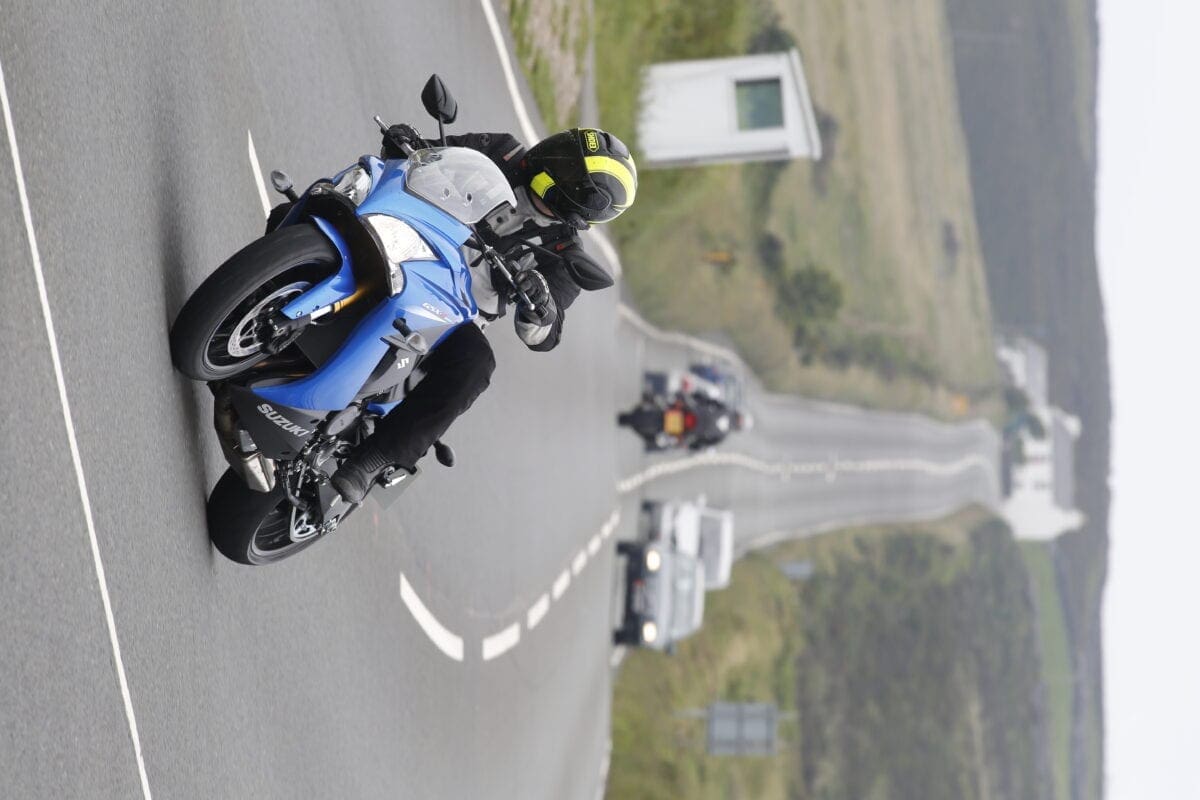 The Isle of Man was an inspired choice of launch venue – besides the fact it hosted Suzuki's first road-racing outside of Japan in 1960, it's one of the few places outside of a closed circuit to really make use of the brilliant K5 motor.
During the rare times I dared look away from the unrestricted roads of the island, I saw 139mph. Streaking under the trees after Ginger Hall at 125mph the howl from the Suzuki's exhaust and the painted kerbs flashing by were intoxicating.
This isn't a peaky, all top-end bike. While the real action starts around 6000rpm, there's plenty below, even when pottering through town in sixth. It takes some doing to stall the engine, though I did manage it when turning round at a photo-stop. Clumsy of me, but it proved the point that the wide bars and low weight make it possible to drop it almost over to the peg and still be able to catch it, avoiding an embarrassing conversation with the Suzuki engineers.
There's enough steering lock for easy U-turns, and the riding position would be comfortable all day if it weren't for the slightly more sports-design seat. It's not horrific, but by the afternoon my bum cheeks were starting to protest a little. The pegs are positioned well for an easy-going position, a do little to limit the sports potential – I scraped the right hand peg at the Gooseneck, but that was on the third pass for photos, each of us seeing how far we could push it. I'd liken it to my old CBR600's pegs, which gave warning plenty earlier enough when pushing the pace.
A few of us detoured down to the south of the island for a bit of variety, finding what must be one of the British Isle's most bumpy roads. About five miles of quite violent shaking failed to upset the bikes significantly, though of course don't expect the plusher ride of a large adventure bike – this machine is built to go fast, and the smoother roads of the mountain section were its real home.
There really is no hard luggage option for this bike – aftermarket manufacturers might bring some options in, but Suzuki wouldn't be pushed on the strength of the rear subframe. Certainly, while the pillion perch isn't as tiny as some, it's not designed for the long-distance comfort of a tourer. Having said that, for a ride to Germany, I'd much prefer being on this to a GSX-R1000, and I'm pretty sure I'd have just as much fun – if not more – on this around the Nürburgring.
The GSX-S1000FA has an incredible turn of speed and feels sharp, agile and truly connected to ride. The engine responds instantly, with no obvious interference from the traction control, and while I expected the bike to feel very light and twitchy at the front, even when pushing hard, and with the traction control set to minimum, the Suzuki wasn't trying to wheelie. With the traction control off, it apparently becomes more willing to lift.
The GSX-SF is a stable yet agile bike, it's an aggressive sports machine, but it's also comfortable. It's incredibly good fun, and everything you could want to relive your youth in a little more comfort. The only thing it's most certainly not is a sports-tourer.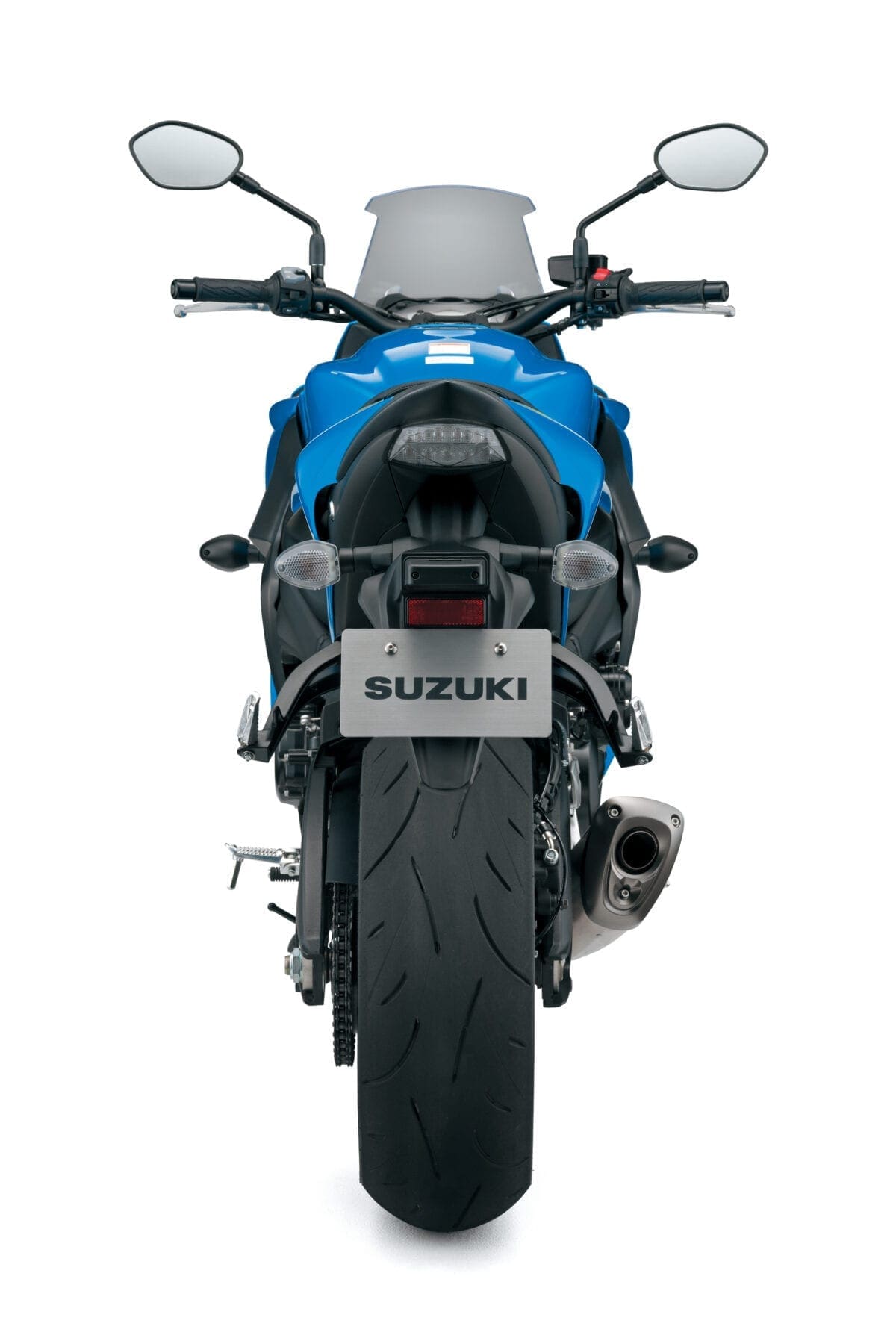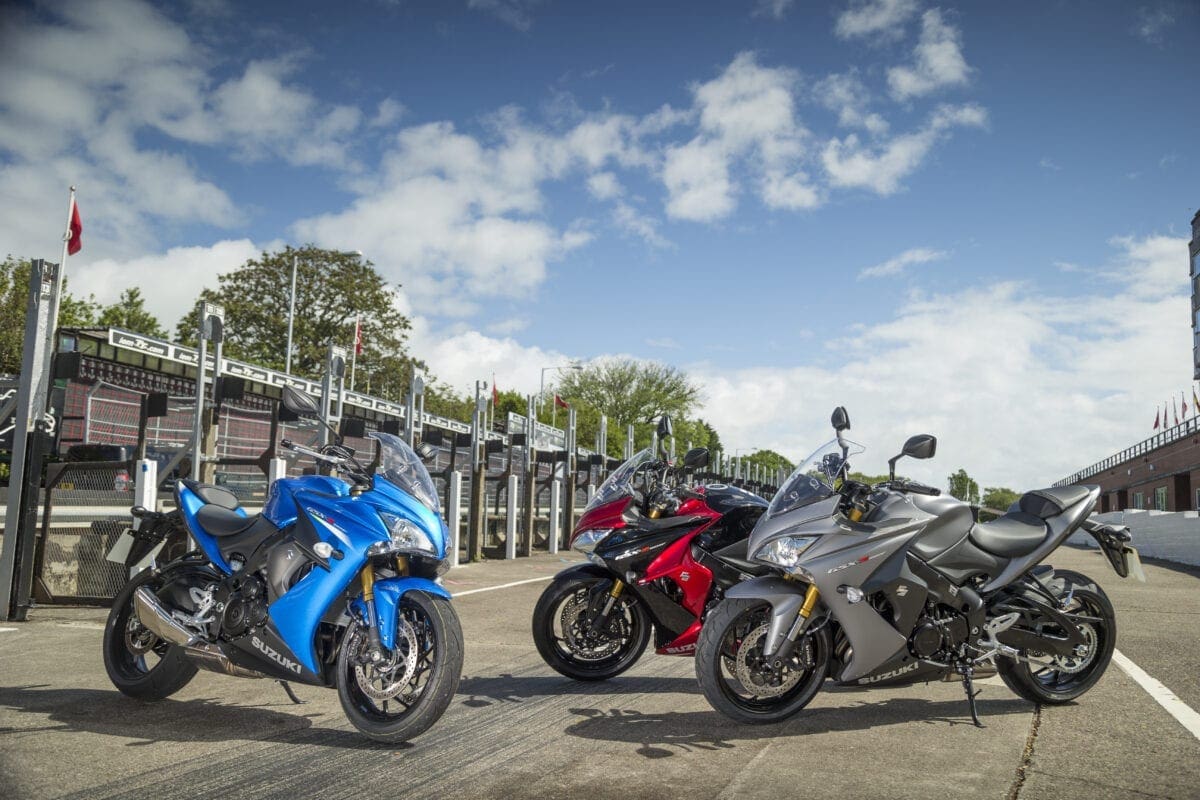 Specification: Suzuki GSX-S1000FA
Engine: 999cc, in-line-four, liquid-cooled
Peak power: 143.5bhp (107kW) @ 10,000rpm
Peak torque: 78.2lb-ft (106Nm) @ 9500rpm
Transmission: 6-speed
Final drive: Chain-driven
Wheels: (F)120/70/17; (R) 190/50/17
Fuel capacity: 17 litres
Seat height: 810mm
Wheelbase: 1460mm
Weight: 214kg
Price: £9999
Contact: www.suzuki-gb.co.uk
---
Advert
---
Enjoy everything More Bikes by reading the MoreBikes monthly newspaper.
Click here
to subscribe, or
Read FREE Online
.
Sign-up to the More Bikes Newsletter
Enter your e-mail address below and get regular updates straight to your inbox… You can unsubscribe at any time.