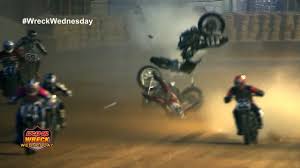 Well, it is a Wednesday, so let's have a Wreck Wednesday from the AMA Flat Track world.
This video isn't new, in fact it's quite old, but we're thinking that you've probably not seen it before.
This is from a race at the Indy Mile event. The incident happened when Nichole Chezas lost control, goes into the boards and the bike ends up in the middle of the track. Chase Sconyers has nowhere to go and the resulting crash is pretty jaw-dropping.
Everyone involved recovered fully from this incident and were OK, thankfully.