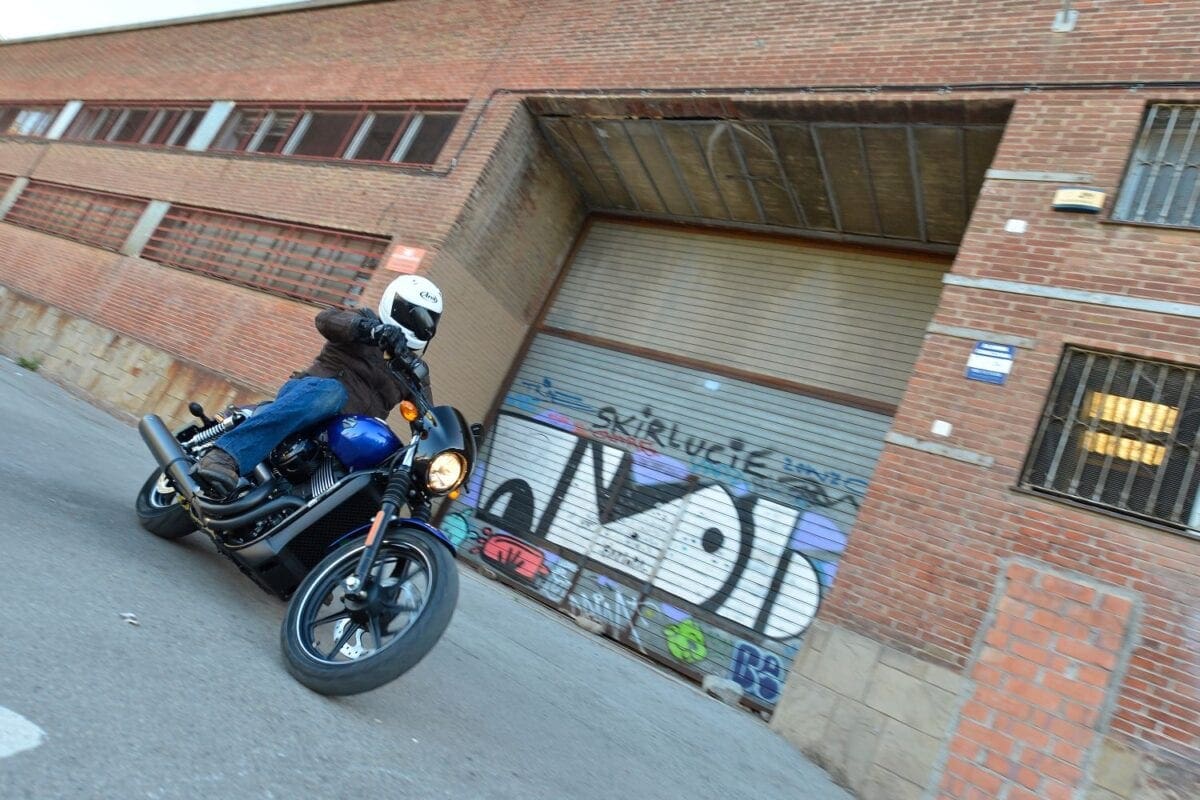 The Harley-Davidson Street 750 is the latest addition to the American firm's Dark Custom range, which was launched in the US back in 2008. But it's also the key to what Harley-Davidson is calling its rebirth during a two-day launch in Barcelona. "Don't think black," we were told in the presentation: "Think blank."
Dark Custom is a canvas for owners to create something that's truly theirs. Custom builders around the world have huge experience with the platform, though it's also possible for a customer to take their idea to their Harley-Davidson dealership and ask them to build – or assist with – their dream bike.
Harley-Davidson is of course still very much growing – 83% of Sportster purchasers are new to the brand – but like the rest of the industry, the company understands that a younger audience is vital. In Europe, the Middle East and Asia (EMEA), 21% of all Iron 883 sales are already to the 18-30 age group. The Street 750 has the potential to grow that significantly; it's a budget-priced machine that retains much of the Harley look and feel, but really is crying out to be personalised. Whether it's as simple as 'sticker-bombing' the tank, or modifying and replacing, repainting and refining, it seems unlikely that many will be rolling through cities with the same look as when they left the factory.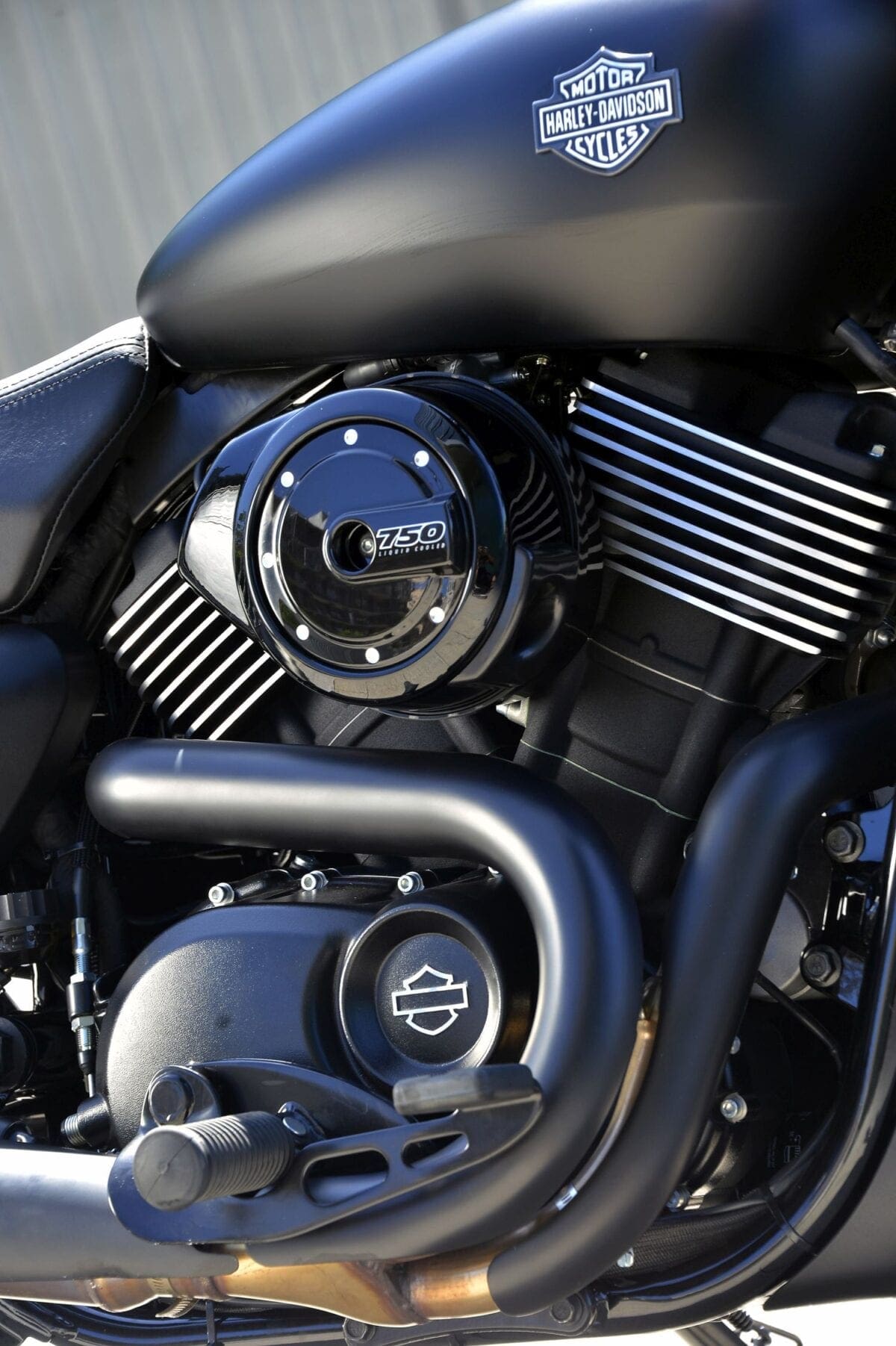 The Harley-Davidson Street 750 engine:
The 749cc Revolution X motor is entirely new. It's also the only one in the H-D range – besides the V-Rod – to be fully water-cooled (the Project Rushmore engines found in bikes like the Road Glide Ultra are water-cooled at the head only). It doesn't have the lazy throb that's Harley's signature, but it's still distinctive and characterful, with enough of that American pulse from the 60° Vee to not feel out of place within the company's line-up.
It also doesn't shake at a standstill, and of course it doesn't throw out all the heat of an air-cooled motor – great in town. What's most noticeable is how eager it is to spin up, and that's really clear on the road. Despite – on paper at least – being down on the Iron and Forty-Eight's peak torque, it feels by far the most snappy and usable motor, both in the city and on twisting country roads. On the motorway at around 60mph in top, it out-dragged the Iron, and the larger capacity of the Forty-Eight took a few seconds to catch up with the eager little 750.
The six-speed gearbox is much quieter and smoother than on other Harleys – it's still pretty positive (more so on the up-changes), though some of us noticed the occasional slight difficulty finding neutral.
What's the chassis like?
The 37mm non-adjustable forks and preload-adjustable twin rear shocks are 'tuned for the rough pavement'. Two-pot floating calipers front and rear bite 300mm single disks, but there's no ABS – not even as an option. This seems likely to be a way of keeping the cost so competitive, and it's certainly not an option that felt like it was needed during the test ride. By 2017 it will be there, but it's no real reason to wait.
Harley says the Street is designed for use in traffic, with a 'tight wheelbase' of 1535mm. This is actually a fraction longer than H-D's Iron, at 1515mm, but it is shorter than Kawasaki Vulcan S, at 1575mm.
Should I buy one?
This is a budget machine, but it's been designed to be easy to ride, accessible, and fun. The target audience is 'young urban adults', and the company is keen to stress that the Street has all the H-D styling, but is intended to be more affordable. The 750 still has belt drive, a Milwaukee steel tank, and a 3D chrome badge (though it's not as solid feeling as the on the Forty-Eight).
Liquid cooling makes for an engine that feels more like other bikes, and keeps it cooler in congested traffic. I don't like to pigeon-hole a motorcycle, but this really is a great machine for new riders. It's very unlikely that it'll be bought by current owners of Harleys, but those new to the brand could also be tempted.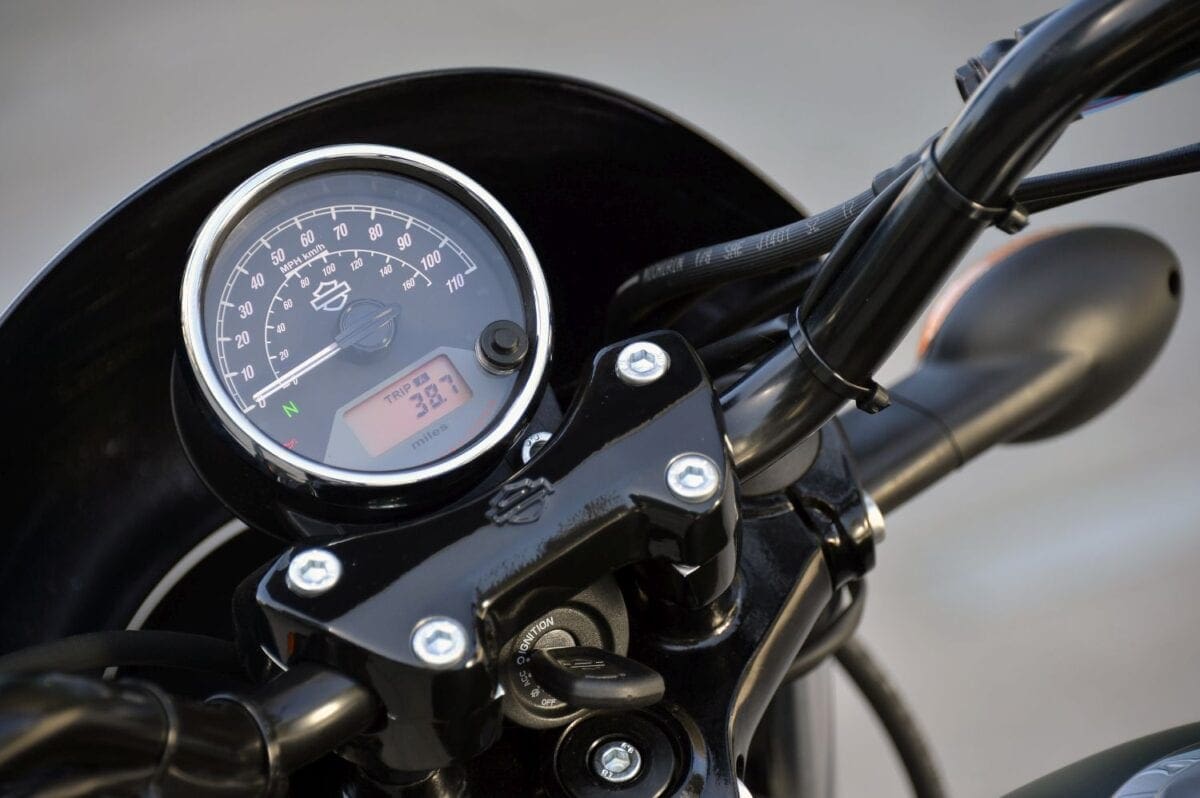 Some of the parts do look cheaper than other machines in the Harley range – the shocks certainly don't look as great as those on the 2016 Iron and Forty-Eight, and the top yoke and switchgear doesn't have that high-quality look. There are only two trips and an odometer on the dash – a rev counter would have been nice, particularly with this more eager engine. The swingarm is a simple box-section design, but this is a bike that costs little more than a non-ABS MT-07 – one of this years bargain benchmarks. It's even available on PCP for a £999 deposit, then just £79 per month.
That switchgear is a standard layout, which is more likely to appeal to riders new to the brand, as well as those who may have just taken their lessons on another bike. It's not got the keyless ignition of the rest of the company's range, though you do get a locking fuel cap, which is often an optional extra. There is also a fair bit of plastic on the bike, but it'd be easy to remove, and again – this is all about the potential of customisation.
Still not sure? It's easy to get a test ride on a Harley, and during September and October, anyone booking a test will get the chance to win a trip to the US to build their own custom bike, working with Dais Nagao – H-D's Senior Industrial Designer.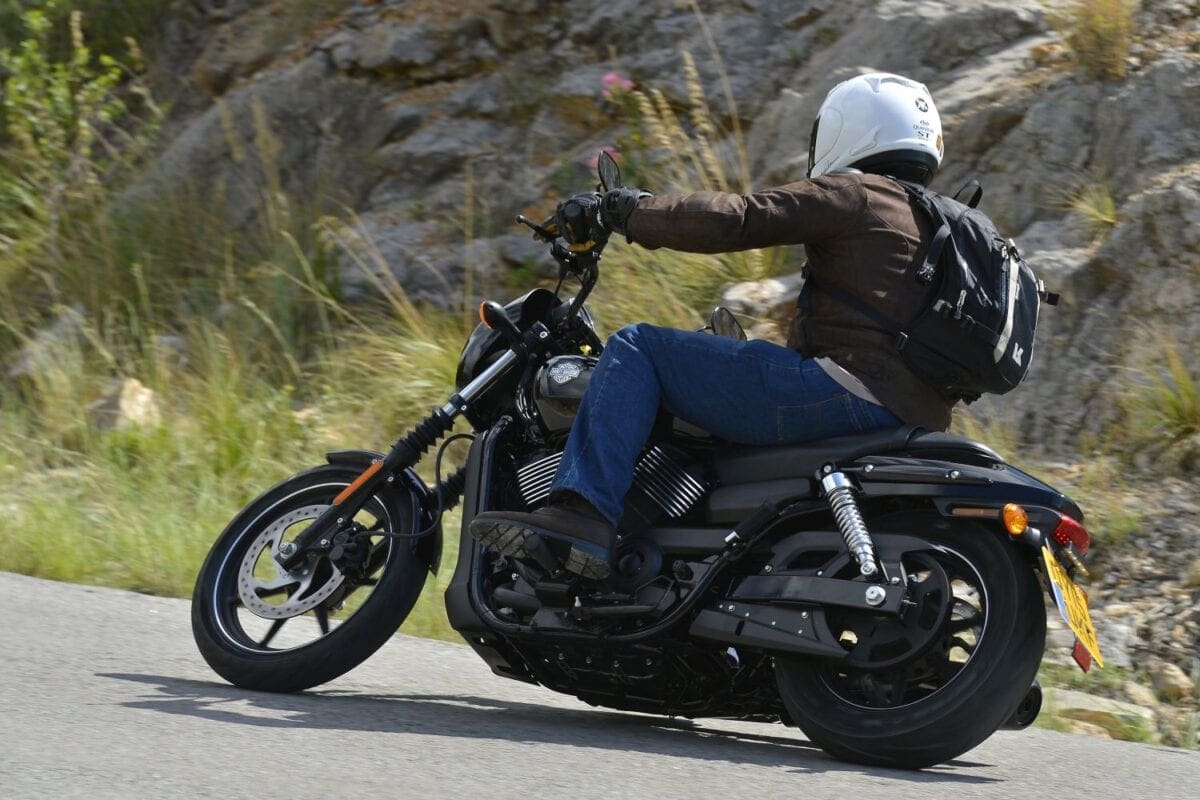 Riding the Harley-Davidson Street 750
We were all surprised by the Street 750; it's an eager bike, incredibly easy to ride in the city, and fun out on the twisty roads. It is a cruiser, so the rubber-covered pegs do touch down if you start trying to hustle things – a couple of journos also scraped the side-stand bracket on the left, and the exhaust heat shield on the right. There are no hero blobs, so it's not as obvious when you touch the rubber sleeve down – I'd have preferred to have the metal pegs that give you that extra warning (and are easy to replace).
The budget suspension works fine, and appears to have been well considered. You don't need to adjust it as it's not going to be pushed beyond its limits on a track day, or raced across the mountain at the Isle of Man. The brakes a equally practical for most riding, though of course if you compare them to the latest radial monoblocs of many bikes, then you'll be finding you need to use four, instead of two fingers to stop in a hurry.
But to rush things on a Harley-Davidson is to miss the point, and while this new engine is a triumph of US style, combined with a very easy nature, the attitude is still the same – relax, and enjoy the ride.
The turning circle is great, the steering quick and easy, and of course that very low seat inspires confidence. The pegs are set in such a way that they make paddling the bike more awkward, and I wish Harley would add springs to their footpegs, but it feels a fairly natural riding position. I'd want to push the pegs forward, but there's little doubt that it'll be an accessory option, particularly if more variants of this platform emerge.
The street 750 is fast. For a Harley. It's light. For a Harley. And it's cheap. For a Harley. In fact, it's cheap by anyone's standards. It's not got the go of an MT-07 of course, but it's fun, it's relaxing, and it's got a whole lot of character. It's an introduction to biking for some, a welcome to the Harley brand for others. Or it's a reaffirmation of motorcycling's most established custom brand. 113 years of heritage in a bargain-priced bike that anyone can ride. Sounds like a great deal to me.
Specification: Harley-Davidson Street 750
Price: £5795 (vivid black) £5995 (colour option)
Engine: 749cc liquid-cooled 'Revolution X' 60° V-twin
Torque: 44.5lb-ft (59Nm) @ 4000rpm
Seat height: 710mm
Tank capacity: 13.1litre
Ecomomy: 49.2mpg (claimed)
Kerb weight: 229kg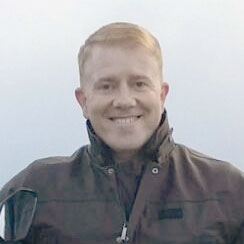 Latest posts by Tony Carter
(see all)
Does this get you revved up? Tell us why...
---
---
Subscribe to MoreBikes Newspaper
Get MoreBikes delivered through your letterbox every month. 12 issues for £15. Click here for more information.
---
Get MoreBikes.co.uk Updates
Enter your e-mail address below and you will receive biking news straight into your inbox...



You can unsubscribe at any time.
---