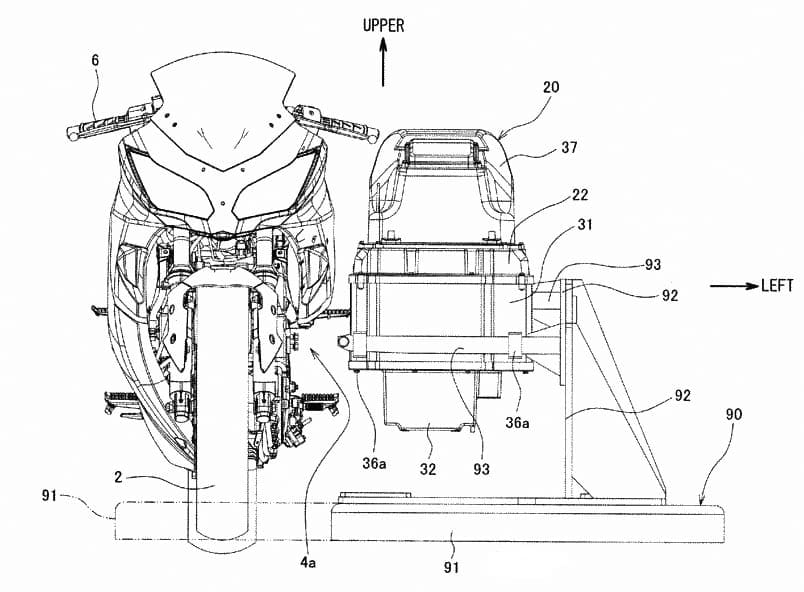 What do you think to this Kawasaki BATTERY-POWERED Ninja 400 that hinges the 'engine' unit out of the left side of the machine in one smooth movement? The patent's from a couple of years ago – but we thought we'd remind you about this seriously clever concept, in light of the widespread uptake of electric tech across the bike industry.
The jaw-dropping idea, outlined in official FACTORY patent drawings, shows how the entire power unit can be opened up from the bike itself and replaced with a fully-charged unit, or have maintenance carried out as needed.
The drawings show crucial parts of the design in order to make this work. Previously thought to be an idea destined for the ZX-10R superbike, it is now clear – after Kawasaki revealed its 2018 Ninja 400 model – that the plans stem around the smaller capacity sport roadster and have actually been in the works since before the Ninja 300 was released.
That hinge is figured in most of the drawings for this new motorcycle, you can clearly see how the frame will hinge around this point in the drawing below – the hinge element is number 82 (52,53) on the drawing (top left shoulder of the bike) which shows how the whole left hand side of the frame will open up and allow the entire motor to exit the motorcycle without the need for tricky loading or unloading from the frame. Below the design we've put a photo of the 2018 Ninja 400 so that you can directly compare the two bikes.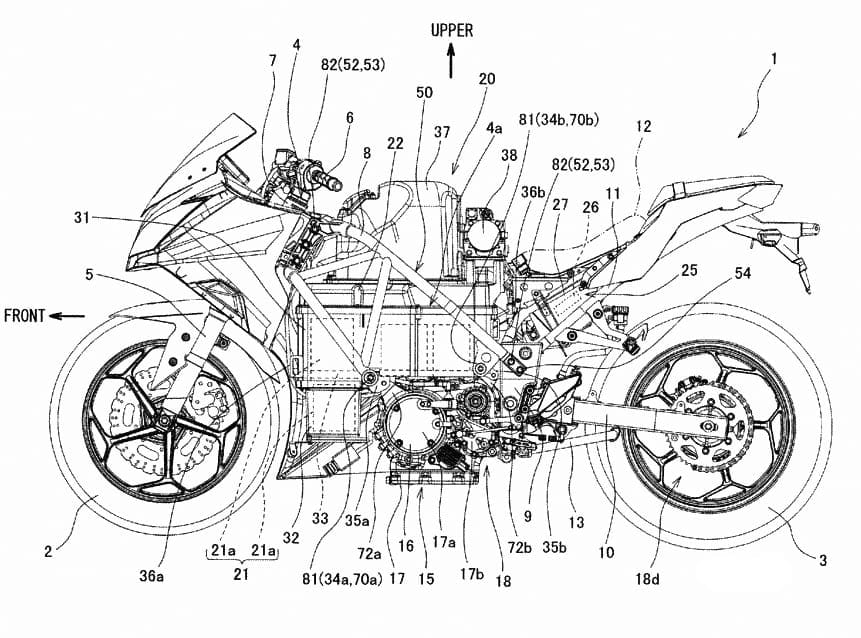 From the top-view drawing (below) it's clear that the overall dimensions of the bike will remain the same, what is clear that the electric lump in the middle, which will carry a stack of batteries, is a self-contained unit feeding into the gearbox and conventional chain drive.