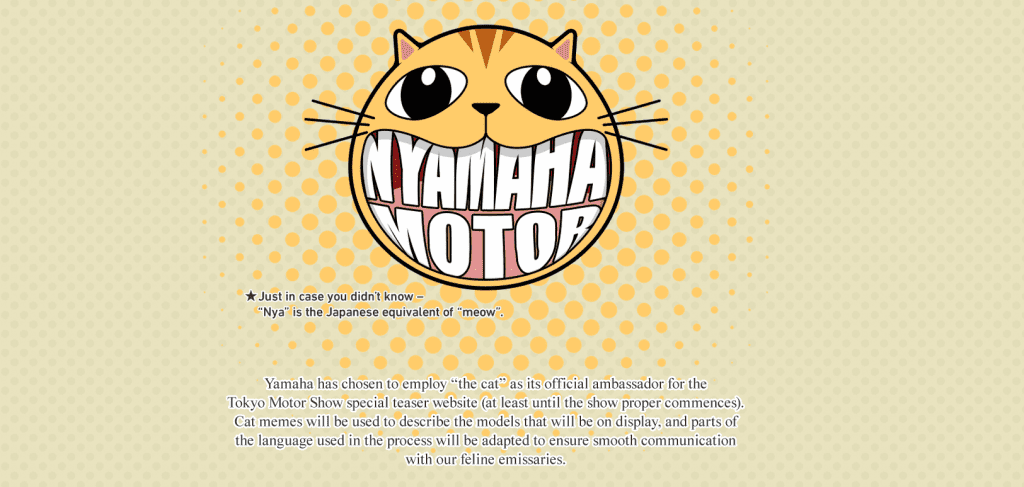 Yamaha launches bizzare LOLcats-themed Tokyo Show preview site.
Check this out – it's one of the weirdest things we'v ever seen from a Japanese motorcycle company. And we're pretty sure that we like it even though it doesn't feature ONE motorcycle!
This is what Yamaha is doing ahead of the 44th Tokyo Motor Show, a showcase event held at the end of October in Japan where all of the factories show concept motorcycles and give a glimpse of what they'll be running in their line ups the following year.
So far we've had glimpses of new Kawasakis, full photos of Hondas and some interesting peeks at Suzukis – but from Yamaha we've got a mad collection of LOLcats talking about something that's NOT a litre bike but IS three cylinder.
Yep, really. There's also a LOLcats translation of the Yamaha President's 43rd Tokyo Motor Show address (no, we're not entirely sure why either). So, we're a bit stumped by this – but at least it's got us talking about Yamaha or NYamaha as the company is calling itself in this campaign. Nya is the Japanese way of writing meow….
So here's the highlihgts and below we've got the LOLcats original transcript of the speech (which we've translated for you to be able to read easily)  and below that are the screen grabs from the site talking about something that's not a litre bike but is a three cylinder. Nope, we don't know why they've decided to do this but we figured it was worth showing you how 'out there' Yamaha Japan is at the moment. Any idea about any new bikes coming from them?
I WID LIIK two BIGUN BI TANKIN EVRYUN FOR JOINN US TODAI FO DA YAMAHA MOTOR PREZ BRIEFY.
YAMAHA MOTOR ALWAIZ STRIVZ TWO BI COMPINY DA WURKZ TWO BRNG KANDO* DA SURPAZEZ TE EXPUCTISHUNS OV PEIPS USN AR PRODUCTS ARUND TE WURLDI, FOR TUDAI N TMORROW.
AR "REVS UR HART" SLOGUN ESPRESES O SINSE OV PRIDU UN DUTY WE HAS IN DIS GOAL, UN IS AN ENBOUDIMENT OV R DESIR TO STIER PEIPS'S HEARTS WIV EXITMENT AN EMOSHUN, LIEK TEH BUILDIN REVS OV AN ENGINE.
AT YAMAHA MOTOR, THAR R 3 CONSEPTS DA GIV DIRECSHUN TWO AR BIZNES: "FUFILIN LIFSTILEZ," "ENJOI PERZONUL MOBILUTY" AN "INNOVAITIV TECHIEZ DAT HARMONY WID PEEPLS, SOCIETEA AN DEH EARTH."
WURKN WIT TEES THREE AXIZ, R CHILLUNGE IZ TO CONTNU BILDIN "GROWIN WURLT OV PEEPL MOBILTY" DIFIND BY TRUE YAMAHA-NES, AN 2 REV PEEPL'S HARTS DUIN SO. WUT IZ DIS "TRUE YAMAHA-NES"? FURST, IT IZ CONSTANT EXPLORASHUN OV DA ELEMENTS: "PROPOSIN ORIGINAL AN INNOVATIV CONCEPTS, CREATIN OUTSTANDUN TECHNOGIZ" AN EXPRESUN REFIND DYNMASM HRU R DESEINS." BLAH.
WE IMPLEMENT THEES 3 ELEMUNTS IN DA MONOZUKURI (ENGINEERN, MANUFACTURN UN MARKETN) OV R WERKPLACIZ AN COMMUNICASHUN IN DA FIELD, AN DAT'S WHEN "TRUE YAMAHA-NES" TAKEZ FORM.
ERR, YA. AT DIS 43RD TOKIO MOTUR SHEW, WE WIL PRESEN TO U PRODUCT WIV UNIQ YAMAHA-NES DAT DEFIN AR "GROWUN WIRLD UV PEEPL MOBILITY."
THES PRESINTASHUNS INCLUDE WUT WE CAL "SMART POWR" VEHCULZ, ALONG WIF SPORT MOTURCYCLZ, A NEU "LEANIN MULTI-WHEEL" VEHUCL, AN A 4-WEELD VEHICUL BEIN UNDR RISURCH AN DEVELOPMENT.
LASTY, WE UR CURINTLY WURKUN TOGETTR WIF TE PEEPLS AN PRIVIT SECTOS IN INITIATAVEZ TO RELIZ DE GOL OV BILDUN JAPANEZ MOTORCYCUL MARKT WIF DUMAND OV WUN MILIUN UNIS BY DA YAR 2020.
TUWARD DA END, WES WIL CUNTINU TO BRIN EXCITUN AN ATTRUCTUV PRODUCT TO AR CUSTIMURS, AN CONTINU MOVUN FWD WIT REKUEST DAT INCLUD TA ESIN UV TEH PROCES FO OBTANUN A 50CC TO 125CC AN UNDIR MOTORCYCUL LISENS AN INCRESIN DE NUMBIR OV 2-WHEELUR PARK FACELITEZ UN DE CITEZ.
I would like to begin by thanking everyone for joining us today for the Yamaha Motor Press Brief. Yamaha Motor always strives to be the company that works to bring Kando (a Japanese word used by Yamaha to describe their corporate mission) that surpasses the expectations of people using our products around the world, for today and tomorrow. Our 'Revs Your Heart' slogan expresses our sense of pride and duty we have in this goal, and is an embodiment of our desire to steer people's hearts with excitement and emotion, like the building revs of an engine.
At Yahama Motor, there are three concepts that give direction to our business: "Fulfilling lifestyles, Enjoy personal mobility and Innovative technology that harmonises with people, society and the Earth."
Working with these three axis, our challenge is to continue building a "growing world of people mobility" defined by true Yamaha-ness, and to rev people's hearts doing so. What is this "true Yamaha-ness"? First, it is constant exploration of these elements:
"Proposing original and innovative concepts,"
"Creating outstanding technologies" and
"Expression refined dynamism through our designs." Blah.
We implement these these elements in the monozukuri (engineering, manufacturing and marketing) of our workplaces and communications in the field, and that's when "true Yamaha-ness" takes form. Err, yeah. At this 43rd Tokyo Motor Show, we will present to you a product with unique Yamaha-ness that defines our "growing world of people mobility." These presentations include what we call "smart power" vehicles, along with sports motorcycles, a new "leaning multi-wheel" vehicle, and a 4-wheeled vehicle being in research and development.
Lastly, we are currently working together with the people and private sectors in initiatives to realise the goal of building the Japanese motorcycle market with a demand of one million units by the year 2020. Towards the end, we will continue to bring exciting and attractive products to our customers, and continue moving forward with requests that include the easing of the process for obtaining a 50CC to 125CC and under motorcycle licence and increasing the number of 2-wheeled parking facilities in the cities.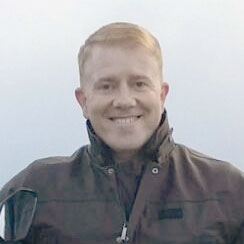 Latest posts by Tony Carter
(see all)
Does this get you revved up? Tell us why...
---
---
Subscribe to MoreBikes Newspaper
Get MoreBikes delivered through your letterbox every month. 12 issues for £15. Click here for more information.
---
Get MoreBikes.co.uk Updates
Enter your e-mail address below and you will receive biking news straight into your inbox...



You can unsubscribe at any time.
---