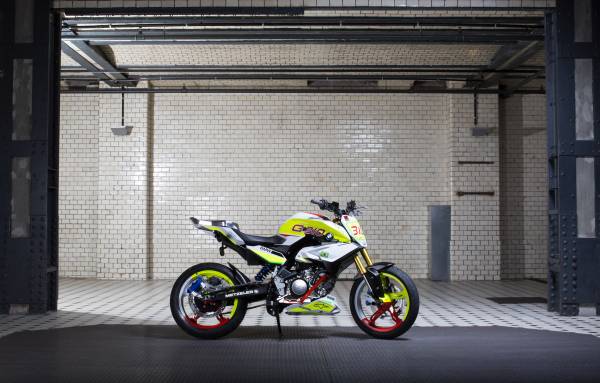 BMW's 300cc 'stunt concept' (actually, the 300cc roadster).
This is the BMW Concept Stunt G310. It's a bike being shown as a pre-show model for the emerging markets of South America. In reality, it's a stunt version of the 300cc roadster that the German firm is adding to the range next year.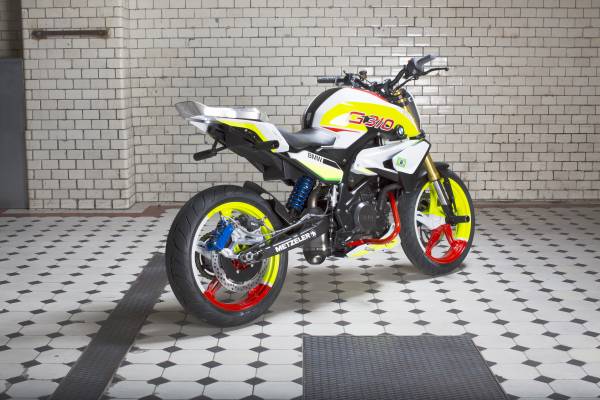 Here's what BMW itself is saying about the bike that it's just released to the world in this 'stunt form':
With the world premiere of the BMW Concept Stunt G 310 at South America's largest motorcycle show, BMW Motorrad is presenting a completely new side: the uncompromising interpretation of an aggressive and agile stunt bike based on a single cylinder study.
Thanks to his experience as a four-times World and European stunt riding champion, Chris Pfeiffer, contributed to the realisation of the BMW Concept Stunt 310. "Stunt riding is a demanding and multi-faceted sport. Ideally you need a compact, agile bike which is also stable and robust at the same time. You have to achieve the ideal balance between aggressiveness and control", explains Chris Pfeiffer.
Compact proportions, highest-level agility.
The BMW Concept Stunt G 310 combines all these qualities and makes clear at first sight: the newly developed 1-cylinder engine allows for very compact proportions thanks to its innovative concept. The special feature is the cylinder which is inclined towards the rear and the cylinder head which is rotated by 180 degrees. This permits optimum placement of the engine in the motorcycle and a short wheelbase in spite of the long swinging arm thereby making the motorcycle very agile. The low-slung front and the raised tail section promise fast and nimble changes of direction as well as dynamic riding. By shifting the intake area towards the front while also moving the exhaust system towards the rear it was possible to place the rear silencer in an upright standing position underneath the seat between engine and spring strut. In this way the silencer is optimally protected and does not