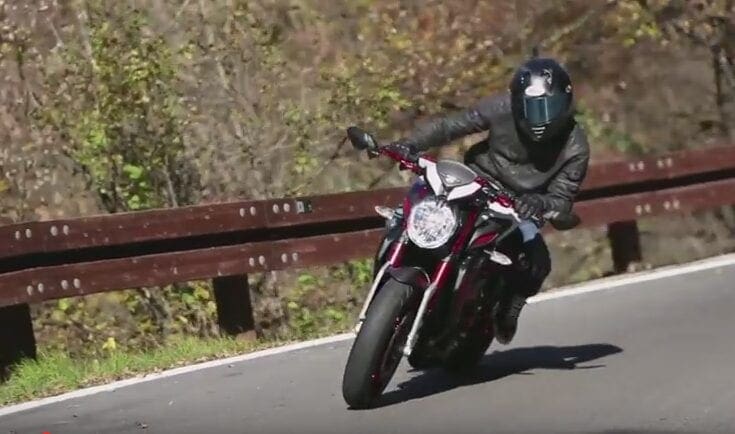 In this video Lewis Hamilton talks about creating his limited edition 800cc MV Agusta dragster with their design team.
The Dragster RR LH 44 features an Alcantara quilt pattern saddle, numerous parts made from Ergal (brake lever, handlebars, fuel filler cap, brake pump cover) and a special anodised red finish on the logos, frame, footpegs and spoked wheels. Other features of the bike include adjustable clip-on bars finished in matt black like the side stand, frame and footpeg plates (see below for comments from Lewis and the full details of the bike).
Here's the video:
Here are comments from Lewis and the official details from MV Agusta:
Lewis said: "I have a huge passion for bikes so the opportunity to work with MV Agusta on my own Dragster RR LH Limited Edition has been a great experience.  I have really enjoyed the creative design process with the MV Agusta team, it looks amazing; really aggressive with fantastic attention to detail, I am truly proud of the result.  I love riding this bike, it is so much fun, I hope its new owners love it as much as I do."
Speaking about the collaboration MVA's CEO Giovanni Castiglioni said: "We're proud to have created a bike together with Lewis Hamilton. I think this is great news for us and for those around the world who love MV Agusta."
Like an Formula One car, most of the bodywork on the LH44 is made from carbon fibre with a matt 3K finish. This highly expensive, exotic material was used to make the front and rear mudguards, the screen, air box and side covers, exhaust heat shields, gear box and swingarm covers andsprocket guard.  The similarities with Formula One extend to the front of the bike, which is dominated by the race number 44 (incorporated into the limited edition ID plate on the 244 bikes) as well as the panther and Hamilton's signature.