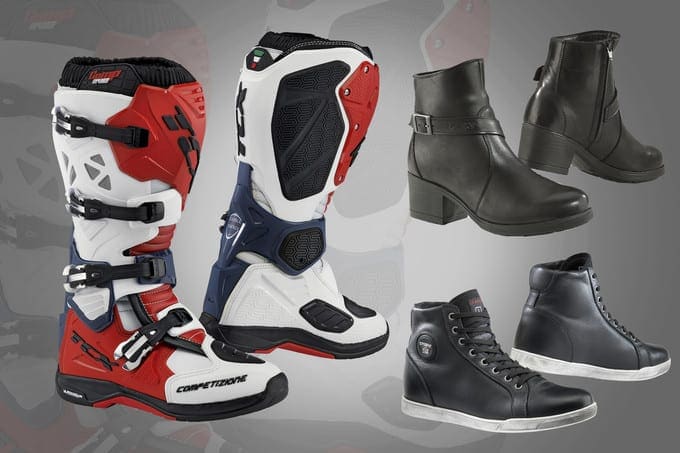 TCX will be showcasing the latest products for the 2016 season at Motorcycle Live (28 November – 6 December) at The NEC in Hall 3. The Italian firm offers a range of motorcycling boots from urban to racing and touring boots. This is what they say will be on show at Motorcycle Live:
Highlights of the range include the brand new Comp Evo Michelin – a boot designed for high performance MX and enduro racing – with an RRP of £379.99. Available in a range of colour schemes, including white, black, black/orange, scuba blue, red/white, red/white/blue, black/fluo yellow and black, the boots feature an exclusive MX Hybrid sole, developed in conjunction with Michelin. The sole features micro-grooves for water evacuation, specially developed design for multi-directional traction, macro-grooves for stability and traction and a customised heel angle to maintain foot hold on the footrests and fast sliding when required. The upper is made a high wear resistant micro fibre and PU frame, the lining is a breathable fabric with double compound PU soft passing around the ankle area. The boots fasten using four aluminum adjustable buckles with an ergonomic design and the Double Flex Control System houses an independent PU ankle frame to offer freedom of movement when riding, the flexibility is controlled by two lugs to avoid overextension and to protect the riders' foot from injuries.
A new addition to the Touring line, the X-Tour Evo Goretex, with an RRP of £259.99. Waterproof and breathable thanks to a Goretex® membrane, the X-Tour boots feature the TCX Comfort Fit System, D30 shock absorbing technology for malleolus and shin plate for superior protection. The upper is constructed from extra smooth, full grain leather with a TCX logo and there's a micro injected shift pad.  
For ladies, the X-Boulevard Waterproof boots, have an RRP of £139.99 and are available in vintage brown and black colour options. They fasten using a zip and adjustable leather band and have a 4.5cm heel which can help riders with shorter legs reach the floor. Made from full grain leather, the boots have a soft touch waterproof membrane to keep the riders feet dry and for protection there are malleolus inserts and reinforced heel and toe areas.
The Urban Line has been expanded for 2016, with the addition of the X-Street Waterproof black, with an RRP of £109.99. With lace fasteners and a vintage look, the X-Street boots are perfect for those riders who don't want to worry about changing their footwear once they're off the bike. However, despite looking like casual boots, they contain reinforcements on the malleolus area and toe and heel for protection and are fully CE approved.
These boots, along with other highlights from the 2016 product range, will be on show at Motorcycle Live (28 November – 6 December) at The NEC in Hall 3. Visit: www.nevis.uk.com or call 01425 478936 for more information or to locate your local dealer.