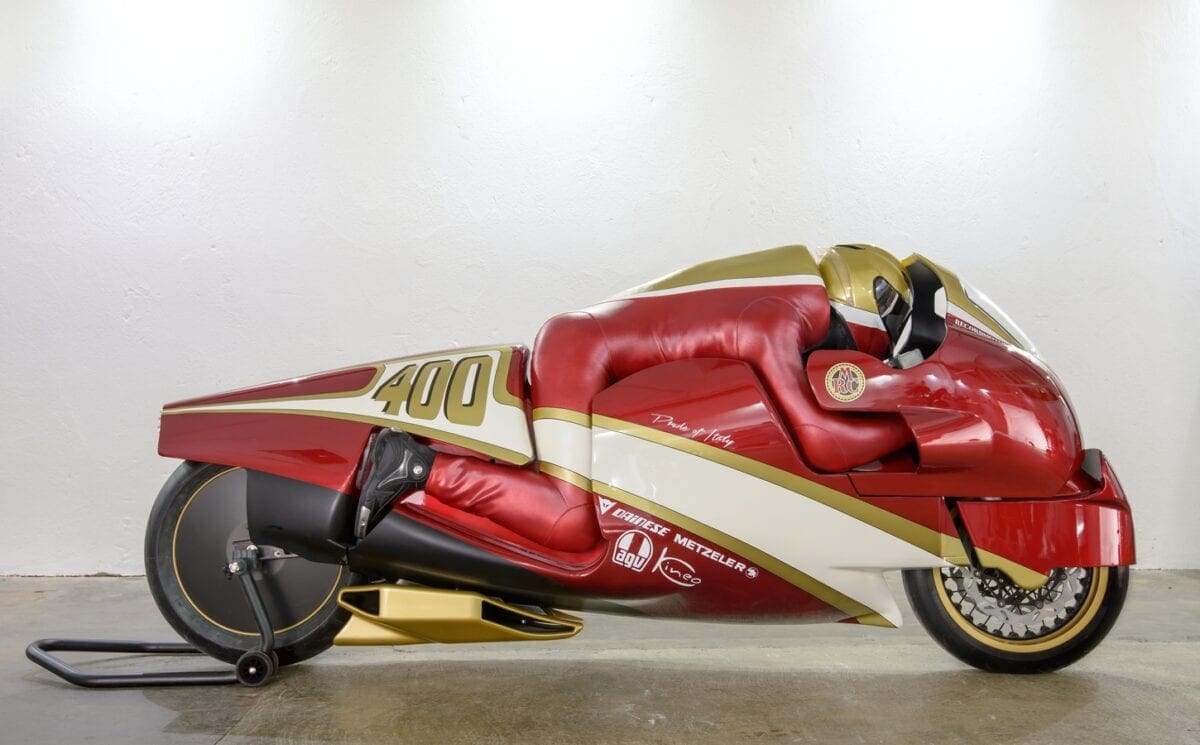 Check out this high-speed beast that's going to try and nudge 250mph on the Bonneville Salt Flats next year.
This is a speed-record attempt bike that's much more like an everyday motorcycle than any of the Streamliner types we've already seen – and the Italian's who have built it call the 2,500cc beast 'Tribute to John Britten'.
Now launched by the RMC Team (Recordmotorcycles.com), the bike uses a custom-made V8 motor built by the engineers who are led by Giulio Bernardello, former Technical Director of the Pramac Honda and Konica Minolta Honda MotoGP teams.
There are two version of the bike, a 2000cc and a 400bhp 2,500cc version. Both are running conventional fuel and no superchargers but the RMC team says that the smaller bike will try for one record class and the larger bike will try for another and will attempt the 248mph record. The smaller bike is the red and gold bike, called 'Pride of Italy' whilst the yellow and black bikes get the Britten name tag.
RMC is the brainchild of Roberto Crepaldi, the man credited with bringing modern Harley-Davidson bikes to Italy in the early 1980s. Crepaldi and Carlo Talamo began making their own H-D specials in a workshop in Milan and soon became good friends with the Kiwi-born mechanical legend John Britten. Crepaldi worked on some of the ideas that eventually gave birth to Britten's iconic V1000. Crepaldi also went on to design and develop the CR&S Vun and CR&S Duu, themselves iconic 'super-specials'.
Here's what the team says about the differences between its bike and the more-commonly-seen 'Streamliners': We'll race with two "true motorcycles" and not with Streamliners, which are that kind of rocket-on-wheels where the rider seats completely inside an aerodynamic capsule. We want to reach the new speed record with a vehicle which is immediately recognizable as a motorcycle, and that's the reason why our bikes are considered, in the official FIM regulation, as "Partially Streamlined". In other words, the rider must seat in a standard position, must be visible from outside, and the bike has to respect precise dimensions, defined by FIM rules.