WORDS: John Milbank, Motorcycle Sport & Leisure magazine PHOTOGRAPHY: Alessio Barbanti & Matteo Cavadini
How did we get to the stage where a 900cc engine is considered ideal for a fun, accessible bike? It'd be too easy to label this, currently the smallest of the new Bonneville family, an entry-level machine, or a way into the Bonnie way of life, but it's not. This motorcycle can stand proud on its own; a triumph (no pun intended) of design and engineering. The fact that this evolution of one of the most iconic machines ever built has the potential to be many riders' perfect first bike is irrelevant – this is a stunning machine that would suit anyone looking for genuine heritage and classic style in a reliable, modern (and good value) motorcycle.
Evolution of the icon
Triumph's intention was always to make a bike that shared the bloodline of the classic Bonneville – while strict Euro4 regulations had to be met, Hinkley was determined that this wouldn't be a new machine with a classic paint-scheme. It had to look, sound and feel like a true classic.
Yet this really is an all-new machine. The frame, shared to some extent across the new Bonnevilles, is entirely new, there's ABS, traction control, ride-by-wire. There's even a USB charging socket under the seat. And the engine is water-cooled.
Rather than tack on the necessary parts to meet new regulations, Triumph has carefully designed the bike to encompass the technology, whilst maintaining the silhouette of more than 50 years. With improved torque and economy, not to mention a superb sounding exhaust, this bike proves that bureaucratic legislation need not strangle motorcycling.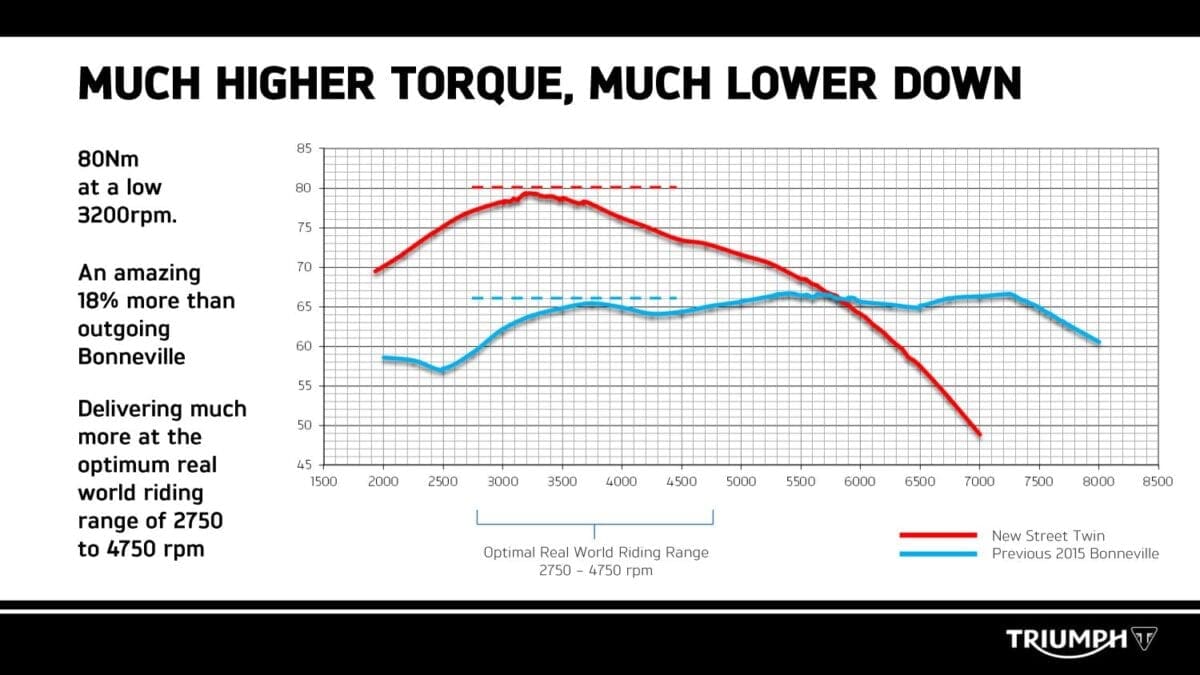 While torque has increased from 50lb-ft @ 5800rpm to 59lb-ft at a low 3,230rpm, power is down. Triumph refused to release the figures before we rode the bike – a drop in peak power from 67bhp @ 7,500rpm to 54bhp @ 5,900rpm. But it was the right thing to do, while the headline figure of 18% more torque is impressive, an almost 20% reduction in power would have been frowned upon if it wasn't taken in context.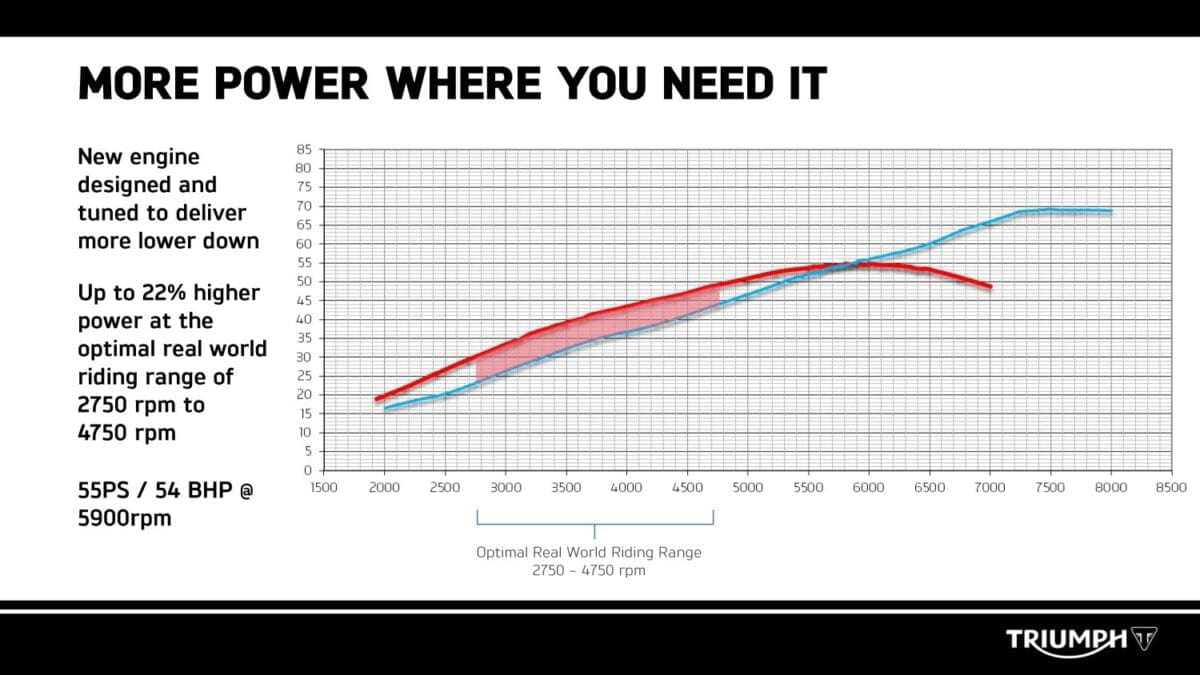 Triumph's Chief Engineer – Stuart Wood – is at pains to stress that the new bike makes more power in the rev range considered to be 'real world'. The company firmly believes that this is not a motorcycle to be taken to the rev limiter, and that its used most between 2750 and 4750rpm. There, the bike makes consistently more power (up to 22%) than the previous model.
Proving the performance
Don't write off Triumph's claims of an "optimal real world riding range" as marketing hyperbole – this engine is perfect in this bike. By making the peak torque so immediately accessible, the Street Twin has an immediacy to it that will thrill both new and experienced riders, without instilling a feeling that it'll all get away from you. And besides, ABS and traction control help to inspire confidence, and while the ABS isn't switchable, the traction control can be turned off from the bar-mounted controls.
I'd expected a soft delivery, but the new Bonnie is exciting from the moment you pull away – perfectly in keeping with the spirit of its world-record holding granddad. What's a real surprise though, given everyone's scepticism of Euro4 emissions constraints, is just how good the standard pipes sound. In a group, the machines pound and throb, the deep note from the upswept cones sounding a world apart from other bikes, including the previous T100. The Street Twin sounds like a 'proper' motorcycle.
Triumph claims an EU standard tested range of up to 200 miles under mixed riding conditions from the smaller, 12litre tank (down from 16litre) – the theory being that a 36% improvement in fuel efficiency (76mpg) offsets the 25% drop in capacity. I tend to be amongst the worst journalists for fuel economy on launches – certainly, after about 90miles, my bike was showing 53mpg (a range of 140miles), while others were getting 60mpg (159miles), yet were in many cases faster than me. On our second run, after reminding myself that there really was no need to take the parallel twin anywhere near its 7000rpm rev limiter, I was seeing 64mpg (169miles). Launch tests always involve a lot of fast, stop-start riding, so under normal conditions, you should be able to expect a good 170-180miles from the diminutive (and beautiful) tank.
The single clock is well specified, with an analogue speedo hosting an LCD with a gear position indicator, fuel gauge, range to empty, service indicator, clock and trip computer. Sadly there's no tacho, but the rev-limiter comes in softly – one journo thought that the bike was hesitating at high revs, but it's just the engine gently reminding you that you really should have changed gear about 2500 revs earlier. Second gear will take you to 70mph, but you should be in third or fourth to get the best economy and performance by that point. At motorway speeds, the Street Twin will happily accelerate in the top, fifth gear, but for single-lane overtakes, it's best to drop down at least one cog.
With such a smooth end to the revs, it's a shame then that the motor cuts so suddenly when rolling off the throttle. In low gears particularly, there's a very clear point that the power terminates – as if the kill switch has been hit. I do think new riders might find this a little disconcerting at first, though by the end of the full day's riding, we all tended to agree that it soon gets forgotten.
Otherwise, the overall fuelling is very good. My bike did have a tendancy to stutter when changing down aggressively, and even stalled once when dropping to second for a roundabout. But no other rider suffered this, so it seems likely to have been a combination of a cold engine early in the test, and my own riding style of gently blipping the throttle before picking up the power.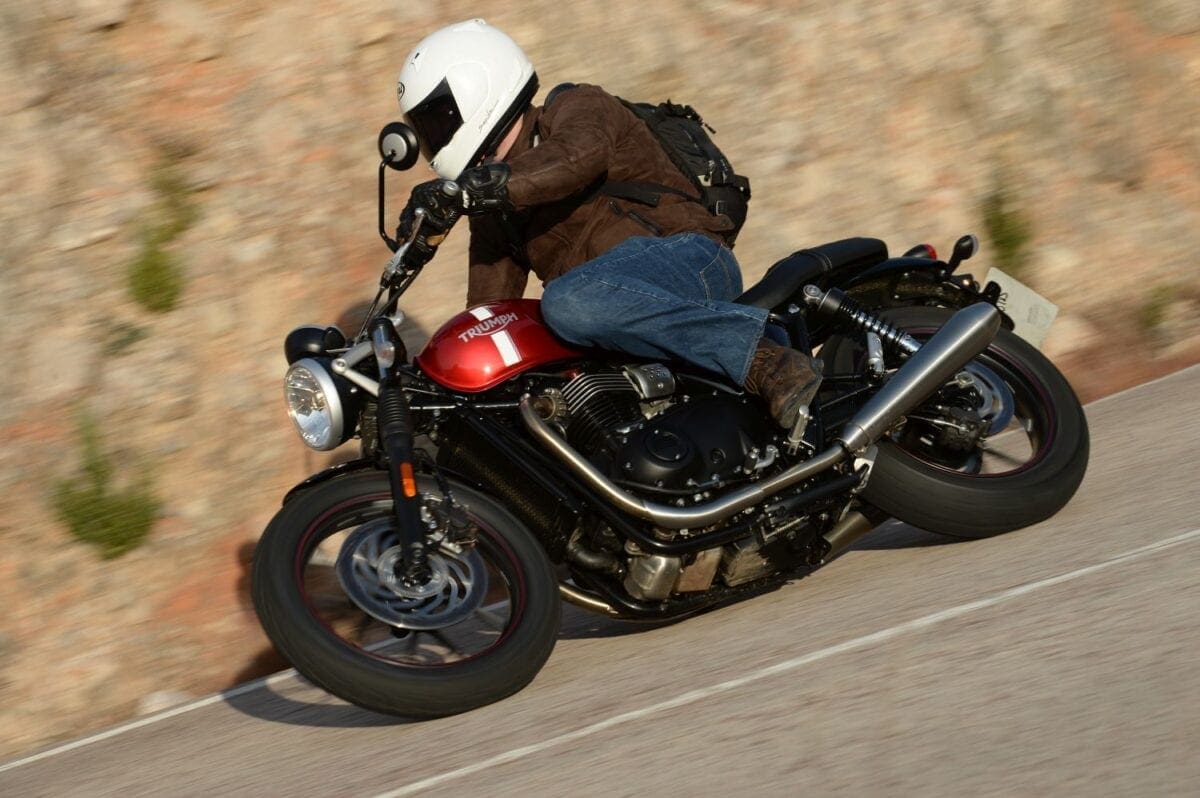 Classic handling
When pushing hard, the bike starts to show its retro heritage, feeling slightly more flexible in the frame. It's involving, and that might sound like a veiled criticism, but it's actually a celebration of the superb work that's gone into making a bike that feels like an unsanitised classic, yet has the modern handling ability to quite happily scrape the pegs – or even the brake and gear pedals – without ever grinding any other part of the bike. Those pegs aren't touching down because they're too low – you have to work to get them to scrape, but when you do, the bike feels totally safe and controlled. To combine that classic feel with such precision is a superb piece of design.
Of course, the pegs are low by sportsbike standards, but the riding position as a whole has been tweaked to push the rider slightly more forward, intending to make it more involving. The seat's 25mm lower than the T100, at just 750mm. With the narrow layout of the Bonnie, that means it's extremely easy to stand over, and to paddle around if necessary.
Every detail combines to create a machine that excels in town riding, from that easy size, through the extremely tight turning circle, a feeling of low-down mass and even the mirrors, which give a good view when correctly adjusted, but don't jut out so far that they'll be snagging the mirrors of vans and taxis.
The two-pot brakes are fine, not offering the grab of radial calipers that would be so out of place on this machine, though when riding fast it occasionally felt as if one more disc at the front would have inspired a little more confidence. Still, there were no worrying moments, so it's unfair to criticise, particularly given the bike's easy-going nature.
You can be lazy on the Bonneville, or you can get more involved – either way, it rewards you. The suspension felt a little harsh over the more severe pot-holes on the Valencia route, and I was getting slightly uncomfortable after half an hour – despite 25% more seat foam, I agreed with other testers that this is no big-mile touring saddle. Having said that, it's a bike that sits perfectly in a market that customises machines to have some of the most uncomfortable seats you've ever seen. Comparatively, this is your favourite settee.
A true success
Besides incorporating liquid cooling into what still looks like a classic, British air-cooled twin, Hinkley's finest managed to hide the catalytic converter by diverting the downpipes into the canister below the engine. Heat shields on either side hide the routing, leading the eye to believe this is a simple, straight-through pipe.
There's more hidden technology in the slip-assist clutch – the compact design has helped reduce the width of the engine, but more importantly it's produced an incredibly light action to the lever, making stop-start town riding a joy.
There's a USB socket tucked under the seat, and an accessory offers to move that to the headstock. As it is, you can easily charge a satnav or phone on the tank, though with no storage space under the seat, you'll struggle to leave your phone hidden away; a small price to pay for the stunning silhouette.
Triumph claims that a three-year-old T100 holds 69% of its original value, and expects the new machine to echo that. Certainly, with its 10,000 mile service intervals (up from 6000), good economy, easy accessibility and fun performance it's hard to imagine this being anything other than a huge success.
I'd expect to see a lot of these on the road in 2016, and Triumph assures us that the Thailand plant, where the Bonneville family is being built to a superb standard, is geared up to meet demand. Dealers will be getting the first stock on 11th February 2016, and I for one am excited to see what customers do with theirs. Whether they're kept standard, tweaked with some minor mods or completely transformed, Triumph has proven that the Bonneville can continue to evolve, proudly carrying both the name and style that inspired generations.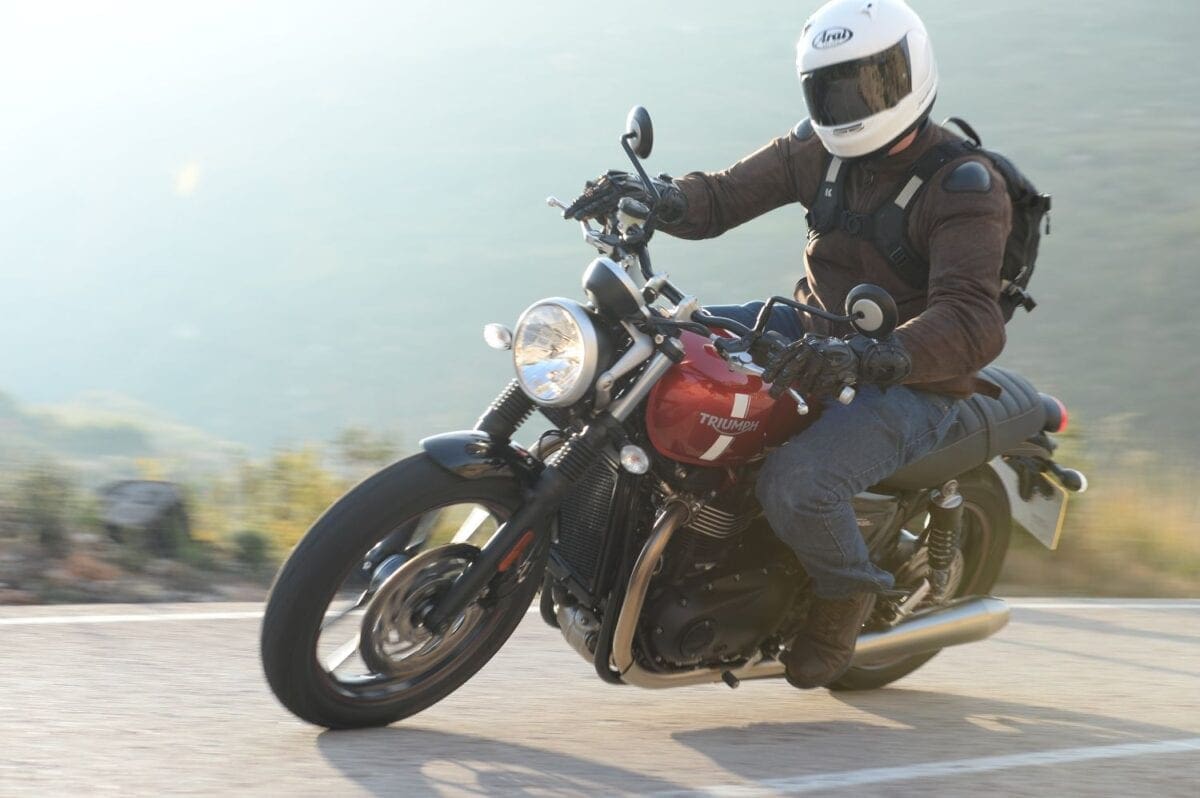 Specification
Triumph Street Twin
Price: £7300 (Plus £120 for metallics)
Engine: 900cc liquid-cooled, eight valve SOHC 270° parallel twin
Power: 54bhp (40.5kW) @ 5900rpm
Torque: 59lb-ft (80Nm) @ 3230rpm
Transmission: Five speed with chain final drive and wet, multi-plate slip assist clutch
Frame: Tubular steel cradle and twin-sided tubular steel swingarm
Suspension: (F) Unadjustable Kayaba 41mm forks; (R) Twin Kayaba shocks, adjustable for preload.
Brakes: (F) Single 210mm disc with Nissin two-piston floating caliper; (R) Single 255mm disc with Nissin two-piston floating caliper.
Seat height: 750mm
Tank capacity: 12litre
Kerb weight: Approximately 210kg (198kg dry)
Contact: www.triumphmotorcycles.co.uk
World launch review: Triumph's 2016 Street Twin Bonneville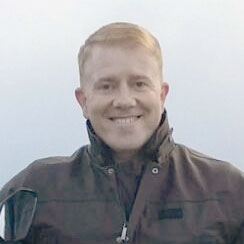 Latest posts by Tony Carter
(see all)
Does this get you revved up? Tell us why...
---
---
Subscribe to MoreBikes Newspaper
Get MoreBikes delivered through your letterbox every month. 12 issues for £15. Click here for more information.
---
Get MoreBikes.co.uk Updates
Enter your e-mail address below and you will receive biking news straight into your inbox...



You can unsubscribe at any time.
---