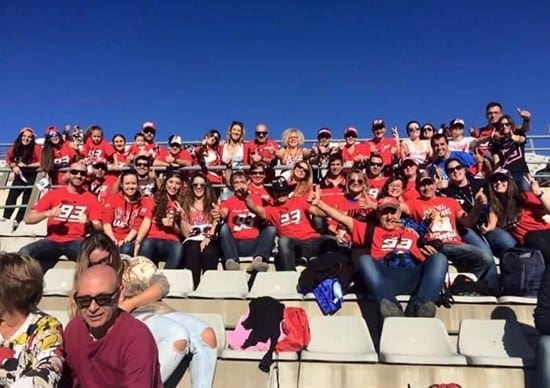 4000 Marc Marquez fans will NOT be going to the Mugello MotoGP round because they are scared of physical attacks from other GP rider's fans!
The news comes from Marquez' official fan club, which has put the announcement up on it's facebook page. The club claims that during the 2015 round at the Italian race other fans threw rotten apples and even spat on members.
Here's the announcement that means no official Marquez fans at Mugello because of the (claimed) actions of other motorcycle fans at the event – and that's something we've not heard about in racing before. What do you think to this? Let us know below the official statement from the Marc Marquez fan club:
We are very sorry to have to take this drastic decision but the situation at the moment is not the most optimistic and the environment is really dangerous. The biggest regret is not being able to cheer Marc and Alex freely as we had always done until a few years ago, but the situation is what it is and as long as you continue to throw fuel on the fire, we do not feel like taking such high risks.
We find it shameful that fans can not cheer freely and safely and when they do they receive threats, objects or even spit thrown at them.
Unfortunately in motorcycling we have got to this point (and) the decision was made this morning. We hope you understand that this decision was taken for the benefit of members.
Fan Club Marc Marquez Italy