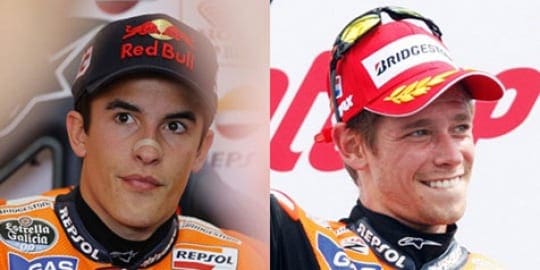 Casey Stoner has stirred up a right old hornet's nest by claiming that Marc Marquez "felt threatened" by the Aussie's work as a tester at HRC.
Stoner switched at from Honda to Ducati at the end of last year and will continue his mostly part-time duties as a tester for the Italian brand's MotoGP program. Stoner is reported to have made the comments including: "Marquez and his entourage felt threatened by me. I do not now why that thought that, but that's the feeling I got from them," in a recent interview.
And now Marquez has snapped back by saying: "It seems that Casey only makes statements like that so that people talk about him. I'm not going to play ball."
Marquez has also spoken out about the news that 4000 of his fans have said that they will not be attending the 2016 Mugello round of MotoGP for fear of attack by other MotoGP fans. Marquez said: "My fans can go to Mugello and be calm because nothing will happen… and hope that nothing happens.
"But this is partly to do with social networks. From a computer everyone can be an element in heating up the argument but in the end going to the circuit is what the true fan does. There you will see the bikes and the entertainment."