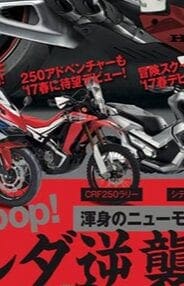 Honda first showed the mini-CRF250 Rally (think, tiny-engined Africa Twin) as a concept at the Osaka motorcycle show last March – and according to Japanese magazine Young Machine, the bike has been tweaked further to ape even more of the new Africa Twin.
The bigger bike has a myriad of rider tech and a great 1000cc motor – it's come in for a lot of praise from the world launch largely down to the useability and manageability of both the motor and the slim chassis.
According to the Japanese, the bigger bike has had such a positive response that plans to hurry up the 250 version have been moved along.
There's not much more in the way of information about the new bike other than it's a bike based around the CRF250L with a host of 'Adventure' style parts taken from the firm's official CRF450 Rally competition motorcycle. Expect this bike to appear in late 2016.