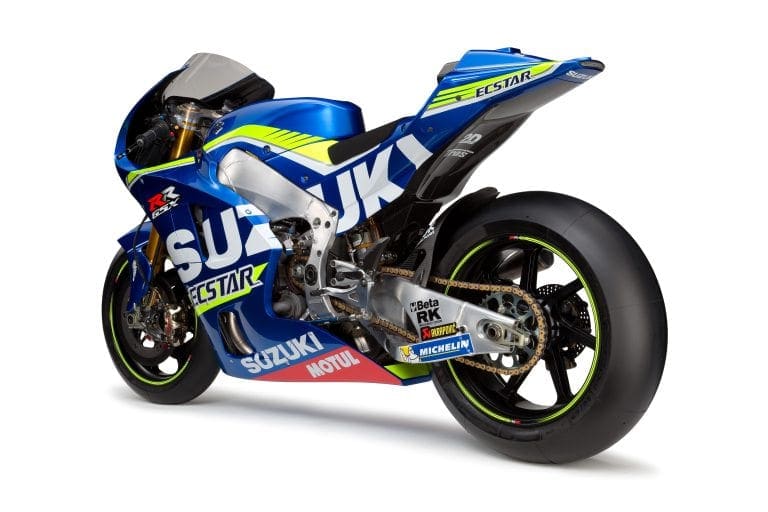 Lovely pictures of the Suzuki MotoGP bike have been released by Suzuki.
The 2016 bike has a more chunky (read: stiffer) frame and revised air intakes on the fairing, the exhaust is longer and more upswept and there's some subtle cosmetic tweaking with the bodywork.
Other than that, the rest of the changes are largely interior including the seamless gearbox and some extra work for more midrange power. The gearbox works as a seamless, constant-feed item on upshifts only but Suzuki is working on the system to be both up and down-shift useable by the start of the season-ish.
Here's the rest of the pictures of the bike, looks stunning doesn't it? Just needs a Kenny Roberts Junior factory Suzuki plain swoosh paintjob from 2000 to be absolutely bang on. But that's just out opinion…
Technical Specifications of the 2016 Suzuki GSX-RR MotoGP Race Bike:
Overall length x width x height: 2,096mm x 720mm x 1,140mm
Wheelbase: 1,457mm
Engine type: Water-cooled, four-stroke in-line four-cylinder, DOHC four-valve
Displacement: 1,000cc
Maximum output: Over 230bhp
Maximum speed: Over 330kmh
Gearbox: Six-speed (cassette type)
Frame type: Twin-spar Aluminum
Tyres (front/ rear): 17in/17in
Front suspension: Öhlins, inverted fork
Rear suspension: Öhlins.
Brakes (front/ rear): Carbon disk/ steel disk, Brembo